–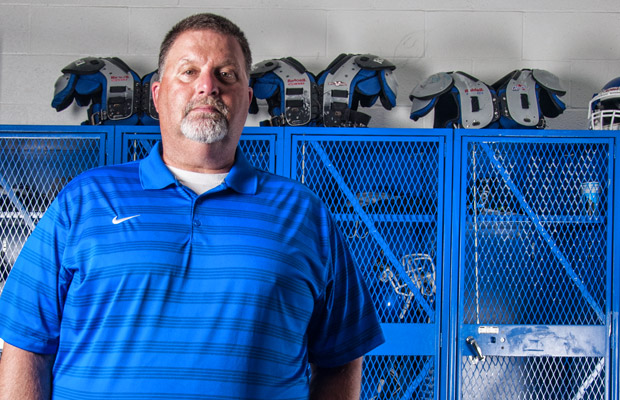 "Jerry 'Buck' James 
James departs in the midst of a 53-game in-state win streak and a run of five Class 7A state championships
By Nate Olson | Photo by Tommy Land 
The dominant Bryant High School football program has lost two key cogs over the past week and Tuesday in a stunning turn of events lost the head coach who took the program to historic heights.
The Bryant School District confirmed in a statement Tuesday morning that head coach Buck James has resigned his post and is taking the open job at league rival Conway High School. The Wampus Cats began looking for a replacement this month when former head coach Keith Fimple took the Springdale athletic director job.
James' bombshell comes on the heels of rising senior quarterback Gideon Motes, last year's state championship game MVP and a University of Arkansas baseball commit, announcing he is giving up football to stay healthy for baseball and four-star defensive end TJ Lindsey announcing he is playing his senior season at the prestigious IMG Academy.
James finishes his seven-year tenure at Bryant with an 80-9 mark. The Hornets were 12-0 last season, marking the third time he helped the Hornets to an unblemished record. Bryant currently rides a 53-game in-state win streak. The only team to beat them since a league loss to North Little Rock in 2017 is Longview (Texas), which held on to knock them off 24-21 in 2021. That loss snapped a 32-game win streak.
James takes over a Wampus Cats program that he has been a thorn in the side of, never losing to the league rival in his tenure at BHS. In 2021, Bryant trailed by double-digits in the second half at Conway but pulled out a dramatic win to seal the 7A-Central Conference championship. Last season, James and Bryant beat Conway twice – 34-16 in the regular season and 42-21 in the 7A state playoff semifinals.
The Wampus Cats have been one of the top teams in Class 7A the past three seasons, qualifying for the state playoff semifinals those years — losing to Bryant twice. Conway, which finished 10-3 last season, was No. 3 in the final SBLive Arkansas Top 25 rankings and expected to be in the Top 5 when the preseason rankings are released in August.
Before the Bryant news, the Hornets would have been a favorite to repeat as conference champions with Cabot, which finished second in the Top 25 and beat Conway last season, and the Wampus Cats fighting for the No. 2 spot.
Major change was already expected on the coaching staff and in the Bryant athletic department as longtime athletic director Mike Lee announced he was taking a maintenance supervisor job with the South Conway School District. His last day in Bryant is June 30. Bryant named offensive coordinator and longtime James confidant Kirk Bock as the Lee's replacement. Later, defensive coordinator Quad Sanders took the Jonesboro High School head-coaching job. James was reportedly promoting current assistants to fill those key vacancies.
James, who is a University of Arkansas at Monticello Hall of Fame football player, began his career at Star City and moved to Camden Fairview, where he won a 5A state championship in 2012 with the Cardinals after losing to Greenwood in the 2010 title game. After briefly serving as the offensive line coach and assistant athletic director at Little Rock Christian, he was hired by his former professional baseball scouting colleague, Lee, at Bryant in 2015.
After promising parents a state title at the initial meeting at the school, he had BHS in the state playoff semifinals for the first time in school history in a 9-4 debut season in 2016. After another state semifinals loss in 2017, the Hornets embarked on their run of five consecutive state titles.
In 2018, Bryant jumped to a big early lead on North Little Rock only to lose that game, 34-28. Bryant beat North Little Rock a few weeks later in the 7A state championship game, 27-7, and hasn't lost to an in-state opponent since that late October 2018 game at North Little Rock.
Midway through his tenure, James adopted the '212' mantra. Water is only hot at 211 degrees but with the extra degree at 212, it boils. That has become a rallying cry for his program and, overall, for the commuter town just outside of Little Rock. It is common to see '212' on T-shirts, store windows, car windows and even scrawled on trashcans at the Hornet Stadium. It is perhaps fitting that James will end his Bryant career with an overall record of 212-37
The No. 1 Hornets (7-0, 5-0) found themselves in a dog fight Friday in front of a standing-room-only homecoming crowd as No. 2 Cabot (6-2, 4-1) strolled into Hornet Stadium looking for an upset.
Searching for their 49th straight win over an Arkansas team, the Hornets held down the fort for the 24-10 victory, scoring the second fewest points in a game this season.
"When we played good on first down, we were able to stop them," said Head Coach Buck James. "It was a great game. My hat is off to Cabot. They have a great offense and were very good on defense. It was a good, hard-fought win."
Bryant's 10 points allowed is the highest of the year.
Beginning with the ball, Bryant's first series was uneventful as the Hornets went three-and-out with a punt.
Cabot, though, would run more than 7 minutes off the clock on its first series, going 88 yards in 14 plays. The Panthers capped their impressive drive with a 1-yard TD on the quarterback keep from Abe Owen.
Cabot led 7-0 with 2:32 left in the quarter.
The score would stand after one, marking the first time Bryant was held off the scoreboard in the first 12 minutes of any game this season.
Bryant, though, would get things together on its second drive of the game, going 79 yards in 11 plays as running back James Martin ended the series with a 5-yard TD run.
Following swapped punts, Cabot would commit the first turnover of the game as Bryant star linemen TJ Lindsey hit Owen for the sack and fumble. Tyler Mosely would recover, setting the Hornets up nicely at the Cabot 36 with 6:42 to go in the half.
Bryant would not be able to get much, going as far as the Panthers 18 before sending Stephen Fuller on for the 35-yard field goal.
The good kick would make it 10-7 with 5:07 left in the half.
Neither team would add to the scoreboard as the game remained in the Hornets favor heading into the break.
Receiving the ball and searching for some momentum, the Panthers put together an impressive drive, but would stall at their own 44 before punting.
Bryant, too, would get something going after it looked like a quick three-and-out. However, a roughing the punter call would give Bryant new life. Nonetheless, it would all go for naught as quarterback Jordan Walker threw his only interception of the game moments later.
With both defenses playing well, the game would go into the final quarter still at 10-7 Hornets.
But Cabot would made things interesting in the fourth, tying the contest at 10-10 thanks to a 21-yard field goal off the boot of Kade Martin.
The drive was powered by a long 41-yard reception by Hayes Cox, taking the Panthers to the Bryant 17. After getting as close as the 2, Cabot would meet the Hornets impressive front three straight times before kicking the tying field goal.
With the ball at its own 20, Bryant would march 80 yards on nine plays as Walker kept it from 2 yards and the score. Bryant would lead 17-10 with 5:03 left in the game.
Receiver Mytorian Singleton made the biggest play of the drive, collecting a 27-yard pass for a first down on third-and-4.
Cabot had its chances still, but an interception from Owen to Bryant's Bryson Adamoh all but ended the upset bid.
Bryant would add another score, this time a 26-yard pass from Walker to Cason Trickey, making it 24-10 Hornets.
Time would run out on Cabot as the Hornets moved closer to another 7A Central title with only two games remaining on the regular-season schedule.
Both teams combined to throw 51 times in the contest.
Walker finished 16 for 20 for 160 yards and a score.
Owen, who carried the Panthers most of the night, ended 16 for 30 for 183 yards and an interception.
On the ground, Martin paced Bryant with big runs on first and second down, finishing with 54 yards and a score on 14 carries. Chris Gannaway, too, ran well, going for 30 on six carries in the win.
"I thought James and Chris both played well. When we got loose, we were able to move the ball," James said. "When we ran it well, we could throw it well and move the football."
Martin would give his team and the crowd a scare in the fourth as he came up lame on a play before being helped to the sideline. James, though, said his running back was "running around after the game," and seems to be fine.
Bryant had a big name in the house on homecoming. Arkansas Head Coach Sam Pittman walked the Bryant sidelines. Pittman was reportedly in town to watch Lindsey.
The senior defensive standout finished his night with 2.5 sacks, a number of quarterback hurries and tackles and a pass breakup on the final snap of the game. Lindsey leads Saline County in tackles for loss.
"He played well," James said. "I was proud of him. We have been looking for that kind of game out of him and he answered in a big way."
The Hornets will take to the road likely for the last time next week as they take on rival North Little Rock — the last in-state team to defeat the Hornets (2018).
"It is going to be a big challenge," James said. "They play us hard. I think it is going to be a tough game. I think every game we play from here on out is going to be tough."
Kickoff is set for 7 p.m.
North Little Rock took down Fort Smith Northside on Friday, winning 38-14.
Bryant also has Conway remaining on the schedule in Week 10. Conway sits at 7-1 overall and 4-1 in conference play after downing Central 49-0 on Friday. Both teams will battle under the lights of Hornet Stadium in Week 10.

2014 Salt Bowl
My Hornets came up short on winning the Salt Bowl this year but they played hard and another crowd of 25,000 showed up to see the game!!!!
SALT BOWL Benton 14, Bryant 14
By Jeff Reed Special to the Democrat-Gazette
This article was published September 6, 2014 at 2:55 a.m.
No one carried the Salt Bowl Trophy home Friday night.
Saline County rivals Benton and Bryant battled to a 14-14 tie in a game that featured an emotional final few minutes in front of a crowd of 24,816 at War Memorial Stadium.
Benton, which had lost eight consecutive to its I-30 rivals, had the last gasp, but Casey Maertens' pass to the goal line was intercepted by Steven Murdock, who returned it to the 30 as time ran out.
Benton's final possession was set up when Stone Paul intercepted Gunnar Burks at the Panthers 40 with 1:37 left.
Benton's offense got moving on a face-guarding penalty, then a 15-yard pass to Drew Harris to set up first-down at the Hornets 42 with 35 seconds left.
A completion to Sam Baker gained 5 yards, but the Panthers were out of timeouts ended up with a desperation heave to the end zone on the final play.
Benton tied the score 14-14 on Drew Harris' 6-yard run and Grant Hinze's extra point with 2:48 left in the half.
Benton did not allow Bryant inside the Benton 40 in the final 24 minutes.
The Panthers' best second-half drive ended inside the Bryant 10 when Drew Tipton deflected a pass and teammate Kyle Lovelace intercepted with 6:46 left in the third quarter.
Benton went up 7-0 on its first drive, but Bryant scored on consecutive possessions to take the lead.
Kylon Boyle completed a 27-yard scoring drive on a 6-yard run with 8:38 left in the half. Ben Bruick's interception and 43-yard return set up the drive. Alex Denker kicked the extra point for the 14-7 lead.
Benton drove 68 yards in 8 plays on its first possession, with Maertens hitting Casey Green with a 14-yard scoring pass with 8:46 left in the first quarter. Hinze hit the extra point.
Boyle's 3-yard run with 33 seconds left in the first quarter tied the game. The score was set up by a 33-yard scramble by Brandan Warner to the 3. Denker kicked the extra point for a 7-7 score.
Sports on 09/06/2014
Print Headline: Benton, Bryant solve nothing
Related posts: