—-
—
https:/



—
—-

—-


April 30, 2020
Woody Allen
New York, NY 10011
Dear Woody,
You need to check out the series AFTER LIFE on NETFLIX because you relate well to it. Below is a portion of episode 3 of season one of AFTER LIFE:
After Life on Netflix stars Ricky Gervais as a bereaved husband (Image: Netflix)
Psychiatrist (Paul Kaye): Good week?
Tony Johnson: No, of course not!!!! How could have I possibly had a good week?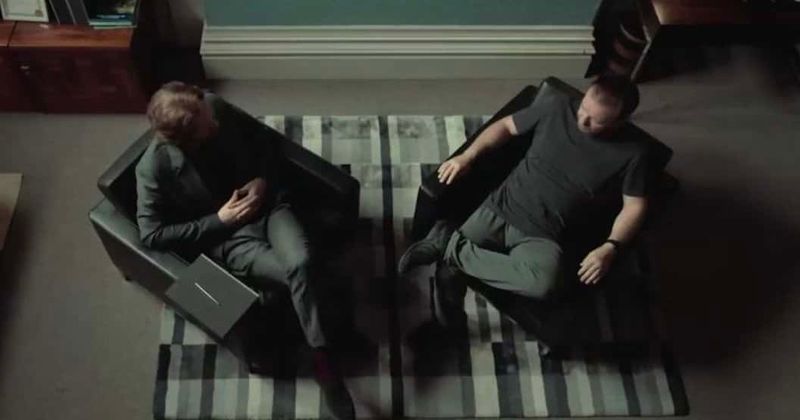 Psychiatrist: Only you know that really.

Tony: Why am I paying you then?
Psychiatrist: That is a good question. Why are you paying me?

Tony: So I got to know that too?
Psychiatrist: Tony we are here to ask and answer difficult questions about yourself. Maybe you don't want to know the answer? Maybe it is easy for you to think there is isn't an answer? There is an answer, but you seem happier to just accept your unhappiness.

Tony: I do accept my unhappiness. I know exactly why I unhappy. I also know that the only thing that would stop me from being unhappy is impossible. What I don't know is why I pay someone who doesn't care about me.
Psychiatrist: There are people in your life who care about you, but do they actually do know what is good for you?
Tony: I don't think anyone knows what is good for me.
Psychiatrist: I think it [the answer] is in there somewhere.
I have written on the Book of Ecclesiastes and the subject of the meaning of our lives on several occasions on this blog. In this post on Ecclesiastes I hope to show how secular humanist man can not hope to find a lasting meaning to his life in a closed system without bringing God back into the picture. Tony in AFTER LIFE and Solomon in the Book of Ecclesiastes both are searching for answers UNDER THE SUN but are coming up empty! Three thousand years ago, Solomon took a look at life "under the sun" in his book of Ecclesiastes. Christian scholar Ravi Zacharias has noted, "The key to understanding the Book of Ecclesiastes is the term 'under the sun.' What that literally means is you lock God out of a closed system, and you are left with only this world of time plus chance plus matter."
Woody in your autobiography I read this amazing section on pages 71-74:
Of course right now I was failing out of summer school and I was called before a panel of deans. A panel of deans is not like an exaltation of larks. It's more like a bevy of ghouls. It's a humorless quartet who are there to tell you you're out. I listened politely as they indicted me on several counts from being a no-show to failing everything. They asked me my goal in life. I said, to forge in the smithy of my soul the unmated conscience of my race and see if it could be mass-produced in plastic. They looked at one another and suggested I see a psychiatrist. I said I worked professionally and got along well with everyone and why would I need a psychiatrist? They explained that I was in the world of show business where everybody's crazy. I didn't think a shrink was the worst idea, since despite all my creative interests and promising start as a comedy writer along with all of the love I was shown growing up, I still experienced some moderate feelings of anxiety—like when you're buried alive. I was not happy; I was gloomy, fearful, angry, and don't ask me why. Maybe it was in my bloodstream or maybe it was a mental state that set in where I realized the Fred Astaire movies were not documentaries.
I started seeing a highly recommended psychiatrist named Peter Blos once a week shortly after my expulsion, and although he was a terrific guy, it didn't do me much good. He eventually suggested I see a psychoanalyst four times a week, where I lay on a couch and was encouraged to say everything that came to mind, including describing my dreams. I did that for eight years and cleverly managed to avoid any progress. I finally outlasted him and he came in one day waving a white flag. I saw three more shrinks in my life. First was a very fine man named Lou Linn, whom I saw twice a week in a face-to-face situation. He was quite brilliant, but I easily outfoxed him and remained safely uncured. Then I saw a very bright lady for maybe fifteen years. That was more therapeutic and helped me over some of life's tribulations, but no real changes for the better in my personality occurred. Finally a highly recommended doctor who has tried face-to-face therapy with me, couch psychoanalysis for a period, and back to face-to-face therapy, and I'm still able to fend off any meaningful progress.
So I've had many years of treatment and my conclusion is, yes, it has helped me, but not as much as I'd hoped and not in the way I'd imagined. I made zero progress on the deep issues; fears and conflicts and weaknesses I had at seventeen and twenty,
There is a new series on Netflix called AFTERLIFE and it is written by the atheist Ricky Gervais. Ricky looks at a lot of these deep issues; fears and conflicts and weaknesses from a secular point of view and as a result none of his answers are satisfactory answers.

Below is a scene with Holli Dempsey playing a Botox lady who had several plastic surgeries that went wrong and she was not even 30 years old yet. Lenny and Tony are there to interview the Botox Lady.


Botox Lady: I think I got a problem.
Tony: Yeah. I mean it might be like an addiction.
Botox Lady: You mean it might I can't help it?
Well I guess so, but if you acknowledge it there is a chance you can get help.
Botox Lady: Do you think I am mental?
Tony: No more than the rest of us. As I say we are all SCREWED UP in one way or another. It makes you normal.
Botox Lady: (She makes a sound that could be a muffled laugh or crying.)
The problem is that we live in a fallen world and we all are sinners. Read again these words: Botox Lady: Do you think I am mental?
Tony: No more than the rest of us. As I say we are all SCREWED UP in one way or another. It makes you normal.
That is absolutely true. The Bible says:
"For all have sinned and fall short of the glory of God," (Romans 3:23)
The Romans Road Bible Verses
1. The Human Problem (Romans 3:10, Romans 3:23, and Romans 6:23)
The first part of the Romans Road confirms the state of every human as sinful and the state of God as holy.
"As it is written: "There is no one righteous, not even one;" (Romans 3:10)
"For all have sinned and fall short of the glory of God," (Romans 3:23)
After establishing that "all have sinned," the first half of Romans 6:23 explains the depth of this problem and its consequences.
"For the wages of sin is death…" (Romans 6:23a)
However, the second half of the verse hints at the hope sinners have for salvation through Jesus.
"…but the gift of God is eternal life in Christ Jesus our Lord." (Romans 6:23b)
2. Humanity's Hope in Christ (Romans 5:8)
The second part of the Romans Road further explains the hope we have in the love of God expressed through Christ.
"But God demonstrates his own love for us in this: While we were still sinners, Christ died for us." (Romans 5:8)
3. The Sinner's Response (Romans 10:9-10 and Romans 10:13)
Once we understand our need for a savior and recognize that Jesus Christ is that savior, we can respond by moving along to the third part of the Romans Road, calling out to Jesus.
"If you declare with your mouth, 'Jesus is Lord,' and believe in your heart that God raised him from the dead, you will be saved. For it is with your heart that you believe and are justified, and it is with your mouth that you profess your faith and are saved." (Romans 10:9-10)
This response is possible for everyone. Romans 10:13 expresses God's ability to save everyone. (His intention to save everyone is further expressed in John 3:16-17)
"For, 'Everyone who calls on the name of the Lord will be saved.'" (Romans 10:13)
4. The Result of Salvation (Romans 5:1-2 and Romans 8:1)
The fourth part of the Romans Road mentions two results (peace and justification) after a sinner decides to declare and believe in their heart that Jesus Christ is Lord. Romans 5:1-2explains that through faith in Jesus Christ, sinners can enjoy peace with God, no longer separated from holy God by sin.
"Therefore, since we have been justified through faith, we have peace with God through our Lord Jesus Christ, through whom we have gained access by faith into this grace in which we now stand."(Romans 5:1-2)
Romans 8:1 rejoices in the result of salvation. Before faith in Christ, all who have sinned were condemned by their sin and destined for death. But now with faith in Christ, "there is no condemnation" (Romans 8:1) and believers are gifted eternal life with God (Romans 6:23).
"Therefore, there is now no condemnation for those who are in Christ Jesus,"(Romans 8:1)
Francis Schaeffer comments on ECCLESIASTES below:
Ecclesiastes 9:7-12
7 Go, eat your bread with joy, and drink your wine with a merry heart, for God has already approved what you do.
8 Let your garments be always white. Let not oil be lacking on your head.
9 Enjoy life with the wife whom you love, (DOES IT SOUND OPTIMISTIC? NOW COMES THE BACKLASH) all the days of your vain life that he has given you under the sun, because that is your portion in life and in your toil at which you toil under the sun.10 Whatever your hand finds to do, do it with your might, for there is no work or thought or knowledge or wisdom in Sheol, to which you are going.
11 Again I saw that under the sun the race is not to the swift, nor the battle to the strong, nor bread to the wise, nor riches to the intelligent, nor favor to those with knowledge, but time and chance happen to them all. 12 For man does not know his time. Like fish that are taken in an evil net, and like birds that are caught in a snare, so the children of man are snared at an evil time, when it suddenly falls upon them.
Solomon when at work takes off his hat and he stands by the grave of man and he says, "ALAS. ALAS. ALAS."
But interestingly enough the story of Ecclesiastes does not end its message here because in two places in the New Testament it is picked up and carried along and put in its proper perspective.
Luke 12:16-21
16 And he told them a parable, saying, "The land of a rich man produced plentifully, 17 and he thought to himself, 'What shall I do, for I have nowhere to store my crops?' 18 And he said, 'I will do this: I will tear down my barns and build larger ones, and there I will store all my grain and my goods. 19 And I will say to my soul, "Soul, you have ample goods laid up for many years; relax,eat, drink, be merry."' [ALMOST EVERYONE WHO HAS PROCEEDED HERE HAS FELT CERTAINLY THAT JESUS IS DELIBERATELY REFERRING TO SOLOMON'S SOLUTION.]20 But God said to him, 'Fool! This night your soul is required of you, and the things you have prepared, whose will they be?' 21 So is the one who lays up treasure for himself and is not rich toward God."
Christ here points out the reason for the failure of the logic that is involved. He points out why it fails in logic and then why it fails in reality. This view of Solomon must end in failure philosophically and also in emotional desperation.
We are not made to live in the shortened environment of UNDER THE SUN in this life only!!! Neither are we made to live only in the environment of a bare concept of afterlife [ignoring trying to make this life better]. We are made to live in the environment of a God who exists and who is the judge. This is the difference and that is what Jesus is setting forth here.
I Corinthians 15:32
32 What do I gain if, humanly speaking, I fought with beasts at Ephesus? If the dead are not raised, "Let us eat and drink, for tomorrow we die."
There is no doubt here he is reaching back to Solomon again and he is just saying if there isn't a resurrection of the dead then let's just follow Solomon and let's just eat and drink for tomorrow we die!!!! If there isn't this full structure [including the resurrection of the dead] then just have the courage to follow Solomon and we can eat and drink because tomorrow we die and that is all we have. If the full structure isn't there then pick up the cup and drink it dry! You can say it a different way in the 20th century: If the full structure is not there then go ahead and be an EXISTENTIALIST, but don't cheat. Drink the cup to the end. Drink it dry! That is what Paul says. Paul the educated man. Paul the man who knew his Greek philosophy. Paul the man who understood Solomon and the dilemma. Paul said it one way or the other. There is no room for a middle ground. IF CHRISTIANS AREN'T RAISED FROM THE DEAD THEN SOLOMON IS RIGHT IN ECCLESIASTES, BUT ONLY THEN. But if he is right then you should accept all of Solomon's despair and his conclusions.

In 1978 I heard the song "Dust in the Wind" by Kansas when it rose to #6 on the charts. That song told me thatKerry Livgren the writer of that song and a member of Kansas had come to the same conclusion that Solomon had. I remember mentioning to my friends at church that we may soon see some members of Kansas become Christians because their search for the meaning of life had obviously come up empty even though they had risen from being an unknown band to the top of the music business and had all the wealth and fame that came with that. Furthermore, like Solomon and Coldplay, they realized death comes to everyone and "there must be something more."
Livgren wrote:
"All we do, crumbles to the ground though we refuse to see, Dust in the Wind, All we are is dust in the wind, Don't hang on, Nothing lasts forever but the Earth and Sky, It slips away, And all your money won't another minute buy."
Both Kerry Livgren and Dave Hope of Kansas became Christians eventually. Kerry Livgren first tried Eastern Religions and Dave Hope had to come out of a heavy drug addiction. I was shocked and elated to see their personal testimony on The 700 Club in 1981 and that same interview can be seen on youtube today. Livgren lives in Topeka, Kansas today where he teaches "Diggers," a Sunday school class at Topeka Bible Church. Hope is the head of Worship, Evangelism and Outreach at Immanuel Anglican Church in Destin, Florida.
YOU have embraced the nihilistic message of the song "Dust in the Wind" by Kansas. David Segal in his article, "Things are Looking Up for the Director Woody Allen. No?" (Washington Post, July 26, 2006), wrote, "Allen is evangelically passionate about a few subjects. None more so than the chilling emptiness of life…The 70-year-old writer and director has been musing about life, sex, work, death and his generally futile search for hope…the world according to Woody is so bereft of meaning, so godless and absurd, that the only proper response is to curl up on a sofa and howl for your mommy."
The song "Dust in the Wind" recommends, "Don't hang on." Allen himself says, "It's just an awful thing and in that context you've got to find an answer to the question: 'Why go on?' " It is ironic that Chris Martin the leader of Coldplay regards Woody Allen as his favorite director.
Lets sum up the final conclusions of these gentlemen: YOU HAVE concluded the search is futile. Livgren and Hope of Kansas have become Christians and are involved in fulltime ministry. Solomon's experiment was a search for meaning to life "under the sun." Then in last few words in the Book of Ecclesiastes he looks above the sun and brings God back into the picture: "The conclusion, when all has been heard, is: Fear God and keep His commandments, because this applies to every person. For God will bring every act to judgment, everything which is hidden, whether it is good or evil."
You can hear Kerry Livgren's story from this youtube link:
—-
—
—-
Over and over again WOODY YOU HAVE STATED THAT YOU NEED EVIDENCE BEFORE YOU CAN BELIEVE THE BIBLE IS TRUE AND GOD EXISTS AND HERE IS SOME BELOW FROM ADRIAN ROGERS:
The Bible is affirmed through historical accuracy. Do you remember the story about the handwriting on the wall that is found in the fifth chapter of Daniel? Belshazzar hosted a feast with a thousand of his lords and ladies. Suddenly, a gruesome hand appeared out of nowhere and began to write on a wall. The king was disturbed and asked for someone to interpret the writing. Daniel was found and gave the interpretation. After the interpretation, "Then commanded Belshazzar, and they clothed Daniel with scarlet, and put a chain of gold about his neck, and made a proclamation concerning him, that he should be the third ruler in the kingdom." (Daniel 5:29). Basing their opinion on Babylonian records, the historians claim this never happened. According to the records, the last king of Babylon was not Belshazzar, but a man named Nabonidas. And so, they said, the Bible is in error. There wasn't a record of a king named Belshazzar. Well, the spades of archeologists continued to do their work. In 1853, an inscription was found on a cornerstone of a temple built by Nabonidas, to the god Ur, which read: "May I, Nabonidas, king of Babylon, not sin against thee. And may reverence for thee dwell in the heart of Belshazzar, my first-born favorite son." From other inscriptions, it was learned that Belshazzar and Nabonidas were co-regents. Nabonidas traveled while Belshazzar stayed home to run the kingdom. Now that we know that Belshazzar and Nabonidas were co-regents, it makes sense that Belshazzar would say that Daniel would be the third ruler. What a marvelous nugget of truth tucked away in the Word of God!
Adrian Rogers pictured above.
The answer to find meaning in life is found in putting your faith and trust in Jesus Christ. The Bible is true from cover to cover and can be trusted.
Thank you again for your time and I know how busy you are.
Sincerely,
Everette Hatcher, everettehatcher@gmail.com, http://www.thedailyhatch.org, cell ph 501-920-5733, 13900 Cottontail Lane, Alexander, AR 72002
PS: What is the meaning of life? Find it in the end of the open letter I wrote to Ricky Gervais on April 23, 2020 and it was published on my blog under the title Open Letter #6 to Ricky Gervais on comparison of the Tony of AFTER LIFE to the Solomon of ECCLESIASTES, Both are searching for answers UNDER THE SUN but are coming up empty!.
—-
I have posted many of the sermons by John MacArthur. He is a great bible teacher and this sermon below is another great message. His series on the Book of Proverbs was outstanding too. I also have posted several of the visits MacArthur made to Larry King's Show. One of two most popular posts I […]By Everette Hatcher III | Posted in Adrian Rogers, Current Events |Tagged Bible Prophecy, john macarthur | Edit|Comments (0)
Prophecy–The Biblical Prophesy About Tyre.mp4 Uploaded by TruthIsLife7 on Dec 5, 2010 A short summary of the prophecy about Tyre and it's precise fulfillment. Go to this link and watch the whole series for the amazing fulfillment from secular sources. http://www.youtube.com/watch?v=qvt4mDZUefo________________ John MacArthur on the amazing fulfilled prophecy on Tyre and how it was fulfilled […]By Everette Hatcher III | Posted in Biblical Archaeology | Edit|Comments (1)
John MacArthur on the Bible and Science (Part 2) I have posted many of the sermons by John MacArthur. He is a great bible teacher and this sermon below is another great message. His series on the Book of Proverbs was outstanding too. I also have posted several of the visits MacArthur made to Larry […]By Everette Hatcher III | Posted in Current Events | Edit|Comments (0)