–
If you don't want to spend two minutes watching the video, I explained that the burden of government spending is going to dramatically increase over the next several decades because of demographic change and poorly designed entitlement programs.
This means we will have to make a choice: Either reform entitlements or acquiesce to massive future tax increases.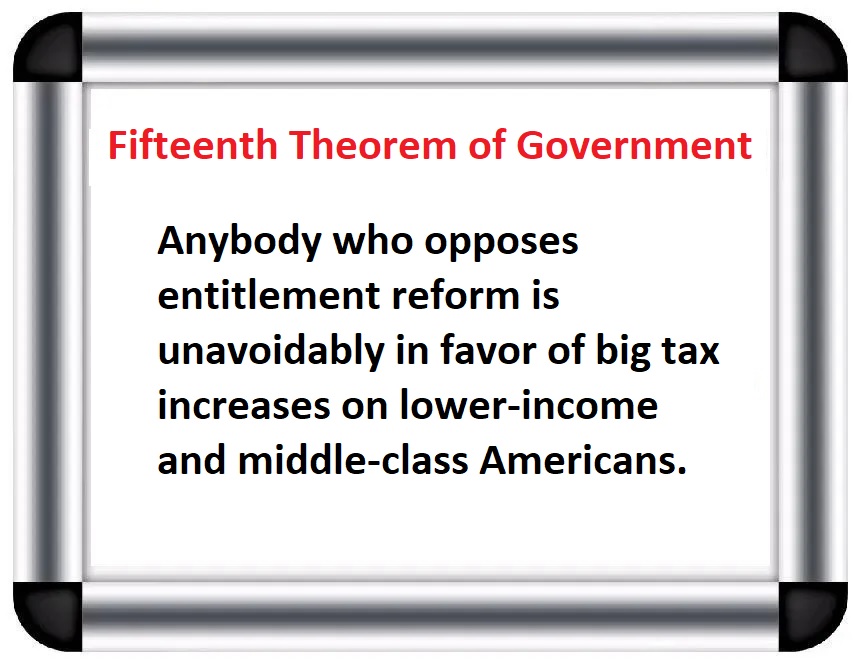 And because Biden and Trump oppose entitlement reform, that means that they favor tax increases.
Moreover, since there are not nearly enough rich people to finance big government, this means Biden and Trump favor massive tax increases on lower-income and middle-class households.
To be fair, there are alternatives other than entitlement reform or big tax increases.
For instance, politicians could endlessly issue more debt. That might work, at least until the fiscal house of cards collapses.
Another possibility, at least with regards to Social Security, is to do nothing.
How is this an alternative? Well, David McIntosh, President of the Club for Growth, explained last month in the Wall Street Journal that the Biden-Trump position on Social Security could be a recipe for automatic benefit cuts.
Joe Biden and Donald Trump agree on one thing. "I guarantee you I will protect Social Security and Medicare without any change. Guaranteed," Mr. Biden said in March. Mr. Trump has said: "I will do everything within my power not to touch Social Security, to leave it the way it is." …The Biden-Trump position may sound like a pledge to protect Social Security, but it isn't.…the Old Age and Survivors Insurance Trust Fund…will be able to issue payments to retirees only until 2034. …once the trust fund reserve is depleted, beneficiary payouts will be limited to whatever funds come in from Social Security payroll taxes. …Thus consequences of leaving Social Security "without any changes," as promised by Biden-Trump, are dire. Ten years from now, benefit cuts of 23% will be triggered if there is no change to Social Security…the Biden-Trump strategy has been to play "beat the clock," leaving their successors to deal with the crisis. Candidates with a record of entitlement reform like Messrs. Pence and DeSantis would do well to point out that doing nothing is the worst Social Security cut.
Technically, McIntosh is 100 percent correct. Under current law, there will be automatic benefit cuts once there no longer are any IOUs in the Social Security Trust Fund.
In reality, future politicians almost surely will change the law to continue full payments. Which is why I feel confident in stating that our real choice is between genuine entitlement reform and massive tax increases.
P.S. My collection of "honest leftists" includes many who openly admit that giant tax increases will be needed if there is no entitlement reform.
P.P.S. The agreement between Biden and Trump on entitlements should not be a surprise. They also agree on many other issues, such as nationalizedinfrastructure, industrial policy, governmentspending, and trade protectionism.
Author Biography
Eric Schurenberg is Editor-in-Chief of BNET.com and Editorial Director of CBS MoneyWatch.com. Previously, Eric was managing editor of MONEY. As managing editor, he expanded the editorial focus to new interests including real estate, family finance, health, retirement, and the workplace. Prior to MONEY, Eric was deputy editor of Business 2.0. He was also the managing editor of goldman.com, a Web site for Goldman Sachs Group's personal wealth management business, and an assistant managing editor at Fortune magazine. Schurenberg has won a Gerald Loeb Award for distinguished business journalism, a National Magazine Award, and a Page One Award.
In his article "5 Social Security Myths That Have to Go, " Schurenberg notes:
Social Security isn't the only cause of America's fiscal problems, but it is Exhibit A in why it is so hard to fix them. No serious solution to our debt can ignore a program that will tax and spend about 4.8% of GDP this year and account for about 20% of all federal spending-and that within a few decades will count almost a third of the population as beneficiaries. But whenever I write about Social Security here at CBS MoneyWatch, I'm always struck by how much disagreement there is about how the system really works.
A handful of misconceptions tend to crop up repeatedly-often having to do with that fiscal fun-house mirror, the Social Security trust fund. And despite the efforts of writers like Allan Sloan and experts like the Urban Institute's Eugene Steuerle, the myths won't die. This column won't kill them either, but that doesn't mean we shouldn't take a whack. Here goes:
Myth: Social Security benefits are earned; reducing them amounts to confiscation
It's not hard to see why this illusion exists, since Social Security's own website refers to "earned credits" and sometimes refers to payroll taxes as contributions. But despite Social Security's fetish for language that echoes private pensions, no one ever vests in Social Security. You don't own your benefits until you cash the check.
It's more accurate to say your benefits are an entitlement granted by act of Congress and subject to change at any time by another act of Congress. As long as voters consider benefits inviolate, they will be. When voters decide fiscal responsibility is more important, then Social Security benefits- "earned" or not-will be up for review.
__________________________________________
Professor Williams explains what's ahead for Social Security