–
Time to add to our collection of humor about gun control.
Back in 2013, I conducted a poll on the most important reason to oppose gun control. The most-common answer was to have the ability to resist government tyranny. Which is the theme of our first item.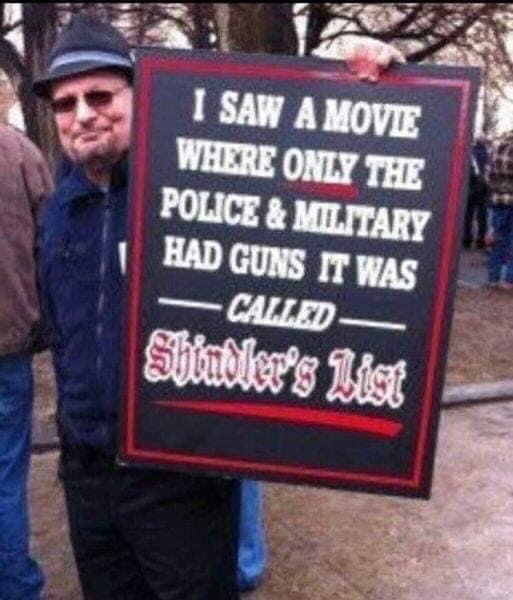 The next bit of humor has the same message.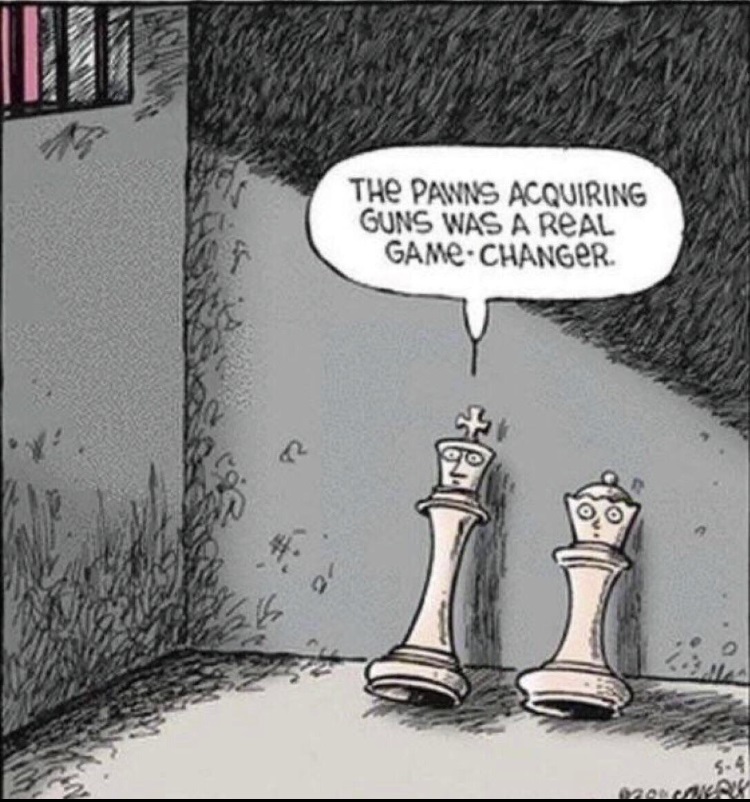 Our third item reminds me of my "IQ test" for criminals.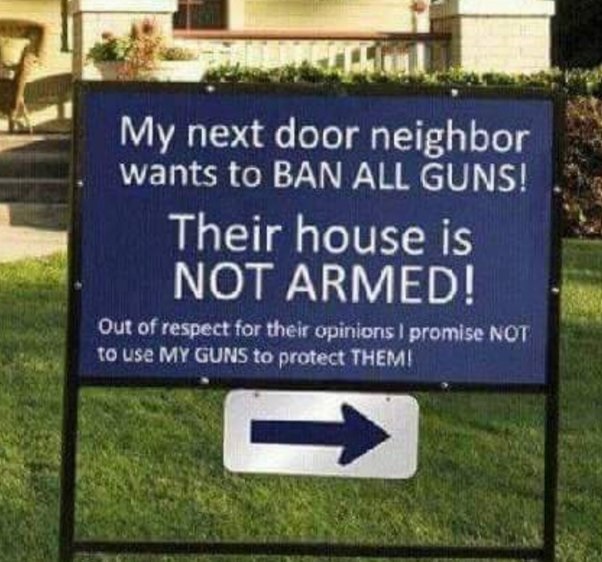 Next we have a cartoon that combines two hot-button issues.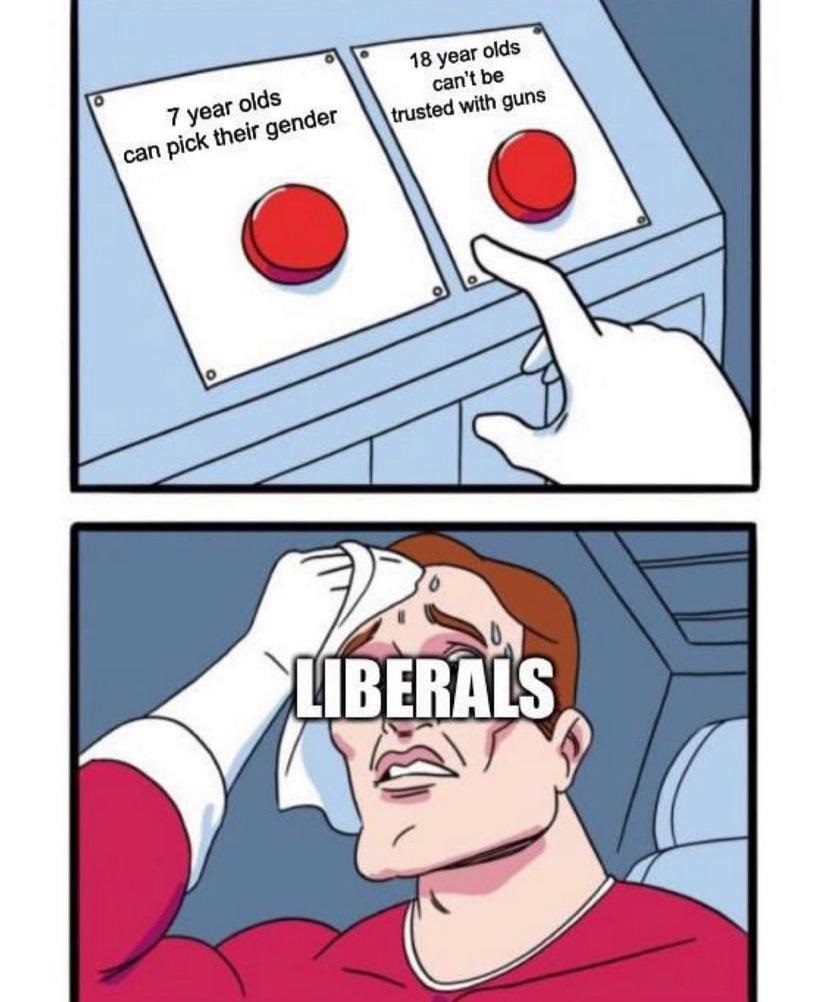 As is my tradition, I've saved the best for last.
And the reason it's the best is because it is such an accurate depiction of the thinking of our friends on the left.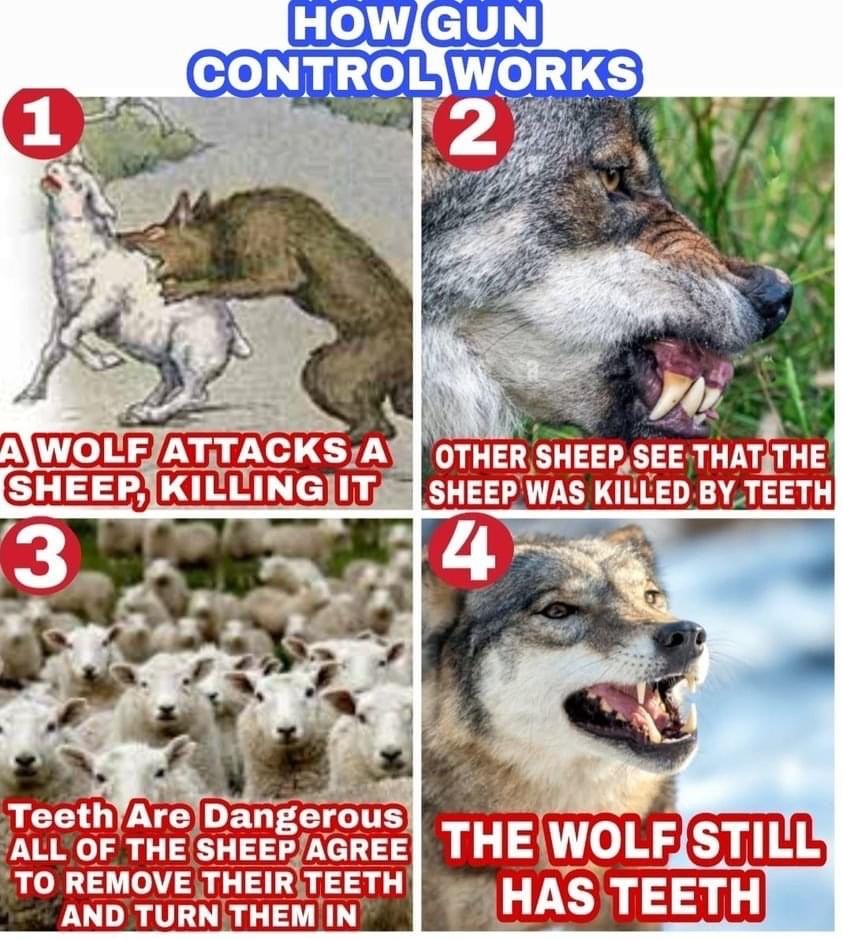 P.S. Regarding the quiz I mentioned at the start of the column, I think the correct answer is that we should oppose gun control in order to have the ability to protect ourselves in case of societal breakdown.
As we saw most recently at the height of the pandemic, it is unwise to rely on government to protect us during times of crisis.
Heck, governments don't do a good job of protecting us during times of calm.
I support the the right to keep and bear arms. That said, the horrific school shooting in Texas almost leads me to wish that guns did not exist. Here's some of what I said as part of a recent episode of The Square Circle.
My main argument during the program is that gun control simply does not work. Such laws might deter law-abiding people from owning guns, but bad people – especially the nutjobs – obviously don't care about breaking rules.
It is true that nationwide guns bans and gun confiscation might make it harder for these evil people to obtain firearms, but watch this video from Reason (or look at this polling data) if you actually think that's a practical approach.
Some people argue that it would be better to allow teachers and other school staff to possess weapons.
That would be better than nothing, but who knows if that would have a measurable impact.
Other people say the problem is mental health and/or societal decay.
I'm sure those are factors as well, but pointing out problems is not the same as devising solutions.
Though maybe there is a way we can strengthen "red flag laws" while also guarding against abuse. I'm skeptical, but would like to be proven wrong.
For purposes of today's column, I want to focus on what appears to be negligent behavior by the cops in Texas. Here are some excerpts from a report by the New York Times.
The grief of families in Uvalde, Texas, was compounded by anger and frustration on Thursday as police leaders struggled to answer questions about the horrific hour it took to halt a gunman who opened fire on students and teachers inside Robb Elementary School.…Parents had massed outside the school on Tuesday as gunfire erupted inside, urging the police who were holding them at bay to go in and stop the carnage. …An armed Uvalde school district officer, who had been nearby, responded…the gunman began firing at the windows and entered the building. The officer did not open fire. …the gunman…went through an unlocked door at 11:40 a.m…and began shooting inside. Police officers, including the school district officer, went into the school minutes later. By the time officers reported that the gunman had been killed around 1 p.m., he had shot dead 19 students and two teachers.
We don't yet know how quickly this dirtbag killed the kids, but a delay of more than one hour obviously gave him plenty of time.
During that terrifying time — well over an hour — parents of students who were trapped in the school gathered outside the building… Some were physically restrained by the police in a scene that witnesses described as disorder bordering on mayhem. …"Parents were crying and some were fighting verbally with the police and screaming that they wanted their children," Marcela Cabralez, a pastor, said. Miguel Palacios, a small-business owner, said frantic parents were so upset that at one point they tried to take down the school's chain-link fence. "The parents were on one side of the fence, the Border Patrol and police were on the other side of the fence, and they were trying to tear it open," he said. Some of the parents implored the heavily armed police officers at the chaotic scene to storm the school. Others, including those who were off-duty members of law enforcement, went inside themselves to try to find their own children. "There were plenty of men out there armed to the teeth that could have gone in faster," said Javier Cazares, 43, who arrived at the school on Tuesday as the attack was taking place. He said he could hear gunfire; his daughter, Jacklyn, was inside.
Sadly, the cops in Uvalde either lacked modern training or they disregarded that training.
…questions remained about the decision by the police at the scene to await the arrival of specially trained officers from the Border Patrol to finally storm through the classroom door roughly an hour after officers had first pulled back. …Officers are now trained to disable an active shooter as quickly as possible, before rescuing victims and without waiting for a tactical team or special equipment to arrive.
As I said in the interview, I would not want to charge into a classroom and face hostile gunfire. But if I signed up to be a cop, I would understand that periodic bravery was part of my employment contract.
If I then failed to act, I would live in shame for the rest of my life and would not argue about getting fired and losing my pension.
P.S. When writing on gun-related issues, I always like to share what some honest folks on the left have written.
Open letter to President Obama (Part 557)
(Emailed to White House on 6-25-13.)
President Obama c/o The White House 1600 Pennsylvania Avenue NW Washington, DC 20500
Dear Mr. President,
I know that you receive 20,000 letters a day and that you actually read 10 of them every day. I really do respect you for trying to get a pulse on what is going on out here.
The federal government debt is growing so much that it is endangering us because if things keep going like they are now we will not have any money left for the national defense because we are so far in debt as a nation. We have been spending so much on our welfare state through food stamps and other programs that I am worrying that many of our citizens are becoming more dependent on government and in many cases they are losing their incentive to work hard because of the welfare trap the government has put in place. Other nations in Europe have gone down this road and we see what mess this has gotten them in. People really are losing their faith in big government and they want more liberty back. It seems to me we have to get back to the founding  principles that made our country great.  We also need to realize that a big government will encourage waste and corruption. The recent scandals in our government have proved my point. In fact, the jokes you made at Ohio State about possibly auditing them are not so funny now that reality shows how the IRS was acting more like a monster out of control. Also raising taxes on the job creators is a very bad idea too. The Laffer Curve clearly demonstrates that when the tax rates are raised many individuals will move their investments to places where they will not get taxed as much.
______________________
Gun Control explained
Buy a Shotgun Joe Biden Lying AR-15
Make your own Gun Free Zone
PRK Arms on CBS 47 news,  Fresno
Gun control can cost lives!!!!!
May 21, 2013 by Dan Mitchell
"
_____________
Thank you so much for your time. I know how valuable it is. I also appreciate the fine family that you have and your commitment as a father and a husband.
Sincerely,
Everette Hatcher III, 13900 Cottontail Lane, Alexander, AR 72002, ph 501-920-5733, lowcostsqueegees@yahoo.com
Related posts:
  Max Brantley of The Arkansas Times again on 2-18-13 is complaining about those who believe strongly in the 2nd amendment. Another good cartoon from Dan Mitchell's blog on gun control. It seems that Colorado is the only state that has passed sensible gun control laws after a gun tragedy and that was after the […]
By Everette Hatcher III | Posted in Arkansas Times, Cato Institute, Gun Control, Max Brantley | Edit | Comments (0