RESPONDING TO HARRY KROTO'S BRILLIANT RENOWNED ACADEMICS!! Part 149Z Sir Bertrand Russell
_
On November 21, 2014 I received a letter from Nobel Laureate Harry Kroto and it said:
…Please click on this URL http://vimeo.com/26991975
and you will hear what far smarter people than I have to say on this matter. I agree with them.
Harry Kroto
__
Soren Andersson/AP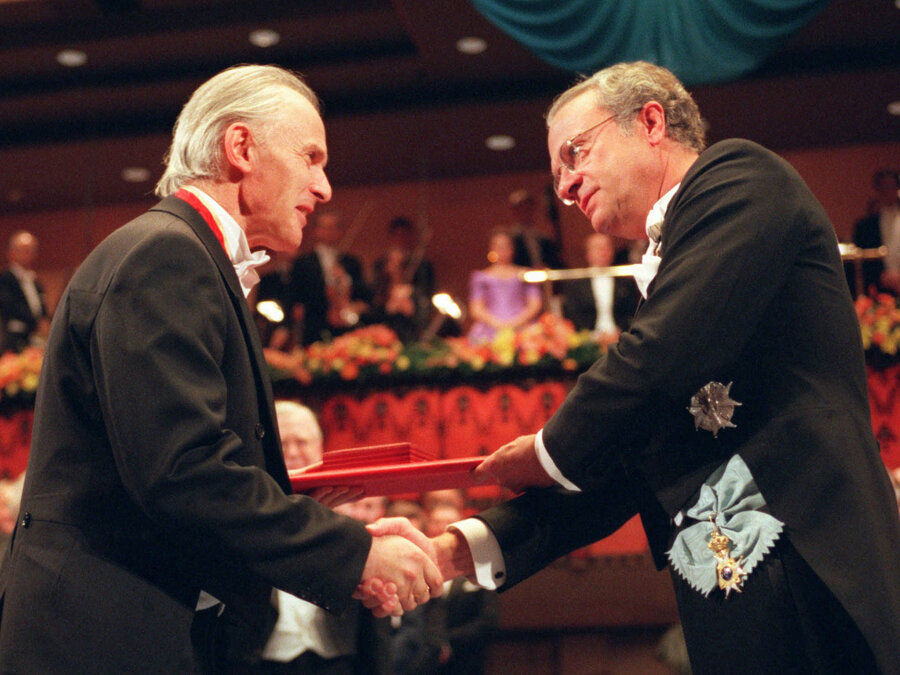 __
I have attempted to respond to all of Dr. Kroto's friends arguments and I have posted my responses one per week for over a year now. Here are some of my earlier posts:
Arif Ahmed, Sir David Attenborough, Mark Balaguer, Horace Barlow, Michael Bate, Patricia Churchland, Aaron Ciechanover, Noam Chomsky,Alan Dershowitz, Hubert Dreyfus, Bart Ehrman, Stephan Feuchtwang, David Friend,  Riccardo Giacconi, Ivar Giaever , Roy Glauber, Rebecca Goldstein, David J. Gross,  Brian Greene, Susan Greenfield, Stephen F Gudeman,  Alan Guth, Jonathan Haidt, Theodor W. Hänsch, Brian Harrison,  Hermann Hauser, Roald Hoffmann,  Bruce Hood, Herbert Huppert,  Gareth Stedman Jones, Steve Jones, Shelly Kagan, Michio Kaku,  Stuart Kauffman,  Lawrence Krauss, Harry Kroto, George Lakoff, Elizabeth Loftus,  Alan Macfarlane, Peter Millican, Marvin Minsky, Leonard Mlodinow,  Yujin Nagasawa, Alva Noe, Douglas Osheroff,  Jonathan Parry,  Saul Perlmutter, Herman Philipse,  Carolyn Porco, Robert M. Price, Lisa Randall, Lord Martin Rees,  Oliver Sacks, John Searle, Marcus du Sautoy, Simon Schaffer, J. L. Schellenberg,   Lee Silver,  Peter Singer,  Walter Sinnott-Armstrong, Ronald de Sousa, Victor Stenger, Barry Supple,   Leonard Susskind, Raymond Tallis, Neil deGrasse Tyson,  .Alexander Vilenkin, Sir John Walker, Frank Wilczek, Steven Weinberg, and  Lewis Wolpert,
_
In  the first video below in the 14th clip in this series are his words and I will be responding to them in the next few weeks since Sir Bertrand Russell is probably the most quoted skeptic of our time, unless it was someone like Carl Sagan or Antony Flew.  
50 Renowned Academics Speaking About God (Part 1)
Another 50 Renowned Academics Speaking About God (Part 2)
A Further 50 Renowned Academics Speaking About God (Part 3)
__
Quote from Bertrand Russell:
Q: Why are you not a Christian?
Russell: Because I see no evidence whatever for any of the Christian dogmas. I've examined all the stock arguments in favor of the existence of God, and none of them seem to me to be logically valid.
Q: Do you think there's a practical reason for having a religious belief, for many people?
Russell: Well, there can't be a practical reason for believing what isn't true. That's quite… at least, I rule it out as impossible. Either the thing is true, or it isn't. If it is true, you should believe it, and if it isn't, you shouldn't. And if you can't find out whether it's true or whether it isn't, you should suspend judgment. But you can't… it seems to me a fundamental dishonesty and a fundamental treachery to intellectual integrity to hold a belief because you think it's useful, and not because you think it's true._
Bertrand Russell pictured above and Francis Schaeffer below:
Francis Schaeffer noted in his book HOW SHOULD WE THEN LIVE? (p. 182 in Vol 5 of Complete Works) in the chapter The Breakdown in Philosophy and Science:
In his lecture at Acapulco, George Wald finished with only one final value. It was the same one with which English philosopher Bertrand Russell (1872-1970) was left. For Wald and Russell and for many other modern thinkers, the final value is the biological continuity of the human race. If this is the only final value, one is left wondering why this then has importance. 
Now having traveled from the pride of man in the High Renaissance and the Enlightenment down to the present despair, we can understand where modern people are. They have no place for a personal God. But equally they have no place for man as man, or for love, or for freedom, or for significance. This brings a crucial problem. Beginning only from man himself, people affirm that man is only a machine. But those who hold this position cannot live like machines! If they could, there would have been no tensions in their intellectual position or in their lives. But even people who believe they are machines cannot live like machines, and thus they must "leap upstairs" against their reason and try to find something which gives meaning to life, even though to do so they have to deny their reason. 
Francis Schaeffer in another place worded it like this:
The universe was created by an infinite personal God and He brought it into existence by spoken word and made man in His own image. When man tries to reduce [philosophically in a materialistic point of view] himself to less than this [less than being made in the image of God] he will always fail and he will always be willing to make these impossible leaps into the area of nonreason even though they don't give an answer simply because that isn't what he is. He himself testifies that this infinite personal God, the God of the Old and New Testament is there. 
We all know deep down that God exists and even atheists have to grapple with that knowledge.
Solomon wisely noted in Ecclesiastes 3:11 "God has planted eternity in the heart of men…" (Living Bible). No wonder Bertrand Russell wrote in his autobiography, "It is odd, isn't it? I feel passionately for this world and many things and people in it, and yet…what is it all? There must be something more important, one feels, though I don't believe there is. I am haunted. Some ghosts, for some extra mundane regions, seem always trying to tell me something that I am to repeat to the world, but I cannot understand that message."
Take a look at this 7th episode from Schaeffer's series "HOW SHOULD WE THEN LIVE? The Age of Nonreason":
How Should We Then Live – Episode Seven – 07 – Portuguese Subtitles
_
Instead of making a leap into the area of nonreason the better choice would be to investigate the claims that the Bible is a historically accurate book and that God created the universe and reached out to humankind with the Bible.
Schaeffer then points to the historical accuracy of the Bible in Chapter 5 of the book WHATEVER HAPPENED TO THE HUMAN RACE?
The Bible and Archaeology – Is the Bible from God? (Kyle Butt 42 min)
You want some evidence that indicates that the Bible is true? Here is a good place to start and that is taking a closer look at the archaeology of the Old Testament times. Is the Bible historically accurate? Here are some of the posts I have done in the past on the subject: 1. The Babylonian Chronicle, of Nebuchadnezzars Siege of Jerusalem, 2. Hezekiah's Siloam Tunnel Inscription. 3. Taylor Prism (Sennacherib Hexagonal Prism), 4. Biblical Cities Attested Archaeologically. 5. The Discovery of the Hittites, 6.Shishak Smiting His Captives, 7. Moabite Stone, 8. Black Obelisk of Shalmaneser III, 9A Verification of places in Gospel of John and Book of Acts., 9B Discovery of Ebla Tablets. 10. Cyrus Cylinder, 11. Puru "The lot of Yahali" 9th Century B.C.E., 12. The Uzziah Tablet Inscription, 13. The Pilate Inscription, 14. Caiaphas Ossuary, 14 B Pontius Pilate Part 2, 14c. Three greatest American Archaeologists moved to accept Bible's accuracy through archaeology., 
____
Francis Schaeffer noted concerning the IMPLICIT FAITH of Bertrand Russell:
I was lecturing at the University of St. Andrews one night and someone put forth the question, "If Christianity is so clear and reasonable then why doesn't Bertrand Russell then become a Christian? Is it because he hasn't discovered theology?"
It wasn't a matter of studying theology that was involved but rather that he had too much faith. I was surrounded by humanists and you could hear the gasps. Bertrand Russell and faith; Isn't this the man of reason? I pointed out that this is a man of high orthodoxy who will hold his IMPLICIT FAITH on the basis of his presuppositions no matter how many times he has to zig and zag because it doesn't conform to the facts.
You must understand what the term IMPLICIT FAITH  means. In the old Roman Catholic Church when someone who became a Roman Catholic they had to promise implicit faith. That meant that you not only had to believe everything that Roman Catholic Church taught then but also everything it would teach in the future. It seems to me this is the kind of faith that these people have in the uniformity of natural causes in a closed system and they have accepted it no matter what it leads them into. 
I think that these men are men of a high level of IMPLICIT FAITH in their own set of presuppositions. Paul said (in Romans Chapter One) they won't carry it to it's logical conclusion even though they hold a great deal of the truth and they have revolted and they have set up a series of universals in themselves which they won't transgress no matter if they conform to the facts or not.
Here below is the Romans passage that Schaeffer is referring to and verse 19 refers to what Schaeffer calls "the mannishness of man" and verse 20 refers to Schaeffer's other point which is "the universe and it's form."
Romans 1:18-20 Amplified Bible :
18 For God's [holy] wrath and indignation are revealed from heaven against all ungodliness and unrighteousness of men, who in their wickedness repress and hinder the truth and make it inoperative. 19 For that which is known about God is evident to them and made plain in their inner consciousness, because God [Himself] has shown it to them. 20 For ever since the creation of the world His invisible nature and attributes, that is, His eternal power and divinity, have been made intelligible and clearly discernible in and through the things that have been made (His handiworks). So [men] are without excuse [altogether without any defense or justification].
We can actually see the two points makes playing themselves out in Bertrand Russell's own life.
1024 × 576
Images may be subject to copyright
. 
Learn More
[From a letter dated August 11, 1918 to Miss Rinder when Russell was 46]
It is so with all who spend their lives in the quest of something elusive, and yet omnipresent, and at once subtle and infinite. One seeks it in music, and the sea, and sunsets; at times I have seemed very near it in crowds when I have been feeling strongly what they were feeling; one seeks it in love above all. But if one lets oneself imagine one has found it, some cruel irony is sure to come and show one that it is not really found.
The outcome is that one is a ghost, floating through the world without any real contact. Even when one feels nearest to other people, something in one seems obstinately to belong to God and to refuse to enter into any earthly communion—at least that is how I should express it if I thought there was a God. It is odd isn't it? I care passionately for this world, and many things and people in it, and yet…what is it all? There must be something more important, one feels, though I don't believe there is. I am haunted—some ghost, from some extra-mundane region, seems always trying to tell me something that I am to repeat to the world, but I cannot understand the message. 
There was evidence during Bertrand Russell's own life that indicated that the Bible was true and could be trusted.
Here is some below:
TRUTH AND HISTORY (chapter 5 of WHATEVER HAPPENED TO THE HUMAN RACE?, under footnotes #97 and #98) written by Francis Schaeffer and C. Everett Koop
A common assumption among liberal scholars is that because the Gospels are theologically motivated writings–which they are–they cannot also be historically accurate. In other words, because Luke, say (when he wrote the Book of Luke and the Book of Acts), was convinced of the deity of Christ, this influenced his work to the point where it ceased to be reliable as a historical account. The assumption that a writing cannot be both historical and theological is false.
The experience of the famous classical archaeologist Sir William Ramsay illustrates this well. When he began his pioneer work of exploration in Asia Minor, he accepted the view then current among the Tubingen scholars of his day that the Book of Acts was written long after the events in Paul's life and was therefore historically inaccurate. However, his travels and discoveries increasingly forced upon his mind a totally different picture, and he became convinced that Acts was minutely accurate in many details which could be checked.

Sir William Mitchell Ramsay, a 19th Century English historian and prolific writer, held a pervasive anti-Biblical bias. He believed the historical accounts in the Book of Acts were written in the mid-2nd Century. Ramsay was skeptical of Luke's authorship and the historicity of the Book of Acts, and he set out to prove his suspicions. He began a detailed study of the archaeological evidence, and eventually came to an illuminating conclusion: the historical and archaeological evidence supported Luke's 1st Century authorship and historical reliability:
"(There are) reasons for placing the author of Acts among the historians of the first rank" (Sir William Ramsay, St. Paul the Traveler and the Roman Citizen, p. 4).
Ramsay became convinced of Luke's reliability based on the accurate description of historical events and settings. Ramsay wasn't the only scholar to be impressed by Luke's accuracy:
"One of the most remarkable tokens of (Luke's) accuracy is his sure familiarity with the proper titles of all the notable persons who are mentioned . . . Cyprus, for example, which was an imperial province until 22 BC, became a senatorial province in that year, and was therefore governed no longer by an imperial legate but by a proconsul. And so, when Paul and Barnabas arrived in Cyprus about AD 47, it was the proconsul Sergius Paullus whom they met . . .' (F.F. Bruce, The New Testament Documents: Are They Reliable?, p. 82).
Luke's narratives include detailed and specific descriptions related to the locations, people, offices and titles within the Roman Empire. In fact, many of Luke's claims were eventually confirmed by archaeological discoveries:
Related to Quirinius
Luke wrote that Joseph and Mary returned to Bethlehem because a Syrian governor named Quirinius was conducting a census (Luke 2:1–3). Archaeological discoveries in the nineteenth century revealed Quirinius (or someone with the same name) was also a proconsul of Syria and Cilicia from 11 BC to the death of Herod. Quirinius's name has been discovered on a coin from this period of time, and on the base of a statue erected in Pisidian Antioch.
Related to Erastus
In Romans 16:23, Paul wrote, "Erastus, the city treasurer greets you." A piece of pavement was discovered in Corinth in 1929 confirming his existence.
Related to Lysanias
Luke described a tetrarch named Lysanias and wrote that this man reigned over Abilene when John the Baptist began his ministry (Luke 3:1). Two inscriptions have been discovered that mention Lysanias by name. One of these, dated from AD 14–37, identifies Lysanias as the tetrarch in Abila near Damascus.
Related to Iconium
In Acts 13:51, Luke described this city in Phyrigia. Some ancient writers (like Cicero) wrote that Iconium was located in Lycaonia, rather than Phyrigia, but a monument was discovered in 1910 that confirmed Iconium as a city in Phyrigia.
Related to the Pool of Bethesda
John wrote about the existence of a pool of Bethesda (John 5:1–9) and said that it was located in the region of Jerusalem, near the Sheep Gate, surrounded by five porticos. In 1888, archaeologists began excavating the area near St. Anne's Church in Jerusalem and discovered the remains of the pool, complete with steps leading down from one side and five shallow porticos on another side.
Related to Politarchs
For many centuries, Luke was the only ancient writer to use the word Politarch to describe "rulers of the city." Skeptics doubted that it was a legitimate Greek term until nineteen inscriptions were discovered. Five of these were in reference to Thessalonica (the very city in which Luke was claiming to have heard the term).
Related to the Pool of Siloam
John wrote about the "Pool of Siloam" (John 9:1–12) and described it as a place of ceremonial cleansing. Archaeologists Ronny Reich and Eli Shukrun excavated the pool and dated it from 100 BC to AD 100 (based on the features of the pool and coins found in the plaster).
Related to Pontius Pilate
For many years, the only corroboration we had for the existence of Pontius Pilate (the governor of Judea who authorized the crucifixion of Jesus) was a very brief citation by Tacitus. In 1961, however, a piece of limestone was discovered bearing an inscription with Pilate's name. The inscription was discovered in Caesarea, a provincial capital during Pilate's term (AD 26–36), and it describes a building dedication from Pilate to Tiberius Caesar.
Related to the Custom of Crucifixion
While thousands of condemned criminals and war prisoners were reportedly executed in this manner, not a single one of them had ever been discovered in any archaeological site. In 1968, Vassilios Tzaferis found the first remains of a crucifixion victim, Yohanan Ben Ha'galgol, buried in a proper Jewish "kôkhîmtype" tomb.
Related to Sergius Paulus
In Acts 13, Luke identified Sergius Paulus, a proconsul in Paphos. Skeptics doubted the existence of this man and claimed that any leader of this area would be a "propraetor" rather than a proconsul. But an inscription was discovered at Soli in Cyprus that acknowledged Paulus and identified him as a proconsul.
In addition to these archaeological discoveries, there are many other details recorded in the Book of Acts corroborating its historical accuracy. Luke describes features of the Roman world corroborated by other non-Christian historians:
Luke includes a correct description of two ways to gain Roman citizenship (Acts 22:28)
Luke includes an accurate explanation of provincial penal procedure (Acts 24:1-9)
Luke includes a correct depiction of invoking one's roman citizenship, including the legal formula, de quibus cognoscere volebam (Acts 25:18)
Luke includes a accurate description of being in Roman custody and the conditions of being imprisoned at one's own expense (Acts 28:16 and Acts 28:30-31)
Archaeology is a discipline of "fractions". Given the nature of archaeology, we shouldn't expect to find corroboration for every claim of history, regardless of historic author.  But in spite of the inherent difficulties and limitations of the discipline, the archaeological evidence supporting the claims of the New Testament is incredibly robust (refer to the Biblical Archaeology Society for additional evidence). As a detective, I've also come to respect and recognize the limits of corroborative evidence. Archaeology sufficiently corroborates the history of the New Testament, providing us with "remarkable tokens of (Luke's) accuracy".
J. Warner Wallace is a Cold-Case Detective, Christian Case Maker, Senior Fellow at the Colson Center for Christian Worldview, and the author of Cold-Case Christianity, Cold-Case Christianity for Kids, God's Crime Scene, God's Crime Scene for Kids, and Forensic Faith.
Related posts: