—
E. O. Wilson | The Meaning of Human Existence

E.O. Wilson: Science, Not Philosophy, Will Explain the Meaning of Existence
I don't know if he ever listened to the casette tapes I sent him.
My second cassette tape that I sent to Antony Flew and EO Wilson and George Wald was Adrian Rogers' sermon on evolution and here at this link you can watch that very sermon on You Tube. Carl Sagan also took time to correspond with me about a year before he died.
(Francis Schaeffer's books and films were introduced to me in the 1970's by my high school teacher Mark Brink of EVANGELICAL CHRISTIAN SCHOOL and pictured below is Francis Schaeffer.
Adrian Rogers pictured below
I have posted on Adrian Rogers' messages on Evolution beforebut here is a complete message on it.
Evolution: Fact of Fiction? By Adrian Rogers
1. Four Bridges that the Evolutionist Cannot Cross
Now, I said I rejected evolution. The first reason is for logical reasons. There are four bridges that the evolutionist cannot cross; and, I want to mention these, and this is all under the heading of logical reasons.
c. The Second Law of Thermodynamics
The third bridge that the evolutionist cannot logically cross is the Second Law of Thermodynamics. Now, what is the Second Law of Thermodynamics? This law says that energy is never destroyed. Everything tends to wear out, to run down, to disintegrate, and, ultimately, to die, but energy just moves to some other form. All processes, by definition, involve change, but the change—now, listen very carefully—is not in the upward direction of complexity, as the evolutionist declares. But, change left to itself is always in disintegration, not in integration. Now, that's the Second Law of Thermodynamics. It's called…—to itself, everything collapses, deteriorates, grows old, and dies, sooner or later—it's called entropy.
Well, why would that be? Well, I preached on that, this morning. We have a creation that is under judgment. And, because it's under judgment, it involves decay and death. Romans 8:22: "For we know that the whole creation groaneth and travaileth in pain together until now." Left to themselves, things do not organize; they disorganize. They collapse; they deteriorate. They grow old; they die. They wear out. You can have a beautiful garden. Leave it alone—what happens to it? Leave your body alone; don't exercise. Don't take care of it, and see what will happen to it. Take a brand new automobile; park it in the woods. Go off, and come back in a few years; and, see what has happened to it. Or, even a boy's bedroom—leave it alone; see what is going to happen to it.
Now, the evolutionist says, given enough time, these molecules are going to organize themselves; they're going to synthesize themselves. The parts are going to come together from simplicity to intricacy.
Well, if you would take the parts of a new automobile, and fly at the height of 10,000 feet, and dump them out, would they assemble themselves into an automobile, before they hit the ground? Suppose I drop the disassembled parts of a car from an airplane at 10,000 feet. Would they assemble themselves before they hit the ground? "Well," you say, "of course not. They'd be just spread out all over." Well, the evolutionist would say, "Well, you just don't have enough time." Okay, rather than 10,000 feet, let's take it up to 100,000 feet. Now, is it going to be more organized or less organized?
You see, the more that time goes on, the more disintegration you have. Everything we see disintegrates, not integrates, when left alone by itself. That is called the Second Law of Thermodynamics.
d. The Non-Physical Properties Found in Creation
Now, here's the fourth bridge that the evolutionists cannot logically cross, and that is the non-physical properties found in creation. Now, what do I mean by the non-physical properties found in creation? Music, Brother Ken—the love of music, art, beauty, a hunger for God, worship. What is there in the survival of the fittest—what is there in the evolutionary process—that would produce these things? How can they be accounted for under the survival of the fittest? Where do these things come from? Genesis 1, verse 26: "And God said, Let us make man in our image, after our likeness…" (Genesis 1:26). You see, we have these inner things—this love for beauty, for art, for truth, for eternity. That didn't come from some primordial ooze; that came from the God who created us.
Now, I've mentioned all of this under one heading. It's the first of three reasons; all of this is the first of three reasons. I reject evolution for logical reasons. There are four bridges that the evolutionists cannot cross, has not crossed, will not cross.
The Social Conquest of Earth | Edward O. Wilson
Edward O. Wilson The Meaning of Human Existence Audiobook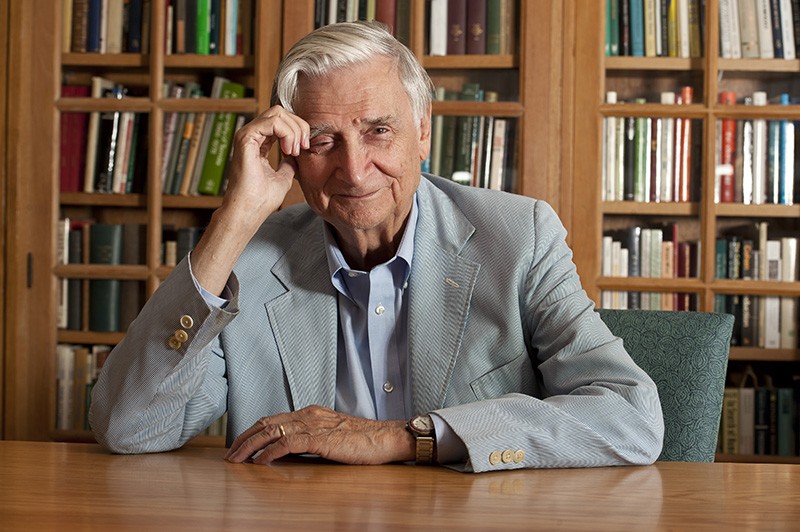 Harvard University Professor E.O. Wilson in his office at Harvard University in Cambridge, MA. USACredit: Rick Friedman/Corbis via Getty.

Francis A. Schaeffer
Founder of the L'Abri community
—
Francis Schaeffer mentioned Edward O. Wilson in his book WHATEVER HAPPENED TO THE HUMAN RACE? co-authored by C.Everett Koop on pages 289-291 (ft note 6 0n page 504). That was when I was first introduced to Dr. Wilson's work. Wikipedia notes, Edward Osborne Wilson (June 10, 1929 – December 26, 2021) was an American biologist, naturalist, and writer. His specialty was myrmecology, the study of ants, on which he was called the world's leading expert,[3][4] and he was nicknamed Ant Man.[5][6][7][8]
I was honored to correspond with Dr. Wilson from 1994 to 2021!!
Paul Gauguin, Nihilism, Woody Allen and Ecclesiastes Mailed 2-2-17
"Ned, I would love to stand here and talk with you… but I'm not going to."
"What if there is no tomorrow? There wasn't one today."
Bill Murray punching clock groundhog day alarm
"This is pitiful. A thousand people freezing their butts off waiting to worship a rat. What a hype."
"There is no way this winter is ever going to end, as long as this groundhog keeps seeing his shadow. I don't see any other way out. He's got to be stopped. And I have to stop him."
_________
2-2-17
Dr. Edward O. Wilson, Museum of Comparative Zoology Faculty Emeritus
Pellegrino University Professor, Emeritus c/o Museum of Comparative Zoology
Harvard University
26 Oxford Street
Cambridge, MA 02138
Dear Dr. Wilson,
I know that I just wrote you recently but I have read your book THE MEANING OF HUMAN EXISTENCE 4 times now and it keeps bringing me back to the Book of Ecclesiastes. Today is February 2nd, GROUNDHOG DAY and I am reminded of the Bill Murray movie GROUNDHOG DAY. In that movie he can't get out of Groundhog Day until he gets it all figured out and that is how I feel about your book THE MEANING OF HUMAN EXISTENCE. In both that book and THE SOCIAL CONQUEST OF EARTH you discuss Paul Gauguin.
Here are your conclusions on Gauguin's journey:
AND AS FOR YOU, PAUL GAUGUIN, why did you write those lines on your painting? Of course, the ready answer I suppose is that you wanted to be very clear about the symbolization of the great range of human activity depicted in your Tahitian panorama, just in case someone might miss the point. But I sense there was something more. Perhaps you asked the three questions in such a way to imply that no answers exist, either in the civilized world you rejected and left behind or in the primitive world you adopted in order to find peace. Or again, perhaps you meant that art can go no further than what you have done; and all that was left for you to do personally was express the troubling questions in script. Let me suggest yet another reason for the mystery you left us, one not necessarily in conflict with these other conjectures. I think what you wrote is an exclamation of triumph. You had lived out your passion to travel far, to discover and embrace novel styles of visual art, to ask the questions in a new way, and from all that createan authentically original work. In this sense your career is one for the ages; it was not paid out in vain. In our own time, by bringing rational analysis and art together and joining science and humanities in partnership, we have drawn closer to the answers you sought.
I have to accept your first conclusion concerning Gauguin and that is the pessimistic and nihilistic one. The speculation that possibly Gauguin wrote an "exclamation of triumph" is not realistic at all because he was looking UNDER THE SUN for answers to these 3 big questions and they must be given spiritual answers. The ironic thing is that if the spiritual quest finds fulfilling answers then a more abundant life can be lived on this earth.
Gauguin's conclusion is logical, and Francis Schaeffer says that Woody Allen has come to this same nihilistic conclusion.
Schaeffer noted:
One of the most striking developments in the last half-century is the growth of a profound pessimism among both the well-educated and less-educated people. The thinkers in our society have been admitting for a long time that they have no final answers at all. Take Woody Allen, for example. Most people know his as a comedian, but he has thought through where mankind stands after the "religious answers" have been abandoned. In an article in Esquire (May 1977), he says that man is left with:
… alienation, loneliness [and] emptiness verging on madness…. The fundamental thing behind all motivation and all activity is the constant struggle against annihilation and against death. It's absolutely stupefying in its terror, and it renders anyone's accomplishments meaningless. As Camus wrote, it's not only that he (the individual) dies, or that man (as a whole) dies, but that you struggle to do a work of art that will last and then you realize that the universe itself is not going to exist after a period of time. Until those issues are resolved within each person – religiously or psychologically or existentially – the social and political issues will never be resolved, except in a slapdash way.
Allen sums up his view in his film Annie Hall with these words: "Life is divided into the horrible and the miserable."
Many would like to dismiss this sort of statement as coming from one who is merely a pessimist by temperament, one who sees life without the benefit of a sense of humor. Woody Allen does not allow us that luxury. He speaks as a human being who has simply looked life in the face and has the courage to say what he sees. If there is no personal God, nothing beyond what our eyes can see and our hands can touch, then Woody Allen is right: life is both meaningless and terrifying. As the famous artist Paul Gauguin wrote on his last painting shortly before he tried to commit suicide: "Whence come we? What are we? Whither do we go?" The answers are nowhere, nothing, and nowhere.
_______________________________________
Have you ever had the chance to hear the song DUST IN THE WIND by Kerry Livgren of the group KANSAS? It was a hit song in 1978 when it rose to #6 on the charts because so many people connected with the message of the song. It included these words, "All we do, crumbles to the ground though we refuse to see, Dust in the Wind, All we are is dust in the wind, Don't hang on, Nothing lasts forever but the Earth and Sky, It slips away, And all your money won't another minute buy."
Kerry Livgren himself said that he wrote the song because he saw where man was without a personal God in the picture. Solomon pointed out in the Book of Ecclesiastes that those who believe that God doesn't exist must accept three things. FIRST, death is the end and SECOND, chance and time are the only guiding forces in this life. FINALLY, power reigns in this life and the scales are never balanced. The Christian can face death and also confront the world knowing that it is not determined by chance and time alone and finally there is a judge who will balance the scales.
Then after looking at life UNDER THE SUN without God in the picture, Solomon brings God back in during the last part of ECCLESIASTES and declares in chapter 12:
Now all has been heard.
Let us hear the conclusion of the matter:
Fear God and keep His commandments,
for this is the whole duty of man.
For God will bring every deed into judgment,
including every secret thing,
whether good or evil
Both Kerry Livgren and the bass player Dave Hope of Kansas became Christians eventually. Kerry Livgrenfirst tried Eastern Religions and Dave Hope had to come out of a heavy drug addiction. I was shocked and elated to see their personal testimony on The 700 Club in 1981 and that same interview can be seen on You Tube today. Livgren lives in Topeka, Kansas today where he teaches "Diggers," a Sunday school class at Topeka Bible Church. DAVE HOPE is the head of Worship, Evangelism and Outreach at Immanuel Anglican Church in Destin, Florida.
The answer to find meaning in life is found in putting your faith and trust in Jesus Christ. The Bible is true from cover to cover and can be trusted.
Thank you again for your time and I know how busy you are.
Everette Hatcher, everettehatcher@gmail.com, http://www.thedailyhatch.org, cell ph 501-920-5733, Box 23416, LittleRock, AR 72221, United States
FEATURED ARTIST IS Hieronymus Bosch
Of what did Bosch dream? Of Christ's Passion,
Of the wickedness and stupidity of the soldiers,
Of the vanity and transience of this earthly life,
Of Hell with its instruments of torture,
Of the temptation against which the holy men are capable of putting up little resistance.

André Breton
Jacques Le Boucq – Jheronimus Bosch
Few "old" masters provoke as much fascination in the modern world as Hieronymus Bosch. A painter endowed with an overwhelming fantasy, original and unique in his time, creator of visual universes inhabited by naive sinners, seductive young women, and vengeful infernal demons, his works may have lost strength in their moralizing message, but their visual force continues to have an impact today.
Image: Attributed to Jacques Le Boucq: "Posthumous portrait of Hieronymus Bosch", c.1500
Such is the fascination that Bosch's imaginative work provoked during the 20th century that the painter is often regarded as a more than debatable precedent for modern movements and avant-gardes such as Surrealism. Walter Bosing, who considers that idea "anachronistic", warns that "Bosch did not intend to evoke the viewer's unconscious, but to convey certain moral and spiritual truths" (Walter Bosing, "Bosch", 1973). In this sense, rather than as a precedent to later movements, Bosch could be seen as the culmination of the humorous and somewhat grotesque tradition of various Flemish miniatures of the 15th century which, as in Bosch's works, reflect -again in Bosing's words – "the hopes and fears of a Middle Ages that were drawing to a close".
Little is known about the early life of Jheronimus van Aken / Hieronymus Bosch. His father was a painter, of modest fame, and it was in his workshop that the young Hieronymus must have been trained. It is possible that his earliest works date from the 1470s, and in fact an "Adoration of the Magi" preserved in the Metropolitan Museum of Art in New York is generally attributed to the artist, with an approximate date of around 1475. In the following decade he joined the religious congregation of the Illustrious Brotherhood of Our Lady. Other works of more or less clear authorship date from before the end of the century, such as "Christ Crowned with Thorns" in the National Gallery in London or "St. John the Baptist in Meditation" in the Lázaro Galdiano Foundation in Madrid, as well as his first known triptych, "Adoration of the Magi" in the Prado Museum.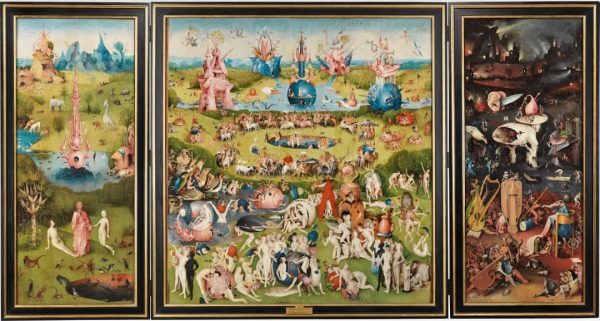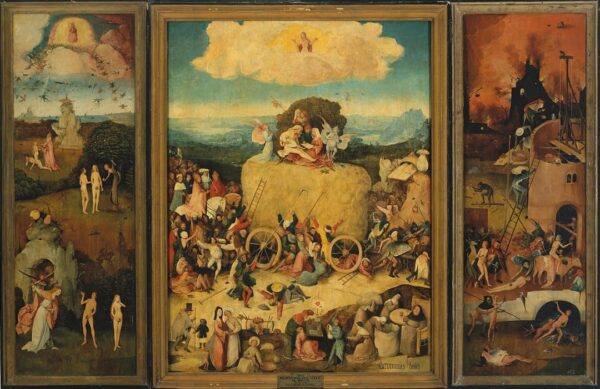 Hieronymus Bosch: "The Garden of Earthly Delights", c.1500-1505. Oil on panel, 220 x 386 cm. Prado Museum, Madrid ·· Hieronymus Bosch: "The Haywain Triptych", c.1500-1516. Oil on panel, 135 x 200 cm. Prado Museum, Madrid
His most famous work, and one of the most admired paintings in Western art, is the triptych of "The Garden of Earthly Delights" preserved in the Prado Museum, whose dating is subject to debate, although the date of 1500-1505 is generally accepted as the most probable. Around that time, Bosch received an important commission from the Duke of Burgundy, Philip "the Fair", to execute a monumental "Last Judgment". Although there are several triptychs by Bosch with this theme (in Vienna and Bruges), none of them match the description of this commission, so it is considered a lost work.
It is believed that some famous works date from the last years of Bosch's life, such as the triptych of "The Temptations of St. Anthony", now in the Museu Nacional de Arte Antiga in Lisbon, or the triptych of "The Haywain", also in the Prado Museum.
It is known that the painter died in 1516, being buried on August 9 of that year. Today, the attribution of Bosch's works remains problematic, as the artist's success led to the appearance of numerous imitators and followers. King Philip II was an admirer of the work of Hieronymus Bosch, which is why today the best collection of his works is in the Prado Museum, including the aforementioned triptych of "The Garden of Earthly Delights".
G. Fernández · theartwolf.com
—
My Homage to the Late Harvard Biologist EO Wilson (THE SAAD TRUTH_1351)
How Should We Then Live | Season 1 | Episode 6 | The Scientific Age
How Did Writer & Biologist EO Wilson Die | The Life and Sad Ending Edwar…
Edward O Wilson has passed away 💔|| his last moment before death so touc…
Remembering the life of renowned biologist and Alabama native E.O. Wilson

—
How Should We Then Live (1977) | Full Movie | Francis Schaeffer | Edith …
–
A Tribute to E. O. Wilson: A Life in Nature
–
How Should We Then Live | Season 1 | Episode 9 | The Age of Personal Pea…
Related posts:
I have gone back and forth and back and forth with many liberals on the Arkansas Times Blog on many issues such as abortion, human rights, welfare, poverty, gun control and issues dealing with popular culture. Here is another exchange I had with them a while back. My username at the Ark Times Blog is Saline […]
By Everette Hatcher III|Posted in Francis Schaeffer, Prolife|Edit|Comments (0)
On March 17, 2013 at our worship service at Fellowship Bible Church, Ben Parkinson who is one of our teaching pastors spoke on Genesis 1. He spoke about an issue that I was very interested in. Ben started the sermon by reading the following scripture: Genesis 1-2:3 English Standard Version (ESV) The Creation of the […]
By Everette Hatcher III|Posted in Adrian Rogers, Atheists Confronted, Current Events|TaggedBen Parkinson, Carl Sagan|Edit|Comments (0)
Review of Carl Sagan book (Part 4 of series on Evolution) The Long War against God-Henry Morris, part 5 of 6 Uploaded by FLIPWORLDUPSIDEDOWN3 on Aug 30, 2010 http://www.icr.org/ http://store.icr.org/prodinfo.asp?number=BLOWA2http://store.icr.org/prodinfo.asp?number=BLOWASGhttp://www.fliptheworldupsidedown.com/blog _______________________ I got this from a blogger in April of 2008 concerning candidate Obama's view on evolution: Q: York County was recently in the news […]
By Everette Hatcher III|Posted in Atheists Confronted, Current Events, President Obama|Edit|Comments (0)
Review of Carl Sagan book (Part 3 of series on Evolution) The Long War against God-Henry Morris, part 4 of 6 Uploaded by FLIPWORLDUPSIDEDOWN3 on Aug 30, 2010 http://www.icr.org/ http://store.icr.org/prodinfo.asp?number=BLOWA2http://store.icr.org/prodinfo.asp?number=BLOWASGhttp://www.fliptheworldupsidedown.com/blog______________________________________ I got this from a blogger in April of 2008 concerning candidate Obama's view on evolution: Q: York County was recently in the news […]
By Everette Hatcher III|Posted in Atheists Confronted, Current Events, President Obama|Edit|Comments (0)
At the end of this post is a message by RC Sproul in which he discusses Sagan. Over the years I have confronted many atheists. Here is one story below: I really believe Hebrews 4:12 when it asserts: For the word of God is living and active and sharper than any two-edged sword, and piercing as far as the […]
By Everette Hatcher III|Posted in Adrian Rogers, Atheists Confronted, Current Events, Francis Schaeffer|Tagged Bill Elliff, Carl Sagan, Jodie Foster, RC Sproul|Edit|Comments (0)
Review of Carl Sagan book (Part 4 of series on Evolution) The Long War against God-Henry Morris, part 5 of 6 Uploaded by FLIPWORLDUPSIDEDOWN3 on Aug 30, 2010 http://www.icr.org/ http://store.icr.org/prodinfo.asp?number=BLOWA2http://store.icr.org/prodinfo.asp?number=BLOWASGhttp://www.fliptheworldupsidedown.com/blog _______________________ This is a review I did a few years ago. THE DEMON-HAUNTED WORLD: Science as a Candle in the Dark by Carl […]
By Everette Hatcher III|Posted in Atheists Confronted, Current Events|Edit|Comments (0)
Review of Carl Sagan book (Part 3 of series on Evolution) The Long War against God-Henry Morris, part 4 of 6 Uploaded by FLIPWORLDUPSIDEDOWN3 on Aug 30, 2010 http://www.icr.org/ http://store.icr.org/prodinfo.asp?number=BLOWA2http://store.icr.org/prodinfo.asp?number=BLOWASGhttp://www.fliptheworldupsidedown.com/blog______________________________________ I was really enjoyed this review of Carl Sagan's book "Pale Blue Dot." Carl Sagan's Pale Blue Dot by Larry Vardiman, Ph.D. […]
By Everette Hatcher III|Posted in Atheists Confronted, Current Events|Edit|Comments (0)
In today's news you will read about Kirk Cameron taking on the atheist Stephen Hawking over some recent assertions he made concerning the existence of heaven. Back in December of 1995 I had the opportunity to correspond with Carl Sagan about a year before his untimely death. Sarah Anne Hughes in her article,"Kirk Cameron criticizes […]
By Everette Hatcher III|Posted in Atheists Confronted|Edit|Comments (2)