_
_
__
__
_
_
HowShouldWeThenLive Episode 4
_
_
_
_
This outline below is one that I have found very helpful. It is by Tony Bartolucci
How Shall We Then Live?
Francis Schaeffer
Began: June, 2006 | Finished November: 2006
VII. Chapter Seven: The Rise of Modern Science
A. The Scientific Revolution
The S.R. came at the same time as the High Renaissance and the Reformation. According to
Schaeffer, we can date the rise of modern science with Copernicus (1475-1543). The S.R. was
almost exclusively a western phenomenon. The east (China, Islam, etc.) did have some
contributions, but they were limited by their adherence to Aristotelian logic and Neoplatonism. It was
at Oxford that scholars first attacked Aquinas' philosophy based on Aristotle; this was in the 13 c. th
1. Christianity and Science
Both Alfred North Whitehead (d. 1947) and J. Robert Oppenheimer (d. 1967) maintained that
modern science was born out of a Christian worldview. Apparently, neither man was a Christian.
Whitehead wrote that Christianity isthe mother ofscience because of "the medieval insistence on the
rationality of God" (page 157). General consistent observations about nature were only reliable
because they were based upon a rational and consistent God (cf. pages 158-59).
a. Francis Bacon (1561-1626)
Bacon could be called the major prophet of the S.R. Bacon believed in, and studied the Bible. For
Bacon and these early scientists, science was not autonomous (as it is today).
b. Note the List of Christians who were Leaders in the S.R. Listed by Schaeffer on Pages 159-161
B. Christianity and Changing Worldviews of Science
1. Einstein's Theory of Relativity
Some try to support a worldview of relativity on the basis of Einstein. But Einstein's theory is based
on the assumption that everywhere in the universe light travels at the same speed in a vacuum.
"Nothing is less relative philosophically than the theory of relativity" (page 162). As Einstein once
quipped, "I cannot believe that God plays dice with the cosmos."
2. Werner Heisenberg's Theory of Uncertainty or the Indeterminacy Principle
This principle has to do with a certain area of observation, specifically the location of an object and
its velocity. A physicist cannot have an accurate observation of both the location of colliding atoms
and their velocity. ISW the quantum theory does not support randomness. All of these things are
based on the premise of a consistent, orderly universe (cf. page 162).
C. Benefits of the Christian Worldview
1. Gave a Foundation to the Observations of Science – There is a Fixed Uniformity
2. Man Can Endeavor to Learn Scientific Truth by way of Reason (man can reason because he
is created in the image of God)
3. A Christian Base Meant that the World was Worth Learning About (nature reflects the
handiwork of God, not the taboos of pantheistic deities)
4. There was no Inconsistency or Conflict Between the Bible and Science
D. Other Worldviews in Contrast Then and Now
1. Note that the Greeks, Moslems and the Chinese Lost Interest in Science
The Chinese, for example, never had the confidence that the laws ofthe universe could be understood
since there was no assurance that a God more rational than ourselves had instituted such knowledge.
2. The Christian Uniformity of Natural Causes in an Open System
The early Christian scientiststhat were foundational to the S.R. upheld uniformity in an open system.
God has made a cause and effect universe. But the universe is open (not closed) and God and man
are outside of the uniformity of natural causes. "In other words, all that exists is not a part of a total
cosmic machine" (page 164). The cause and effect universe may be changed in its direction by God
or by man (of course, God is ultimately sovereign over man). This makes place for the importance
of God as well as man in the cosmos.
_
__
---
__
Featured artist is David Garibaldi
David Garibaldi – Jesus Painting
Uploaded on Sep 24, 2011
David Garibaldi paints secular people primarily, but this is a nice "surprise" video in which he paints Jesus on the cross.

Hues of Hendrix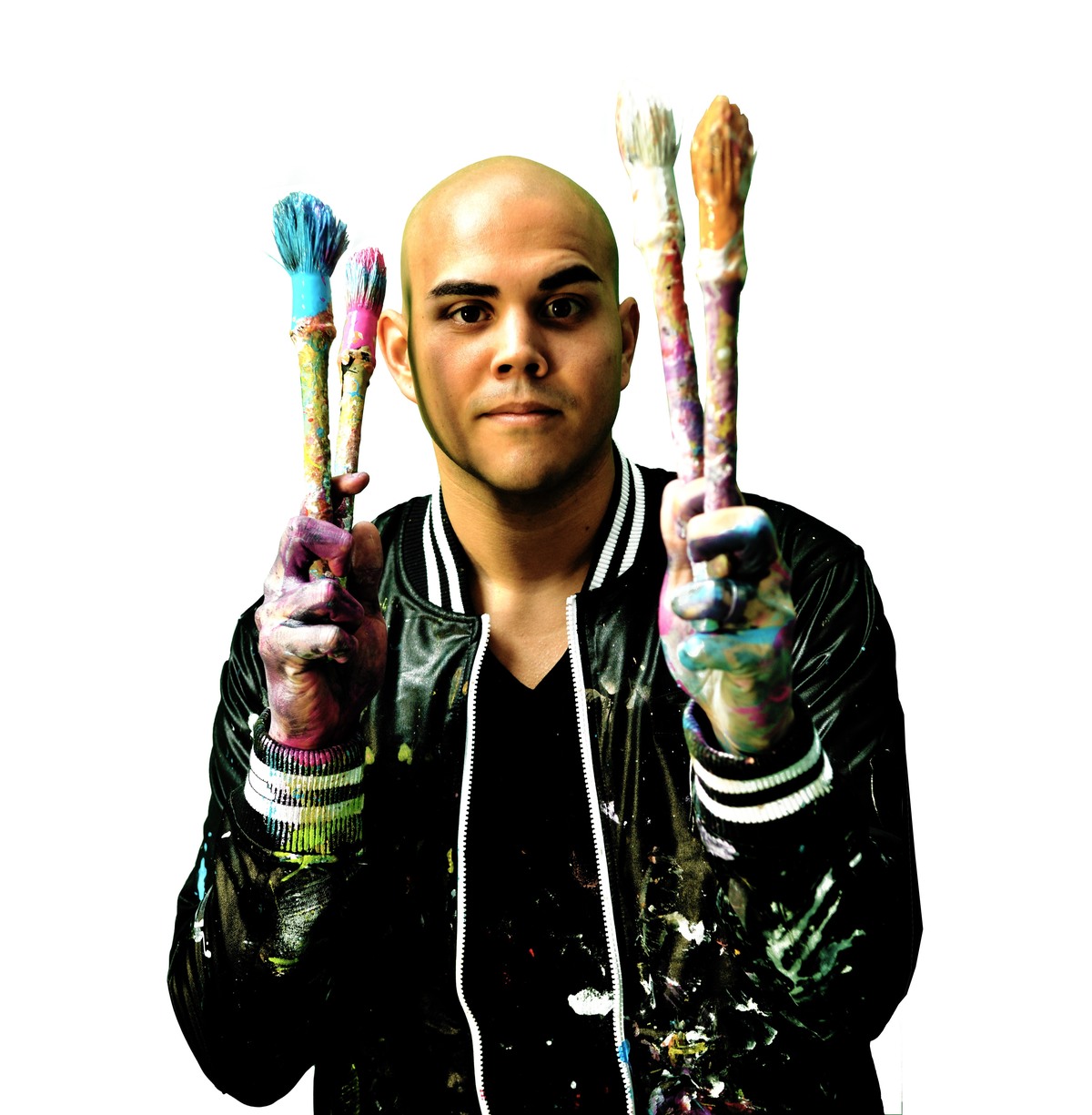 _
_
From Wikipedia, the free encyclopedia
David Michael Garibaldi (born December 15, 1982)[1] is an American performance painter. His specialty is his "Rhythm and Hue" stage act in which he rapidly creates paintings of notable rock musicians.
Garibaldi was born in Los Angeles, California. In July 2006 he was invited to the Rock & Roll Hall of Fame and Museum in Cleveland, Ohio, where he painted a portrait of Mick Jagger. In September 2008 he was the opening act for Blue Man Group's tour in Canada and the United States.[2] He has also opened for Snoop Dogg. During the halftime of a Golden State Warriors basketball game in November 2007, Garibaldi painted Carlos Santana, after which the musician unexpectedly greeted Garibaldi and later signed the creation.[3] On April 11, 2009, he appeared on The 700 Club and painted a portrait of Jesus.[4] On July 29, 2010, he painted his first self-portrait during a benefit performance at the 11th Annual Sacramento Film and Music Festival at the Crest Theatre, following the world premiere of Walking Dreams, a documentary about his work directed by Chad Ross.[5] On April 20, 2012, Garibaldi painted Jeremy Lin during halftime of the New York Knicks game.
Garibaldi appeared in the seventh season of America's Got Talent. He has gone forward all the way to the finals with his act, David Garibaldi and His CMYK's, finishing in fourth place.
Garibaldi's work is strongly derivative of the work of artists Denny Dent[6] and Jean-Pierre Blanchard.
On the 17th of February 2017, David was invited by Matthew Patrick (MatPat) to guest star on GTLive on YouTube. David Garibaldi created several paintings which were given to lucky raffle winners watching the stream.
References
[
edit
]
External links
[
edit
]
| | |
| --- | --- |
| | This article about a painter from the United States is a stub. You can help Wikipedia by expanding it. |
__
X
__