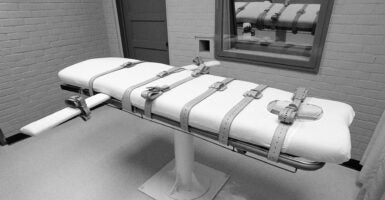 Mike Dukakis was asked by CNN's Bernard Shaw during the 1988 presidential debates whether he would support the death penalty if his wife, Kitty, had been raped and murdered.
The Massachusetts governor famously responded: "No, I don't, Bernard, and I think you know that I've opposed the death penalty during all of my life. I don't see any evidence that it's a deterrent, and I think there are better and more effective ways to deal with violent crime."
Given the coddling Democrats receive from the press today, Shaw's question sounds especially jarring. But Dukakis' automaton-like response to a query about the theoretical slaying of his dear wife did not go over well with the American public.
Dukakis did not seem to genuinely grapple with the complex moral implications of murder and punishment.
Stand for your principles in 2021—even in the face of Congress, the media, and the radical Left ganging up on conservatives and our values. Learn more now >>
Like Dukakis, I oppose the death penalty as a matter of policy (other than for extraordinary cases of domestic terrorism, such as Timothy McVeigh) for several reasons relating to state power and the effectiveness of the practice. That's my rational side.
But viscerally speaking, I have yet to encounter a death sentence in America in my lifetime that I didn't think was well-earned. That's despite the dishonesty that usually defines the coverage of these cases.
This past summer, the federal government began putting people to death for the first time in 17 years. "Trump administration executes Brandon Bernard, plans four more executions before Biden takes office," said a recent Washington Post headline.
While that is technically true, it wasn't President Donald Trump who convicted these men of murder; it was a jury of their peers. It wasn't Trump who upheld their convictions after numerous appeals; it was the judicial system.
It wasn't Trump who found the death penalty constitutional; here, it was the Supreme Court that reaffirmed the Federal Death Penalty Act of 1994 requires executions to be carried out "in the manner prescribed by the law of the state in which the sentence is imposed." It wasn't Trump who sponsored that law in 1994; it was Joe Biden.
Reporters nearly always glide past the horrifying specifics, spending inordinate amounts of space presenting the case of anti-death penalty advocates, who often dishonestly paint these men as victims. Take this Vox piece, wherein the reader learns that Bernard, "a model prisoner, mentoring at-risk youth," had "committed crimes that resulted in the deaths of a young white married couple in 1999″—which makes a double homicide sound like an unfortunate accident and intimates that the conviction had something to do with race.
The fact is that Bernard, at 18, helped kidnap and rob a couple named Todd and Stacie Bagley, youth ministers visiting Killeen, Texas, from Iowa. The fellow gang members he was with could have let the couple go. Instead, they forced the Bagleys into the trunk of their car and drove around for hours.
While the victims were locked in the back, they appealed to the humanity of the kidnappers, saying "that they were not wealthy people, but that they were blessed by their faith in Jesus."
After hearing these words, one gang member wanted to back out of the murder. Not Bernard, though. He had been the one driving the car used to hunt for victims.
After the murder was planned, it was Bernard who drove to purchase the fuel to burn the couple. It was Bernard, with another person, who poured lighter fluid on the car "while the Bagleys sang and prayed in the trunk." It was Bernard who brought the Glock used to shoot Todd in the head and knock Stacie unconscious when the car didn't burn fast enough.
"Having gotten to know Brandon," Kim Kardashian West told her 68 million followers on Twitter last week, "I am heartbroken about this execution."
I don't believe the death penalty solves much—and the cost and moral baggage isn't worth it—but I'm heartbroken for the Bagleys, whom no one will ever get to know. If you're leaving out that part of the story, then you're not having a real conversation about the death penalty.
And we rarely do. "Two Black men have been executed within two days. Two more are set to die before Biden's inauguration," writes CNN, creating the impression that the federal government is targeting black men.
The first person put to death over the summer was white supremacist Daniel Lewis Lee. Wesley Ira Purkey, Dustin Lee Honken, Keith Dwayne Nelson, and William Emmett LeCroy—all white, and all as deserving as Bernard—were executed this past summer as well.
You either believe the punishment for those guilty of committing especially heinous, cruel, or depraved crimes should be death, or you do not.
The death penalty debate should revolve around the morality and efficacy of state policy regarding that criminality, not some fantasy world in which butchers are selectively cast as victims.
COPYRIGHT 2020 CREATORS.COM
Adrian Rogers: Does a Loving God Believe in Capital Punishment? [#2183] (Audio)
Kenneth D. Williams was executed at 11:05 pm in Grady, Arkansas on April 27, 2017. In this post I want to take a short look at Adrian Rogers' sermon THE BIBLE AND CAPITAL PUNISHMENT and then look at the life of Kenneth D. Williams and a close look at the peace that passeth all understanding that is available to anyone who puts their faith in Christ.
(Kenneth D. Williams in 2017 pictured below)
Adrian Rogers on Capital Punishment
There are four reasons why capital punishment is necessary.
FIRST, to obey God. (Genesis 9:6).
SECOND, to protect society. Romans 12:9 says, "Love is to be sincere and active [the real thing—without guile and hypocrisy]. Hate what is evil [detest all ungodliness, do not tolerate wickedness]; hold on tightly to what is good." Much today is called LOVE but has no resemblance to TRUE LOVE. Because God loves us, He doesn't want us raped or murdered and He has put something in place to stop it. Softness to the criminal is cruelty to the community.
THIRD, for the good of the criminals.
The death penalty should also be practiced for the welfare of the criminals….When the principle of restraint is taken away, you have not served the criminal. You have been cruel to him because he does not realize the judgment that should come to him. The death sentence in a sense is a kindness to him because it reminds him that there is a God of justice that he must face.
IF A MAN HAS COMMITTED A CAPITAL CRIME AND HE KNOWS THAT HE IS GOING TO DIE FOR THAT CRIME, IT MAY BRING HIM TO REPENTANCE.
Many of those who are executed go into the chamber saying that they have repented and have accepted Christ as their personal savior. They know that in a short while they are going to face almighty God.
The Bible says that the government's authority is there for good and there should be terror in the hearts and minds of evil doers. If we transgress, we ought to be afraid.
Romans 13:3, "For [civil] authorities are not a source of fear for [people of] good behavior, but for [those who do] evil."
FOURTH, another reason for the death penalty is because of the justice of God. God is a holy God. There is sin and retribution.
The death of Jesus was capital punishment. Our sin deserved death, and He took our death for us. Jesus actually bore the wrath of God against sin on the cross.
_
Let us see if what Adrian Rogers said has any validity in  the experience here in Arkansas. 
I googled the name Kenneth D. Williams and found this article, "Arkansas death row inmate says he killed a fourth person," June 15, 2005:
An inmate sentenced to death for a killing committed during a 1999 escape from a sentence for an earlier slaying has confessed to yet another killing in a letter to the editor of the Pine Bluff Commercial.
Along with a man killed in a traffic accident in Missouri during inmate Kenneth D. Williams' 1999 escape, the slaying to which he has now confessed would make him responsible for the deaths of four people.
Williams, 26, says in a 512-page letter to the newspaper that he shot and killed Jerrell Jenkins, 36, of Pine Bluff on Dec. 13, 1998, the same day that he fatally shot Dominique Hurd, a cheerleader at the University of Arkansas at Pine Bluff. Police had listed Jenkins' death as unsolved.
"I take full responsibility for my actions and whatever consequences my peers see fit," Williams wrote.
Williams said he was a born-again Christian and wanted to confess his sins.
__
On April 27, 2017 Kenneth D. Williams was executed and according to the article, "KENNETH WILLIAMS EXECUTED THURSDAY AT CUMMINS," by Knowles Adkisson:
Death row inmate Kenneth Williams of Pine Bluff was executed Thursday night at the Cummins Unit for the 1999 murder of Grady resident Cecil Boren.
Williams, 38, was pronounced dead at 11:05 p.m.
Williams was responsible for the deaths of four people in total and was sentenced to life in prison after he kidnapped and fatally shot 19-year-old University of Arkansas at Pine Bluff student Dominique Hurd in 1998. He was sentenced to death after escaping the Department of Correction's Cummins Unit in 1999 and murdering Boren, 57, a former assistant warden at the unit.
Williams was captured only after causing a fatal auto collision with water-delivery driver Michael Greenwood, 24, in southern Missouri. In 2005 letter to the Commercial, Williams admitted to murdering Jerrell Jenkins, 36, in Pine Bluff on the same day he killed Hurd.
Greenwood's widow and daughter bought plane tickets for Williams' daughter and granddaughter to visit the prison before his scheduled execution.
According to an email distributed to the news media Thursday, Williams contacted freelance journalist Deborah Robinson on Thursday afternoon and provided an 1,808-word statement titled "Last Words."
Williams credited the mother of Hurd and the daughter of Michael Greenwood with planting the seed so he could become a born-again Christian.
"I have been forever changed, forever grateful because of 'Extreme Grace Unmerited,'" he wrote. "Amen."
The Rev. Dewitt Hill, pastor of First Trinity Church of God in Pine Bluff, said he received a letter from Williams on Wednesday. In the letter, Williams wrote that he felt the execution was not going to happen, according to Hill, but if it did he was at peace. Williams wrote that he felt he was able to convert "most of the people on death row to God," Hill said, adding that Williams had become a "student" of the Bible.
Boren's niece, Terri Grimes, who attended Williams' trial for the killing of her uncle, said she saw little remorse in him during that time.
"When I looked into his eyes during the trial, they were empty like he didn't have a soul," she told the Warren Eagle-Democrat. When I looked at them (his eyes) during the clemency hearings, they looked different."
__
Lastly I read today this article, "Among the last words from Kenneth Williams: 'Finger Lickin' Good Fried Chicken'." Posted By Max Brantley on Thu, Apr 27, 2017 at 4:48 PM: 
EXTREME GRACE UNMERITED! (Final Communication)
On the eve of my scheduled April 27th execution, the Light burned brighter than I've ever Known it to! Only once before did it blind me so. It first happened in 1999. I was the twenty year old defendant in a capital murder case where the death penalty was rolled out against me. Mrs. Williams (No relation to me), the mother of the late 19-year-old Dominique Hurd, whom I senselessly murdered, took the stand having suffered great loss, and she shared these words, "I forgive Kenneth Williams. My daughter, Dominique 'Nikki' Hurd, was a forgiven person." She said, "I do not wish for him to be put to death. His death won't bring my daughter back." She went on to say, "I pray that before Kenneth Williams leaves this world he will give his heart to Jesus." On the other hand, yet not without understanding, the father of Dominique was full of indignation. He wanted me to feel his pain. Pain was my Language. It was my thing. But what I couldn't comprehend; what could not be reconciled in my mind, was this woman's pure act of grace, Love, mercy, and forgiveness. For someone who had taken away her child from her in the worst of ways.
The light shined into the darkness and the darkness did not comprehend it. John 1:5
LIFELONG BOND: Kayla Greenwood (right) and Jasmine Johnson at Arkansas prison Wednesday for Johnson's meeting with her father, Death Row inmate Kenneth Williams.
That marvelous light that shined forth that day out of Mrs. Williams acted as a planted seed into the soil of my life. Years later it would yield something special and God-bred. And when I could not think such a greater act of kindness, Love, and forgiveness could be expressed, I stood corrected. Thanks to Kayla Greenwood. She's the daughter of the late Michael Greenwood, a man whose death I caused. His daughter, Kayla Greenwood, was just a child when her father was taken in a car wreck caused by me after I escaped prison. I was serving a life without sentence for killing Dominique. After 17 years of imprisonment and being on death row for also killing Cecil Boren during my escape, away from my own now 21-year-old daughter and never having seen before granddaughter, my death sentence finally had an April 27th date. A wish that burned within me was to see again my child and grandchild, possibly for the final time; first and last time. It had been over 17 years since I last saw my four-year-old child.
DEATH PENALTY ACTION/TWITTER
PRISON MEETING: Kenneth Williams with his daughter Jasmine Johnson and granddaughter
The word got out about my desire. The last person(s) I would have ever thought it possible answered my call. Kayla Greenwood, the daughter of the late Michael Greenwood, and her family reached out to prison officials. Kayla said, "I would like to speak with him on good terms and put closure between us and let him know my family and I forgive him. I would also like to pay for his daughter and granddaughter to go see him and want to figure out how I can get in contact with her to make it happen. I am not looking for anything else but closure and giving his daughter and granddaughter a chance I don't get because I know how important it is." Not only had this family forgiven me, which would have been going the extra mile, but within a short period of time they paid and arranged for my baby and grand babe to come to Arkansas from the West Coast to visit with me, which included picking them up from the airport and driving them to the prison over 40 miles away. We had the most amazing and heart-felt visit that left a former cold-blooded killer in tears of gratitude. Had officials permitted it, Kayla and I would have met with no objections from me. My heart has never known a greater deal of respect and admiration for another human being than for Kayla and her family, and Mrs. Williams, the mother of Dominique Hurd. I will also include my daughter Jasmine and son Marqevion for forgiving me for my abandonment and any shame I may have brought upon them because of my wrongs. If tomorrow be my last day here on earth, then Mrs. Williams' prayer she made at my trial that I GIVE MY LIFE TO JESUS before I leave this world, would be answered. I have been forever changed, forever grateful because of "Extreme Grace Unmerited." Amen.
Min. Kenneth D. Williams
Arkansas Death Row
Death Watch
Adrian Rogers: The Simplicity of Salvation [#2221] (Audio)
Jesus said, "For the Son of man is come to seek and to save that which was lost" (Luke 19:10). Do you want to know how to be saved? Or want to know how you can tell others how to be saved? Then, let's look at Romans 10:1-10:
1 Brethren, my heart's desire and prayer to God for Israel is, that they might be saved. 2 For I bear them record that they have a zeal of God, but not according to knowledge. 3 For they being ignorant of God's righteousness, and going about to establish their own righteousness, have not submitted themselves unto the righteousness of God. 4 For Christ is the end of the law for righteousness to every one that believeth. 5 For Moses describeth the righteousness which is of the law, That the man which doeth those things shall live by them. 6 But the righteousness which is of faith speaketh on this wise, Say not in thine heart, Who shall ascend into heaven? that is, to bring Christ down from above: 7 Or, Who shall descend into the deep? that is, to bring up Christ again from the dead. 8 But what saith it? The word is nigh thee, even in thy mouth, and in thy heart: that is, the word of faith, which we preach; 9 That if thou shalt confess with thy mouth the Lord Jesus, and shalt believe in thine heart that God hath raised Him from the dead, thou shalt be saved. 10 For with the heart man believeth unto righteousness; and with the mouth confession is made unto salvation.
The Righteousness That God Rejects
When a person tries to be righteous by keeping the Ten Commandments or by doing good deeds, God rejects that. Why would God do that? Because God is holy and man is sinful at his best. The best that we can do is not enough.
We don't have what it takes to keep the Ten Commandments in our own strength. If you're hanging over a fire by a chain of ten links and nine of them are forged steel and one of them is made of paper, how safe are you?
That's the reason the Bible says if we should keep the whole law and yet offend in one point, we are guilty of all. God demands perfection and we just can't supply it. Salvation is not a reward for the righteous; it is a gift for the guilty. Salvation is not a goal to be achieved; it is a gift to be received.

The Righteousness That God Reveals
Romans 1:17
says, "For therein is the righteousness of God revealed from faith to faith: as it is written, The just shall live by faith." The only righteousness that is acceptable to God is a gift of faith through His Son Jesus Christ.
You believe in who He says He is — the God made flesh who died and rose again for you to be reconciled to God. Then, you repent of your sins and confess Christ as Lord of your life.
If Jesus is not the Lord of your life, then He is not your Savior. Salvation is not a cafeteria line where we say, "Well, I believe I'll have a little Savior today, but no Lordship. Thank you." No! Jesus is Lord.
The Righteousness That God Requires
The only righteousness that God will accept is sinless perfection. And that was accomplished through His Son Jesus Christ.
Romans 3:21 says, "This righteousness from God comes through faith in Jesus Christ to all who believe." Romans 10:10 says, "For with the heart man believeth unto righteousness; and with the mouth confession is made unto salvation."
Do you know what it means to believe and confess that Jesus is Lord? It literally means that you agree with God. In this context, it also means that you will tell others about this confession. And that means you will not be ashamed. There are only two ways to be saved: If you live a sinless life (which no one has done, except Jesus) or you ask the Jesus to take the payment of your sin for you (which He did on the cross), and accept His righteousness on your behalf. 2 Corinthians 5:21 says, "For He [God] hath made Him to be sin for us, who knew no sin; that we might be made the righteousness of God in Him."
Adrian Rogers – Simplicity of Salvation (1 4)
___
Adrian Rogers: How to Be Saved and Know It [#1726] (Audio)
Related posts:
__