–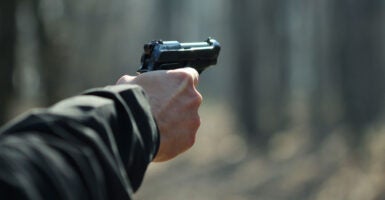 The FBI announced Monday that citizens stopped six active shooters in 2021, according to a report on active shooting incidents.
Citizens stopped six active shooters, whom the FBI defines as "one or more individuals actively engaged in killing or attempting to kill people in a populated area," in 2021, killing four of them, according to the report "Active Shooter Incidents In The United States In 2021." There were 61 active shooter incidents in 2021, 12 of which met the FBI's criteria for a "mass killing," up from 40 the previous year.
"The active aspect of the definition inherently implies the ongoing nature of an incident, and thus the potential for the response to affect the outcome, whereas a mass killing is defined as three or more killings in a single incident," the FBI said in a Monday release.
In one incident, armed employees at the Jefferson Gun Outlet in Metairie, Louisiana, returned fire after an active shooter killed two people and injured two others on Feb. 20, 2021, the report said.
Citizens detained an active shooter in the Gaslamp Quarter of San Diego on April 22, 2021, according to the report. In Rigby, Idaho, a middle school teacher disarmed a 12-year-old female student who was firing a handgun on May 6, 2021, at a middle school.
An armed citizen killed an active shooter in an incident outside the Three Corners Townhouses in Fort Smith, Arkansas, on May 15, 2021, the report said.
An active shooter killed two people and wounded another on Oct. 21, 2021, before an armed employee fatally shot the shooter at Agrex Elevator in Superior, Nebraska, the report said.
The FBI report noted that 14 active shooters were killed by law enforcement, 11 committed suicide, 30 were taken into custody, one was killed in a car crash, and one was still at large.
Content created by The Daily Caller News Foundation is available without charge to any eligible news publisher that can provide a large audience. For licensing opportunities for this original content, email licensing@dailycallernewsfoundation.org.
Have an opinion about this article? To sound off, please email letters@DailySignal.com and we'll consider publishing your edited remarks in our regular "We Hear You" feature. Remember to include the url or headline of the article plus your name and town and/or state.
(Emailed to White House on 3-20-13.)
President Obama c/o The White House
1600 Pennsylvania Avenue NW
Washington, DC 20500
Dear Mr. President,
I know that you receive 20,000 letters a day and that you actually read 10 of them every day. I really do respect you for trying to get a pulse on what is going on out here.
Sometimes you just have to look at the facts!!!
I have posted some cartoons featured on Dan Mitchell's blog before and they are very funny.