_
Bill Maher and Richard Dawkins
__

XXXX November 10, 2019
November 10, 2019
Richard Dawkins c/o Richard Dawkins Foundation,
Washington, DC 20005
Dear Mr. Dawkins,
I have enjoyed reading about a dozen of your books and some of the most intriguing were The God Delusion, An Appetite for Wonder: The Making of a Scientist, and Brief Candle in the Dark: My Life in Science.
I enjoyed your latest book Outgrowing God which is one of my favorite books that you have written.
However, there are some some weak parts of the book. For instance, in chapter two you write:
"We have no more reason to believe [the Old Testament narratives] than we do Homer's stories about Achilles or Helen. . . The stories of Abraham and Joseph are Hebrew legends, just as Homer's are Greek legends." (chapter 2)
Here is a portion of an article by Brian Thomas that refutes Dawkins assertion:
Modern Archaeology and Genesis BY BRIAN THOMAS, PH.D. * | WEDNESDAY, DECEMBER 30, 2015ShareEmailFacebookTwitterPinterest
With so many loud voices in our culture asserting that Genesis is a myth, one would think archaeologists have uncovered clear evidence that refutes it. On the contrary, some incredible archaeological finds confirm key events in Genesis.
Secular sources also confirm kings and cities mentioned in Genesis 14. The first verse says, "And it came to pass in the days of Amraphel king of Shinar, Arioch king of Ellasar, Chedorlaomer king of Elam, and Tidal king of nations." In 1895, assyriologist Theophilus Pinches found cuneiform tablet Sp. III. 2 archived at the British Museum. He presented his translation to the Victoria Institute in 1897, showing what the Hebrew of Genesis calls Arioch as Eri-aku, Chedorlaomer as Kudurlagmal, Tidal as Tudhula, and possibly Amraphel as Hammurabi, though the text breaks off after "Hammu."7
Genesis 14:2 refers to Sodom, Gomorrah, and three other "cities of the plain."8 Excavations at Bab edh-Dhra southeast of the Dead Sea starting in the 1960s revealed many clues that match the Sodom account.9 For example, the city and even its nearby cemetery were burned from the top down and, in places, lie beneath several feet of ash even today.
All these artifacts and more—including a 2,000-year-old stone commemorative building over the cave at Machpelah called the Tomb of the Patriarchs—bury the idea that Genesis was a myth. Archaeology clearly confirms Genesis.
—-
Dr. Dawkins, you have a 150 year advantage over your hero Charles Darwin and the archaeologist's spade has continued to dig. Take a look at this piece of evidence from the book WHATEVER HAPPENED TO THE HUMAN RACE? by Francis Schaeffer and C. Everett Koop:
TRUTH AND HISTORY (chapter 5 of WHATEVER HAPPENED TO THE HUMAN RACE?)
In the previous chapter we saw that the Bible gives us the explanation for the existence of the universe and its form and for the mannishness of man. Or, to reverse this, we came to see that the universe and its form and the mannishness of man are a testimony to the truth of the Bible. In this chapter we will consider a third testimony: the Bible's openness to verification by historical study.
Christianity involves history. To say only that is already to have said something remarkable, because it separates the Judeo-Christian world-view from almost all other religious thought. It is rooted in history.
The Bible tells us how God communicated with man in history. For example, God revealed Himself to Abraham at a point in time and at a particular geographical place. He did likewise with Moses, David, Isaiah, Daniel and so on. The implications of this are extremely important to us. Because the truth God communicated in the Bible is so tied up with the flow of human events, it is possible by historical study to confirm some of the historical details.
It is remarkable that this possibility exists. Compare the information we have from other continents of that period. We know comparatively little about what happened in Africa or South America or China or Russia or even Europe. We see beautiful remains of temples and burial places, cult figures, utensils, and so forth, but there is not much actual "history" that can be reconstructed, at least not much when compared to that which is possible in the Middle East.
When we look at the material which has been discovered from the Nile to the Euphrates that derives from the 2500-year span before Christ, we are in a completely different situation from that in regard to South America or Asia. The kings of Egypt and Assyria built thousands of monuments commemorating their victories and recounting their different exploits. Whole libraries have been discovered from places like Nuzu and Mari and most recently at Elba, which give hundreds of thousands of texts relating to the historical details of their time. It is within this geographical area that the Bible is set. So it is possible to find material which bears upon what the Bible tells us.
The Bible purports to give us information on history. Is the history accurate? The more we understand about the Middle East between 2500 B.C. and A.D. 100, the more confident we can be that the information in the Bible is reliable, even when it speaks about the simple things of time and place.
We should take one last step back into the history of the Old Testament. In the previous note we looked first at the Dead Sea Scrolls, dating to around 100 B.C. Then we went back to the period of the Late Monarchy and looked first at the siege of Hezekiah in Jerusalem by Sennacherib in 701 B.C. and also at the last years of Judah down to about 600 B.C. Then we went further back to about 850 B.C., to Ahab and Jezebel, the ivory house, the Black Obelisk, the Moabite Stone and so on–then back again to about 950 B.C., to the time of Solomon and his son Rehoboam and the campaign by Shishak, the Egyptian pharaoh.
This should have built up in our minds a vivid impression of the historic reliability of the biblical text, including even the seemingly obscure details such as the ration tablets in Babylon. We saw, in other words, not only that the Bible gives us a marvelous world view that ties in with the nature of reality and answers the basic problems which philosophers have asked down through the centuries, but also that the Bible is completely reliable, EVEN ON THE HISTORICAL LEVEL.
The previous notes looked back to the time of Moses and Joshua, the escape from Egypt, and the settlement in Canaan. Now we will go back further–back as far as Genesis 12, near the beginning of the Bible.
Do we find that the narrative fades away to a never-never land of myths and legends? By no means. For we have to remind ourselves that although Genesis 12 deals with events a long time ago from our moment of history (about 2000 B.C. or a bit later), the civilized world was already not just old but ancient when Abram/Abraham left "Ur of the Chaldeans" (see Genesis 11:31).
Ur itself was excavated some fifty years ago. In the British Museum, for example, one can see the magnificent contents of a royal burial chamber from Ur. This includes a gold headdress still in position about the head of a queen who died in Ur about 2500 B.C. It has also been possible to reconstruct from archaeological remains what the streets and buildings must have been like at the time.
Like Ur, the rest of the world of the patriarchs (that is, of Abraham, Isaac, and Jacob) was firm reality. Such places as Haran, where Abraham went first, have been discovered. So has Shechem from this time, with its Canaanite stone walls, which are still standing, and its temple.
Genesis 12:5-9New American Standard Bible (NASB)
5 Abram took Sarai his wife and Lot his nephew, and all their possessions which they had accumulated, and the [a]persons which they had acquired in Haran, and they [b]set out for the land of Canaan; thus they came to the land of Canaan. 6 Abram passed through the land as far as the site of Shechem, to the[c]oak of Moreh. Now the Canaanite was then in the land.7 The Lord appeared to Abram and said, "To your [d]descendants I will give this land." So he built an altar there to the Lord who had appeared to him. 8 Then he proceeded from there to the mountain on the east of Bethel, and pitched his tent, with Bethel on the west and Ai on the east; and there he built an altar to the Lord andcalled upon the name of the Lord. 9 Abram journeyed on, continuing toward the[e]Negev.
Haran and Shechem may be unfamiliar names to us but the Negrev (or Negeb) is a name we have all read frequently in the news accounts of our own day.
The answer to find meaning in life is found in putting your faith and trust in Jesus Christ. The Bible is true from cover to cover and can be trusted.
Thank you again for your time and I know how busy you are.
Everette Hatcher, everettehatcher@gmail.com, http://www.thedailyhatch.org, cell ph 501-920-5733, Box 23416, LittleRock, AR 72221, United States
XXXXXXX
__
__
Francis and Edith Schaeffer at their home in Switzerland with some visiting friends
__
Schaeffer with his wife Edith in Switzerland.
Richard Dawkins and John Lennox
_
_
_
Dawkins, Hitchens, Dennett, Harris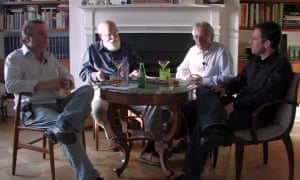 Canary Islands 2014: Harold Kroto and Richard Dawkins
__
Francis Schaeffer pictured below:
—
The Basis of Human Dignity by Francis Schaeffer
Richard Dawkins, founder of the Richard Dawkins Foundation for Reason and Science. Credit: Don Arnold Getty Images
—
Francis Schaeffer in 1984
Christian Manifesto by Francis Schaeffer
Francis Schaeffer in 1982
—-
Whatever Happened to the Human Race? Episode 1
—
—
–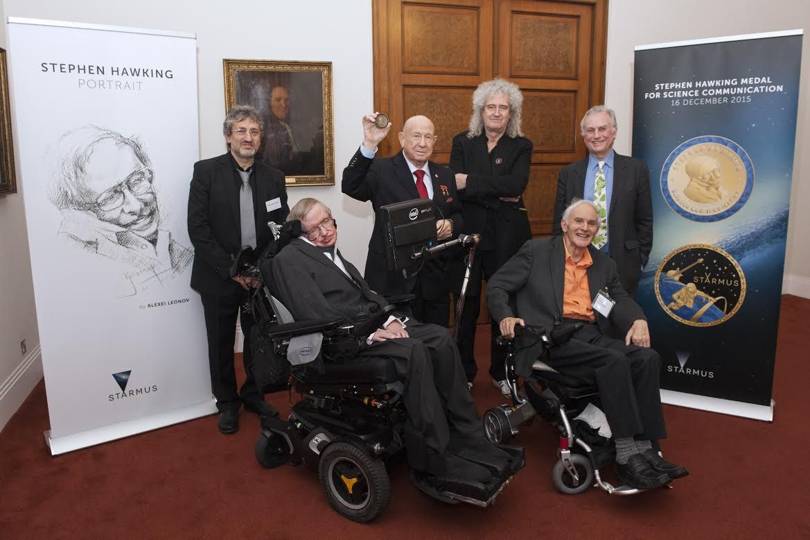 Garik Israelian, Stephen Hawking, Alexey Leonov, Brian May, Richard Dawkins and Harry Kroto
—-
—-
—-
—
Featured artist is Jessica Stockholder
Jessica Stockholder: Beauty & Politics | Art21 "Exclusive"
Uploaded on Feb 12, 2009
Episode #050: In her New Haven, Connecticut studio, artist Jessica Stockholder discusses the relationship between beauty, pleasure and taste, and how all three have a role in defining and being defined by politics — alongside documentation of an exhibition of her sculptures at Mitchell-Innes & Nash gallery in New York City.
Learn more about Jessica Stockholder: http://www.art21.org/artists/jessica-…
VIDEO | Producer: Wesley Miller & Nick Ravich. Interview: Susan Sollins. Camera: Mead Hunt & Joel Shapiro. Sound: Merce Williams. Editor: Jenny Chiurco. Artwork Courtesy: Jessica Stockholder. Special Thanks: Jay Gorney and Mitchell-Innes & Nash, New York. ______________________ Some of Stockholder's artwork below:
Below is her picture:
"I am happy with this painting but it is hard to say why… It is very hard to say what abstract shapes mean but they do mean something….I know what I am doing at some level both physically and conceptionally there is a kind of thinking process that goes on that I can't tell you about Just go with it and trust that it is significant" (leaving it up to chance?)
Jessica Stockholder: Form | Art21 "Exclusive"
Uploaded on Mar 5, 2010
Episode #096: From her home in New Haven, Connecticut, Jessica Stockholder discusses the strength of form and the difficulty in articulating the meaning behind abstract shapes.
A pioneer of multimedia genre-bending installations, Jessica Stockholders site-specific interventions and autonomous floor and wall pieces have been described as paintings in space. Her work is energetic, cacophonous, and idiosyncratic, but closer observation reveals formal decisions about color and composition, and a tempering of chaos with control.
Learn more about Jessica Stockholder at: http://www.art21.org/artists/jessica-…
VIDEO | Producer: Wesley Miller and Nick Ravich. Interview: Susan Sollins. Camera: Mead Hunt. Sound: Merce Williams. Editor: Jenny Chiurco and Mary Ann Toman. Artwork Courtesy: Jessica Stockholder.
_
—-
Related posts:
On November 21, 2014 I received a letter from Nobel Laureate Harry Kroto and it said: …Please click on this URL http://vimeo.com/26991975 and you will hear what far smarter people than I have to say on this matter. I agree with them. Harry Kroto _________________ Below you have picture of 1996 Chemistry Nobel Prize Winner […]
The Beatles were "inspired by the musique concrète of German composer and early electronic music pioneer Karlheinz Stockhausen…" as SCOTT THILL has asserted. Francis Schaeffer noted that ideas of "Non-resolution" and "Fragmentation" came down German and French streams with the influence of Beethoven's last Quartets and then the influence of Debussy and later Schoenberg's non-resolution which is in total contrast […]
_______ On November 21, 2014 I received a letter from Nobel Laureate Harry Kroto and it said: …Please click on this URL http://vimeo.com/26991975 and you will hear what far smarter people than I have to say on this matter. I agree with them. Harry Kroto _________________ Below you have picture of 1996 Chemistry Nobel Prize […]
On November 21, 2014 I received a letter from Nobel Laureate Harry Kroto and it said: …Please click on this URL http://vimeo.com/26991975 and you will hear what far smarter people than I have to say on this matter. I agree with them. Harry Kroto ____________________ Below you have picture of 1996 Chemistry Nobel Prize Winner Dr. […]