—
—
—
On Saturday April 18, 2020 at 6pm in London and noon in Arkansas, I had a chance to ask Ricky Gervais a question on his Twitter Live broadcast which was "Is Tony a Nihilist?" At the 20:51 mark Ricky answers my question. Below is the video:
——
—
April 23, 2020
Ricky Gervais
Dear Ricky,
This is the 6th day in a row that I have written another open letter to you to comment on some of your episodes in season one of AFTER LIFE, and then I wanted to pass along some evidence that indicates the Bible is historically accurate. However, today's open letter will be a little different than the previous 5 in that a spiritual solution will be suggested.

Stuart Kauffman :
"The response of this particular group to religious fundamentalism is to say "Look religion is really stupid!" I want to say it is too strong. I want to say we have to be careful. It can be too divisive. We need to be building bridges, not defending our own tribal turf. None of us believes in God, but we still have to create a spiritual space, a value space that can stretch across the globe and I hope we will reach out and try to do that."
What Dr. Kauffman is attempting to do can't be pulled off because there are no adequate answers to the big questions to life UNDER THE SUN!!! We see this is the series AFTERLIFE too! Frank Drake is caught in same dilemma.
Atheist Frank Drake comments:
Your quote from the You Tube series RENOWNED ACADEMICS SPEAKING ABOUT GOD:
The way you understand things is to observe and to deduce from the observations the answers to your questions, but when it come to the question of WHY there is no data and I don't know any way to get the data and so I think it may be, disappointing as it may seem, beyond our reach.

Below is a portion of episode 3 of season one of AFTER LIFE:
After Life on Netflix stars Ricky Gervais as a bereaved husband (Image: Netflix)
Psychiatrist (Paul Kaye): Good week?
Tony Johnson: No, of course not!!!! How could have I possibly had a good week?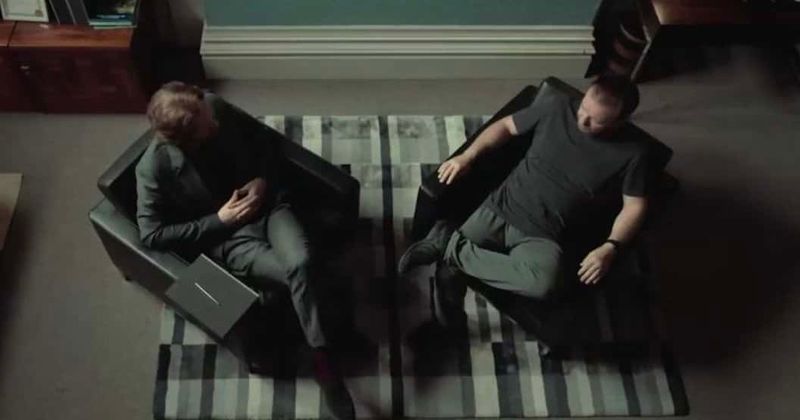 Psychiatrist: Only you know that really.

Tony: Why am I paying you then?
Psychiatrist: That is a good question. Why are you paying me?

Tony: So I got to know that too?
Psychiatrist: Tony we are here to ask and answer difficult questions about yourself. Maybe you don't want to know the answer? Maybe it is easy for you to think there is isn't an answer? There is an answer, but you seem happier to just accept your unhappiness.

Tony: I do accept my unhappiness. I know exactly why I unhappy. I also know that the only thing that would stop me from being unhappy is impossible. What I don't know is why I pay someone who doesn't care about me.
Psychiatrist: There are people in your life who care about you, but do they actually do know what is good for you?
Tony: I don't think anyone knows what is good for me.
Psychiatrist: I think it [the answer] is in there somewhere.
I have written on the Book of Ecclesiastes and the subject of the meaning of our lives on several occasions on this blog. In this post on Ecclesiastes I hope to show how secular humanist man can not hope to find a lasting meaning to his life in a closed system without bringing God back into the picture. Tony in AFTER LIFE and Solomon in the Book of Ecclesiastes both are searching for answers UNDER THE SUN but are coming up empty! Three thousand years ago, Solomon took a look at life "under the sun" in his book of Ecclesiastes. Christian scholar Ravi Zacharias has noted, "The key to understanding the Book of Ecclesiastes is the term 'under the sun.' What that literally means is you lock God out of a closed system, and you are left with only this world of time plus chance plus matter."
Below Is a portion of a talk Francis Schaeffer did on Ecclesiastes back in 1968 or so and Schaeffer gives a spiritual answer to finding the meaning of life and how to have an abundant life:
Ecclesiastes 8:15
15 And I commend joy, for man has nothing better UNDER THE SUN but to eat and drink and be joyful, for this will go with him in his toil through the days of his life that God has given himunder the sun.
Ecclesiastes 9:7-12
7 Go, eat your bread with joy, and drink your wine with a merry heart, for God has already approved what you do.
8 Let your garments be always white. Let not oil be lacking on your head.
9 Enjoy life with the wife whom you love, (DOES IT SOUND OPTIMISTIC? NOW COMES THE BACKLASH) all the days of your vain life that he has given you under the sun, because that is your portion in life and in your toil at which you toil under the sun. 10 Whatever your hand finds to do, do it with your might, for there is no work or thought or knowledge or wisdom in Sheol, to which you are going.
11 Again I saw that under the sun the race is not to the swift, nor the battle to the strong, nor bread to the wise, nor riches to the intelligent, nor favor to those with knowledge, but time and chance happen to them all. 12 For man does not know his time. Like fish that are taken in an evil net, and like birds that are caught in a snare, so the children of man are snared at an evil time, when it suddenly falls upon them.
Solomon when at work takes off his hat and he stands by the grave of man and he says, "ALAS. ALAS. ALAS."
But interestingly enough the story of Ecclesiastes does not end its message here because in two places in the New Testament it is picked up and carried along and put in its proper perspective.
Luke 12:16-21
16 And he told them a parable, saying, "The land of a rich man produced plentifully, 17 and he thought to himself, 'What shall I do, for I have nowhere to store my crops?' 18 And he said, 'I will do this: I will tear down my barns and build larger ones, and there I will store all my grain and my goods. 19 And I will say to my soul, "Soul, you have ample goods laid up for many years; relax,eat, drink, be merry."' [ALMOST EVERYONE WHO HAS PROCEEDED HERE HAS FELT CERTAINLY THAT JESUS IS DELIBERATELY REFERRING TO SOLOMON'S SOLUTION.]20 But God said to him, 'Fool! This night your soul is required of you, and the things you have prepared, whose will they be?' 21 So is the one who lays up treasure for himself and is not rich toward God."
Christ here points out the reason for the failure of the logic that is involved. He points out why it fails in logic and then why it fails in reality. This view of Solomon must end in failure philosophically and also in emotional desperation.
We are not made to live in the shortened environment of UNDER THE SUN in this life only!!! Neither are we made to live only in the environment of a bare concept of afterlife [ignoring trying to make this life better]. We are made to live in the environment of a God who exists and who is the judge. This is the difference and that is what Jesus is setting forth here.
I Corinthians 15:32
32 What do I gain if, humanly speaking, I fought with beasts at Ephesus? If the dead are not raised, "Let us eat and drink, for tomorrow we die."
There is no doubt here he is reaching back to Solomon again and he is just saying if there isn't a resurrection of the dead then let's just follow Solomon and let's just eat and drink for tomorrow we die!!!! If there isn't this full structure [including the resurrection of the dead] then just have the courage to follow Solomon and we can eat and drink because tomorrow we die and that is all we have. If the full structure isn't there then pick up the cup and drink it dry! You can say it a different way in the 20th century: If the full structure is not there then go ahead and be an EXISTENTIALIST, but don't cheat. Drink the cup to the end. Drink it dry! That is what Paul says. Paul the educated man. Paul the man who knew his Greek philosophy. Paul the man who understood Solomon and the dilemma. Paul said it one way or the other. There is no room for a middle ground. IF CHRISTIANS AREN'T RAISED FROM THE DEAD THEN SOLOMON IS RIGHT IN ECCLESIASTES, BUT ONLY THEN. But if he is right then you should accept all of Solomon's despair and his conclusions. Isaiah picks up this theme.
Isaiah 22:10-14
10 and you counted the houses of Jerusalem, and you broke down the houses to fortify the wall. 11 You made a reservoir between the two walls for the water of the old pool. But you did not look to him who did it, or see him who planned it long ago.
12 In that day the Lord God of hosts
called for weeping and mourning,
for baldness and wearing sackcloth; [ INSTEAD OF WEEPING THIS NEXT VERSE TELLS WHAT THEY DID.]
13 and behold, joy and gladness,
killing oxen and slaughtering sheep,
eating flesh and drinking wine.
"Let us eat and drink,
for tomorrow we die."
14 The Lord of hosts has revealed himself in my ears:
"Surely this iniquity will not be atoned for you until you die,"
says the Lord God of hosts.
God brings it together here. Solomon's words, Isaiah's words and Paul's words are one message. What is occurring in Isaiah? They are under siege and they have strengthened the wall but they have turned away both from the creator of the world and the one who laid the foundation of the walls in Jerusalem, David himself, and his teaching. They have said since it is hopeless let's just eat and drink and be merry for tomorrow we die. In a little while the walls will be overthrown and the enemy will sweep across us and we will be slain. Let's fill our stomachs today. Let's eat and drink and be merry.
God is saying through Isaiah, don't you understand that isn't the call now. The call is not to eat and drink and be merry and try to blot yourself out. It is day for being sad. Not because you are going to be destroyed but because you must understand that the reason you are in this circumstance is because you have revolted against the GOD WHO IS THERE. The reason for the dilemma is a moral question. They have revolted against the God who exists. The solution is being sorrowful and saying to God I AM SORRY. But instead of that because they turned their back from the real problem and only look to the forces without, so they make their wall strong and they eat and drink and be merry for tomorrow they die. The only time it would make sense for them to live this way would be if they were living under Solomon's framework UNDER THE SUN which looking at human life alone seen only between birth and death and if that is all there is.
Solomon would say it really doesn't make any difference if the enemy is at the gate today versus the day after in the form of death. Nevil Shute in ON THE BEACH says the human will eventually go this way too!!!
The difficulty is they refuse to come as sinners and because they haven't there is one thing left and that is despair if they are consistent.
Now turning back to I Corinthians 15:32 we can understand more the force of what Paul is talking about here and more of the depth of what he is saying.
I Corinthians 15:32
32 What do I gain if, humanly speaking, I fought with beasts at Ephesus? If the dead are not raised, "Let us eat and drink, for tomorrow we die."
Paul sweeps this all together, Solomon's conclusions and the case in Isaiah, and Paul says that would be consistent if this [If the dead are not raised] is not so. This same message is found in I Corinthians 15:19, "If in Christ we have hope in this life only, we are of all people most to be pitied." How would you word that for the 20th century? IF CHRIST IS A BARE WORD TO WAVE AS A FLAG, IF CHRISTIANITY IS ONLY THAT TO INTEGRATE INTO INDIVIDUAL PSYCHOLOGICALLY AND SOCIETY AS SUCH, IF THAT IS ALL CHRIST IS, PAUL SAYS LET'S PLEASE BE CONSISTENT ABOUT IT, THROW DOWN THE WORD "CHRIST" AND WALK UPON IT. Don't play with this and have the courage of a Solomon.
I Corinthians 15:19-20
19 If in Christ we have hope in this life only, we are of all people most to be pitied.
20 But in fact Christ has been raised from the dead, the first fruits of those who have fallen asleep.
Christ is raised. We will be raised. Therefore, a consistent despair that rests in the other line of thinking is not really consistent in the light of what is. The people in Isaiah's day were eating and drinking and waiting for death and it was folly because the real solution was turning back to God. There is a total framework here that Paul is presenting and it tells us why it is folly to accept Solomon's solution (eating and drinking and being merry because tomorrow we die).
I Corinthians 15:21-22
21 For as by a man came death, by a man has come also the resurrection of the dead. 22 For as in Adam all die, so also in Christ shall all be made alive.
There is only one reason that viewing life UNDER THE SUN from birth to death causes despair and that is because we live in an abnormal world [since the fall in Genesis 3 when sin entered the world because of rebellion]. It is a legitimate despair if viewed only in the context of UNDER THE SUN,but it is an abnormal despair if it is seen in its proper setting. The problem in Isaiah's day was not that the enemy was coming to kill them, but it was the revolt of man against the creator.
—-

Francis Schaeffer pictured below in 1971 at L Abri
_
–
Francis Schaeffer
In 1978 I heard the song "Dust in the Wind" by Kansas when it rose to #6 on the charts. That song told me thatKerry Livgren the writer of that song and a member of Kansas had come to the same conclusion that Solomon had. I remember mentioning to my friends at church that we may soon see some members of Kansas become Christians because their search for the meaning of life had obviously come up empty even though they had risen from being an unknown band to the top of the music business and had all the wealth and fame that came with that. Furthermore, like Solomon and Coldplay, they realized death comes to everyone and "there must be something more."
Livgren wrote:
"All we do, crumbles to the ground though we refuse to see, Dust in the Wind, All we are is dust in the wind, Don't hang on, Nothing lasts forever but the Earth and Sky, It slips away, And all your money won't another minute buy."
Both Kerry Livgren and Dave Hope of Kansas became Christians eventually. Kerry Livgren first tried Eastern Religions and Dave Hope had to come out of a heavy drug addiction. I was shocked and elated to see their personal testimony on The 700 Club in 1981 and that same interview can be seen on youtube today. Livgren lives in Topeka, Kansas today where he teaches "Diggers," a Sunday school class at Topeka Bible Church. Hope is the head of Worship, Evangelism and Outreach at Immanuel Anglican Church in Destin, Florida.
The movie maker Woody Allen has embraced the nihilistic message of the song "Dust in the Wind" by Kansas. David Segal in his article, "Things are Looking Up for the Director Woody Allen. No?" (Washington Post, July 26, 2006), wrote, "Allen is evangelically passionate about a few subjects. None more so than the chilling emptiness of life…The 70-year-old writer and director has been musing about life, sex, work, death and his generally futile search for hope…the world according to Woody is so bereft of meaning, so godless and absurd, that the only proper response is to curl up on a sofa and howl for your mommy."
The song "Dust in the Wind" recommends, "Don't hang on." Allen himself says, "It's just an awful thing and in that context you've got to find an answer to the question: 'Why go on?' " It is ironic that Chris Martin the leader of Coldplay regards Woody Allen as his favorite director.
Lets sum up the final conclusions of these gentlemen: Coldplay is still searching for that "something more." Woody Allen has concluded the search is futile. Livgren and Hope of Kansas have become Christians and are involved in fulltime ministry. Solomon's experiment was a search for meaning to life "under the sun." Then in last few words in the Book of Ecclesiastes he looks above the sun and brings God back into the picture: "The conclusion, when all has been heard, is: Fear God and keep His commandments, because this applies to every person. For God will bring every act to judgment, everything which is hidden, whether it is good or evil."
You can hear Kerry Livgren's story from this youtube link:
I
—

—
f you need more evidence then go to You Tube and watch the video The Bible and Archaeology – Is the Bible from God? (Kyle Butt)
Blaise Pascal asserted, "There is a God-shaped vacuum in the heart of every man which cannot be filled by any created thing, but only by God the Creator, made known through Jesus Christ." In other words, the spiritual answers your heart is seeking can be found in putting your faith and trust in Jesus Christ. The Bible is true from cover to cover and can be trusted.
Let me close by talking to you about the ROMAN ROAD TO CHRIST.
Thanks for your time.
Sincerely,
Everette Hatcher, everettehatcher@gmail.com, http://www.thedailyhatch.org, cell ph 501-920-5733, 13900 Cottontail Lane, Alexander, AR 72002
—
—
Part 1 "Why have integrity in Godless Darwinian Universe where Might makes Right?"
Part 2 "My April 14, 2016 Letter to Ricky mentioned Book of Ecclesiastes and the Meaninglessness of Life"
Part 3 Letter about Brandon Burlsworth concerning suffering and pain and evil in the world. "Why didn't Jesus save her [from cancer]?" (Tony's 10 year old nephew George in episode 2)
Part 4 Letter on Solomon on Death Tony in episode one, "It should be everyone's moral duty to kill themselves."
Part 5 Letter on subject of Learning in Ecclesiastes "I don't read books of fiction but mainly science and philosophy"
Part 6 Letter on Luxuries in Ecclesiastes Part 6, The Music of AFTERLIFE (Part A)
Part 7 Letter on Labor in Ecclesiastes My Letter to Ricky on Easter in 2017 concerning Book of Ecclesiastes and the legacy of a person's life work
Part 8 Letter on Liquor in Ecclesiastes Tony's late wife Lisa told him, "Don't get drunk all the time alright? It will only make you feel worse in the log run!"
Part 9 Letter on Laughter in Ecclesiastes , I said of laughter, "It is foolishness;" and of mirth, "What does it accomplish?" Ecclesiastes 2:2
Part 10 Final letter to Ricky on Ladies in Ecclesiastes "I gathered a chorus of singers to entertain me with song, and—most exquisite of all pleasures— voluptuous maidens for my bed…behold, all was vanity and a striving after wind, and there was nothing to be gained under the sun" Ecclesiastes 2:8-11.
Part 11 Letter about Daniel Stanhope and optimistic humanism "If man has been kicked up out of that which is only impersonal by chance , then those things that make him man-hope of purpose and significance, love, motions of morality and rationality, beauty and verbal communication-are ultimately unfulfillable and thus meaningless." (Francis Schaeffer)
Part 12 Letter on how pursuit of God is only way to get Satisfaction Dan Jarrell "[In Ecclesiastes] if one seeks satisfaction they will never find it. In fact, every pleasure will be fleeting and can not be sustained, BUT IF ONE SEEKS GOD THEN ONE FINDS SATISFACTION"
Part 13 Letter to Stephen Hawking on Solomon realizing he will die just as a dog will die "For men and animals both breathe the same air, and both die. So mankind has no real advantage over the beasts; what an absurdity!" Ecclesiastes
Part 14 Letter to Stephen Hawking on 3 conclusions of humanism and Bertrand Russell destruction of optimistic humanism. "That Man is the product of causes which had no prevision of the end they were achieving; that his origin, his growth, his hopes and fears, his loves and his beliefs, are but the outcome of accidental collocations of atoms—no philosophy which rejects them can hope to stand. Only within the scaffolding of these truths, only on the firm foundation of unyielding despair, can the soul's habitation henceforth be safely built."(Bertrand Russell, Free Man's Worship)
Part 15 Letter to Stephen Hawking on Leonardo da Vinci and Solomon and Meaningless of life "I hate life. As far as I can see, what happens on earth is a bad business. It's smoke—and spitting into the wind" Ecclesiastes Book of Ecclesiastes Part 15 "I hate life. As far as I can see, what happens on earth is a bad business. It's smoke—and spitting into the wind" Ecclesiastes 2:17
Part 16 Letter to Stephen Hawking on Solomon's longing for death but still fear of death and 5 conclusions of humanism on life UNDER THE SUN. Francis Schaeffer "Life is just a series of continual and unending cycles and man is stuck in the middle of the cycle. Youth, old age, Death. Does Solomon at this point embrace nihilism? Yes!!! He exclaims that the hates life (Ecclesiastes 2:17), he longs for death (4:2-3) Yet he stills has a fear of death (2:14-16)"
—