_
story of JEFF ALLEN
_
Richard Dawkins and Ricky Gervais
_
Francis Schaeffer below:
Richard Dawkins vs John Lennox | The God Delusion Debate
Ben Stein vs. Richard Dawkins Interview

XXXX Peter Singer – The Genius of Darwin: The Uncut Interviews – Richard Dawkins
XXXXXXX
__
–
XXX November 22, 2019
November 22, 2019
Richard Dawkins c/o Richard Dawkins Foundation, Washington, DC 20005
Dear Mr. Dawkins,
I have enjoyed reading about a dozen of your books and some of the most intriguing were The God Delusion, An Appetite for Wonder: The Making of a Scientist, and Brief Candle in the Dark: My Life in Science.
I have posted in the past showing the false claims made in "Outgrowing God," and you can reference these by googling "Outgrowing God The Daily Hatch." Some questions raised by you include "Did Jesus even exist?" One of my favorite posts was FRANCIS SCHAEFFER ANALYZES ART AND CULTURE Part 292 In OUTGROWING GOD Richard Dawkins wrongly notes "Genesis says Abraham owned camels, but archaeological evidence shows that the camel was not domesticated until many centuries after Abraham" Featured Artist is Paul Pfeiffer
I enjoyed your latest book Outgrowing God which is one of my favorite books that you have written. However, there are some some weak parts of the book. For instance, on page 49:
There's some beautiful English writing in the King James Bible. Ecclesiastes is at least as good as the Song of Songs, although it's poetry is bleak and world-weary. If you read nothing else in the Bible, I recommend those two books, Ecclesiastes and the Song of Songs.
__
Many of these letters I have written you have dealt with what Solomon had to say concerning the search for satisfaction in life UNDER THE SUN (without God in the picture.) Probably his most disappointing discovery was that being a ladies man left him unsatisfied. Richard I have been married for over 34 years to the wife of my youth while many around me are still searching for their soulmate in all the wrong places it seems. I wish more people had a love for the Book of Ecclesiastes like you do because the message below shows the vanity of seeking satisfaction by maximizing the amount of sexual conquests.
Ecclesiastes 2:8-10The Message (MSG)
I piled up silver and gold,
loot from kings and kingdoms.
I gathered a chorus of singers to entertain me with song,
and—most exquisite of all pleasures—
voluptuous maidens for my bed.
9-10 Oh, how I prospered! I left all my predecessors in Jerusalem far behind, left them behind in the dust. What's more, I kept a clear head through it all. Everything I wanted I took—I never said no to myself. I gave in to every impulse, held back nothing. I sucked the marrow of pleasure out of every task—my reward to myself for a hard day's work!
1 Kings 11:1-3 English Standard Version (ESV)
11 Now King Solomon loved many foreign women, along with the daughter of Pharaoh: Moabite, Ammonite, Edomite, Sidonian, and Hittite women, 2 from the nations concerning which the Lord had said to the people of Israel, "You shall not enter into marriage with them, neither shall they with you, for surely they will turn away your heart after their gods." Solomon clung to these in love. 3 He had 700 wives, who were princesses, and 300 concubines. And his wives turned away his heart.
Francis Schaeffer observed concerning Solomon, "You can not know woman by knowing 1000 women."
King Solomon in Ecclesiastes 2:11 sums up his search for meaning in the area of the Sexual Revolution with these words, "…behold, all was vanity and a striving after wind, and there was nothing to be gained under the sun."
In fact, the Book of Ecclesiastes shows that Solomon came to the conclusion that NOTHING in life gives true satisfaction without God including knowledge (1:16-18), LADIES and liquor (2:1-3, 8, 10, 11), and great building projects (2:4-6, 18-20). You can only find a lasting meaning to your life by looking above the sun and bring God back into the picture.
Solomon's experiment was a search for meaning to life "under the sun." Then in last few words in the Book of Ecclesiastes he looks above the sun and brings God back into the picture: "The conclusion, when all has been heard, is: Fear God and keep His commandments, because this applies to every person. For God will bring every act to judgment, everything which is hidden, whether it is good or evil."
Why not take a few minutes and just read the short chapter of Psalms 22 that was written hundreds of years before the Romans even invented the practice of Crucifixion. 1000 years BC the Jews had the practice of stoning people but we read in this chapter a graphic description of Christ dying on the cross. How do you explain that without looking ABOVE THE SUN to God. Ecclesiastes was written to those who wanted to examine life UNDER THE SUN without God in the picture and Solomon's conclusion in the final chapter was found in Ecclesiastes 12 when he looked at life ABOVE THE SUN:
13 The end of the matter; all has been heard. Fear God and keep his commandments, for this is the whole duty of man. 14 For God will bring every deed into judgment, with every secret thing, whether good or evil.
The answer to find meaning in life is found in putting your faith and trust in Jesus Christ. The Bible is true from cover to cover and can be trusted.
Thank you again for your time and I know how busy you are.
Everette Hatcher, everettehatcher@gmail.com, http://www.thedailyhatch.org, cell ph 501-920-5733, Box 23416, LittleRock, AR 72221, United States
–
Science Confirms the Bible with Ken Ham
__
Schaeffer with his wife Edith in Switzerland.
Richard Dawkins and John Lennox
_
_
Francis and Edith Schaeffer seen below:
__
_
Dawkins, Hitchens, Dennett, Harris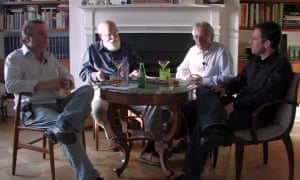 Canary Islands 2014: Harold Kroto and Richard Dawkins
__
Francis Schaeffer pictured below:
The Basis of Human Dignity by Francis Schaeffer
Richard Dawkins, founder of the Richard Dawkins Foundation for Reason and Science. Credit: Don Arnold Getty Images
—
Francis Schaeffer in 1984
Christian Manifesto by Francis Schaeffer
Francis Schaeffer in 1982
—-
Whatever Happened to the Human Race? Episode 1
—
—
–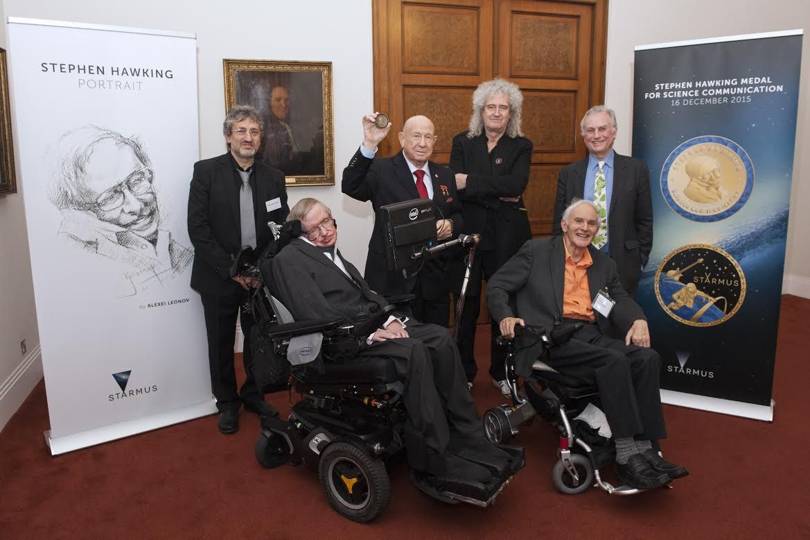 Garik Israelian, Stephen Hawking, Alexey Leonov, Brian May, Richard Dawkins and Harry Kroto
—-
—-
—-
Dark History of Evolution-Henry Morris, Ph.D.
—-
Featured artist is Michael c McMillen
___
Michael C. McMillen: Photo by Ari Young
Michael McMillen is a visual artist in the very broadest sense, careful to avoid narrowly defining just what it is he does. "The medium has to be in service of the idea," he told an audience of students at Art Center College of Design in 2005.
McMillen's shifting and overlapping job descriptions — sculptor, installation artist, printmaker, cultural anthropologist — reflect the fact that he is a searcher, never quite sure what he is looking for, always hoping to be amazed by what he comes across. An leading edge baby boomer — he was born in 1946 — his childhood was marked by a curiosity about the artifacts of postwar California.
Raised mainly by his grandparents, McMillen was surrounded from an early age by things older than he was: elderly people, antique furnishings, objects that had seen better days. Being older, his grandparents also tended to let him roam. Some of McMillen's childhood memories involve pulling a wagon down the alleyway near his their house, collecting junk that he would later organize and create stories about. Since many of neighbors were veterans of WWII, or had worked for Douglas Aircraft in Santa Monica, McMillen often found items that conveyed the faded poetry of war and industry.
His imaginative drive also reflects the influence of his father, an actor who also worked as a scenic artist. Eventually McMillen Sr. worked for Channel 11, and Michael would visit him there. Walking among the sets, which he realized looked very different on television, got him thinking about the artifice and "duality" of media images. While attending Santa Monica City College he decided to become an artist: an epiphany that he says came to him like a "snap of a finger."
After earning his MFA at UCLA McMillen promptly gained attention for his mixed-media sculptures and constructed environments. "Like films," wrote one commentator, "McMillen's fastidiously constructed works function as portals into other worlds…" While building his reputation as an artist McMillen also did odd jobs in the film industry, creating props and special effects for "Blade Runner" and "Close Encounters of the Third Kind."
Since winning the LA County Museum's "New Talent Award" and landing NEA Artist's Fellowship, both in 1978, McMillen's career has never faltered. His groundbreaking 1981 installation "Central Meridian (The Garage)" featured the cluttered interior of a 60's garage/workshop/catacomb, complete with the rusting bones of a Dodge Dart. Doug Harvey, writing for the LA Weekly, says that the piece "…remains one of the most subtle, poetic and experiential critiques of the institutional art environment ever devised."
Over the years, McMillen's interests as an artist have remained remarkably consistent. Deeply aware of the evocative power of things, he has been accumulating and re-assembling "objects of interest" — some would call them detritus — all his life. While building his stellar reputation as an artist, an inevitable by product has been a growing storage problem.
"I have an exotic collection of materials, artifacts, gee-gaws and what-nots" says McMillen. "To avoid unnecessary clutter, I have a simple rule: If I haven't used it in 30 years, I discard it."
One of the results of being "awash with stuff" has been a deepening exploration with film. This new direction has allowed McMillen to both literally recycle some of the physical raw material he has accumulated and also to recycle some of the overarching ideas of his career. He has been tinkering with film since 2003, and his 2007 installation/exhibition "Speed's Place" at the UnMuseum of the Contemporary Arts Museum of Cincinnati, included projections of his digital films.
His current exhibition "Lighthouse" at LA Louver Gallery doesn't literally include a lighthouse. The title, McMillen explains, "… is both metaphoric and a bit literal," as the installation includes a looped screening of his new short film "Quotidian Man" which projected onto the billboard of the "Hotel New Empire," a kind of tilting film set raised on a catafalque of stilts over a tray of water.
A precarious flophouse with a questionable past it is both a sculpture and a metaphor. Adding the element of the billboard/movie screen is McMillen's way of priming the image to receive an even richer set of suggestions. The billboard may also be a nod to the late painter James Doolin's "Psychic," a 1998 oil of a blank signboard hovering above a row of LA stores.
McMillen's films are reminiscent of old films, and nostalgia — he has great affection for the days when movie magic wasn't so seamless — is one of their key ingredients. Paradoxically, the poetry of nostalgia recycled creates something fresh and dreamlike. "Every dream is new: we don't know where they are going," McMillen points out. Spooky mirages, grainy and full of surprises, McMillen's films somehow feel inevitable, as if he has been making them all his life.
In a sense, he has. Working with history makes him feel fresh, like a child again.
Michael C. McMillen is a man who is fascinated by the past, but who isn't the least bit jaded. His imagination flickers brightly, like a Tesla coil in a monster movie.
Michael Mc Millen Artist's Statement for "Lighthouse."
The illusions of permanence and perfection are recurring themes in my work.
I use architectural references as a metaphoric language to express and reveal this
continuous state of flux and entropy.
The viewer's memory and sense of reality are subtly subverted by the use of altered scale and the fabrication of elements that are both familiar and strangely dystopian.
With the advances in digital motion picture technology, I have been able to integrate time based images into my installations. The movies blend and combine a multitude of varied images from our popular culture into personal dream-like narratives that animate and transport the viewer into unexpected realms.
__________
—-
Related posts:
On November 21, 2014 I received a letter from Nobel Laureate Harry Kroto and it said: …Please click on this URL http://vimeo.com/26991975 and you will hear what far smarter people than I have to say on this matter. I agree with them. Harry Kroto _________________ Below you have picture of 1996 Chemistry Nobel Prize Winner […]
The Beatles were "inspired by the musique concrète of German composer and early electronic music pioneer Karlheinz Stockhausen…" as SCOTT THILL has asserted. Francis Schaeffer noted that ideas of "Non-resolution" and "Fragmentation" came down German and French streams with the influence of Beethoven's last Quartets and then the influence of Debussy and later Schoenberg's non-resolution which is in total contrast […]
_______ On November 21, 2014 I received a letter from Nobel Laureate Harry Kroto and it said: …Please click on this URL http://vimeo.com/26991975 and you will hear what far smarter people than I have to say on this matter. I agree with them. Harry Kroto _________________ Below you have picture of 1996 Chemistry Nobel Prize […]
On November 21, 2014 I received a letter from Nobel Laureate Harry Kroto and it said: …Please click on this URL http://vimeo.com/26991975 and you will hear what far smarter people than I have to say on this matter. I agree with them. Harry Kroto ____________________ Below you have picture of 1996 Chemistry Nobel Prize Winner Dr. […]