_
_
__

XXXX November 8, 2019
November 8, 2019
Richard Dawkins c/o Richard Dawkins Foundation,
Washington, DC 20005
Dear Mr. Dawkins,
I have enjoyed reading about a dozen of your books and some of the most intriguing were The God Delusion, An Appetite for Wonder: The Making of a Scientist, and Brief Candle in the Dark: My Life in Science.

I have posted in the past showing the false claims made in "Outgrowing God," and you can reference these by googling "Outgrowing God The Daily Hatch." Some questions raised by you include "Did Jesus even exist?" One of my favorite posts was FRANCIS SCHAEFFER ANALYZES ART AND CULTURE Part 292 In OUTGROWING GOD Richard Dawkins wrongly notes "Genesis says Abraham owned camels, but archaeological evidence shows that the camel was not domesticated until many centuries after Abraham" Featured Artist is Paul Pfeiffer
I enjoyed your latest book Outgrowing God which is one of my favorite books that you have written. However, there are some some weak parts of the book. For instance, on page 81 you write:
The Book of Judges chapter 11 tells of an Israelite general called Jephthah who badly needed a victory against a rival tribe called the Ammonites. Jephthah was desperate to win, so he promised God that he would make a burnt sacrifice of whatever or whomever he first saw on returning home after the battle. God duly gave him the victory he wanted'with a very great slaughter'. Poor Ammonites, you might think. But it gets worse. As luck would have it, the first person who came out of the house to congratulate Jephthah was his beloved daughter. His only daughter. She came out dancing with joy to greet her victorious father. Jephthah was horrified to remember his promise to God. But he had no choice. He had to cook his daughter.
The best response to this I could find was from The Encyclopedia of Bible Difficulties by one of my spiritual heroes Gleason Archer.
Why did God allow Jephthah's foolish vow to run its course?
The nature of Jephthah's vow has been much misunderstood. In Judges 11:30-31 Jephthah, on the eve of his decisive conflict with powerful Ammonite invaders, made a solemn promise to God that if He would grant victory over the foe, then whoever would come forth from the doors of his home to meet him would become the property of the Lord: "And I will offer him up for a burnt offering."
Obviously it was some human being who was to be involved, someone from Jephthah's household or some member of his family, and one who would care enough about Jephthah personally to become the first to greet him. The Hebrew text excludes the possibility of any animal serving as a candidate for this burnt offering since the phrase rendered "whatsoever cometh forth of the doors of my house" is never used of an animal (Keil and Delitzsch, Joshua, Judges, Ruth, p. 385).
Had it been a beast, there would of course have been no problem about sacrificing it on the altar as a blood offering (which the Hebrew word for burnt offering [`olah] normally implied). But in this special case, since it was to be a human member of the household who would be the first to greet Jephthah, it was out of the question for a literal blood sacrifice to be performed. Why? Because human sacrifice was sternly and repeatedly forbidden by God in his law (see Lev. 18:21; 20:2-5; Deut. 12:31; 18:10).
It would have been altogether unthinkable for Jephthah or any other Israelite to imagine that he could please God by committing such a heinous and abhorrent abomination in His presence or at His altar. "You shall not behave thus toward [Yahweh] your God, for every abominable act which He [Yahweh] hates they [the Canaanites] have done for their gods; for they even burn their sons and daughters in fire to their gods. Whatever I command you, you shall be careful to do; you shall not add to nor take away from it" (Deut. 12:31- 32). Again, we read in Deuteronomy 18:10-12: "There shall not be found among you anyone who makes his son or his daughter pass through the fire….For whoever does these… detestable things Yahweh your God will drive them out before you."
In view of Yahweh's well-known prohibition and expressed loathing for this practice, it would have amounted to a complete renunciation of God's sovereignty for Jephthah to have undertaken such a thing. It would have been a repudiation of the very covenant that constituted Israel as God's holy people.
Equally incredible is the notion that God, foreknowing that Jephthah was intending thus to flout His law and trample on His covenant, would nevertheless have granted him victory over the foe. The understanding of the event involves an intolerable theological difficulty, for it hopelessly compromises the integrity of God Himself.
What, then, actually did happen if Jephthah did not offer up his daughter on the altar? As Delitzsch points out, the whole record of the manner in which this vow was carried out points to her dedication to the service of the Lord as a lifelong ministrant at the national sanctuary. Judges 11:37-38 states that she was allowed a mourning period of two 161 months, not to bewail her approaching death, but rather to lament over her permanent virginity (betulim) and the resultant extinction of her father's line, since she was his only child. As one set apart for tabernacle service (cf. Exod. 38:8; 1 Sam. 2:22 for other references to these consecrated virgins who performed service at the tabernacle), she would never become a mother; hence it is emphasized that "she knew no man" (Judg. 11:39). This would have been a pointless and inane remark if in fact she were put to death.
Jephthah acted as a man of honor in carrying out his promise and presenting his daughter as a living sacrifice, as all true Christians are bidden to present themselves (Rom. 12:1). Had he committed a detested abomination like the slaughter of his own child, he never would have been listed with the heroes of faith in Hebrews 11. (An extended and skillful treatment of this whole issue is found in Keil and Delitzsch, Joshua, Judges, Ruth, pp. 384-95).
—-
Dr. Dawkins, you have a 150 year advantage over your hero Charles Darwin and the archaeologist's spade has continued to dig. Take a look at this piece of evidence from the book WHATEVER HAPPENED TO THE HUMAN RACE? by Francis Schaeffer and C. Everett Koop:
TRUTH AND HISTORY (chapter 5 of WHATEVER HAPPENED TO THE HUMAN RACE?)
In the previous chapter we saw that the Bible gives us the explanation for the existence of the universe and its form and for the mannishness of man. Or, to reverse this, we came to see that the universe and its form and the mannishness of man are a testimony to the truth of the Bible. In this chapter we will consider a third testimony: the Bible's openness to verification by historical study.
Christianity involves history. To say only that is already to have said something remarkable, because it separates the Judeo-Christian world-view from almost all other religious thought. It is rooted in history.
The Bible tells us how God communicated with man in history. For example, God revealed Himself to Abraham at a point in time and at a particular geographical place. He did likewise with Moses, David, Isaiah, Daniel and so on. The implications of this are extremely important to us. Because the truth God communicated in the Bible is so tied up with the flow of human events, it is possible by historical study to confirm some of the historical details.
It is remarkable that this possibility exists. Compare the information we have from other continents of that period. We know comparatively little about what happened in Africa or South America or China or Russia or even Europe. We see beautiful remains of temples and burial places, cult figures, utensils, and so forth, but there is not much actual "history" that can be reconstructed, at least not much when compared to that which is possible in the Middle East.
When we look at the material which has been discovered from the Nile to the Euphrates that derives from the 2500-year span before Christ, we are in a completely different situation from that in regard to South America or Asia. The kings of Egypt and Assyria built thousands of monuments commemorating their victories and recounting their different exploits. Whole libraries have been discovered from places like Nuzu and Mari and most recently at Elba, which give hundreds of thousands of texts relating to the historical details of their time. It is within this geographical area that the Bible is set. So it is possible to find material which bears upon what the Bible tells us.
The Bible purports to give us information on history. Is the history accurate? The more we understand about the Middle East between 2500 B.C. and A.D. 100, the more confident we can be that the information in the Bible is reliable, even when it speaks about the simple things of time and place.
There is also a confirmation of what the Bible says concerning the Egyptian King Tirhakah who came up to oppose the Assyrians. Confirmation of his reality is typified by a sphinx-ram in the British Museum (British Museum Ref. B.B.1779). The small figure between the legs of the ram is a representation of King Tirhakah. The Bible says that when Sennacherib heard that Tirhakah, king of Eqypt, was coming to fight against him, he sent messengers to tell Hezekiah that help from Egypt would be of no use to him.
2 Kings 19:9, 10 9 Now the king heard concerning Tirhakah king of Cush, "Behold, he has set out to fight against you." So he sent messengers again to Hezekiah, saying,10 "Thus shall you speak to Hezekiah king of Judah: 'Do not let your God in whom you trust deceive you by promising that Jerusalem will not be given into the hand of the king of Assyria. (Isaiah 37:9-10 also says about the same thing.)
The date of Sennacherib's campaign in Palestine is 701 B.C., and something which has often puzzled historians is the role of Tirhakah, who was not king of Egypt and Ethiopia until 690 B.C. But the solution to this problem is simple. In 701 B.C. Tirhakah was only a prince at the side of his military brother, the new Pharaoh Shebitku, who sent Tirhakah with an army to help Hezekiah fend off the Assyrian advance. But the story in Kings and Isaiah does not end in 701 B.C. It carries right through to the death of Sennacherib in 681 B.C., which is nine years after Tirhakah had become king of Egypt and Ethiopia. In other words, the biblical narrative, from the standpoint of 681 B.C., mentions Tirhakah by the title he bore at that time (that is, 681 B.C.), not as he was in 701 B.C. This is still done today, using a man's title as he is known at the time of writing even it one is speaking of a previous time in his personal history.
Unaware of the the importance of these facts, and falling into wrong interpretations of some of Tirhakah's inscriptions, some Old Testament scholars have stumbled over each in their eagerness to diagnose historical errors in the Books of the Kings and Isaiah. But as the archaeological confirmation shows, they were quite mistaken. What is striking about these archaeological finds is the way they often converge; there is often not just one line of evidence but several in which the biblical account is confirmed. We do not have confirmation of every single detail in the biblical account, by any means. Nor do we need such total confirmation in view of the amount of evidence there is. To insist on confirmation at every point would be to treat the Bible in a prejudiced way, simply because it is the Bible. The fact that is a religious book does not mean that it cannot also be true when it deals with history.
Not all archaeological finds have a convergence of many different interrelated lines like these around the life of Hezekiah, but they are no less striking. For example, take the "ration tablets" discovered in the ruins of Bablyon. The Bible tells us that after the Assyrians had destroyed the nothern kingdom of Samaria (around 721 B.C.), the southern kingdom, Judah, survived for almost another 150 years until approximately 586 B.C. By this time Assyria, one of the greatest military powers of the ancient world, had been defeated by Bablyon, a neighboring state to the east. That was in 609 B.C. Four years later the Babylonian general, Nebuchadnezzar–then the crown prince–came west and completely defeated Necho II, king of Egypt, at the battle of Carchemish. As a result of this victory he laid claim to Judah, which had previously been in the sphere of influence of Egypt. King Jehoiakim of Judah thus now paid tribute to the Babylonians. The Bible tells us that Jehoiakim rebelled three years later: "During Jehoiakim's reign Nebuchadnezzar king of Bablyon invaded the land, and Jehoiakim became his vassal for three years. But then he changed his mind and rebelled against Nebuchnezzar" (II Kings 24:1).
The political background for this step can be understood from the Babylonian Chronicles (British Museum, Ref. 21946, records events from 597 B.C. down to 594). These were a compressed chronological summary of the principal events from the Babylonian court. There had been a crucial battle in 601 B.C. between the Egyptians and the Babylonians. This had left both sides weakened, and Jehoiakim took this opportunity to declare his independence of the Babylonian king. His independence, or rather Judah's independence, did not last long, for Jehoiakim himself died in 598 B.C., leaving his throne and the crisis to his son, Jehoiachin. Second Kings (II Kings 24:10-12, 17) tells us what happened:
10 At that time the servants of Nebuchadnezzar king of Babylon came up to Jerusalem, and the city was besieged. 11 And Nebuchadnezzar king of Babylon came to the city while his servants were besieging it, 12 and Jehoiachin the king of Judah gave himself up to the king of Babylon, himself and his mother and his servants and his officials and his palace officials. The king of Babylon took him prisoner in the eighth year of his reign. 17 And the king of Babylon made Mattaniah, Jehoiachin's uncle, king in his place, and changed his name to Zedekiah.
The story of Jehoiachin does not end there, however. The royal family were kept at the court of Nebuchadnezzar, and the Bible says that they , like other royal captives, were provided for by the king with rations of grain and oil (II Kings 25:27-30):
27 And in the thirty-seventh year of the exile of Jehoiachin king of Judah, in the twelfth month, on the twenty-seventh day of the month, Evil-merodach king of Babylon, in the year that he began to reign, graciously freed[a] Jehoiachin king of Judah from prison.28 And he spoke kindly to him and gave him a seat above the seats of the kings who were with him in Babylon. 29 So Jehoiachin put off his prison garments. And every day of his life he dined regularly at the king's table, 30 and for his allowance, a regular allowance was given him by the king, according to his daily needs, as long as he lived.
The records of these allowances referred to in the Bible were unearthed in excavations in Babylon in basement storerooms of the royal palace (in Staat-Liches Museum, East Berlin, Vorderas Abteilung; Babylon 28122 and 28126). These are known as the "ration tablets" and they record who received such "rations." In these, Jehoiachin is mentioned by name.
We also have confirmation of the Babylonian advance towards Judah in Nebuchadezzar's first campaign. Among the ruins of Lachish were discovered a number of ostraca. Ostraca are broken pieces of earthenware called postherds, which were used for writing on in ink. (The Lachish ostraca are in the Palestinian Archaeological Museum, Jerusalem.) These brief letters reveal the increasing tensions within the growing state of Judah and tie in well with the picture given in the Bible by the Book of Jeremiah the Prophet. In Ostracon VI, the princes are accused of "weakening our hands" (that is, discouraging the writers), which is the very phraseology used in the Bible by the Judean princes against Jeremiah. Also, the use of fire beacons for signaling is found in both Ostracon IV and Jeremiah 6:1, each using the same terminology.
These events took place around the year 600 B.C. Events we considered earlier in relation to the capture of Lachish by Sennacherib during the reign of Hezekiah were around the year 700 B.C.

The answer to find meaning in life is found in putting your faith and trust in Jesus Christ. The Bible is true from cover to cover and can be trusted.
Thank you again for your time and I know how busy you are.
Everette Hatcher, everettehatcher@gmail.com, http://www.thedailyhatch.org, cell ph 501-920-5733, Box 23416, LittleRock, AR 72221, United States
XXXXXXX
__
__
Francis and Edith Schaeffer at their home in Switzerland with some visiting friends
__
Schaeffer with his wife Edith in Switzerland.
Richard Dawkins and John Lennox
_
_
_
Dawkins, Hitchens, Dennett, Harris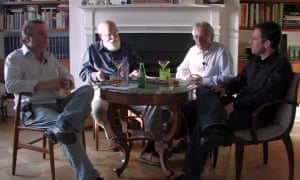 Canary Islands 2014: Harold Kroto and Richard Dawkins
__
Francis Schaeffer pictured below:
—
The Basis of Human Dignity by Francis Schaeffer
Richard Dawkins, founder of the Richard Dawkins Foundation for Reason and Science. Credit: Don Arnold Getty Images
—
Francis Schaeffer in 1984
Christian Manifesto by Francis Schaeffer
Francis Schaeffer in 1982
—-
Whatever Happened to the Human Race? Episode 1
—
—
–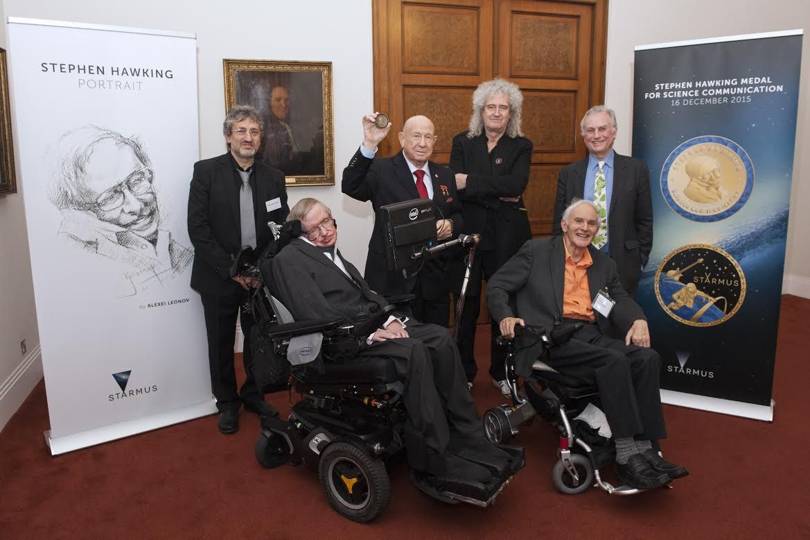 Garik Israelian, Stephen Hawking, Alexey Leonov, Brian May, Richard Dawkins and Harry Kroto
—-
—-
—-
Michael Ray Charles was born in 1967 in Lafayette, Louisiana, and graduated from McNeese State University in Lake Charles, Louisiana, in 1985. In college, he studied advertising design and illustration, eventually moving to painting, his preferred medium. Charles also received an MFA degree from the University of Houston in 1993. His graphically styled paintings investigate racial stereotypes drawn from a history of American advertising, product packaging, billboards, radio jingles, and television commercials.
Charles draws comparisons between Sambo, Mammy, and minstrel images of an earlier era and contemporary mass-media portrayals of black youths, celebrities, and athletes—images he sees as a constant in the American subconscious. "Stereotypes have evolved," he notes. "I'm trying to deal with present and past stereotypes in the context of today's society." Caricatures of African-American experience, such as Aunt Jemima, are represented in Charles's work as ordinary depictions of blackness, yet are stripped of the benign aura that lends them an often-unquestioned appearance of truth. Charles says, "Aunt Jemima is just an image, but it almost automatically becomes a real person for many people, in their minds. But there's a difference between these images and real humans." In each of his paintings, notions of beauty, ugliness, nostalgia, and violence emerge and converge, reminding us that we cannot divorce ourselves from a past that has led us to where we are, who we have become, and how we are portrayed. Charles lives in Texas and teaches at the University of Texas at Austin.
_
Michael Ray Charles at Landmarks
Published on Oct 13, 2015 SUBSCRIBE 174 A video about Michael Ray Charles' "(Forever Free) Ideas, Languages and Conversations," commissioned by Landmarks for The University of Texas at Austin. Featuring insights from the artist.
—
_
—-
Related posts:
On November 21, 2014 I received a letter from Nobel Laureate Harry Kroto and it said: …Please click on this URL http://vimeo.com/26991975 and you will hear what far smarter people than I have to say on this matter. I agree with them. Harry Kroto _________________ Below you have picture of 1996 Chemistry Nobel Prize Winner […]
The Beatles were "inspired by the musique concrète of German composer and early electronic music pioneer Karlheinz Stockhausen…" as SCOTT THILL has asserted. Francis Schaeffer noted that ideas of "Non-resolution" and "Fragmentation" came down German and French streams with the influence of Beethoven's last Quartets and then the influence of Debussy and later Schoenberg's non-resolution which is in total contrast […]
_______ On November 21, 2014 I received a letter from Nobel Laureate Harry Kroto and it said: …Please click on this URL http://vimeo.com/26991975 and you will hear what far smarter people than I have to say on this matter. I agree with them. Harry Kroto _________________ Below you have picture of 1996 Chemistry Nobel Prize […]
On November 21, 2014 I received a letter from Nobel Laureate Harry Kroto and it said: …Please click on this URL http://vimeo.com/26991975 and you will hear what far smarter people than I have to say on this matter. I agree with them. Harry Kroto ____________________ Below you have picture of 1996 Chemistry Nobel Prize Winner Dr. […]