_
Bill Maher and Richard Dawkins
__

XXXX October 15, 2019
October 15, 2019
Richard Dawkins c/o Richard Dawkins Foundation,
Washington, DC 20005
Dear Mr. Dawkins,
I have enjoyed reading about a dozen of your books and some of the most intriguing were The God Delusion, An Appetite for Wonder: The Making of a Scientist, and Brief Candle in the Dark: My Life in Science.
I enjoyed your latest book Outgrowing God which is one of my favorite books that you have written.
However, there are some some weak parts of the book. For instance, on page 53 you write:
Genesis says Abraham owned camels, but archaeological evidence shows that the camel was not domesticated until many centuries after Abraham
5 reasons why domesticated camels likely existedMegan Sauter November 12, 2018 16 Comments 2730 views Share
Did camels exist in Biblical times?
Some Biblical texts, such as Genesis 12 and 24, claim that Abraham owned camels. Yet archaeological researchshows that camels were not domesticated in the land of Canaan until the 10th century B.C.E.—about a thousand years after the time of Abraham. This seems to suggest that camels in these Biblical stories are anachronistic.
Abraham's Camels. Did camels exist in Biblical times? Camels appear with Abraham in some Biblical texts—and depictions thereof, such as The Caravan of Abram by James Tissot, based on Genesis 12. When were camels first domesticated? Although camel domestication had not taken place by the time of Abraham in the land of Canaan, it had in Mesopotamia. Photo: PD-1923.Mark W. Chavalas explores the history of camel domestication in his Biblical Views column "Did Abraham Ride a Camel?"published in the November/December 2018 issue of Biblical Archaeology Review. Although he agrees that camel domestication likely did not take place in Canaan until the 10th century B.C.E., he notes that Abraham's place of origin was not Canaan—but Mesopotamia. Thus, to ascertain whether Abraham's camels are anachronistic, we need to ask: When were camels first domesticated in Mesopotamia?
Chavalas explains that the events in the Biblical accounts of the Patriarchs and Matriarchs (Abraham and Sarah, Isaac and Rebekah, and Israel and Rachel) have been traditionally dated to c. 2000–1600 B.C.E. (during the Middle Bronze Age). Camels appear in Mesopotamian sources in the third millennium B.C.E.—before this period. However, the mere presence of camels in sources does not necessarily mean that camels were domesticated.
The question remains: When were camels domesticated in Mesopotamia?
In his examination of camel domestication history, Chavalas looks at a variety of textual, artistic, and archaeological sources from Mesopotamia dating to the third and second millennia. We will examine five of these sources here:
1. One of the first pieces of evidence for camel domestication comes from the site of Eshnunna in modern Iraq: A plaque from the mid-third millennium shows a camel being ridden by a human.
2. Another source is a 21st-century B.C.E. text from Puzrish-Dagan in modern Iraq that may record camel deliveries.
3. Third, an 18th-century B.C.E. text (quoting from an earlier third millennium text) from Nippur in modern Iraq says, "the milk of the camel is sweet." Chavalas explains why he thinks this likely refers to a domesticated camel:
Having walked in many surveys through camel herds in Syria along the Middle Euphrates River, I believe that this text is describing a domesticated camel; who would want to milk a "wild camel"? At the very least, the Bactrian camel was being used for dairy needs at this time.
4. Next, an 18th-century B.C.E. cylinder seal depicts a two-humped camel with riders. Although this seal's exact place of origin is unknown, it reputedly comes from Syria, and it resembles other seals from Alalakh (a site in modern Turkey near Turkey's southern border with Syria).
5. Finally, a 17th-century text from Alalakh includes camels in a list of domesticated animals that required food.
Camel Domestication. When were camels first domesticated? This impression of an 18th-century B.C.E. cylinder seal from Syria depicts a two-humped camel with riders. The seal and other archaeological discoveries shed light on camel domestication history, suggesting that camel domestication had occurred in Mesopotamia by the second millennium B.C.E. Photo: ©The Walters Art Museum, Baltimore.
Although domesticated camels may not have been widespread in Mesopotamia in the second millennium, these pieces of evidence show that by the second millennium, there were at least some domesticated camels. Thus, camel domestication had taken place in Mesopotamia by the time of Abraham. Accordingly, Chavalas argues that the camels in the stories of Abraham in Genesis are not anachronistic.
Learn more about the history of camel domestication in Mark W. Chavalas's Biblical Views column "Did Abraham Ride a Camel?" published in the November/December 2018 issue of Biblical Archaeology Review.——————
Subscribers: Read the full Biblical Views column "Did Abraham Ride a Camel?" by Mark W. Chavalas in the November/December 2018 issue of Biblical Archaeology Review.
—-
Francis Schaeffer noted concerning Charles Darwin's loss of faith:
This is very sad. He lies on his bunk and the Beagle tosses and turns and he makes daydreams, and his dreams and hopes are that someone would find in Pompeii or some place like this, an old manuscript by a distinguished Roman that would put his stamp of authority on it, which would be able to show that Christ existed. This is undoubtedly what he is talking about. Darwin gave up this hope with great difficulty.
Dr. Dawkins, you have a 150 year advantage over your hero Charles Darwin and the archaeologist's spade has continued to dig. Take a look at this piece of evidence from the book WHATEVER HAPPENED TO THE HUMAN RACE? by Francis Schaeffer and C. Everett Koop:
TRUTH AND HISTORY (chapter 5 of WHATEVER HAPPENED TO THE HUMAN RACE?)
In the previous chapter we saw that the Bible gives us the explanation for the existence of the universe and its form and for the mannishness of man. Or, to reverse this, we came to see that the universe and its form and the mannishness of man are a testimony to the truth of the Bible. In this chapter we will consider a third testimony: the Bible's openness to verification by historical study.
Christianity involves history. To say only that is already to have said something remarkable, because it separates the Judeo-Christian world-view from almost all other religious thought. It is rooted in history.
The Bible tells us how God communicated with man in history. For example, God revealed Himself to Abraham at a point in time and at a particular geographical place. He did likewise with Moses, David, Isaiah, Daniel and so on. The implications of this are extremely important to us. Because the truth God communicated in the Bible is so tied up with the flow of human events, it is possible by historical study to confirm some of the historical details.
It is remarkable that this possibility exists. Compare the information we have from other continents of that period. We know comparatively little about what happened in Africa or South America or China or Russia or even Europe. We see beautiful remains of temples and burial places, cult figures, utensils, and so forth, but there is not much actual "history" that can be reconstructed, at least not much when compared to that which is possible in the Middle East.
When we look at the material which has been discovered from the Nile to the Euphrates that derives from the 2500-year span before Christ, we are in a completely different situation from that in regard to South America or Asia. The kings of Egypt and Assyria built thousands of monuments commemorating their victories and recounting their different exploits. Whole libraries have been discovered from places like Nuzu and Mari and most recently at Elba, which give hundreds of thousands of texts relating to the historical details of their time. It is within this geographical area that the Bible is set. So it is possible to find material which bears upon what the Bible tells us.
The Bible purports to give us information on history. Is the history accurate? The more we understand about the Middle East between 2500 B.C. and A.D. 100, the more confident we can be that the information in the Bible is reliable, even when it speaks about the simple things of time and place.
TRUTH AND HISTORY (chapter 5 of WHATEVER HAPPENED TO THE HUMAN RACE?, under footnote #94)
So the story goes on. We have stopped at only a few incidents in the sweep back to the year 1000 B.C. What we hope has emerged from this is a sense of the historical reliability of the Bible's text. When the Bible refers to historical incidents, it is speaking about the same sort of "history" that historians examine elsewhere in other cultures and periods. This borne out by the fact that some of the incidents, some of the individuals, and some of the places have been confirmed by archaeological discoveries in the past hundred years has swept away the possibility of a naive skepticism about the Bible's history. And what is particularly striking is that the tide has built up concerning the time before the year 1000 B.C. Our knowledge about the years 2500 B.C. to 1000 B.C. has vastly increased through discoveries sometimes of whole libraries and even of hitherto unknown people and languages.
There was a time, for example, when the Hittite people, referred to in the early parts of the Bible, were treated as fictitious by critical scholars. Then came the discoveries after 1906 at Boghaz Koi (Boghaz-koy) which not only gave us the certainty of their existence but stacks of details from their own archives!
The answer to find meaning in life is found in putting your faith and trust in Jesus Christ. The Bible is true from cover to cover and can be trusted.
Thank you again for your time and I know how busy you are.
Everette Hatcher, everettehatcher@gmail.com, http://www.thedailyhatch.org, cell ph 501-920-5733, Box 23416, LittleRock, AR 72221, United States
XXXXXXX
__
__
Francis and Edith Schaeffer at their home in Switzerland with some visiting friends
__
Schaeffer with his wife Edith in Switzerland.
Richard Dawkins and John Lennox
_
_
_
Dawkins, Hitchens, Dennett, Harris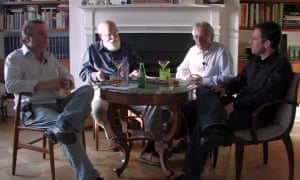 Canary Islands 2014: Harold Kroto and Richard Dawkins
__
Francis Schaeffer pictured below:
—
The Basis of Human Dignity by Francis Schaeffer
Richard Dawkins, founder of the Richard Dawkins Foundation for Reason and Science. Credit: Don Arnold Getty Images
—
Francis Schaeffer in 1984
Christian Manifesto by Francis Schaeffer
Francis Schaeffer in 1982
—-
Whatever Happened to the Human Race? Episode 1
—
—
–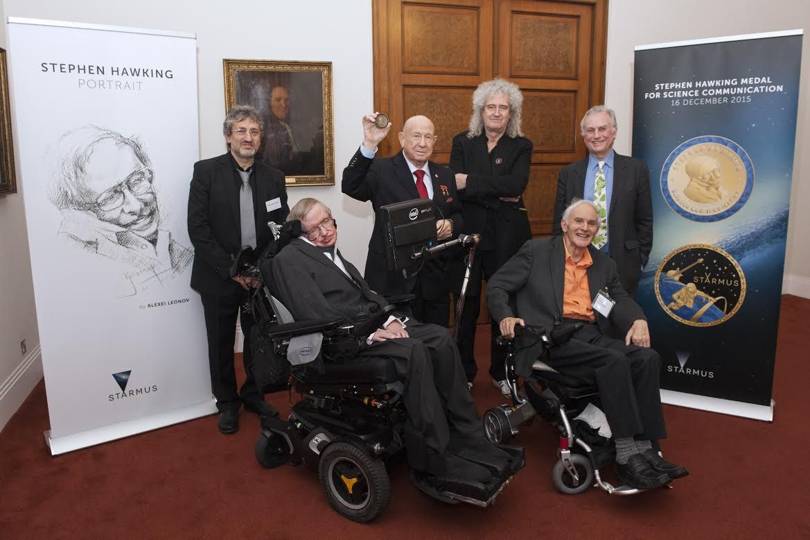 Garik Israelian, Stephen Hawking, Alexey Leonov, Brian May, Richard Dawkins and Harry Kroto
—-
—-
—-
—-
_
Paul Pfeiffer was born in Honolulu, Hawaii, in 1966 but spent most of his childhood in the Philippines. Pfeiffer relocated to New York in 1990, where he attended Hunter College and the Whitney Independent Study Program. Pfeiffer's groundbreaking work in video, sculpture, and photography uses recent computer technologies to dissect the role that mass media plays in shaping consciousness.
In a series of video works focused on professional sports events—including basketball, boxing, and hockey—Pfeiffer digitally removes the bodies of the players from the games, shifting the viewer's focus to the spectators, sports equipment, or trophies won. Presented on small LCD screens and often looped, these intimate and idealized video works are meditations on faith, desire, and a contemporary culture obsessed with celebrity. Many of Pfeiffer's works invite viewers to exercise their imaginations or project their own fears and obsessions onto the art object. Several of Pfeiffer's sculptures include eerie, computer-generated recreations of props from Hollywood thrillers, such as Poltergeist, and miniature dioramas of sets from films that include The Exorcist and The Amityville Horror.
Pfeiffer is the recipient of numerous awards and fellowships, and was the inaugural recipient of the Bucksbaum Award, given by the Whitney Museum of American Art (2000). In 2002, Pfeiffer was an artist-in-residence at Massachusetts Institute of Technology, and at ArtPace in San Antonio, Texas. In 2003, a traveling retrospective of his work was organized by Massachusetts Institute of Technology's List Visual Arts Center and Museum of Contemporary Art, Chicago.
—-
Related posts:
On November 21, 2014 I received a letter from Nobel Laureate Harry Kroto and it said: …Please click on this URL http://vimeo.com/26991975 and you will hear what far smarter people than I have to say on this matter. I agree with them. Harry Kroto _________________ Below you have picture of 1996 Chemistry Nobel Prize Winner […]
The Beatles were "inspired by the musique concrète of German composer and early electronic music pioneer Karlheinz Stockhausen…" as SCOTT THILL has asserted. Francis Schaeffer noted that ideas of "Non-resolution" and "Fragmentation" came down German and French streams with the influence of Beethoven's last Quartets and then the influence of Debussy and later Schoenberg's non-resolution which is in total contrast […]
_______ On November 21, 2014 I received a letter from Nobel Laureate Harry Kroto and it said: …Please click on this URL http://vimeo.com/26991975 and you will hear what far smarter people than I have to say on this matter. I agree with them. Harry Kroto _________________ Below you have picture of 1996 Chemistry Nobel Prize […]
On November 21, 2014 I received a letter from Nobel Laureate Harry Kroto and it said: …Please click on this URL http://vimeo.com/26991975 and you will hear what far smarter people than I have to say on this matter. I agree with them. Harry Kroto ____________________ Below you have picture of 1996 Chemistry Nobel Prize Winner Dr. […]