On November 21, 2014 I received a letter from Nobel Laureate Harry Kroto and it said:
…Please click on this URL http://vimeo.com/26991975
and you will hear what far smarter people than I have to say on this matter. I agree with them.
Harry Kroto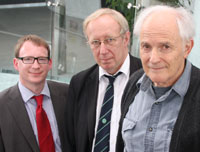 Nick Gathergood, David-Birkett, Harry-Kroto
I have attempted to respond to all of Dr. Kroto's friends arguments and I have posted my responses one per week for over a year now. Here are some of my earlier posts:
Arif Ahmed, Sir David Attenborough, Mark Balaguer, Horace Barlow, Michael Bate, Patricia Churchland, Aaron Ciechanover, Noam Chomsky,Alan Dershowitz, Hubert Dreyfus, Bart Ehrman, Stephan Feuchtwang, David Friend,  Riccardo Giacconi, Ivar Giaever , Roy Glauber, Rebecca Goldstein, David J. Gross,  Brian Greene, Susan Greenfield, Stephen F Gudeman,  Alan Guth, Jonathan Haidt, Theodor W. Hänsch, Brian Harrison,  Hermann Hauser, Roald Hoffmann,  Bruce Hood, Herbert Huppert,  Gareth Stedman Jones, Steve Jones, Shelly Kagan, Michio Kaku,  Stuart Kauffman,  Lawrence Krauss, Harry Kroto, George Lakoff, Elizabeth Loftus,  Alan Macfarlane, Peter Millican, Marvin Minsky, Leonard Mlodinow,  Yujin Nagasawa, Alva Noe, Douglas Osheroff,  Jonathan Parry,  Saul Perlmutter, Herman Philipse,  Carolyn Porco, Robert M. Price, Lisa Randall, Lord Martin Rees,  Oliver Sacks, John Searle, Marcus du Sautoy, Simon Schaffer, J. L. Schellenberg,   Lee Silver,  Peter Singer,  Walter Sinnott-Armstrong, Ronald de Sousa, Victor Stenger, Barry Supple,   Leonard Susskind, Raymond Tallis, Neil deGrasse Tyson,  .Alexander Vilenkin, Sir John Walker, Frank Wilczek, Steven Weinberg, and  Lewis Wolpert,
From Wikipedia, the free encyclopedia
Sir Partha Sarathi Dasgupta, FRS, FBA (born 17 November 1942),[1] is the Frank Ramsey Professor Emeritus of Economics at the University of Cambridge, United Kingdom;[1] Fellow of St John's College, Cambridge, and Visiting Professor at the New College of the Humanities, London. He was born in Dhaka, present-day Bangladesh, then moved to present-day India, and is the son of the noted economist A. K. Dasgupta. He is married to Carol Dasgupta, who is a psychotherapist. His father-in-law was the Nobel Laureate James Meade. Partha and Carol Dasgupta have three children, Zubeida Dasgupta-Clark (an educational psychologist), Shamik (a philosophy professor at Princeton) and Aisha (who works on reproductive health in poor countries).
Education
[
edit
]
Dasgupta was educated in Rajghat Besant School in Varanasi, India, obtaining his Matriculation Degree in 1958, and pursued undergraduate studies in Physics at the Hans Raj College, India, graduating in 1962 and in Mathematics at Trinity College Cambridge, graduating in 1965. He obtained a PhD in Economics at Cambridge in 1968 with thesis titled Population, growth and non-transferable capital (investigations in the theory of optimum economic growth). His PhD supervisor was Sir James Mirrlees. At Cambridge he was a member of the Cambridge Apostles, a distinguished intellectual society.
Research
[
edit
]
Research interests have covered welfare and development economics; the economics of technological change; population, environmental, and resource economics; social capital; the theory of games; the economics of global warming,[2] and the economics of malnutrition.
Appointments
[
edit
]
Dasgupta taught at the London School of Economics (Lecturer 1971–1975; Reader 1975–1978; Professor 1978–1985)[1] and moved to the University of Cambridge in January 1985 as Professor of Economics (and Professorial Fellow of St John's College),[1] where he served as Chairman of the Faculty of Economics in 1997–2001. During 1989–92 he was on leave from the University of Cambridge and served as Professor of Economics, Professor of Philosophy, and Director of the Program in Ethics in Society at Stanford University.[1] In October 1991 he returned to Cambridge, on leave from Stanford University, to re-assume his Chair at Cambridge. He resigned from Stanford in 1992 and has remained in Cambridge since then.
Academic Activities
During 1991–97 Dasgupta was Chairman of the (Scientific Advisory) Board of the Beijer International Institute of Ecological Economics of the Royal Swedish Academy of Sciences, Stockholm. During 1999–2009 he served as a Founder Member of the Management and Advisory Committee of the South Asian Network for Development and Environmental Economics (SANDEE),[1] based in Kathmandu. In 1996 he helped to establish the journal Environment and Development Economics,[1] published by Cambridge University Press, whose purpose has been not only to publish original research at the interface of poverty and the environmental-resource base, but also to provide an opportunity to scholars in poor countries to publish their findings in an international journal.
During 2008-2013 he was a Professorial Research Fellow at the University of Manchester's Sustainable Consumption Institute (SCI). He was also an Andrew D. White Professor-at-Large (2007–2013) at Cornell University and was (2010–2011) President of the European Association of Environmental and Resource Economists (EAERE)European Association of Environmental and Resource Economists (EAERE). He is a patron of population concern charity Population Matters(formerly the Optimum Population Trust) (2008–). During 2011-2014 he was Chairman of the Scientific Advisory Board of the International Human Dimensions Programme (IHDP) on Global Environmental Change, Bonn. Since 2011 he has been Chairman of the Advisory Board of the Wittgenstein Centre, Vienna. He served as Chairman of the Central Government Expert Group on Green National Accounting for India which submitted its Report in 2013. He is a cofounder of theCentre for the Study of Existential Risk at the University of Cambridge.[3][4]
In  the first video below in the 26th clip in this series are his words and  my response is below them. 
50 Renowned Academics Speaking About God (Part 1)
Another 50 Renowned Academics Speaking About God (Part 2)
A Further 50 Renowned Academics Speaking About God (Part 3)
_________________________________
Interview of Partha Dasgupta – part one
_-
Interview of Partha Dasgupta – part two
Partha Dasgupta interviewed by Alan Macfarlane 6th April 2010
Below is a letter I sent to Dr. Dasgupta and I responded to his quote:
June 1, 2016
Dr. Partha Dasgupta,  University of Cambridge
Dear Dr. Dasgupta,
I had a chance back in the 1990's to correspond with the famous economist Milton Freidman. I wonder if you ever crossed paths with him?
In the popular You Tube video "Renowned Academics Speaking About God" you made the following statement:
In the response to the question by Alan MacFarlane, "Has religion been important to you," your answer was as follows:
No, not a bit. I am certainly not religious in any conventional sense of the term, but I have never had a hostility to religion except in the obvious sens when it turns ugly which it so often does.
It is true that you up to this point have not taken an interest in spiritual things but have you taken time to really look at the historical claims of the Bible and if they are really accurate or not?
Let me respond  with the words of Francis Schaeffer from his book HE IS THERE AND HE IS NOT SILENT (the chapter is entitled, "Is Propositional Revelation Nonsense?"
Of course, if the infinite uncreated Personal communicated to the finite created personal, he would not exhaust himself in his communication; but two things are clear here:
1. Even communication between once created person and another is not exhaustive, but that does not mean that for that reason it is not true. 
2. If the uncreated Personal really cared for the created personal, it could not be thought unexpected for him to tell the created personal things of a propositional nature; otherwise as a finite being the created personal would have numerous things he could not know if he just began with himself as a limited, finite reference point. In such a case, there is no intrinsic reason why the uncreated Personal could communicate some vaguely true things, but could not

communicate propositional truth concerning the world surrounding

the created personal – for fun, let's call that science. Or why he could not communicate propositional truth to the created personal

concerning the sequence that followed

the uncreated Personal making everything he made – let's call that history. There is no reason we could think of why he could not tell these two types of propositional things truly. They would not be exhaustive; but could we think of any reason why they would not be true? The above is, of course, what the Bible claims for itself in regard to propositional revelation.
Below is a piece of that evidence given by Francis Schaeffer concerning the accuracy of the Bible.TRUTH AND HISTORY (chapter 5 of WHATEVER HAPPENED TO THE HUMAN RACE?, under footnote #95)Two things should be mentioned about the time of Moses in Old Testament history.
The form of the covenant made at Sinai has remarkable parallels with the covenant forms of other people at that time. (On covenants and parties to a treaty, the Louvre; and Treaty Tablet from Boghaz Koi (i.e., Hittite) in Turkey, Museum of Archaeology in Istanbul.) The covenant form at Sinai resembles just as the forms of letter writings of the first century after Christ (the types of introductions and greetings) are reflected in the letters of the apostles in the New Testament, it is not surprising to find the covenant form of the second millennium before Christ reflected in what occurred at Mount Sinai. God has always spoken to people within the culture of their time, which does not mean that God's communication is limited by that culture. It is God's communication but within the forms appropriate to the time.
The Pentateuch tells us that Moses led the Israelites up the east side of the Dead Sea after their long stay in the desert. There they encountered the hostile kingdom of Moab. We have firsthand evidence for the existence of this kingdom of Moab–contrary to what has been said by critical scholars who have denied the existence of Moab at this time. It can be found in a war scene from a temple at Luxor (Al Uqsor). This commemorates a victory by Ramses II over the Moabite nation at Batora (Luxor Temple, Egypt).
Also the definite presence of the Israelites in west Palestine (Canaan) no later than the end of the thirteenth century B.C. is attested by a victory stela of Pharaoh Merenptah (son and successor of Ramses II) to commemorate his victory over Libya (Israel Stela, Cairo Museum, no. 34025). In it he mentions his previous success in Canaan against Aschalon, Gize, Yenom, and Israel; hence there can be no doubt the nation of Israel was in existence at the latest by this time of approximately 1220 B.C. This is not to say it could not have been earlier, but it cannot be later than this date.
Thank you again for your time and I know how busy you are.
Everette Hatcher, everettehatcher@gmail.com, http://www.thedailyhatch.org, cell ph 501-920-5733, Box 23416, LittleRock, AR 72221
________
Related posts:
__