On November 21, 2014 I received a letter from Nobel Laureate Harry Kroto and it said:
…Please click on this URL http://vimeo.com/26991975
and you will hear what far smarter people than I have to say on this matter. I agree with them.
Harry Kroto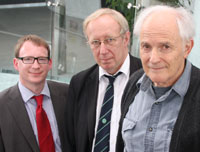 Nick Gathergood, David-Birkett, Harry-Kroto
I have attempted to respond to all of Dr. Kroto's friends arguments and I have posted my responses one per week for over a year now. Here are some of my earlier posts:
Arif Ahmed, Sir David Attenborough, Mark Balaguer, Horace Barlow, Michael Bate, Patricia Churchland, Aaron Ciechanover, Noam Chomsky,Alan Dershowitz, Hubert Dreyfus, Bart Ehrman, Stephan Feuchtwang, David Friend,  Riccardo Giacconi, Ivar Giaever , Roy Glauber, Rebecca Goldstein, David J. Gross,  Brian Greene, Susan Greenfield, Stephen F Gudeman,  Alan Guth, Jonathan Haidt, Theodor W. Hänsch, Brian Harrison,  Hermann Hauser, Roald Hoffmann,  Bruce Hood, Herbert Huppert,  Gareth Stedman Jones, Steve Jones, Shelly Kagan, Michio Kaku,  Stuart Kauffman,  Lawrence Krauss, Harry Kroto, George Lakoff, Elizabeth Loftus,  Alan Macfarlane, Peter Millican, Marvin Minsky, Leonard Mlodinow,  Yujin Nagasawa, Alva Noe, Douglas Osheroff,  Jonathan Parry,  Saul Perlmutter, Herman Philipse,  Carolyn Porco, Robert M. Price, Lisa Randall, Lord Martin Rees,  Oliver Sacks, John Searle, Marcus du Sautoy, Simon Schaffer, J. L. Schellenberg,   Lee Silver,  Peter Singer,  Walter Sinnott-Armstrong, Ronald de Sousa, Victor Stenger, Barry Supple,   Leonard Susskind, Raymond Tallis, Neil deGrasse Tyson,  .Alexander Vilenkin, Sir John Walker, Frank Wilczek, Steven Weinberg, and  Lewis Wolpert,
From Wikipedia, the free encyclopedia
In  the second video below in the 78th clip in this series are his words and  my response is below them. 
50 Renowned Academics Speaking About God (Part 1)
Another 50 Renowned Academics Speaking About God (Part 2)
A Further 50 Renowned Academics Speaking About God (Part 3)
_________________________________
Below is my letter to Dr. Rodolfo Llinas and my response to his quote:
6-6-16
Dr. Rodolfo Llinas, Professor of Neuroscience; University Professor; Department of Neuroscience and Physiology, NYU
Dear Dr. Llinas,
Back in 1981 I got to visit 20 European countries on a trip with 42 girls and 5 boys on a college trip for a copy of months. When  I was in Rome or Athens I had 13 girls that would walk with me and when  a foreign guy would approach them they would say that they were with me. I was a legend in  those towns in  Europe!!!! On that trip I met a good friend named Carlos and he was from Columbia, and he always was trying to get me to come visit him but I was afraid of dangers I had read about down there. He told he would meet me at the airport and escort around the country in the safe areas. I was reminded of that lately when I watched the hit TV show MODERN FAMILY because Gloria is from Columbia and she always joked about the safety in Columbia.
In the popular You Tube video "Renowned Academics Speaking About God" you made the following statement:
"I have no measure possible,  I know that even those who believe in God deeply know that there is no possible way of discerning his existence. Measure something that tells me that God exists, anything. ARE WE SAYING THAT DISCERNMENT IS THE SAME THING AS MEASUREMENT? Yes, indeed, in this case for me it is…"
As a scientist you emphasis the need to have things confirmed through observational data. Have you taken time to really look at the historical claims of the Bible and if they are really accurate or not?
Let me respond  with the words of Francis Schaeffer from his book HE IS THERE AND HE IS NOT SILENT (the chapter is entitled, "Is Propositional Revelation Nonsense?"
Of course, if the infinite uncreated Personal communicated to the finite created personal, he would not exhaust himself in his communication; but two things are clear here:
1. Even communication between once created person and another is not exhaustive, but that does not mean that for that reason it is not true. 
2. If the uncreated Personal really cared for the created personal, it could not be thought unexpected for him to tell the created personal things of a propositional nature; otherwise as a finite being the created personal would have numerous things he could not know if he just began with himself as a limited, finite reference point. In such a case, there is no intrinsic reason why the uncreated Personal could communicate some vaguely true things, but could not

communicate propositional truth concerning the world surrounding

the created personal – for fun, let's call that science. Or why he could not communicate propositional truth to the created personal

concerning the sequence that followed

the uncreated Personal making everything he made – let's call that history. There is no reason we could think of why he could not tell these two types of propositional things truly. They would not be exhaustive; but could we think of any reason why they would not be true? The above is, of course, what the Bible claims for itself in regard to propositional revelation.
Below is a piece of that evidence given by Francis Schaeffer concerning the accuracy of the Bible. TRUTH AND HISTORY (chapter 5 of WHATEVER HAPPENED TO THE HUMAN RACE?, under footnote #94)
We now take a jump back in time to the middle of the ninth century before Christ, that is, about 850 B.C. Most people have heard of Jezebel. She was the wife of Ahab, the king of the northern kingdom of Israel. Her wickedness has become so proverbial that we talk about someone as a "Jezebel." She urged her husband to have Naboth killed, simply because Ahab had expressed his liking for a piece of land owned by Naboth, who would not sell it. The Bible tells us also that she introduced into Israel the worship of her homeland, the Baal worship of Tyre. This led to the opposition of Elijah the Prophet and to the famous conflict on Mount Carmel between Elijah and the priests of Baal.
.
'The Woman at the Window' – an ivory artifact from Samaria. Photo source.
______
Here again one finds archaeological confirmations of what the Bible says. Take for example: "As for the other events of Ahab's reign, including all he did, the palace he built and inlaid with ivory, and the cities he fortified, are they not written in the book of the annals of the kings of Israel?" (I Kings 22:39).
This is a very brief reference in the Bible to events which must have taken a long time: building projects which probably spanned decades. Archaeological excavations at the site of Samaria, the capital, reveal something of the former splendor of the royal citadel. Remnants of the "ivory house" were found and attracted special attention (Palestinian Archaeological Museum, Jerusalem). This appears to have been a treasure pavilion in which the walls and furnishings had been adorned with colored ivory work set with inlays giving a brilliant too, with the denunciations revealed by the prophet Amos:
"I will tear down the winter house along with the summer house; the houses adorned with ivory will be destroyed and the mansions will be demolished," declares the Lord. (Amos 3:15)
Other archaeological confirmation exists for the time of Ahab. Excavations at Hazor and Megiddo have given evidence of  the extent of fortifications carried out by Ahab. At Megiddo, in particular, Ahab's works were very extensive including a large series of stables formerly assigned to Solomon's time.
On the political front, Ahab had to contend with danger from the Aramacaus king of Syria who besieged Samaria, Ahab's capital. Ben-hadad's existence is attested by a stela (a column with writing on it) which has been discovered with his name written on it (Melquart Stela, Aleppo Museum, Syria). Again, a detail of history given in the Bible is shown to be correct.
Seal of Jezebel Identified Non-Technical – Sep 19, 2008 – by Bryant G. Wood PhD This article was first published in the Spring 2008 issue of Bible and Spade.
Jezebel was no doubt the wickedest woman in the Bible. In the book of Revelation her name was invoked in condemning a false prophetess in Thyatira who promoted sexual immorality and the eating of food sacrificed to idols (Rv 2:20). Even today the name is emblematic of a sinful, shameless woman. Jezebel means "where is his highness (=Baal)?" (Korpel 2008: 37). Baal was the great  Canaanite storm and fertility god. Jezebel's father Ethbaal, whose name means "with Baal" or "man of Baal," was king of the  Phoenicians (1 Kgs 16:31). The Jewish historian Josephus tells us that Ethbaal was formerly a priest of Ashtoreth, consort of Baal, who  usurped the throne and reigned over Tyre and Sidon for 32 years (Contra Apionem i.18.123).

Opal seal with the name of Jezebel. The inscription and symbols on the seal make it highly likely that it was the official seal of the wicked woman of the Old Testament. She was a woman of power as indicated by her title "Queen Mother" (2 Kgs 10:13). Although Jezebel had her own seal to authenticate official correspondence, when she forged the letters to the elders and nobles of Jezreel in order do away with Naboth and seize his vineyard, she used Ahab's seal rather than her own for maximum authority (1 Kgs 21:8).
In order to form a political alliance with the Phoenicians, Ahab, king of Israel (874–853 BC), married Baal-worshipping Jezebel (1 Kgs  16:31). "Urged on by Jezebel his wife" (1 Kgs 21:25), Ahab became a follower of Baal, and even erected a temple and altar to the pagan  deity in Samaria (1 Kgs 16:32). He had the distinction of being the king who "did more to provoke the LORD, the God of Israel, to anger  than did all the kings of Israel before him" (1 Kgs 16:33). Jezebel bore Ahab a son, Joram, who ruled Israel for 12 years from 852 to 841 BC, and she herself became a strong political figure bearing the title "Queen Mother" (2 Kgs 10:13).
Baal the Canaanite storm god, also worshipped by the later Phoenicians. In his left hand he holds a spear which flashes lightning and in his right hand a mace. The relief, which dates to 1650–1500 BC, was found in a sanctuary in the Canaanite city of Ugarit, Syria, in 1932. It is now on display in the Louvre Museum in Paris.
Jezebel was zealous in her efforts to stamp out Yahwism and promote the worship of Baal. She mounted a campaign to kill the Lord's prophets (1 Kgs 18:4, 13), while at the same time feeding 450 prophets of Baal and 400 prophets of Asherah, the Canaanite mother goddess and consort of El, at the royal table (1 Kgs 18:19). This led to a confrontation between Elijah and the prophets of Baal on Mt. Carmel, resulting in the extermination of the prophets of Baal (1 Kgs 18:16–40).
Jezebel also figures prominently in the account of the appropriation of Naboth's vineyard. Naboth refused to sell his vineyard to greedy Ahab. Conniving Jezebel arranged to have false charges brought against Naboth, which resulted in his death (1 Kgs 21). When Ahab went to take possession of the vineyard, Elijah was there with a message from God:
"I am going to bring disaster on you. I will consume your descendants and cut off from Ahab every last male in Israel— slave or free…because you have provoked me to anger and have caused Israel to sin." And also concerning Jezebel the LORD says: "Dogs will devour Jezebel by the wall of Jezreel" (1 Kgs 21:21–23).
Shortly thereafter Ahab was killed in a battle against the Arameans (1 Kgs 22:29–40). Twelve years later a prophet of the Lord anointed Jehu, a general in the Israelite army, king with the following charge:
You are to destroy the house of Ahab your master, and I will avenge the blood of my servants the prophets and the blood of all the LORD's servants the prophets and the blood of all the LORD's servants shed by Jezebel (2 Kgs 9:7).
Statue of Elijah on Mt. Carmel memorializing Elijah's encounter with Jezebel's prophets. Elijah challenged the 450 prophets of Baal who ate at Jezebel's table to a sacrifice cook-off: "you call on the name of your god and I will call on the name of the LORD. The god who answers by fire—he is God" (1 Kgs 18:24). Who do you think won? You can read the account in 1 Kings 18:16–40.
Jehu went on to wipe out Ahab's descendants, including Jezebel's son Joram. As the Lord had predicted through Elijah, Jezebel met a grisly end. Jehu went to the royal residence at Jezreel and found the Queen Mother, with her eyes painted and hair arranged, looking out a palace window. Jehu ordered her eunuchs to throw her out the window:
So they threw her down, and some of her blood spattered the wall and the horses as they trampled her underfoot. Jehu went in and ate and drank. "Take care of that cursed woman," he said, "and bury her, for she was a king's daughter." But when they went out to bury her, they found nothing except her skull, her feet and her hands. They went back and told Jehu, who said, "This is the word of the LORD that he spoke through his servant Elijah the Tishbite: On the plot of ground at Jezreel dogs will devour Jezebel's flesh" (2 Kgs 9:33–36).
In the early 1960s a seal was purchased on the antiquities market and donated to the Israel Museum in Jerusalem. The late Nahman Avigad, a leading Israeli paleographer (one who studies ancient writing), published an article about the seal in 1964. He suggested the name on the seal was possibly Jezebel, but there was a problem—the first letter of the name was missing. And so, little attention was paid to the seal and it languished in the Israel Museum for decades. Then, Dutch researcher Marjo Korpel (Associate Professor of Old Testament, Utrecht University, Utrecht, The Netherlands) became interested in it. Korpel was first drawn to the seal because of its imagery, but then became intrigued with the inscription. She noticed that a piece had broken off at the top and this could very well have been where the missing letter was originally located. She conjectured that there were initially two letters in the area of the break: a Hebrew lamed, or L, which stood for "(belonging) to" or "for," and the missing first letter of Jezebel's name.
Seal of Jezebel with missing letters restored. The top of the seal has been damaged and it is in this area that Old Testament scholar Marjo Korpel suggests that there were originally two letters: alamed, meaning "(belonging) to" and an aleph, the first letter of Jezebel's name. The restored inscription would then read "(belonging) to Jezebel." The seal is scheduled to go on display at the Israel Museum in Jerusalem in 2010 when renovation work at the museum is completed.
Apart from the inscription, there are other compelling reasons for identifying the seal as that of Jezebel. First, as Avigad observed, it is very fancy, suggestive of royalty. It is made of the gemstone opal and is larger than average, being 1.24 in (31 mm) from top to bottom (Avigad 1964: 274). Secondly, the form of the letters is Phoenician, or imitates Phoenician writing (Korpel 2008: 37). Thirdly, the seal is fi lled with common Egyptian symbols that were often used in Phoenicia in the ninth century BC and are suggestive of a queen. At the top is a crouching winged sphinx with a woman's face, the body of a lioness and a female Isis/Hathor crown. To the left is an Egyptian ankh, the sign of life. In the lower register, below a winged disk, is an Egyptian style falcon, symbol of royalty in Egypt. On either side of the falcon is a uraeus, the cobra representation of Egyptian royalty worn on crowns. At the bottom left is a lotus, a symbol often associated with royal women. All of these icons taken together denote female royalty (Korpel 2008: 36–37).
Although 100% certainty cannot be attained, Korpel's assessment of the evidence leads her to conclude, "I believe it is very likely that we have here the seal of the famous Queen Jezebel" (2008: 37). Bibliography Avigad, Nahman 1964 The Seal of Jezebel. Israel Exploration Journal 14: 274–76.
Korpel, Marjo C.A. 2008 Fit for a Queen: Jezebel's Royal Seal. Biblical Archaeology Review 34.2: 32–37, 80.
Now the rest of the acts of Ahab, and all that he did, and the ivory house which he made, and all the cities that he built, are they not written in the book of the chronicles of the kings of Israel?
(The Bible, 1 Kings 22: 39)
According to the Old Testament, King Ahab was the seventh king of the northern kingdom of Israel since Jeroboam I, and reigned during the 9th century B.C. In the Old Testament, Ahab, along with his wife, Jezebel, gets a rather negative portrayal for the various things that they did, such as the worship of Baal.
According to the Old Testament, Ahab's father, Omri, purchased the hill of Samaria and founded a city there: "In the thirty and first year of Asa king of Judah began Omri to reign over Israel, twelve years: six years reigned he in Tirzah. And he bought the hill Samaria of Shemer for two talents of silver, and built on the hill, and called the name of the city which he built, after the name of Shemer, owner of the hill, Samaria." (The Bible, 1 Kings 16: 23-24)
It was on this hill that Ahab built his 'ivory palace'. It is often pointed out that the existence of such a structure has been confirmed by archaeological evidence. However, it will be shown that this is not as straightforward as it seems, and that the phrase "Ivory Palace of King Ahab" is a rather problematic one. In 1932, the Joint Expedition to Samaria, located in present-day West Bank, discovered a large quantity of ivory objects and decorations (a total of 250 fragments were recorded) near the northern area of Samaria's summit. This has led people, including the archaeologists, to believe that they have found King Ahab's Ivory Palace.
There are two problems with this interpretation. The first problem involves the question of what is meant by an 'ivory palace'. One may envision an ivory palace to be a building somehow constructed literally from ivory (that's what I'd imagine anyway). After all, if King Ahab were to be depicted as a really wealthy king, this would be a pretty good way to do so. However, these fragments were probably once attached to wooden furniture. The ivories from Fort Shalmaneser in Nimrud, Iraq, may be seen as parallels to those found in Samaria. Of course, one might argue that an 'ivory palace' was a building that had lots of ivory-decorated furniture, or ivory carvings, rather than a structure built of ivory. 
The bigger problem, however, is the fact that this structure was not even built by King Ahab. Based on the Kathleen Kenyon's stratigraphic notes and summaries of the site, it seems that most of these ivory fragments date to the Hellenistic and Roman periods, several hundreds of years after the reign of King Ahab.
Although a structure containing ivory fragments was discovered by archaeologists, it was not King Ahab's Ivory Palace. So, why was it identified as such then? Perhaps it was only natural that the Biblical reference produced an impulse to date these ivory fragments to the reign of King Ahab. The area where the ivories were found was also initially thought to be part of the royal palace (the large "palace" discovered to its west by the Harvard team in 1908-1910 was relegated to the status of a 'supplementary building'). This view, however, was withdrawn in 1938, when the archaeologists realized that the walls of this building actually comprised only a section of a section of a second, inner enclosure wall, and that they could not "make a room or pavilion out of them." By then, the damage was already done, and the 'Ivory Palace of King Ahab' is still regarded by some as having basis in archaeology.
If you think the score board is 'Archaeology – 1, Bible – 0', it isn't quite as simple. Reliance on the Bible for the interpretation of archaeological evidence is very much like the reliance of any textual evidence. Although historical archaeology is said to be the "handmaiden to history", it isn't quite so. If you think archaeology's here to support the textual evidence (of which history relies on), you'd better think again. I suppose, at the end of the day, one has to be critical of one's sources, and not take the textual evidence at face value. Also, archaeologists ought to be careful with what they say, since there may be unforeseen repercussions, sometimes much worse than the misidentification of an ancient structure.
Featured image: An ivory plaque from Samaria depicting a lion attacking a bull. The lion symbolizes the sun, the bull the earth, the two creatures eternally warring for supremacy, with the lion better equipped to win. The plaque would have been attached to a screen or piece of furniture. Photo source. By Ḏḥwty
_____
21 APRIL, 2014 – 14:22
DHWTY
.
An artist's impression of King Ahab, from the "Promptuarii Iconum Insigniorum".  Photo source: Wikimedia
Archaeologists haven't found only Assyrian evidence for the existence of King Ahab. While excavating Samaria they have found indications of another biblical description connected to Ahab's reign—his house of ivory. The Bible says of Ahab, "Now the rest of the acts of Ahab, and all that he did, the ivory house which he built and all the cities that he built, are they not written in the book of the chronicles of the kings of Israel?" (2 Kings 22:39).
Herschel Shanks, editor of Biblical Archaeology Review, writes: "An important ivory find from the Iron Age comes from Ahab's capital in Samaria where over 500 ivory fragments were found … The Bible speaks of Ahab's 'house of ivory' (1 Kings 22:39). Does this refer to the paneling of the walls or to the furnishings? To put the matter differently, did the ivory fragments found at Samaria decorate the walls of the building or the furniture? There is some evidence from Nimrud that a room in an Assyrian palace was, in fact, paneled with ivory veneer. Was this the case at Samaria? On the basis of the evidence at hand, it is difficult to tell.
"Whether paneling for the wall or decoration for furniture, the houses of ivory—based on a highly sophisticated Phoenician ivory industry—were for the Hebrew prophets symbols of social oppression and injustice; the 'ivory houses' [mentioned in Amos 3.15] were also evidence of participation in the barbarous pagan practices and heathen worship of Phoenicia. Based on the archaeological evidence, the prophets knew what they were talking about" ( Biblical Archaeology Review,September-October 1985, p. 46).
________
Related posts:
__