—
I was influenced by Francis Schaeffer's books and films and Adrian Rogers' sermons when I grew up. I want to make the point that no one influenced the pro-life movement more than Francis Schaeffer!!! Schaeffer energized the movement and that is why it is appropriate that on May 15, 1994, ten years the anniversary of Francis Schaeffer's passing I would mail a letter to Carl Sagan that get him to ultimately respond to Schaeffer's views on abortion which I included 3 letters that followed.
Francis Schaeffer and Adrian Rogers
On August 30, 1995, in my letter to Carl Sagan I included my published letter to the editor in that very day's Arkansas Democrat-Gazette and it appeared under the title THE HUMANIST WORLD VIEW. This got Sagan's notice and in his letter of December 5, 1995, Sagan disagreed with me concerning the close relationship between atheistic evolutionists and the abortion movement. Actually I wrote: Adrian Rogers, a former president of the Southern Baptist Convention, has rightly said, "Secular Humanism and so-called abortion rights are inseparably linked together."
In another letter I noted that Nelson Price in THE EMMANUEL FACTOR (1987) tells the story about Brown Trucking Company in Georgia who used to give polygraph tests to their job applicants. However, in part of the test the operator asked, "Do you believe in God?" In every instance when a professing atheist answered "No," the test showed the person to be lying. My pastor Adrian Rogers used to tell this same story to illustrate Romans 1:19 and it was his conclusion that "there is no such thing anywhere on earth as a true atheist. If a man says he doesn't believe in God, then he is lying. God has put his moral consciousness into every man's heart, and a man has to try to kick his conscience to death to say he doesn't believe in God." Sagan's December 5, 1995 letter to me included the sentence "You argue that God exists because otherwise we could not understand the world in our consciousness," and this may have been his short to this story above possibly.
On August 30, 1995 I mailed a letter to Carl Sagan that probably further prompted this discussion on abortion and it enclosed a lengthy story from Adrian Rogers about an abortion case in Pine Bluff, Arkansas that almost became an infanticide case.
(Adrian Rogers pictured above)
In responding to all four of my letters from 1994 and 1995, Carl Sagan also enclosed the article "The Question of Abortion: A Search for Answers"by Carl Sagan and Ann Druyan.
I disagree with his assertion that there is a widespread "Problem of Radicals Killing Abortion Doctors." I know that Sagan included a radical evangelical killer in his book CONTACT, but in reality those are hard to find and I have provided a more detailed response in a past post. Let me briefly respond today with a picture:
—-
Sagan rightly noted, "New knowledge of embryology, the physicians said, had shown the fetus to be human even before quickening." This brings me to Bernard Nathanson's powerful testimony on why he gave up his abortion activities and spent the rest of his life in the pro-life promoting his film THE SILENT SCREAM because of the technology of ultrasound and how, for the first time ever, we could actually see inside the womb.
Sagan is right that "A newborn baby is surely the same being it was just before birth." But what about those who claim it would be better to abort then have the unwanted child be a victim of child abuse. The answer is to respect life at all stages of life.
On January 10, 1996, I wrote my response letter to Carl Sagan and I included an additional insert from Francis Schaeffer that showed The humanist base leads to meaningless and The Bible is God's revealed truth and it tells us about our origin.

The second portion of my 5-15-94 letter to Carl Sagan is later in this post!
On November 21, 2014 I received a letter from Nobel Laureate Harry Kroto and it said:
…Please click on this URL http://vimeo.com/26991975
and you will hear what far smarter people than I have to say on this matter. I agree with them.
Harry Kroto
I have attempted to respond to all of Dr. Kroto's friends arguments and I have posted my responses one per week for over a year now. Here are some of my earlier posts:
Arif Ahmed, Haroon Ahmed, Jim Al-Khalili, Sir David Attenborough, Mark Balaguer, Horace Barlow, Michael Bate, Sir Patrick Bateson, Simon Blackburn, Colin Blakemore, Ned Block, Pascal Boyer, Patricia Churchland, Aaron Ciechanover, Noam Chomsky, Brian Cox, Partha Dasgupta, Alan Dershowitz, Frank Drake, Hubert Dreyfus, John Dunn, Bart Ehrman, Mark Elvin, Richard Ernst, Stephan Feuchtwang, Robert Foley, David Friend, Riccardo Giacconi, Ivar Giaever , Roy Glauber, Rebecca Goldstein, David J. Gross, Brian Greene, Susan Greenfield, Stephen F Gudeman, Alan Guth, Jonathan Haidt, Theodor W. Hänsch, Brian Harrison, Stephen Hawking, Hermann Hauser, Robert Hinde, Roald Hoffmann, Bruce Hood, Gerard 't Hooft, Caroline Humphrey, Nicholas Humphrey, Herbert Huppert, Gareth Stedman Jones, Steve Jones, Shelly Kagan, Michio Kaku, Stuart Kauffman, Masatoshi Koshiba, Lawrence Krauss, Harry Kroto, George Lakoff, Rodolfo Llinas, Elizabeth Loftus, Alan Macfarlane, Dan McKenzie, Mahzarin Banaji, Peter Millican, Marvin Minsky, Leonard Mlodinow, P.Z.Myers, Yujin Nagasawa, Alva Noe, Douglas Osheroff, David Parkin, Jonathan Parry, Roger Penrose, Saul Perlmutter, Herman Philipse, Carolyn Porco, Robert M. Price, VS Ramachandran, Lisa Randall, Lord Martin Rees, Colin Renfrew, Alison Richard, C.J. van Rijsbergen, Oliver Sacks, John Searle, Marcus du Sautoy, Simon Schaffer, J. L. Schellenberg, Lee Silver, Peter Singer, Walter Sinnott-Armstrong, Ronald de Sousa, Victor Stenger, John Sulston, Barry Supple, Leonard Susskind, Raymond Tallis, Max Tegmark, Neil deGrasse Tyson, Martinus J. G. Veltman, Craig Venter, .Alexander Vilenkin, Sir John Walker, James D. Watson, Frank Wilczek, Steven Weinberg, and Lewis Wolpert,
<a style="font-style:normal;font-variant-caps:normal;font-weight:normal;letter-spacing:normal;orphans:auto;text-indent:0;text-transform:none;white-space:normal;widows:auto;word-spacing:0;box-sizing:border-box;background-color:transparent;color:#c01823;text-decoration:none;margin:0;padding:0;border:0;font-size:13px;font-family:Lato, 'Helvetica Neue', Arial, Verdana, sans-serif;vertical-align:baseline;transition:color 0.2s linear, background 0.1s linear, border-color 0.1s linear;text-align:left;-webkit-text-size-adjust:100%;" title="Remember when Carl Sagan trashed Star Wars on late-night TV?" href="https://lithub.com/remember-when-carl-sagan-trashed-star-wars-on-late-night-tv/"&gt;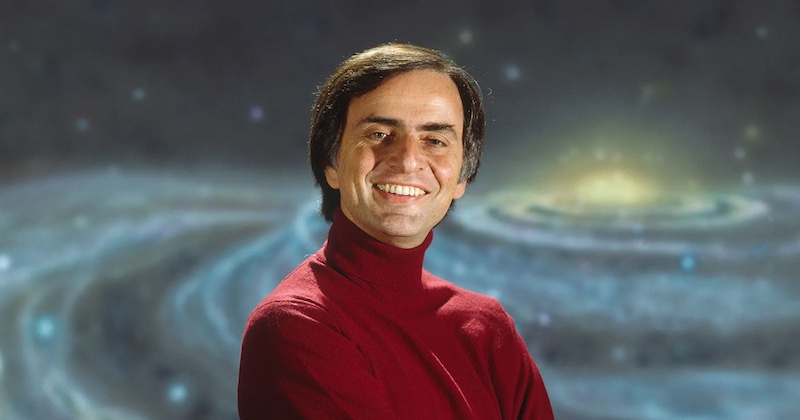 nitially an associate professor at Harvard, Sagan later moved to Cornell where he would spend the majority of his career as the David Duncan Professor of Astronomy and Space Sciences. Sagan published more than 600 scientific papers and articles and was author, co-author or editor of more than 20 books.[5] He wrote many popular science books, such as The Dragons of Eden, Broca's Brain, Pale Blue Dot and narrated and co-wrote the award-winning 1980 television series Cosmos: A Personal Voyage. The most widely watched series in the history of American public television, Cosmos, has been seen by at least 500 million people in 60 countries.[6] The book Cosmos was published to accompany the series. He also wrote the 1985 science fiction novel Contact, the basis for a 1997 film of the same name. His papers, containing 595,000 items,[7] are archived at The Library of Congress.[8]
Sagan advocated scientific skeptical inquiry and the scientific method, pioneered exobiology and promoted the Search for Extra-Terrestrial Intelligence (SETI). He spent most of his career as a professor of astronomy at Cornell University, where he directed the Laboratory for Planetary Studies. Sagan and his works received numerous awards and honors, including the NASA Distinguished Public Service Medal, the National Academy of SciencesPublic Welfare Medal, the Pulitzer Prize for General Non-Fiction for his book The Dragons of Eden, and, regarding Cosmos: A Personal Voyage, two Emmy Awards, the Peabody Award, and the Hugo Award. He married three times and had five children. After suffering from myelodysplasia, Sagan died of pneumonia at the age of 62, on December 20, 1996.
In the 1st video below in the 45th clip in this series are his words and my response is below them.
50 Renowned Academics Speaking About God (Part 1)
Another 50 Renowned Academics Speaking About God (Part 2
A Further 50 Renowned Academics Speaking About God (Part 3)
__
__