On November 21, 2014 I received a letter from Nobel Laureate Harry Kroto and it said:
…Please click on this URL http://vimeo.com/26991975
and you will hear what far smarter people than I have to say on this matter. I agree with them.
Harry Kroto
I have attempted to respond to all of Dr. Kroto's friends arguments and I have posted my responses one per week for over a year now. Here are some of my earlier posts:
Arif Ahmed, Sir David Attenborough, Mark Balaguer, Horace Barlow, Michael Bate, Patricia Churchland, Aaron Ciechanover, Noam Chomsky,Alan Dershowitz, Hubert Dreyfus, Bart Ehrman, Stephan Feuchtwang, David Friend,  Riccardo Giacconi, Ivar Giaever , Roy Glauber, Rebecca Goldstein, David J. Gross,  Brian Greene, Susan Greenfield, Stephen F Gudeman,  Alan Guth, Jonathan Haidt, Theodor W. Hänsch, Brian Harrison,  Hermann Hauser, Roald Hoffmann,  Bruce Hood, Herbert Huppert,  Gareth Stedman Jones, Steve Jones, Shelly Kagan, Michio Kaku,  Stuart Kauffman,  Lawrence Krauss, Harry Kroto, George Lakoff, Elizabeth Loftus,  Alan Macfarlane, Peter Millican, Marvin Minsky, Leonard Mlodinow,  Yujin Nagasawa, Alva Noe, Douglas Osheroff,  Jonathan Parry,  Saul Perlmutter, Herman Philipse,  Carolyn Porco, Robert M. Price, Lisa Randall, Lord Martin Rees,  Oliver Sacks, John Searle, Marcus du Sautoy, Simon Schaffer, J. L. Schellenberg,   Lee Silver,  Peter Singer,  Walter Sinnott-Armstrong, Ronald de Sousa, Victor Stenger, Barry Supple,   Leonard Susskind, Raymond Tallis, Neil deGrasse Tyson,  .Alexander Vilenkin, Sir John Walker, Frank Wilczek, Steven Weinberg, and  Lewis Wolpert,
From Wikipedia, the free encyclopedia
Brian Edward Cox OBE (born 3 March 1968)[1] is an English physicist and former musician, professor, a Royal Society university research fellow, PPARC advanced fellow at the University of Manchester.[14][15]He is a member of the High Energy Physics group at the University of Manchester, and works on the ATLAS experiment at the Large Hadron Collider (LHC)[16][17] at CERN, near Geneva, Switzerland. He is working on the research and development project of the FP420 experiment in an international collaboration to upgrade the ATLAS and the CMS experiment by installing additional, smaller detectors at a distance of 420 metres from the interaction points of the main experiments.[18][19][20][21]
Born in the Royal Oldham Hospital, later living at the family home in Chadderton, Oldham from 1971,[22] Cox is best known to the public as the presenter of a number of science programmes for the BBC, boosting the popularity of subjects such as astronomy and physics.[23] He has been described as the natural successor for BBC's scientific programming by both David Attenborough and the late Patrick Moore.[24][25] He also had some fame in the 1990s as the keyboard player for the pop band D:Ream.
Music career
[
edit
]
In the 1980s he was keyboard player with the rock band Dare.[33] He studied physics at the University of Manchester, where he joined D:Ream,[34] a group that had several hits in the UK charts, including the number one, "Things Can Only Get Better",[35] later used as a New Labour election anthem.
Broadcasting career
[
edit
]
Cox has appeared in many science programmes for BBC radio and television,[12] including In Einstein's Shadow,[36] the BBC Horizon series,[37] ("The Six Billion Dollar Experiment", "What on Earth is Wrong with Gravity?", "Do You Know What Time It Is?", and "Can we Make a Star on Earth?") and as a voice-over for the BBC's Bitesize revision programmes. Cox presented the five-part BBC Two television seriesWonders of the Solar System in early 2010 and a follow up four-part series, Wonders of the Universe, which began on 6 March 2011.[38] A new series, Wonders of Life, completed filming in June 2012,[39] which Cox describes as "a physicist's take on life / natural history".[40]
He co-presents Space Hoppers and has also featured in Dani's House on CBBC.[41]
Brian Cox also presented a three part BBC series called 'Science Britannica' which sees him explore the contribution of British scientists over the last 350 years, as well as the relationship between British science and the public perception thereof.[42]
BBC Two commissioned Cox to copresent Stargazing Live, a three-day live astronomy series in January 2011 – co-presented with physicist-turned-comedian Dara Ó Briain and featuring chat show hostJonathan Ross[43] – linked to events across the United Kingdom. A second and a third series featuring a variety of guests ran in January 2012 and January 2013.[44]
Since November 2009 Cox has co-presented a BBC Radio 4 "comedy science magazine programme", The Infinite Monkey Cage with comedian Robin Ince.[45] Guests have included comedians Tim Minchin,Alexei Sayle, Dara Ó Briain, and scientists including Dr Alice Roberts of the BBC show The Incredible Human Journey. Cox also appeared in Ince's Nine Lessons and Carols for Godless People. Cox is a regular contributor to the BBC 6 Music Breakfast Show with Shaun Keaveny, with a weekly feature. Cox appeared on the 24 July 2009 episode of Robert Llewellyn's CarPool podcast series.[46]
Cox has also appeared numerous times at TED, giving talks on the LHC and particle physics.[47][48] In 2009 he appeared in People magazine's Sexiest Men Alive.[49] In 2010 he was featured in The Case for Mars by Symphony of Science. In November 2010 he made a promotional appearance in the Covent Garden Apple Store, talking about his new e-book set to accompany his new television series as well as answering audience questions.[50]
Cox gave the Royal Television Society's 2010 Huw Wheldon Memorial Lecture on "Science, a Challenge to TV Orthodoxy", in which he examined problems in media coverage of science and news about science. It was subsequently broadcast on BBC Two. On 4 March, Frankenstein's Science featured Cox in discussion with biographer Richard Holmes on Mary Shelley's exploration of humanity's desire to bring life to an inanimate object and whether the notion is possible, in both the 19th century and today.
On 6 March 2011, Cox appeared as a guest at Patrick Moore's 700th episode anniversary of The Sky At Night. He has said that he is a lifelong fan of the programme, and that it helped inspire him to become a physicist. On 10 March 2011, Cox gave the Ninth Douglas Adams Memorial Lecture.
Cox has co-authored several books on physics including Why does E=mc2?[51] with Jeff Forshaw, and The Quantum Universe, also with Jeff Forshaw.[52]
Cox was the science advisor for the science fiction film Sunshine. On the DVD release, he provides an audio commentary where he discusses scientific accuracies (and inaccuracies) depicted in the film. He also was featured on the Discovery Channel special Megaworld: Switzerland. In 2013, he presented another series of "Wonders of Life".
On 14 November 2013, BBC Two broadcast The Science of Doctor Who in celebration of Doctor Who's 50th anniversary, in which Cox tackles the mysteries of time travel. The lecture was recorded at the Royal Institution Faraday Lecture Theatre. In November 2013, the BBC announced that Cox will present Human Universe on BBC Two.
Honours and awards
[
edit
]
Cox has received many awards for his efforts to publicise science. In 2002 he was elected an International Fellow of The Explorers Club and in 2006 Cox received the British Association's Lord Kelvin Award for this work.
Also in 2006 he was awarded a Royal Society University Research Fellowship (an early-career research fellowship scheme). A frequent lecturer, he was keynote speaker at the Australian Science Festival in 2006, and in 2010 won the Institute of PhysicsKelvin Prize for his work in communicating the appeal and excitement of physics to the general public.[53] Cox was appointed Officer of the Order of the British Empire (OBE) in the Queen's 2010 Birthday Honours for services to science.[13][54]
On 15 March 2011, Cox won Best Presenter and Best Science / Natural History programme by the Royal Television Society for Wonders of the Universe. On 25 March 2011, Cox won twice at the Broadcasting Press Guild Awards for 'Best Performer' in a non-acting role, while Wonders of the Solar System was named best documentary series of 2010.[55][56]
In July 2012, Cox was awarded an honorary doctorate from the University of Huddersfield.[57] Later that year, he was awarded the Institute of Physics President's medal by Sir Patrick Stewart, following which he gave a speech on the value of education in science and the need to invest more in future generations of scientists.[58] On 5 October 2012 Cox was awarded an honorary doctorate by the Open University for his "Exceptional contribution to Education and Culture".[59] In 2012 he also was awarded theMichael Faraday Prize of the Royal Society "for his excellent work in science communication"[60]
Brian Cox is a humanist, and is a "Distinguished Supporter" of the British Humanist Association.[63] He is a lifelong Oldham Athletic fan, and held a season ticket at the club.[1]
In  the first video below in the 30th clip in this series are his words and  my response is below them. 
50 Renowned Academics Speaking About God (Part 1)
Another 50 Renowned Academics Speaking About God (Part 2)
A Further 50 Renowned Academics Speaking About God (Part 3)
Below is my letter responding to Dr. Cox's quote.
April 13, 2016
Dr. Brian Cox, c/o The School of Physics and Astronomy, The University of Manchester,
Dear Brian,
I have been following your career for sometime both as a musician and a scientist.
In the You Tube video "A Further 50 Renowned Academics Speaking About God (Part 3)," you asserted: 
"I'm comfortable with the unknown — that's the point of science. There are places out there, billions of places out there, that we know nothing about. And the fact that we know nothing about them excites me, and I want to go out and find out about them.  And that's what science is. So I think if you're not comfortable with the unknown, then it's difficult to be a scientist… I don't need an answer. I don't need answers to everything. I want to have answers to find."
― Brian Cox
The above quote from you was given when you were asked if SCIENCE WAS YOUR GOD and judging from the answer you gave it obvious is. If you are an atheist and a humanist then what do you have to  say about the negative view that many humanists have about the ultimate meaningless of life?
I know that you are active in the  BRITISH HUMANIST ASSOCIATION so I thought this short letter may interest you.
H. J. Blackham was the founder of the BRITISH HUMANIST ASSOCIATION and he asserted:
"On humanist assumptions, life leads to nothing, and every pretense that it does not is a deceit. If there is a bridge over a gorge which spans only half the distance and ends in mid-air, and if the bridge is crowded with human beings pressing on, one after the other they fall into the abyss. The bridge leads nowhere, and those who are pressing forward to cross it are going nowhere….It does not matter where they think they are going, what preparations for the journey they may have made, how much they may be enjoying it all. The objection merely points out objectively that such a situation is a model of futility"( H. J. Blackham, et al., Objections to Humanism (Riverside, Connecticut: Greenwood Press, 1967).
On John Ankerberg's show in 1986 there was a debate between  Dr. Paul Kurtz, and Dr. Norman Geisler and when part of the above quote was read, Dr. Kurtz responded:
I think you may be quoting Blackham out of context because I've heard Blackham speak, and read much of what he said, but Blackham has argued continuously that life is full of meaning;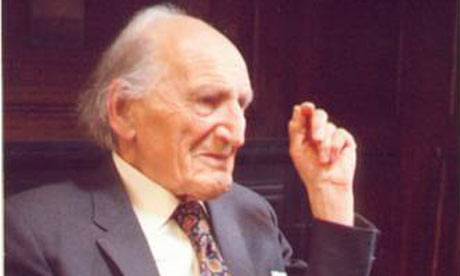 Harold J. Blackham (1903-2009)
With that in mind I wanted to ask you what  does the BRITISH HUMANIST ASSOCIATION have to offer in the area of meaning and values? Francis Schaeffer two months before he died said if he was talking to a gentleman he was sitting next to on an airplane about Christ he wouldn't start off quoting Bible verses. Schaeffer asserted:
I would go back rather to their dilemma if they hold the modern worldview of the final reality only being energy, etc., I would start with that. I would begin as I stress in the book THE GOD WHO IS THERE about their own [humanist] prophets who really show where their view goes. For instance, Jacques Monod, Nobel Prize winner from France, in his book NECESSITY AND CHANCE said there is no way to tell the OUGHT from the IS. In other words, you live in a totally silent universe. 
The men like Monod and Sartre or whoever the man might know that is his [humanist] prophet and they point out quite properly and conclusively what life is like, not just that there is no meaningfulness in life but everyone according to modern man is just living out some kind of game plan. It may be knocking 1/10th of a second off a downhill ski run or making one more million dollars. But all you are doing is making a game plan within the mix of a meaningless situation. WOODY ALLEN exploits this very strongly in his films. He really lives it. I feel for that man, and he has expressed it so thoroughly in ANNIE HALL and MANHATTAN and so on.
According to the Humanist worldview Jacques Monod the universe is silent about values and therefore his good friend Woody Allendemonstrated this very fact so well in his 1989 movie CRIMES AND MISDEMEANORS. In other words, if we can't get our values from the Bible then  the answer is MIGHT MAKES RIGHT!!!!
I CHALLENGE YOU TO TAKE 90 MINUTES AND WATCH THE MOVIE "CRIMES AND MISDEMEANORS" AND THEN ANSWER THE QUESTION: "What reason is there that Judah should not have his mistress eliminated if there is no God and afterlife of judgment and rewards?"
Francis Schaeffer (1912-1984)
Jacques Monod (1910-1976), Nobel Prize in Physiology or Medicine (1965)
CRIMES AND MISDEMEANORS was written and directed by Woody Allen
Judah has his mistress eliminated through his brother's underworld connections
Anjelica Huston
__
King Solomon closed the Book of Ecclesiastes (Richard Dawkins' favorite Book of the Bible) with these words, "The end of the matter; all has been heard. Fear God and keep his commandments, for this is the whole duty of man. For God will bring every deed into judgment, with[d] every secret thing, whether good or evil." With that in mind I have enclosed a short booklet called THIS WAS YOUR LIFE!
Thank you again for your time. I know how busy you are. 
Everette Hatcher, everettehatcher@gmail.com, http://www.thedailyhatch.org, cell ph 501-920-5733, Box 23416, LittleRock, AR 72221
PS: Dr. Cox you say that you are sure that Christianity is not true but have you investigated adequately? If  someone is truly interested in investigating the Old Testament Scriptures then all they have to do is google some of the following posts I have featured and click on these links and the evidence is there showing that Christ is the Messiah predicted in the Old Testament. Here are some of my past posts on this subject, My correspondence with Daniel Bell and Irving Kristol about the rebirth of Israel!!!!, My personal visit with Bill Kristol on 7-18-14 in Hot Springs, Arkansas!!!!, Simon Schama's lack of faith in Old Testament Prophecy, Who are the good guys: Hamas or Israel?, "A Jewish Doctor Speaks Out: Why I Believe that Jesus is the Jewish Messiah" written by Dr. Jack Sternberg (author of the book CHRISTIANITY: THE JEWISH ROOTS), and  Jesus Christ in the Old Testament by Adrian Rogers,
______
________
Related posts: