______________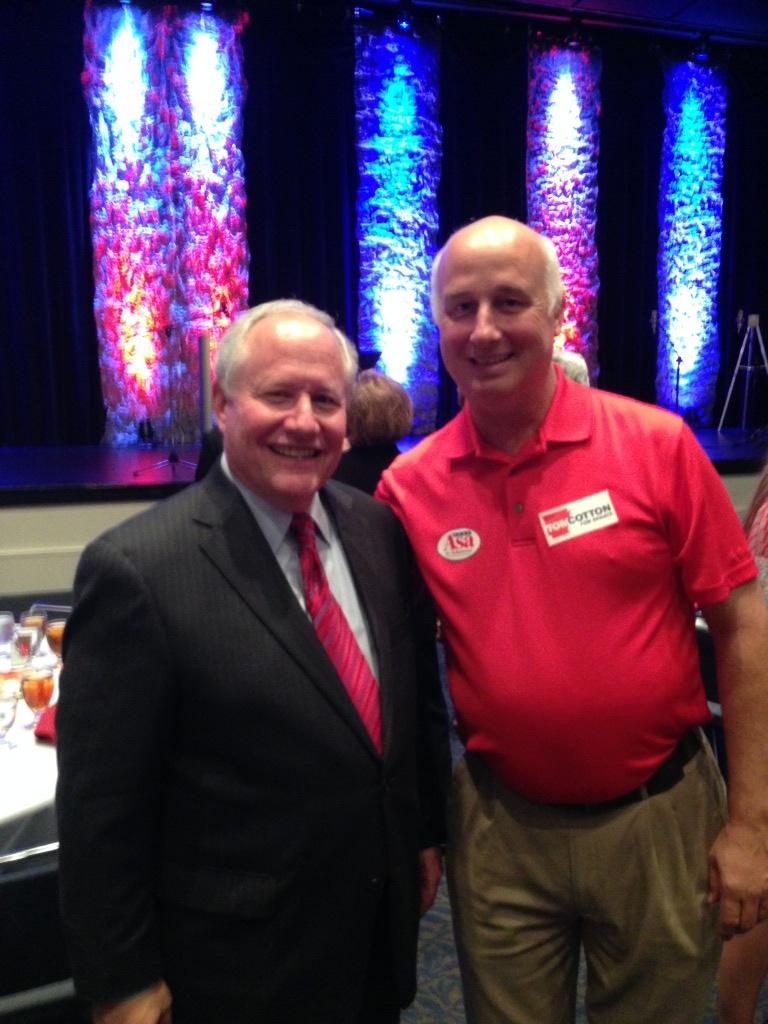 Bill Kristol
Published on Jul 20, 2014
The Weekly Standard editor and publisher Bill Kristol discusses Clintons, Pryor-Cotton and 2016.
_____________________________________________________________________
On Friday July 18, 2014 I had the opportunity to visit personally with Bill Kristol who is the founder of THE WEEKLY STANDARD MAGAZINE. I told him that I had the privilege to correspond with both his father, Irving Kristol, and his father's good friend Daniel Bell back in 1995. I actually gave him a copy of both letters I received back from them and he read them both as we stood there. I told him that those copies were his to keep, and he thanked me for that.
I went on to explain how the correspondence started.  I had come across several quotes from Daniel Bell when I was reading the books HOW SHOULD WE THEN LIVE?  and WHATEVER HAPPENED TO THE HUMAN RACE? by Francis Schaeffer (and this second book was co-authored by Dr. C. Everett Koop). Dr. Koop's name caught Mr. Kristol's attention and he said he found that interesting. I pointed out those quotes by Bell led me to eventually begin a correspondence with both Bell and Kristol's father Irving on the subject of what the Old Testament scriptures have to say about the Jews being returned from all over the world back to the land of Israel.
Finally, I asked how his mother was doing and he said that she was doing very well in fact. I told him how much I respected her work as a historian.
Let me make
a few observations about 
Irving Kristol
 who I was very fascinated with because of some of his comments in the 1990′s.
 First,
 isn't it worth noting that the Old Testament predicted that the Jews would regather from all over the world and form a new reborn nation of Israel.
 Second, i
t was also predicted that the nation of Israel would become a stumbling block to the whole world. 
Third,
 it was predicted that the Hebrew language would be used again as the Jews first language even though we know in 1948 that Hebrew at that time was a dead language!!!
Fourth,
 it was predicted that the Jews would never again be removed from their land.
________________
Submitted by The City Wire Staff on Sun, 07/20/2014 – 5:50pm
The Weekly Standard founder, publisher and editor Bill Kristol says Arkansas is "almost" a must-win for Republicans if they are to take back the U.S. Senate. Appearing on this week's Talk Business & Politics TV program, Kristol said the Mark Pryor-Tom Cotton U.S. Senate battle is high on national political watch lists and that a Cotton victory is crucial to GOP ambitions. "If Republicans want to win the Senate in November, this one is almost a must-win," said Kristol, who was in Arkansas as a keynote speaker at the Arkansas GOP's Reagan-Rockefeller dinner. Kristol said he expects a close race this fall in the high-profile match-up and that there are two reasons why the contest is so tight. "Incumbents are hard to beat and, I gather from my friends in Arkansas, that a Pryor is hard to beat," Kristol said. He added that outside Democratic group attacks have been effective in tainting Cotton, although he disagrees with their accuracy. Kristol offered his take on why Arkansas has not shifted into a Republican stronghold like other Southern states such as Mississippi, Alabama or Texas. One reason, he said, is the political power of Bill Clinton whom he described as a "very different kind of Democrat" as governor and as president. Clinton "tacked to the center" often unlike President Barack Obama. "Barack Obama is not the kind of Democrat that traditional Arkansas Democrats are interested in supporting," Kristol said, citing Clinton's bipartisan budget deals, welfare reforms, and foreign policy efforts. ARKANSAS IMPORTANCE Kristol also said that Arkansas has always carried much sway in U.S. politics owing to its larger-than-life, influential state politicians who've made big impacts on the national stage. "Arkansas has always been a state of outsized interest and importance nationally," he said. Kristol grew up studying Sen. J. William Fulbright, and he's long watched the careers of other politicians like Bill Clinton and Mike Huckabee. "For a small state, it has always produced nationally significant politicians. I think people in Washington kind of remember that," said Kristol.
While 2014 will be a monumental election year, it's hard not to think about 2016. Kristol said it's too early to predict the GOP Presidential nominee, but he sees a reversal of fortunes in what he describes as a "wide-open" Republican field. "Republicans used to nominate the next in line, the second place finisher from four or eight years before. Democrats usually have interesting wide-open races," he said. "It looks like this time, the Democrats are nominating the next in line — the person who ran second in 2008, Hillary Clinton. Republicans are having more of what looks like a classic Democratic primary — governors, senators, former candidates. A lot of them young, a lot of them untested nationally. As a Republican, I like that."
While he voted for Dole, McCain and Romney, he said those Presidential nominees weren't the best match-ups versus Bill Clinton and Barack Obama. "The irony in 2016 is the Republicans will have the younger, fresher face and the Democrats will be nominating someone whose been around for awhile," he said.
______________