—-
After Life #1 Trailer
—-
—
Ricky Gervais plays bereaved husband Tony Johnson in AFTER LIFE
Tony and his wife Lisa who died 6 months ago of cancer
(Above) Tony and Anne on the bench at the graveyard where their spouses are buried.
—
April 28, 2020
Ricky Gervais

Dear Ricky,
This is the 11th day in a row that I have written another open letter to you to comment on some of your episodes of AFTER LIFE, and then I wanted to pass along some evidence that indicates the Bible is historically accurate.
In season 2 of AFTER LIFE in the 1st episode there is the following interview of a lady who turned 100 years old.
Tony: How do you feel when you got the Telegraph from the Queen?
Lady: Like I did any other day. Dreadful and in pain, wishing I hadn't lived through the night.
Lenny: The Queen though.
Lady: Some butler sent this.
Tony:What advice would you give to someone to live a long life like yours?
Lady: Don't! It is horrible. It hurts just to be alive.
Tony: You must have seen a lot in 100 years?
Lady: I was born in Tambury and I will die in Tambury very soon I hope.

GETTING OLD CAN BE DIFFICULT!!!
—
After Life has Tony giving his postman a hard time constantly:
Postman Pat arrives at Tony's door one morning exactly when Tony opens it:
Pat: Do you still want me to put it through the door?
Tony: Just give it to me.
Pat: Just a postcard from Mike and Beth whoever they are.
Tony: Friends. What does it say?
Pat: It says they have been having a great time and Mike has been having diarrhea.
Tony: Good. Let's hope you are still are my postman when I am blind.
—
On your Twitter Live broadcast on March 21, 2020 you commented:
One day I will be too fat and old to do any more. I will look back on my life. It will be just me on a big toilet with wires coming out of me. Just watching [television] and drinking. Just keeping me alive. I wake up and say "Hell, I didn't die and I got to do it again. Nurse!" I will be just eating smoothies mixed with Vodka. That is my future.

Eating smoothies because your teeth don't work. Sounds like what happened to Solomon in ECCLESIASTES 12:3, "In the day when the keepers of the house shall tremble, and the strong men shall bow themselves, and the grinders cease because they are few, and those that look out of the windows be darkened,"

I believe that the Book of Ecclesiastes is an apologetic work that shows that life "under the sun" without God in the picture is hopeless.
Duane A. Garrett wrote, "Eaton attempts to interpret Ecclesiastes as essentially an apologetic work. He observes that much of the book does not take God into account and is characterized by gloom and pessimism. He argues that when God is introduced, however, the 'under-the-sun' terminology drops out and the Teacher speaks of the joy of man and the generosity of God. Like earlier Protestant scholars, he asserts the book to be evangelistic and apologetic: 'What then, is the purpose of Ecclesiastes? It is an essay in apologetics. It defends the life of faith in a generous God by pointing to the grimness of the alternative.'"(Proverbs, Ecclesiastes, Song of Solomon, The New American Commentary Series, p. 275).
April 1, 2013 at 10:59 am | Posted in Ecclesiastes | 2 Comments
Tags: commentary on Ecclesiastes, Ecclesiastes 11, investing, James 1, old age, senior citizens, Sunday School lessons on Ecclesiastes, the elderly, youth
The Book of Ecclesiastes takes a hard look at life "under the sun:" life from a mortal, earthly, finite perspective. This viewpoint may be contrasted with life "over the sun:" life from an eternal, Heavenly, infinite perspective.

Under the sun, life is monotonous; over the sun, it's adventurous. Under the sun, wisdom is vain; over the sun, wisdom is extremely useful. Under the sun, wealth is futile; over the sun,wealth opens up great opportunities. Under the sun, death is certain; over the sun, death provides great motivation. The Christian life can be compared to a puzzle, a battle, a challenge, a race, a treasure hunt, or a pilgrimage. None of these are monotonous or boring. They are the stuff of true adventure.
In the day when the keepers of the house shall tremble, and the strong men shall bow themselves, and the grinders cease because they are few, and those that look out of the windows be darkened,
Ecclesiastes 12:3
The "keepers of the house" are your arms and legs. The "bowing" is indicative of bent knees and stooped shoulders. "Grinders" are teeth. "Windows" are eyes.
And the doors shall be shut in the streets, when the sound of the grinding is low, and he shall rise up at the voice of the bird, and all the daughters of musick shall be brought low;
Ecclesiastes 12:4
"The doors shall be shut" means that you keep your mouth closed because you've lost your teeth. "The sound of grinding is low" because you can no longer chew your food. "Rising up at the voice of the bird" is in recognition of the trouble that elderly people have sleeping. "The daughters of music brought low" means that your voice has started to quaver.
Also when they shall be afraid of that which is high, and fears shall be in the way, and the almond tree shall flourish, and the grasshopper shall be a burden, and desire shall fail: because man goeth to his long home, and the mourners go about the streets:
Ecclesiastes 12:5
The fear "of that which is high" means the fear that elderly people have of falling down. The "flourishing almond tree" is white hair. The burdened "grasshopper" is a picture of dragging yourself along at the end of summer. The "desire" which shall fail is the loss of some of theconcupiscible desires (sex and appetite). The "long home" is eternity.
Or ever the silver cord be loosed, or the golden bowl be broken, or the pitcher be broken at the fountain, or the wheel broken at the cistern.
Ecclesiastes 12:6
Several images are given of things which are as fragile as an elderly person's life.
Then shall the dust return to the earth as it was: and the spirit shall return unto God who gave it.
Ecclesiastes 12:7
And moreover, because the preacher was wise, he still taught the people knowledge; yea, he gave good heed, and sought out, and set in order many proverbs. The preacher sought to find out acceptable words: and that which was written was upright, even words of truth. The words of the wise are as goads, and as nails fastened by the masters of assemblies, which are given from one shepherd. And further, by these, my son, be admonished: of making many books there is no end; and much study is a weariness of the flesh.
Ecclesiastes 12:9-12
With age you learn that, even though life is unpredictable, there is wisdom in order. The best way to learn from life is the same way we should learn from the Bible: humbly.
Wherefore, my beloved brethren, let every man be swift to hear, slow to speak, slow to wrath: For the wrath of man worketh not the righteousness of God. Wherefore lay apart all filthiness and superfluity of naughtiness, and receivewith meekness the engrafted word, which is able to save your souls.
—-
By the way, the final chapter of Ecclesiastes finishes with Solomon emphasizing that serving God is the only proper response of man. Solomon looks above the sun and brings God back into the picture in the final chapter of the book in Ecclesiastes 12:13-14:
13 Now all has been heard;
here is the conclusion of the matter:
Fear God and keep his commandments,
for this is the whole duty of man.
14 For God will bring every deed into judgment,
including every hidden thing,
whether it is good or evil.

A. C. Grayling comments:
In the popular You Tube video "Renowned Academics Speaking About God" he made the following statement:
The question at stake here is one of rationality. The intellectual respectability of a claim there are gods, say the gods of Olympus or the gods of Hinduism, or one God, say the God of Christianity seem to me to be exactly on a par with the intellectual respectability that there are fairies in your garden. I am not being trite. The belief in fairies was very widespread and very well attested right up until the late nineteenth century. Indeed people believed that fairies were much more present in their lives than god was because when things went missing, like your shoe laces or a teaspoon, it was because the little imps had made off with them. So the comparison here is not a ridiculous one. And if you think that the reasons you have for believing in fairies are very poor reasons; that it is irrational to think that there are such things, then the belief in supernatural agencies in general is equally as irrational. So agnostics, who think there is much chance that there might be such entities as that there might not be such entities, fall foul of this stricture.
Below is a piece of that evidence given by Francis Schaeffer concerning the accuracy of the Bible.
TRUTH AND HISTORY (chapter 5 of WHATEVER HAPPENED TO THE HUMAN RACE?)
A much more dramatic story surrounds the discovery of the Dead Sea Scrolls in the present century. The Dead Sea Scrolls, some of which relate to the text of the Bible, were found at Qumran, about fifteen miles from Jerusalem.
Most of the Old Testament was originally written in Hebrew, and the New Testament in Greek. Many people have been troubled by the length of time that has elapsed between the original writing of the documents and the present translations. How could the originals be copied from generation to generation and not be grossly distorted in the process? There is, however, much to reassure confidence in the text we have.
In the case of the New Testament, there are codes of the whole New Testament (that is, manuscripts in book form, like the Codes Sinaiticus and Codex Alexandrinus, dated around the fourth and fifth centuries respectively) and also thousands of fragments, some of them dating back to the second century. The earliest known so far is kept in the John Rylands Library in Manchester, England. It is only a small fragment, containing on one side John 18:31-33 and on the reverse, verses 37 and 38. It is important, however, both for its early date (about A.D.125) and for the place where it was discovered, namely Egypt. This shows that John's Gospel was known and read in Egypt at that early time. There are thousands of such New Testament texts in Greek from the early centuries after Christ's death and resurrection.
In the case of the Old Testament, however, there was once a problem. There were no copies of the Hebrew Old Testament in existence which dated from before the ninth century after Christ. This did not mean that there was no way to check the Old Testament, for there were other translations in existence, such as the Syriac and the Septuagint (a translation into Greek from several centuries before Christ). However, there was no Hebrew version of the Old Testament from earlier than the ninth century after Christ–because to the Jews the Scripture was so holy it was the common practice to destroy the copies of the Old Testament when they wore out, so that they would not fall into disrespectful use.
Then in 1947, a Bedouin Arab made a discovery not far from Qumran, which changed everything. While looking for sheep, he came across a cave in which he discovered some earthenware jars containing a number of scrolls. (There jars are now in the Israeli Shrine of the Book in Jerusalem.) Since that time at least ten other caves in the same vicinity have yielded up other scrolls and fragments. Copies of all the Old Testament books except Esther have been discovered (in part or complete) among these remains. One of the most dramatic single pieces was a copy of the Book of Isaiah dated approximately a hundred years before Christ. What was particularly striking about this is the great closeness of the discovered text tothe Hebrew text, whicch we previously had, a text written about a thousand years later!
On the issue of text, the Bible is unique as ancient documents go. No other book from that long ago exists in even a small percentage of the copies we have of the Greek and Hebrew texts which make up the Bible. We can be satisfied that we have a copy in our hands which closely approximates the original. Of course, there have been some mistakes in copying, and all translation lose something of the original language. That is inevitable. But the fact that most of us use translations into French, German, Chinise, English, and so on does not mean that we have an inadequate idea of what was written originally. We lose some of the nuances of the language, even when the translation is good, but we do not lose the essential content and communication.

The answer to find meaning in life is found in putting your faith and trust in Jesus Christ. The Bible is true from cover to cover and can be trusted.
Thank you again for your time and I know how busy you are.
Sincerely,
Everette Hatcher, everettehatcher@gmail.com, http://www.thedailyhatch.org, cell ph 501-920-5733, 13900 Cottontail Lane, Alexander, AR 72002
PS: What is the meaning of life? Find it in the end of the open letter I wrote to you on April 23, 2020.
—
Below is the workforce of THE TAMBURY GAZETTE
—
Seen below is the third episode of AFTERLIFE (season 1) when Matt takes Tony to a comedy club with front row seats to cheer him up but it turns into disaster!!!
——
—-
—
Part 1 "Why have integrity in Godless Darwinian Universe where Might makes Right?"
Part 2 "My April 14, 2016 Letter to Ricky mentioned Book of Ecclesiastes and the Meaninglessness of Life"
Part 3 Letter about Brandon Burlsworth concerning suffering and pain and evil in the world. "Why didn't Jesus save her [from cancer]?" (Tony's 10 year old nephew George in episode 2)
Part 4 Letter on Solomon on Death Tony in episode one, "It should be everyone's moral duty to kill themselves."
Part 5 Letter on subject of Learning in Ecclesiastes "I don't read books of fiction but mainly science and philosophy"
Part 6 Letter on Luxuries in Ecclesiastes Part 6, The Music of AFTERLIFE (Part A)
Part 7 Letter on Labor in Ecclesiastes My Letter to Ricky on Easter in 2017 concerning Book of Ecclesiastes and the legacy of a person's life work
Part 8 Letter on Liquor in Ecclesiastes Tony's late wife Lisa told him, "Don't get drunk all the time alright? It will only make you feel worse in the log run!"
Part 9 Letter on Laughter in Ecclesiastes , I said of laughter, "It is foolishness;" and of mirth, "What does it accomplish?" Ecclesiastes 2:2
Part 10 Final letter to Ricky on Ladies in Ecclesiastes "I gathered a chorus of singers to entertain me with song, and—most exquisite of all pleasures— voluptuous maidens for my bed…behold, all was vanity and a striving after wind, and there was nothing to be gained under the sun" Ecclesiastes 2:8-11.
Part 11 Letter about Daniel Stanhope and optimistic humanism "If man has been kicked up out of that which is only impersonal by chance , then those things that make him man-hope of purpose and significance, love, motions of morality and rationality, beauty and verbal communication-are ultimately unfulfillable and thus meaningless." (Francis Schaeffer)
Part 12 Letter on how pursuit of God is only way to get Satisfaction Dan Jarrell "[In Ecclesiastes] if one seeks satisfaction they will never find it. In fact, every pleasure will be fleeting and can not be sustained, BUT IF ONE SEEKS GOD THEN ONE FINDS SATISFACTION"
Part 13 Letter to Stephen Hawking on Solomon realizing he will die just as a dog will die "For men and animals both breathe the same air, and both die. So mankind has no real advantage over the beasts; what an absurdity!" Ecclesiastes
Part 14 Letter to Stephen Hawking on 3 conclusions of humanism and Bertrand Russell destruction of optimistic humanism. "That Man is the product of causes which had no prevision of the end they were achieving; that his origin, his growth, his hopes and fears, his loves and his beliefs, are but the outcome of accidental collocations of atoms—no philosophy which rejects them can hope to stand. Only within the scaffolding of these truths, only on the firm foundation of unyielding despair, can the soul's habitation henceforth be safely built."(Bertrand Russell, Free Man's Worship)
Part 15 Letter to Stephen Hawking on Leonardo da Vinci and Solomon and Meaningless of life "I hate life. As far as I can see, what happens on earth is a bad business. It's smoke—and spitting into the wind" Ecclesiastes Book of Ecclesiastes Part 15 "I hate life. As far as I can see, what happens on earth is a bad business. It's smoke—and spitting into the wind" Ecclesiastes 2:17
Part 16 Letter to Stephen Hawking on Solomon's longing for death but still fear of death and 5 conclusions of humanism on life UNDER THE SUN. Francis Schaeffer "Life is just a series of continual and unending cycles and man is stuck in the middle of the cycle. Youth, old age, Death. Does Solomon at this point embrace nihilism? Yes!!! He exclaims that the hates life (Ecclesiastes 2:17), he longs for death (4:2-3) Yet he stills has a fear of death (2:14-16)"
—
Mandeep Dhillon as Sandy on her first assignment in 'After Life'. (Twitter)
A still from 'After Life' that captures the vibe of the Tambury Gazette. (Twitter)
Michael Scott of THE OFFICE (USA) with Ricky Gervais
After Life on Netflix stars Ricky Gervais as a bereaved husband (Image: Netflix)
—-
Psychiatrist played by Paul Kaye seen below.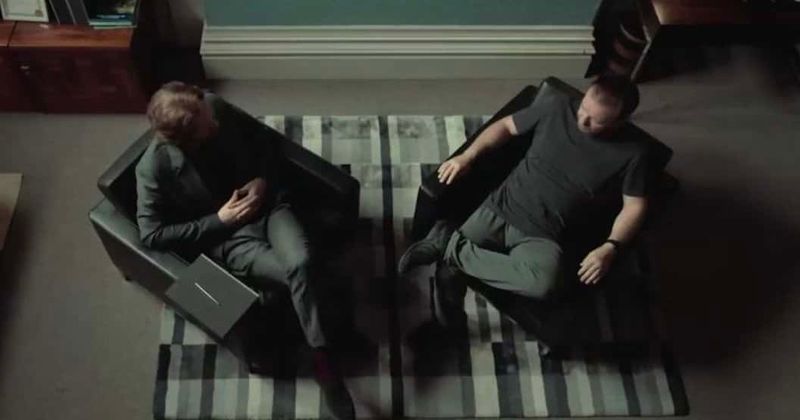 —
Tony Johnson with his dog Brandi seen below:
—-
After Life 2 Trailer
—-
On Saturday April 18, 2020 at 6pm in London and noon in Arkansas, I had a chance to ask Ricky Gervais a question on his Twitter Live broadcast which was "Is Tony a Nihilist?" At the 20:51 mark Ricky answers my question. Below is the video:
—-
—-
If Death is the end then what is the point Kath asks below:
——
Kath: You are an atheist?
—-
——-

—-
—-
—-