—-
After Life #1 Trailer
—-
After Life 2 Trailer
—-
On Saturday April 18, 2020 at 6pm in London and noon in Arkansas, I had a chance to ask Ricky Gervais a question on his Twitter Live broadcast which was "Is Tony a Nihilist?" At the 20:51 mark Ricky answers my question. Below is the video:
—-

—
Ricky Gervais plays bereaved husband Tony Johnson in AFTER LIFE
Tony and his wife Lisa who died 6 months ago of cancer
(Above) Tony and Anne on the bench at the graveyard where their spouses are buried.
—
April 29, 2020
Ricky Gervais

Dear Ricky,
This is the 12th day in a row that I have written another open letter to you to comment on some of your episodes of AFTER LIFE, and then I wanted to pass along some evidence that indicates the Bible is historically accurate.
Solomon in Ecclesiastes and Tony in AFTER LIFE both lived their lives UNDER THE SUN without God in the picture and that means you just live in a world of time and chance!!!
In AFTER LIFE Tony goes to a psychiatrist and seeks help with all the suicidal tendencies he has been having, but eventually Tony recognizes how self-centered the Psychiatrist is and he stops going to him. Now Matt, Tony's boss and brother-in-law is having marital problems and he goes to Tony's former Psychiatrist and here is the conversation from episode 4 in season 2:

Matt: I was crying because I don't want to give up on us and all I want to do is talk to her and beg her to let us go back to how it was. I don't want to stifle her.
Psychiatrist: Women don't want this. It is pathetic. Begging how is that good for a family? Females choose mates based on their strength! On their power, their capabilities to provide and keep them safe. We descended from cave men. We would go out and kill a Saber-Toothed tiger and bring it back and share it out and then we would get the fittest [woman]. That is where we are from.
—
Richard Dawkins has asserted, "Darwin made it possible to be an intellectually fulfilled atheist."
What are the consequences of that?
Francis Schaeffer noted:
I have lots of young people and older ones come to us from the ends of the earth. And as they come to us, they have gone to the end of this logically and they are not living in a romantic setting. They realize what the situation is. They can't find any meaning to life. It's the meaning to the black poetry. It's the meaning of the black plays. It's the meaning of all this. It's the meaning of the words "punk rock."
Listen to the words of the song FINAL SOLUTION by the Punk Band PERE UBU:
Buy me a ticket to a sonic reduction
Guitars gonna sound like a nuclear destruction
Seems I'm a victim of natural selection
Meet me on the other side, another directionDon't need a cure
Don't need a cure
Don't need a cure
Need a final solutionDon't need a cure
Don't need a cure
Don't need a cure
Need a final solution
It appears to me that this punk band considers themselves a "victim of natural selection" which really means that there is no God who created us for a purpose!!!
Dustin Shramek noted:
If one's destiny is the grave, what ultimate purpose is their for life? The same is true of the universe. If it is doomed to become a forever expanding pile of useless debris, what purpose is there for the universe? To what end is the world or man in existence? There can be no hope, no purpose.
What is true of mankind is true of individuals as well. So there can be no purpose in any individual's life. My life wouldn't be qualitatively different than the life of a dog. This thought is expressed by the writer of Ecclesiastes, "The fate of the sons of men and the fate of beasts is the same. As one dies so dies the other; indeed, they all have the same breath and there is no advantage for man over beast, for all is vanity. All go to the same place. All come from the dust and all return to the dust" (Ecc 3:19-20).
The universe and man are cosmic accidents. There is no reason for our existence. Man is a cosmic orphan.
Without God the universe is the result of a cosmic accident, a chance explosion. There is no reason for which it exist. As for man, he is a freak of nature–a blind product of matter plus time plus chance. Man is just a lump of slime that evolved into rationality. There is no more purpose in life for the human race than for a species of insect; for both are the result of the blind interaction of chance and necessity.[4]
If we are only cosmic accidents, how can there be any meaning in our lives? If this is true, which it is in an atheistic world view, our lives are for nothing. It would not matter in the slightest bit if I ever existed. This is why the atheist, if honest and consistent, must face death with despair. Their life is for nothing. Once they are gone, they are gone forever.
God put Solomon's story in Ecclesiastes in the Bible with the sole purpose of telling people like you that without God in the picture you will find out the emptiness one feels when possessions are trying to fill the void that God can only fill.
Then in the last chapter of Ecclesiastes Solomon returns to looking above the sun and he says that obeying the Lord is the proper way to live your life. The  answer to find meaning in life is found in putting your faith and trust in Jesus Christ. The Bible is true from cover to cover and can be trusted. If you need more evidence then go to You Tube and watch The Bible and Archaeology – Is the Bible from God? (Kyle Butt)
—
To have conviction is very different than having faith because conviction is a kind of belief that can be sensitive to evidence and argument. the whole point of faith and the virtue of faith which is praised by Christians is precisely the strength to continue to believe something in the face of reason and evidence.
—
Article ID: DA111 | By: Paul L. Maier
Shishak's Invasion of Judah. First Kings 14 and 2 Chronicles 12 tell of Pharaoh Shishak's conquest of Judah in the fifth year of the reign of King Rehoboam, the brainless son of Solomon, and how Solomon's temple in Jerusalem was robbed of its treasures on that occasion. This victory is also commemorated in hieroglyphic wall carvings on the Temple of Amon at Thebes.
The Moabite Stone. Second Kings 3 reports that Mesha, the king of Moab, rebelled against the king of Israel following the death of Ahab. A three-foot stone slab, also called the Mesha Stele, confirms the revolt by claiming triumph over Ahab's family, c. 850 BC, and that Israel had "perished forever."
Obelisk of Shalmaneser III. In 2 Kings 9–10, Jehu is mentioned as King of Israel (841–814 BC). That the growing power of Assyria was already encroaching on the northern kings prior to their ultimate conquest in 722 BC is demonstrated by a six-and-a-half-foot black obelisk discovered in the ruins of the palace at Nimrud in 1846. On it, Jehu is shown kneeling before Shalmaneser III and offering tribute to the Assyrian king, the only relief we have to date of a Hebrew monarch.
—-
Francis Schaeffer ended HOW SHOULD WE THEN LIVE? Episode 7 with these words:
When we think of Christ of course we think of his substitutionary death upon the cross when he who claimed to be God died in a substitutionary way and as such his death had infinite value and as we accept that gift raising the empty hands of faith with no humanistic elements we have that which is real life and that is being in relationship to the infinite personal God who is there and being in a personal relationship to Him. But Christ brings life in another way that is not as often clearly thought about perhaps. He connects himself with what the Bible teaches in his teaching and as such he is a prophet as well as a savior. It is upon the basis of what he taught and the Bible teaches because he himself wraps these together that we have life instead of death in the sense of having some knowledge that is more than men can have from himself, beginning from himself alone. Both of these elements are the place where Christ gives us life.

The answer to find meaning in life is found in putting your faith and trust in Jesus Christ. The Bible is true from cover to cover and can be trusted.
Thank you again for your time and I know how busy you are.
Sincerely,
Everette Hatcher, everettehatcher@gmail.com, http://www.thedailyhatch.org, cell ph 501-920-5733, 13900 Cottontail Lane, Alexander, AR 72002
PS: What is the meaning of life? Find it in the end of the open letter I wrote to you on April 23, 2020.
—
Below is the workforce of THE TAMBURY GAZETTE
—
Seen below is the third episode of AFTERLIFE (season 1) when Matt takes Tony to a comedy club with front row seats to cheer him up but it turns into disaster!!!
——
—-
—
Part 1 "Why have integrity in Godless Darwinian Universe where Might makes Right?"
Part 2 "My April 14, 2016 Letter to Ricky mentioned Book of Ecclesiastes and the Meaninglessness of Life"
Part 3 Letter about Brandon Burlsworth concerning suffering and pain and evil in the world. "Why didn't Jesus save her [from cancer]?" (Tony's 10 year old nephew George in episode 2)
Part 4 Letter on Solomon on Death Tony in episode one, "It should be everyone's moral duty to kill themselves."
Part 5 Letter on subject of Learning in Ecclesiastes "I don't read books of fiction but mainly science and philosophy"
Part 6 Letter on Luxuries in Ecclesiastes Part 6, The Music of AFTERLIFE (Part A)
Part 7 Letter on Labor in Ecclesiastes My Letter to Ricky on Easter in 2017 concerning Book of Ecclesiastes and the legacy of a person's life work
Part 8 Letter on Liquor in Ecclesiastes Tony's late wife Lisa told him, "Don't get drunk all the time alright? It will only make you feel worse in the log run!"
Part 9 Letter on Laughter in Ecclesiastes , I said of laughter, "It is foolishness;" and of mirth, "What does it accomplish?" Ecclesiastes 2:2
Part 10 Final letter to Ricky on Ladies in Ecclesiastes "I gathered a chorus of singers to entertain me with song, and—most exquisite of all pleasures— voluptuous maidens for my bed…behold, all was vanity and a striving after wind, and there was nothing to be gained under the sun" Ecclesiastes 2:8-11.
Part 11 Letter about Daniel Stanhope and optimistic humanism "If man has been kicked up out of that which is only impersonal by chance , then those things that make him man-hope of purpose and significance, love, motions of morality and rationality, beauty and verbal communication-are ultimately unfulfillable and thus meaningless." (Francis Schaeffer)
Part 12 Letter on how pursuit of God is only way to get Satisfaction Dan Jarrell "[In Ecclesiastes] if one seeks satisfaction they will never find it. In fact, every pleasure will be fleeting and can not be sustained, BUT IF ONE SEEKS GOD THEN ONE FINDS SATISFACTION"
Part 13 Letter to Stephen Hawking on Solomon realizing he will die just as a dog will die "For men and animals both breathe the same air, and both die. So mankind has no real advantage over the beasts; what an absurdity!" Ecclesiastes
Part 14 Letter to Stephen Hawking on 3 conclusions of humanism and Bertrand Russell destruction of optimistic humanism. "That Man is the product of causes which had no prevision of the end they were achieving; that his origin, his growth, his hopes and fears, his loves and his beliefs, are but the outcome of accidental collocations of atoms—no philosophy which rejects them can hope to stand. Only within the scaffolding of these truths, only on the firm foundation of unyielding despair, can the soul's habitation henceforth be safely built."(Bertrand Russell, Free Man's Worship)
Part 15 Letter to Stephen Hawking on Leonardo da Vinci and Solomon and Meaningless of life "I hate life. As far as I can see, what happens on earth is a bad business. It's smoke—and spitting into the wind" Ecclesiastes Book of Ecclesiastes Part 15 "I hate life. As far as I can see, what happens on earth is a bad business. It's smoke—and spitting into the wind" Ecclesiastes 2:17
Part 16 Letter to Stephen Hawking on Solomon's longing for death but still fear of death and 5 conclusions of humanism on life UNDER THE SUN. Francis Schaeffer "Life is just a series of continual and unending cycles and man is stuck in the middle of the cycle. Youth, old age, Death. Does Solomon at this point embrace nihilism? Yes!!! He exclaims that the hates life (Ecclesiastes 2:17), he longs for death (4:2-3) Yet he stills has a fear of death (2:14-16)"
—
Mandeep Dhillon as Sandy on her first assignment in 'After Life'. (Twitter)
A still from 'After Life' that captures the vibe of the Tambury Gazette. (Twitter)
Michael Scott of THE OFFICE (USA) with Ricky Gervais
After Life on Netflix stars Ricky Gervais as a bereaved husband (Image: Netflix)
—-
Psychiatrist played by Paul Kaye seen below.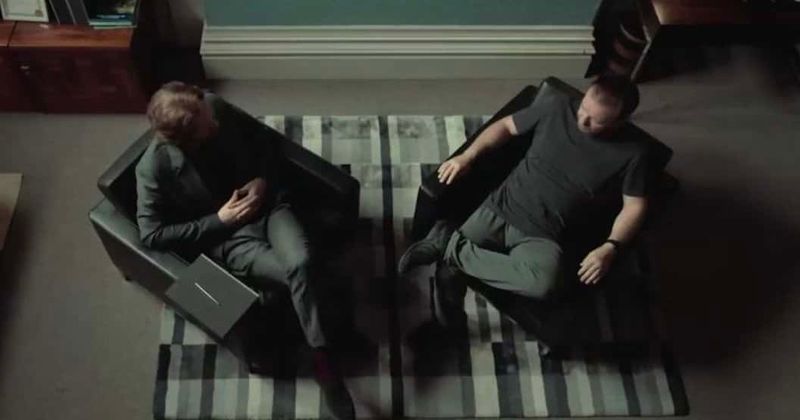 —
Tony Johnson with his dog Brandi seen below:
—-
—-
If Death is the end then what is the point Kath asks below:
——
Kath: You are an atheist?
—-
——-

—-
—-
—-