—
Canary Islands 2014: Harold Kroto and Richard Dawkins
_
Richard Dawkins & Daniel Dennett vs. Francis Collins & Benjamin Carson – Evolution Debate
__
Bach
Francis Schaeffer
__
Charles Darwin photograph by Herbert Rose Barraud, 1881
Mark Henry, teaching pastor of Fellowship Bible Church
Isaac Newton
Louis Pasteur below
Michael Faraday
Henri Fabre
Blaise Pascal
____
___________________________________
1-29-17
Richard Dawkins
Washington, DC
Dear Mr. Dawkins,
I know that you are good friends with Daniel Dennett and I have noticed how many times he quotes you in his books. He was kind enough to send me a very thoughtful response on January 12, 2017, and it just so happens that I am in the middle of reading his book DARWIN'S DANGEROUS IDEA. Of course, I have read several of your books such as The God Delusion, An Appetite for Wonder: The Making of a Scientist, and Brief Candle in the Dark: My Life in Science.
I also recently enjoyed watching both you and Dr. Dennett on Jonathan Miller's BBC program Atheism: A Rough History of Disbelief. Francis Schaeffer used to quote Jonathan Miller back in the 1960's during his teachings at L 'Abri.
In your book The God Delusion on page 111 you stated:
I once was the guest of the week on a British radio show called Desert Island Discs. You have to choose the eight records you would take with you if marooned on a desert island. Among my choices was 'Mache dich mein Herze rein' from Bach's St Matthew Passion. The interviewer was unable to understand how I could choose religious music without being religious. You might as well say, how can you enjoy Wuthering Heights when you know perfectly well that Cathy and Heathcliff never really existed?
But there is an additional point that I might have made, and which needs to be made whenever religion is given credit for, say, the Sistine Chapel or Raphael's Annunciation. Even great artists have to earn a living, and they will take commissions where they are to be had. I have no reason to doubt that Raphael and Michelangelo were Christians – it was pretty much the only option in their time – but the fact is almost incidental. Its enormous wealth had made the Church the dominant patron of the arts. If history had worked out differently, and Michelangelo had been commissioned to paint a ceiling for a giant Museum of Science, mightn't he have produced something at least as inspirational as the Sistine Chapel? How sad that we shall never hear Beethoven's Mesozoic Symphony, or Mozart's opera The Expanding Universe.
I thought of that quote from you today when I was in church. Our teaching pastor Mark Henry of FELLOWSHIP BIBLE CHURCH in Little Rock, Arkansas, pointed out that the Holy Spirit has empowered many Christians over the centuries to empty their hearts of their own worldly desires and to serve God through their actions.
2 RESPONSES TO YOUR ASSERTION THAT AN EARLIER ACCEPTANCE OF EVOLUTION WOULD HAVE ENRICHED MUSIC AND THE ARTS.
First, we have the testimony of Charles Darwin himself concerning this.
Second, we have the actual result of what Christianity's impact on the world was.
Let us take a quick look at your idea of Mozart's opera THE EXPANDING UNIVERSE. When I read the book Charles Darwin: his life told in an autobiographical chapter, and in a selected series of his published letters, I also read a commentary on it by Francis Schaeffer and I wanted to both quote some of Charles Darwin's own words to you and then include the comments of Francis Schaeffer on those words.
CHARLES DARWIN'S AUTOBIOGRAPHY. Addendum. Written May 1st, 1881 [the year before his death].
I have said that in one respect my mind has changed during the last twenty or thirty years. Up to the age of thirty, or beyond it, poetry of many kinds, such as the works of Milton, Gray, Byron, Wordsworth, Coleridge, and Shelley, gave me great pleasure, and even as a schoolboy I took intense delight in Shakespeare, especially in the historical plays. I have also said that formerly pictures gave me considerable, and music very great delight. But now for many years I cannot endure to read a line of poetry: I have tried lately to read Shakespeare, and found it so intolerably dull that it nauseated me. I have also almost lost my taste for pictures or music. Music generally sets me thinking too energetically on what I have been at work on, instead of giving me pleasure. I retain some taste for fine scenery, but it does not cause me the exquisite delight which it formerly did…
This curious and lamentable loss of the higher æsthetic tastes is all the odder, as books on history, biographies, and travels (independently of any scientific facts which they may contain), and essays on all sorts of subjects interest me as much as ever they did. My mind seems to have become a kind of machine for grinding general laws out of large collections of facts, but why this should have caused the atrophy of that part of the brain alone, on which the higher tastes depend, I cannot conceive. A man with a mind more highly organised or better constituted than mine, would not, I suppose, have thus suffered; and if I had to live my life again, I would have made a rule to read some poetry and listen to some music at least once every week; for perhaps the parts of my brain now atrophied would thus have been kept active through use. The loss of these tastes is a loss of happiness, and may possibly be injurious to the intellect, and more probably to the moral character, by enfeebling the emotional part of our nature.
Francis Schaeffer commented:
This is the old man Darwin writing at the end of his life. What he is saying here is the further he has gone on with his studies the more he has seen himself reduced to a machine as far as aesthetic things are concerned. I think this is crucial because as we go through this we find that his struggles and my sincere conviction is that he never came to the logical conclusion of his own position, but he nevertheless in the death of the higher qualities as he calls them, art, music, poetry, and so on, what he had happen to him was his own theory was producing this in his own self just as his theories a hundred years later have produced this in our culture. I don't think you can hold the evolutionary position as he held it without becoming a machine. What has happened to Darwin personally is merely a forerunner to what occurred to the whole culture as it has fallen in this world of pure material, pure chance and later determinism. Here he is in a situation where his mannishness has suffered in the midst of his own position.
Let's take a closer look at the music by Bach that you call your favorite.
From Francis Schaeffer's How Should We Then Live? (p. 92):
Johann Sebastian Bach (1685 – 1750) was certainly the zenith of the composers coming out of the Reformation. His music was a direct result of the Reformation culture and the biblical Christianity of the time, which was so much a part of Bach himself. There would have been no Bach had there been no Luther. Bach wrote on his score initials representing such phrases as: "With the help of Jesus" – "To God alone be the glory" – "In the name of Jesus." It was appropriate that the last thing Bach the Christian wrote was "Before Thy Throne I Now Appear." Bach consciously related both the form and the words of his music to biblical truth. Out of the biblical context came a rich combination of music and words and a diversity of unity. This rested on the fact that the Bible gives unity to the universal and the particulars, and therefore the particulars have meaning. Expressed musically, there can be endless variety and diversity without chaos. There is variety yet resolution.
And this is why I love Bach.
IF JESUS WAS IN FACT A REAL MAN AND THE HOLY SPIRIT DID UPON HIS DISCIPLES THEN YOU WOULD EXPECT THE WORLD TO BE CHANGED.
___What if Jesus Had Never Been Bornby D. James Kennedy This book documents the positive impact Jesus Christ and the Christian Church has made on the world in nearly every conceivable area – morality, health, sex, hospitals, art, music, charity, economics, government, science, education and the founding of America. Some critics believe that all these advances would have happened sooner or later, but there is little evidence to support this other then hopeful conjecture. Despite excesses by self proclaimed Christians over the ages, the problems have not been due to Jesus' teachings, rather the failure to follow those teachings. Even with imperfect people, Christianity has had a much more positive impact on the world than any other religion. This book is desperately needed to counter the constant attacks on the Christian faith.We need to understand that the changes made by Christianity did not happen overnight. Many people – most couldn't read or write – became Christian without examining or having the ability to examine current belief systems. At a time when books were only available to a select group of people – and then in limited number, it took decades for changes in morality to take hold of society as a whole.
It certainly is true that Christianity has had shortcomings. However, the sins of the Church were no worse then the pagan world. Christianity at its worst was far better then Paganism at its best. Whereas the pagan world could never advance morally, the shortcomings of the Christian church were an aberration that were corrected by itself over time. Excerpts from the book: "Jesus Christ, the greatest man who ever lived, has changed virtually every aspect of human life – and most people don't know it."
"Despite its humble origins, the Church has made more changes on earth for the good than any other movement or force in history. To get an overview of some of the positive contributions Christianity has made through the centuries, here are a fewhighlights:• Hospitals, which essentially began during the Middle Ages.• Universities, which also began during the Middle Ages. In addition, most of the world's greatest universities were started by Christians for Christian purposes.• Literacy and education for the masses.• Capitalism and free-enterprise.• Representative government, particularly as it has been seen in the American experiment.• The separation of political powers.• Civil liberties.• The abolition of slavery, both in antiquity and in more modern times.• Modem science.• The discovery of the New World by Columbus.• The elevation of women.• Benevolence and charity; the good Samaritan ethic.• Higher standards of justice.• The elevation of the common man.• The condemnation of adultery, homosexuality, and other sexual perversions. This has helped to preserve the human race, and it has spared many from heartache.• High regard for human life.• The civilizing of many barbarian and primitive cultures.• The codifying and setting to writing of many of the world's languages.• Greater development of art and music. The inspiration for the greatest works of art.• The countless changed lives transformed from liabilities into assets to society because of the gospel. • The eternal salvation of countless souls! The last one mentioned, the salvation of souls, is the primary goal of the spread of Christianity. All the other benefits listed are basically just by-products of what Christianity has often brought when applied to daily living. When Jesus Christ took upon Himself the form of man, He imbued mankind with a dignity and inherent value that had never been dreamed of before. Whatever Jesus touched or whatever He did transformed that aspect of human life. Many people will read about the innumerable small incidents in the life of Christ while never dreaming that those casually mentioned "little" things were to transform the history of humankind. Christ's influence on the world is immeasurable. The purpose of this book is to glimpse what we can measure, to see those numerous areas of life where Christ's influence can be concretely traced. Not all have been happy about Jesus Christ's coming into the world. Friederich Nietzsche, the nineteenth-century atheist philosopher who coined the phrase "God is dead," likened Christianity to poison that has infected the whole world. Nietzsche said that history is the battle between Rome (the pagans) and Israel (the Jews and the Christians); and he be-moaned the fact that Israel (through Christianity) was winning and that the cross "has by now triumphed over all other, nobler virtues." In his book,The Antichrist, Nietzsche wrote: I condemn Christianity; I bring against the Christian Church the most terrible of all the accusations that an accuser has ever had in his mouth. It is, to me, the greatest of all imaginable corruption; it seeks to work the ultimate corruption, the worst possible corruption. The Christian Church has left nothing untouched by its depravity; it has turned every value into worthlessness, and every truth into a lie, and every integrity into baseness of soul. Nietzsche held up as heroes a "herd of blond beasts of prey, a race of conquerors and masters." According to Nietzsche, and later Hitler, by whom or what were these Teutonic warriors corrupted? Answer: Christianity. "This splendid ruling stock was corrupted, first by the Catholic laudation of feminine virtues, secondly by the Puritan and plebeian ideals of the Reformation, and thirdly by intermarriage with inferior stock." Had Jesus never come, wailed Nietzsche, we would never have had the corruption of "slave morals" into the human race. Many of the ideas of Nietzsche were put into practice by his philosophical disciple, Hitler, and about 16 million died as a result. In Mein Kampf, Hitler blamed the Church for perpetuating the ideas and laws of the Jews. Hitler wanted to completely uproot Christianity once he had finished uprooting the Jews. In a private conversation "shortly after the National Socialists' rise to power," recorded by Herman Rauschning, Hitler said: Historically speaking, the Christian religion is nothing but a Jewish sect…. After the destruction of Judaism, the extinction of Christian slave morals must follow logically… . I shall know the moment when to confront, for the sake of the German people and the world, their Asiatic slave morals with our picture of the free man, the godlike man…. It is not merely a question of Christianity and Judaism. We are fighting against the most ancient curse that humanity has brought upon itself. We are fighting against the perversion of our soundest instincts. Ah, the God of the deserts, that crazed, stupid, vengeful Asiatic despot with his powers to make laws! … That poison with which both Jews and Christians have spoiled and soiled the free, wonderful instincts of man and lowered them to the level of doglike fright. Both Nietzsche and Hitler wished that Christ had never been born. Others share this sentiment. For example, Charles Lam Markmann, who wrote a favorable book on the history of the ACLU, entitled The Noblest Cry, said: "If the otherwise admirably civilized pagans of Greece and their Roman successors had had the wit to laugh Judaism into desuetude, the world would have been spared the 2000-year sickness of Christendom."… the point of this book is to say to Nietzsche, Freud, Hitler, Robert Ingersoll, Lenin, Stalin, Mao, Madalyn Murray O'Hare, Phil Donahue, the ACLU, and other leading anti-Christians of the past and present, that the overwhelming impact of Christ's life on Planet Earth has been positive, not negative. What these people refuse to acknowledge is that civil liberties have been bequeathed by Christianity and not by atheism or humanism. Prior to the coming of Christ, human life on this planet was exceedingly cheap. Life was expendable prior to Christianity's influence. Even today, in parts of the world where the gospel of Christ or Christianity has not penetrated, life is exceedingly cheap. But Jesus Christ … gave mankind a new perspective on the value of human life. Furthermore, Christianity bridged the gap between the Jews – who first received the divine revelation that man was made in God's image – and the pagans, who attributed little value to human life. Meanwhile, as we in the post-Christian West abandon our Judeo-Christian heritage, life is becoming cheap once again. Children:In the ancient world, child sacrifice was a common phenomenon. Only about half of the children born lived beyond the age of eight, in part because of widespread infanticide, with famine and illness also being factors. Infanticide was not only legal, it was applauded…it was commonly held in Rome that killing one's own children could be an act of beauty. But then Jesus came. Since that time, Christians have cherished life as sacred, even the life of the unborn. In ancient Rome, Christians saved many of these babies and brought them up in the faith. Abortion disappeared in the early church. Infanticide and abandonment disappeared. Foundling homes, orphanages, and nursery homes were started to house the children. These new practices, based on this higher view of life, helped to create a foundation in western civilization for an ethic of human life that persists to this day – although it is currently under severe attack. And it all goes back to Jesus Christ. If He had never been born, we would never have seen this change in the value of human life. Women:Prior to Christian influence, a woman's life was also very cheap. In ancient cultures, the wife was the property of her husband. Prior to the Christian influences in India, widows were voluntarily or involuntarily burned on the husbands funeral pyres – a grisly practice known as suttee. Furthermore, infanticide – particularly for girls – was common in India, prior to the great missionary William Carey. These centuries-old practices, suttee and infanticide, were finally stopped only in the early nineteenth century… In other areas of the globe where the gospel of Christ has not penetrated, the value of woman's lives is cheap. How ironic that feminists today do not give any credit to Christ or Christianity. Slavery:Half of the population of the Roman Empire was slaves. Three fourths of the population of Athens was slaves. The life of a slave could be taken at the whim of the master. Over the centuries, Christianity abolished slavery, first in the ancient world and then later in the nineteenth century, largely through the efforts of the strong evangelical William Wilberforce. It didn't happen over night, and certainly there have been dedicated Christians who were slaveowners. Nonetheless, the end of slavery, which has plagued mankind for thousands of years, has come primarily through the efforts of Christians. "Once the gospel did spread, the seeds were sown for the eventual dissolution of slavery. Thus by reforming the heart, Christianity, in time, reformed the social order! "Robert E. Lee, who freed the slaves he had inherited by marriage, once wrote that the War between the States was needless bloodshed in terms of ending slavery, for he believed the evil institution would have eventually withered away because of Christianity." Compassion and Mercy:The world before Christianity was like the Russian tundra – quite cold and inhospitable. One scholar, Dr. Martineau, exhaustively searched through historical documents and concluded that antiquity has left no trace of any organized charitable effort. Disinterested benevolence was unknown. When Christ and the Bible became known, charity and benevolence flourished. While poverty has always been a part of life on earth, the Church of Jesus Christ has done more – and often still does more – than any other institution in history to alleviate poverty. Furthermore, it has set the pattern for relief that is copied worldwide. All charity points back to Jesus Christ, whether people recognize it or not. Capitalism:"If Jesus had never been born, it is unlikely that capitalism and the free enterprise system – which has brought unparalleled prosperity to billions of people – would ever have developed. In this chapter, I will trace the links between the Christian faith and the prosperity enjoyed in the West, particularly in the United States." Science:"Hasn't religion always been the enemy of science? No! Furthermore, many scholars agree that the scientific revolution that gained great momentum in the seventeenth century was birthed for the most part by Reformed Christianity."
Here is a list of some of the outstanding bible-believing scientists who founded the following branches of science:Antiseptic surgery, Joseph ListerBacteriology, Louis PasteurCalculus, Isaac NewtonCelestial Mechanics, Johannes keplerChemistry, Robert BoyleComparative Anatomy, Georges CuvierComputer Science, Charles BabbageDimensional Analysis, Lord RayleighDynamics, Isaac NewtonElectronics, John flemingElectrodynamics, James MaxwellElectromagnetics, Michael FaradayEnergetics, Lord kelvinEntomology of Living Insects, Henri FabreFluid Mechanics, George StokesGas Dynamics, Robert BoyleGenetics, Gregor mendelGynecology, James SimpsonHydrostatics, Blaise PascalNatural History, John Ray.When Christian Morals are removed from society:
"During one of the darkest periods of World War II, after the collapse of France and before American involvement, Churchill wrote that the question in the minds of friends and foes was: 'Will Britain surrender too?' At that time he made a speech that contained this sentence: 'I expect that the Battle of Britain is about to begin. Upon this battle depends the survival of Christian civilization' The great statesman recognized the link between Christianity and civility, in contrast with new-paganism and tyranny. Providentially, Christian civilization won. But where it has lost, all manner of terrors have been unleashed."
"No century has been like ours in terms of man killing his fellow man. About 130 million . . . died because of atheistic ideology" – Hitler, Stalin and Mao of China. When a person denies the existence of God, you only have the material world. You've killed the spiritual world.
"The frightening thing about a humanist and atheistic state is that there is nothing beyond man to which one can make an appeal. The founders of this country said that men have been created equal and have been endowed by their Creator with certain inalienable rights. We have an appeal beyond man, beyond the State, to God Himself, whereas in the humanist state there is nothing but man. The humanist state inevitably leads to tyranny and despotism. As Dostoevsky said, 'If God is dead, then all things are permissible.'"
"With atheism there are no objective moral standards. This is not to say that all atheists are immoral people. In reality, there are many nice people who are atheists, but their niceness isborrowed capital from Christianity; it is not because of their atheism, but despite it." If the atheist had been raised in an atheistic society, they would be very different people, while the Christian would be the same. The Christian who is unloving, is unloving despite of his professed Christianity, not because of it.
Historian Will Durant, who is a humanist, said in the February 1977 issue of the Humanist Magazine: There is no significant example in history, before our time, of a society successfully maintaining moral life without the aid of religion.
Boston College professor William Kilpatrick has written a book on the subject of morality in public schools. In Why Johnny Can't Tell Right from Wrong (1992) he writes: "Youngsters are forced to question values and virtues they've never acquired in the first place or upon which they have only a tenuous hold."
"When you devalue God, you devalue human life. How could Hitler ruthlessly exterminate six million Jews and millions of other? How could the Communists kill and torture over a hundred million people? How could they do that to other human beings?"
"The answer you give to the question 'What is a human being?' will determine precisely what you can do to one." ". . .when the restraining influence of Christianity is removed from a country or culture, unmitigated disaster will naturally follow."
"One of our Supreme Court Justices, Oliver Wendell Holmes said: 'I see no reason for attributing to man a significant difference in kind from that which belongs to a grain of sand.'"
"And yet we sometimes hear the statement that 'more people have been killed in the name of Christ than in any other name.'" This is simply a lie.
Where do we go from here?Is secularism inevitable? From Harvard University to the YMCA, so many of the institutions we discussed in this book were started by Christians for Christian purposes, often at great sacrifice and expense; and then eventually they drifted away from their original [intent]. Is this trend unavoidable? "Religion begat prosperity, but the daughter hath consumed the mother." Cotton Mather made this observation toward the end of the seventeenth century after the Christianity of the Pilgrims and Puritans had begun to wane. They had only been in the New World for three or four generations, and they were already beginning to allow the prosperity they enjoyed to crowd out the cause of that prosperity; Christianity. "Many of the good things we enjoy today grew out of the religion of Jesus Christ, but He is often denied the credit" The proof of this denial is in nearly every history book in public schools in America.
Source:1. http://www.access.gpo.gov/congress/senate/farewell/sd106-21.pdf
Sincerely,
Everette Hatcher, cell ph 501-920-5733, P.O. Box 23416, Little Rock, AR 72221, everettehatcher@gmail.com

On November 21, 2014 I received a letter from Nobel Laureate Harry Kroto and it said:
…Please click on this URL http://vimeo.com/26991975
and you will hear what far smarter people than I have to say on this matter. I agree with them.
Harry Kroto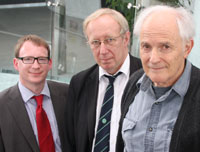 Nick Gathergood, David-Birkett, Harry-Kroto
I have attempted to respond to all of Dr. Kroto's friends arguments and I have posted my responses one per week for over a year now. Here are some of my earlier posts:
Arif Ahmed, Sir David Attenborough, Mark Balaguer, Horace Barlow, Michael Bate, Patricia Churchland, Aaron Ciechanover, Noam Chomsky,Alan Dershowitz, Hubert Dreyfus, Bart Ehrman, Stephan Feuchtwang, David Friend, Riccardo Giacconi, Ivar Giaever , Roy Glauber, Rebecca Goldstein, David J. Gross, Brian Greene, Susan Greenfield, Stephen F Gudeman, Alan Guth, Jonathan Haidt, Theodor W. Hänsch, Brian Harrison, Hermann Hauser, Roald Hoffmann, Bruce Hood, Herbert Huppert, Gareth Stedman Jones, Steve Jones, Shelly Kagan, Michio Kaku, Stuart Kauffman, Lawrence Krauss, Harry Kroto, George Lakoff, Elizabeth Loftus, Alan Macfarlane, Peter Millican, Marvin Minsky, Leonard Mlodinow, Yujin Nagasawa, Alva Noe, Douglas Osheroff, Jonathan Parry, Saul Perlmutter, Herman Philipse, Carolyn Porco, Robert M. Price, Lisa Randall, Lord Martin Rees, Oliver Sacks, John Searle, Marcus du Sautoy, Simon Schaffer, J. L. Schellenberg, Lee Silver, Peter Singer, Walter Sinnott-Armstrong, Ronald de Sousa, Victor Stenger, Barry Supple, Leonard Susskind, Raymond Tallis, Neil deGrasse Tyson, .Alexander Vilenkin, Sir John Walker, Frank Wilczek, Steven Weinberg, and Lewis Wolpert,
In the second video below in the 67th clip in this series are Richard Dawkins' words that Harry Kroto wanted me to see. Since then I have read several of Richard Dawkins books and have attempted to respond to the contents of these books directly to Richard Dawkins by mail. In fact, I have been writing Richard Dawkins letters since May 15, 1994 which was the 10th anniversary of the passing of one of my heroes, Francis Schaeffer. Francis Schaeffer spent a lot of time responding to many of Richard Dawkins' heroes such as Carl Sagan, Jacques Monod, H.J. Blackham, Isaac Newton, Ludwig Wittgenstein, Max Planck, Johann Sebastian Bach, Francis Bacon, Samuel Beckett, Leonardo Da Vinci, Albert Einstein, Michael Faraday, Gerald Horton, Edmund Leach, Louis Pasteur, George Wald, Jacob Bronowski, Steven Weinberg, Charles Darwin, Paul Kurtz, Peter Singer, Jonathan Miller, William B. Provine, Woody Allen, Noam Chomsky, James D. Watson, Francis Crick, Michael Polanyi, The Huxley family, Antony Flew, and Edward O. Wilson (Dawkins has since revised his opinion of Flew and Wilson, but he earlier regarded them very highly).
_
_
Both Francis Schaeffer and Richard Dawkins have talked extensively about the life of Charles Darwin.
_
Sir Harry Kroto with his high school friend Sir Ian McKellan at the FSU National High Field Magnetic Lab on Tuesday, October 27, 2009.
50 Renowned Academics Speaking About God (Part 1)
_
Another 50 Renowned Academics Speaking About God (Part 2)
_
_
Edit Post ‹ The Daily Hatch — WordPress
A Further 50 Renowned Academics Speaking About God (Part 3)
_
Richard Dawkins Photos Photos – Professor Stephen Hawking Unveils Medal For Science Communication – Zimbio
Professor Stephen Hawking Unveils Medal For Science Communication In This Photo: Richard Dawkins, Stephen Hawking, Brian May, Harold Kroto, Alexi Leonov, Garik Israelian
__
Richard Dawkins, founder of the Richard Dawkins Foundation for Reason and Science. Credit: Don Arnold Getty Images
16
–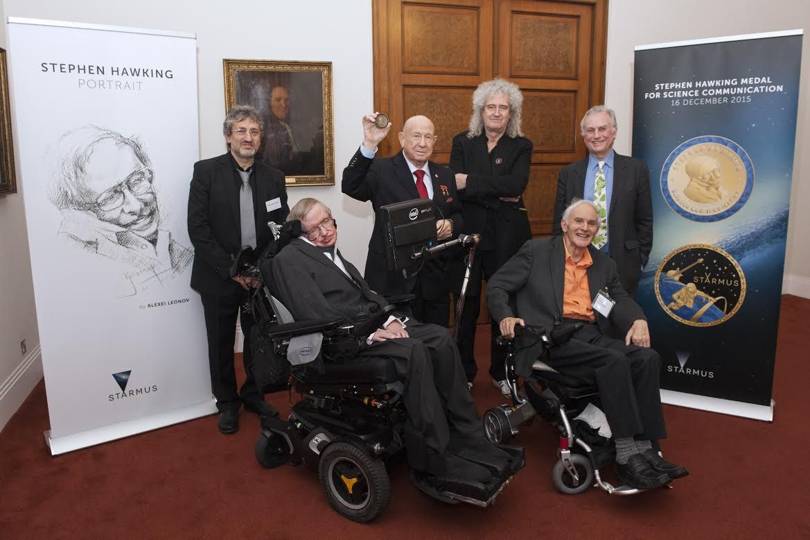 Garik Israelian, Stephen Hawking, Alexey Leonov, Brian May, Richard Dawkins and Harry Kroto
—-
—-
—-
—-
—-
Related posts:
On November 21, 2014 I received a letter from Nobel Laureate Harry Kroto and it said: …Please click on this URL http://vimeo.com/26991975 and you will hear what far smarter people than I have to say on this matter. I agree with them. Harry Kroto _________________ Below you have picture of 1996 Chemistry Nobel Prize Winner […]
The Beatles were "inspired by the musique concrète of German composer and early electronic music pioneer Karlheinz Stockhausen…" as SCOTT THILL has asserted. Francis Schaeffer noted that ideas of "Non-resolution" and "Fragmentation" came down German and French streams with the influence of Beethoven's last Quartets and then the influence of Debussy and later Schoenberg's non-resolution which is in total contrast […]
_______ On November 21, 2014 I received a letter from Nobel Laureate Harry Kroto and it said: …Please click on this URL http://vimeo.com/26991975 and you will hear what far smarter people than I have to say on this matter. I agree with them. Harry Kroto _________________ Below you have picture of 1996 Chemistry Nobel Prize […]
On November 21, 2014 I received a letter from Nobel Laureate Harry Kroto and it said: …Please click on this URL http://vimeo.com/26991975 and you will hear what far smarter people than I have to say on this matter. I agree with them. Harry Kroto ____________________ Below you have picture of 1996 Chemistry Nobel Prize Winner Dr. […]