Bertrand dogmatically states that OPTIMISTIC HUMANISM IS NOT POSSIBLE in his work A FREE MAN'S WORSHIP. "A Free Man's Worship" (first published as "The Free Man's Worship" in Dec. 1903) is perhaps Bertrand Russell's best known and most reprinted essay.  Here are his exact words:
Such, in outline, but even more purposeless, more void of meaning, is the world which Science presents for our belief. Amid such a world, if anywhere, our ideals henceforward must find a home. That Man is the product of causes which had no prevision of the end they were achieving; that his origin, his growth, his hopes and fears, his loves and his beliefs, are but the outcome of accidental collocations of atoms; that no fire, no heroism, no intensity of thought and feeling, can preserve an individual life beyond the grave; that all the labours of the ages, all the devotion, all the inspiration, all the noonday brightness of human genius, are destined to extinction in the vast death of the solar system, and that the whole temple of Man's achievement must inevitably be buried beneath the debris of a universe in ruins–all these things, if not quite beyond dispute, are yet so nearly certain, that no philosophy which rejects them can hope to stand. Only within the scaffolding of these truths, only on the firm foundation of unyielding despair, can the soul's habitation henceforth be safely built.
On November 21, 2014 I received a letter from Nobel Laureate Harry Kroto and it said:
…Please click on this URL http://vimeo.com/26991975
and you will hear what far smarter people than I have to say on this matter. I agree with them.
Harry Kroto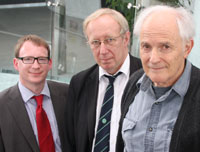 Nick Gathergood, David-Birkett, Harry-Kroto
I have attempted to respond to all of Dr. Kroto's friends arguments and I have posted my responses one per week for over a year now. Here are some of my earlier posts:
Arif Ahmed, Sir David Attenborough, Mark Balaguer, Horace Barlow, Michael Bate, Patricia Churchland, Aaron Ciechanover, Noam Chomsky,Alan Dershowitz, Hubert Dreyfus, Bart Ehrman, Stephan Feuchtwang, David Friend,  Riccardo Giacconi, Ivar Giaever , Roy Glauber, Rebecca Goldstein, David J. Gross,  Brian Greene, Susan Greenfield, Stephen F Gudeman,  Alan Guth, Jonathan Haidt, Theodor W. Hänsch, Brian Harrison,  Hermann Hauser, Roald Hoffmann,  Bruce Hood, Herbert Huppert,  Gareth Stedman Jones, Steve Jones, Shelly Kagan, Michio Kaku,  Stuart Kauffman,  Lawrence Krauss, Harry Kroto, George Lakoff, Elizabeth Loftus,  Alan Macfarlane, Peter Millican, Marvin Minsky, Leonard Mlodinow,  Yujin Nagasawa, Alva Noe, Douglas Osheroff,  Jonathan Parry,  Saul Perlmutter, Herman Philipse,  Carolyn Porco, Robert M. Price, Lisa Randall, Lord Martin Rees,  Oliver Sacks, John Searle, Marcus du Sautoy, Simon Schaffer, J. L. Schellenberg,   Lee Silver,  Peter Singer,  Walter Sinnott-Armstrong, Ronald de Sousa, Victor Stenger, Barry Supple,   Leonard Susskind, Raymond Tallis, Neil deGrasse Tyson,  .Alexander Vilenkin, Sir John Walker, Frank Wilczek, Steven Weinberg, and  Lewis Wolpert,
Bertrand Russell, in full Bertrand Arthur William Russell, 3rd Earl Russell of Kingston Russell, Viscount Amberley of Amberley and of Ardsalla (born May 18, 1872, Trelleck, Monmouthshire, Wales—died Feb. 2, 1970, Penrhyndeudraeth, Merioneth), British philosopher, logician, and social reformer, founding figure in the analytic movement in Anglo-American philosophy, and recipient of the Nobel Prize for Literature in 1950. Russell's contributions to logic, epistemology, and the philosophy of mathematics established him as one of the foremost philosophers of the 20th century. To the general public, however, he was best known as a campaigner for peace and as a popular writer on social, political, and moral subjects. During a long, productive, and often turbulent life, he published more than 70 books and about 2,000 articles, married four times, became involved in innumerable public controversies, and was honoured and reviled in almost equal measure throughout the world. Russell's article on the philosophical consequences of relativity appeared in the 13th edition of the Encyclopædia Britannica.
In  the first video below in the 14th clip in this series are his words and I will be responding to them in the next few weeks since Sir Bertrand Russell is probably the most quoted skeptic of our time, unless it was someone like Carl Sagan or Antony Flew.  
50 Renowned Academics Speaking About God (Part 1)
Another 50 Renowned Academics Speaking About God (Part 2)
A Further 50 Renowned Academics Speaking About God (Part 3)
__
Quote from Bertrand Russell:
Q: Why are you not a Christian?
Russell: Because I see no evidence whatever for any of the Christian dogmas. I've examined all the stock arguments in favor of the existence of God, and none of them seem to me to be logically valid.
Q: Do you think there's a practical reason for having a religious belief, for many people?
Russell: Well, there can't be a practical reason for believing what isn't true. That's quite… at least, I rule it out as impossible. Either the thing is true, or it isn't. If it is true, you should believe it, and if it isn't, you shouldn't. And if you can't find out whether it's true or whether it isn't, you should suspend judgment. But you can't… it seems to me a fundamental dishonesty and a fundamental treachery to intellectual integrity to hold a belief because you think it's useful, and not because you think it's true.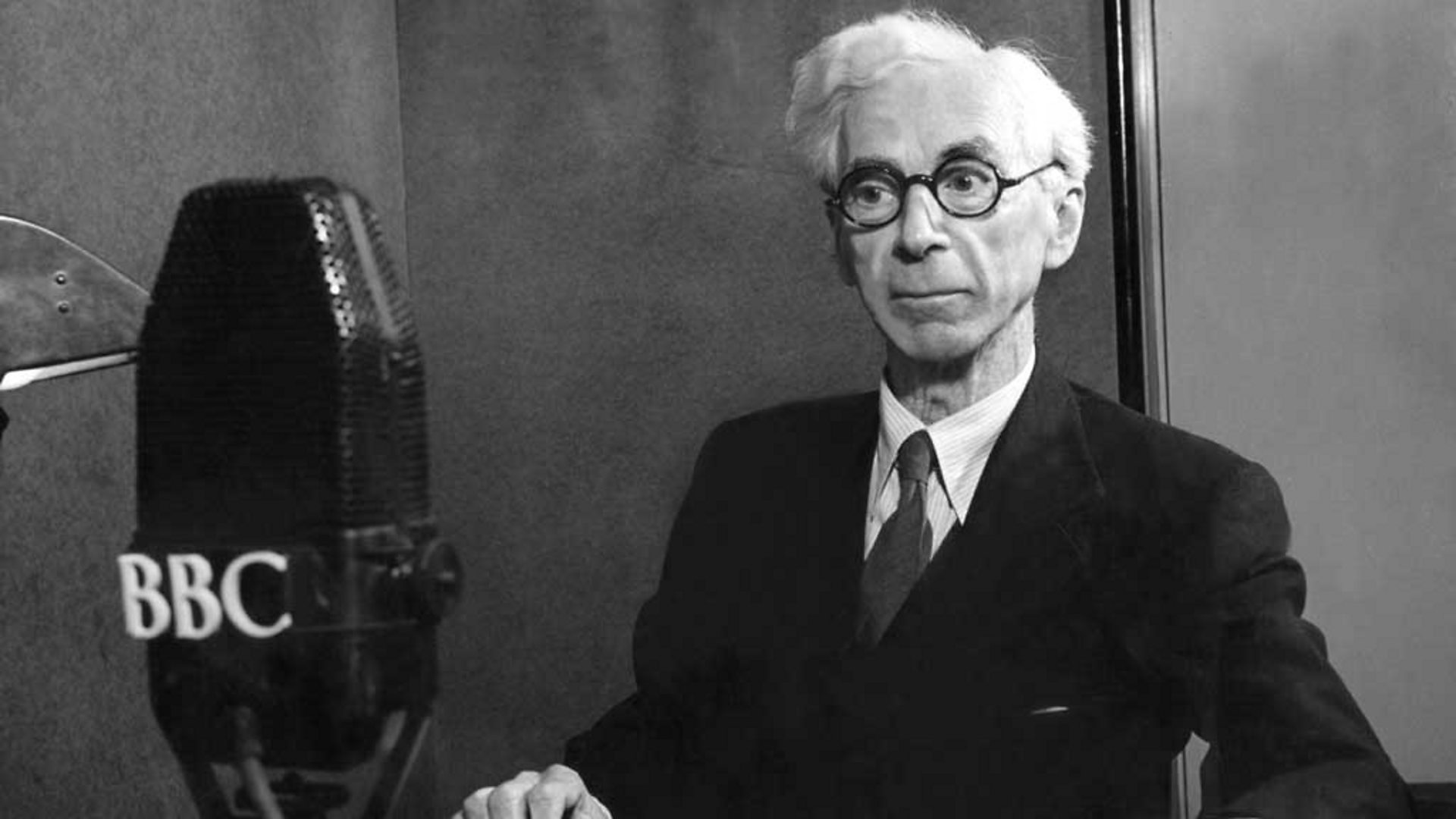 __
______
___
_______
Francis Schaeffer noted in his book HOW SHOULD WE THEN LIVE? (p. 182 in Vol 5 of Complete Works) in the chapter The Breakdown in Philosophy and Science:
(Bertrand Russell pictured below)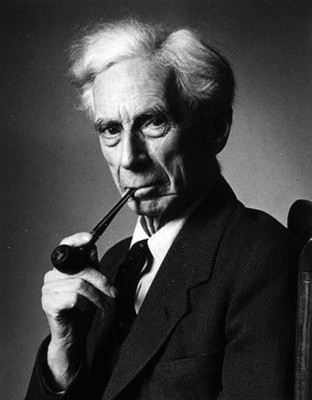 In his lecture at Acapulco, George Wald finished with only one final value. It was the same one with which English philosopher Bertrand Russell (1872-1970) was left. For Wald and Russell and for many other modern thinkers, the final value is the biological continuity of the human race. If this is the only final value, one is left wondering why this then has importance. 
(George Wald pictured below)
Now having traveled from the pride of man in the High Renaissance and the Enlightenment down to the present despair, we can understand where modern people are. They have no place for a personal God. But equally they have no place for man as man, or for love, or for freedom, or for significance. This brings a crucial problem. Beginning only from man himself, people affirm that man is only a machine. But those who hold this position cannot live like machines! If they could, there would have been no tensions in their intellectual position or in their lives. But even people who believe they are machines cannot live like machines, and thus they must "leap upstairs" against their reason and try to find something which gives meaning to life, even though to do so they have to deny their reason. 
Charles Darwin pictured below:
_____
Recently I read this book Darwin, Francis ed. 1892.Charles Darwin: his life told in an autobiographical chapter, and in a selected series of his published letters [abridged edition]. London: John Murray. It included this quote from Charles Darwin:
"…It is an intolerable thought that he and all other sentient beings are doomed to complete annihilation after such long-continued slow progress. To those who fully admit the immortality of the human soul, the destruction of our world will not appear so dreadful…"
Francis Schaeffer commented:
Here you feel Marcel Proust and the dust of death is on everything today because the dust of death is on everything tomorrow. Here you have the dilemma of Nevil Shute's ON THE BEACH. If it is true that all we have left is biological continuity and biological complexity, which is all we have left in Darwinism here, or in many of the modern philosophies, then you can't stand Shute's ON THE BEACH. Maybe tomorrow at noon human life may be wiped out. Darwin already feels the tension, because if human life is going to be wiped out tomorrow, what is it worth today? Darwin can't stand the thought of death of all men. Charlie Chaplin when he heard there was no life on Mars said, "I'm lonely."
You think of the Swedish Opera (ANIARA) that is pictured inside a spaceship. There was a group of men and women going into outer space and they had come to another planet and the singing inside the spaceship was normal opera music. Suddenly there was a big explosion and the world had blown up and these were the last people left, the only conscious people left, and the last scene is the spaceship is off course and it will never land, but will just sail out into outer space. They say when it was shown in Stockholm the first time, the tough Swedes with all their modern  mannishness, came out (after the opera was over) with hardly a word said, just complete silence.
Darwin already with his own position says he CAN'T STAND IT!! You can say, "Why can't you stand it?" We would say to Darwin, "You were not made for this kind of thing. Man was made in the image of God. Your CAN'T- STAND- IT- NESS is screaming at you that your position is wrong. Why can't you listen to yourself?"
You find all he is left here is biological continuity, and thus his feeling as well as his reason now is against his own theory, yet he holds it against the conclusions of his reason. Reason doesn't make it hard to be a Christian. Darwin shows us the other way. He is holding his position against his reason.
Francis Schaeffer noted that in Darwin's 1876 Autobiography that Darwin he is going to set forth two arguments for God in this and again you will find when he comes to the end of this that he is in tremendous tension. Darwin wrote, 
"At the present day the most usual argument for the existence of an intelligent God is drawn from the deep inward conviction and feelings which are experienced by most persons.Formerly I was led by feelings such as those just referred to, …to the firm conviction of the existence of God and of the immortality of the soul. In my Journal I wrote that whilst standing in the midst of the grandeur of a Brazilian forest, 'it is not possible to give an adequate idea of the higher feelings of wonder, admiration, and devotion which fill and elevate the mind.' I well remember my conviction that there is more in man than the mere breath of his body; but now the grandest scenes would not cause any such convictions and feelings to rise in my mind. It may be truly said that I am like a man who has become COLOUR-BLIND."
Francis Schaeffer remarked:
Now Darwin says when I look back and when I look at nature I came to the conclusion that man can not be just a fly! But now Darwin has moved from being a younger man to an older man and he has allowed his presuppositions to enter in to block his logic, these things at the end of his life he had no intellectual answer for. To block them out in favor of his theory. Remember the letter of his that said he had lost all aesthetic senses when he had got older and he had become a clod himself. Now interesting he says just the same thing, but not in relation to the arts, namely music, pictures, etc, but to nature itself. Darwin said, "But now the grandest scenes would not cause any such convictions  and feelings to rise in my mind. It may be truly said that I am like a man who has become colour-blind…" So now you see that Darwin's presuppositions have not only robbed him of the beauty of man's creation in art, but now the universe. He can't look at it now and see the beauty. The reason he can't see the beauty is for a very, very , very simple reason: THE BEAUTY DRIVES HIM TO DISTRACTION. THIS IS WHERE MODERN MAN IS AND IT IS HELL. The art is hell because it reminds him of man and how great man is, and where does it fit in his system? It doesn't. When he looks at nature and it's beauty he is driven to the same distraction and so consequently you find what has built up inside him is a real death, not  only the beauty of the artistic but the beauty of nature. He has no answer in his logic and he is left in tension.  He dies and has become less than human because these two great things (such as any kind of art and the beauty of  nature) that would make him human  stand against his theory.
[From a letter dated August 11, 1918 to Miss Rinder when Bertrand Russell was 46]
It is quite true what you say, that you have never expressed yourself—but who has, that has anything to express? The things one says are all unsuccessful attempts to say something else—something that perhaps by its very nature cannot be said. I know that I have struggled all my life to say something that I never shall learn how to say. And it is the same with you. It is so with all who spend their lives in the quest of something elusive, and yet omnipresent, and at once subtle and infinite. One seeks it in music, and the sea, and sunsets; at times I have seemed very near it in crowds when I have been feeling strongly what they were feeling; one seeks it in love above all. But if one lets oneself imagine one has found it, some cruel irony is sure to come and show one that it is not really found.
The outcome is that one is a ghost, floating through the world without any real contact. Even when one feels nearest to other people, something in one seems obstinately to belong to God and to refuse to enter into any earthly communion—at least that is how I should express it if I thought there was a God. It is odd isn't it? I care passionately for this world, and many things and people in it, and yet…what is it all? There must be something more important, one feels, though I don't believe there is. I am haunted—some ghost, from some extra-mundane region, seems always trying to tell me something that I am to repeat to the world, but I cannot understand the message. But it is from listening to the ghost that one comes to feel oneself a ghost. I feel I shall find the truth on my deathbed and be surrounded by people too stupid to understand—fussing about medicines instead of searching for wisdom. 
Here below is the song DUST IN THE WIND performed by the rock group KANSAS and was written by Kerry Ligren in 1978. I challenge anyone to  read these words of that song given below and refute the idea that accepting naturalistic evolution with the exclusion of God must lead to the nihilistic message of the song!
DUST IN THE WIND:
I close my eyes only for a moment, and the moment's gone
All my dreams pass before my eyes, a curiosity
Dust in the wind, all they are is dust in the wind
Same old song, just a drop of water in an endless sea
All we do crumbles to the ground, though we refuse to see
Dust in the wind, all we are is dust in the wind
Now, don't hang on, nothing lasts forever but the earth and sky
It slips away, and all your money won't another minute buy
_________________________________
Kansas – Dust In The Wind
Uploaded on Nov 7, 2009
Music video by Kansas performing Dust In The Wind. (c) 2004 Sony Music Entertainment Inc.
_________________________________
Francis Schaeffer notes that Russell's mechanistic worldview does not allow for a personal God that created us and that means there is no other conclusion other than nihilism. It seems at one point Russell did embrace nihilism when he asserted:
(Bertrand Russell when he was younger made this comment below)
That Man is the product of causes which had no prevision of the end they were achieving; that his origin, his growth, his hopes and fears, his loves and his beliefs, are but the outcome of accidental collocations of atoms; …that all the labors of the ages, all the devotion, all the inspiration, all the noonday brightness of human genius, are destined to extinction in the vast death of the solar system, and that the whole temple of Man's achievement must inevitably be buried beneath the debris of a universe in ruins—all these things, if not quite beyond dispute, are yet so nearly certain, that no philosophy which rejects them can hope to stand. Bertrand Russell
The British humanist H. J. Blackham (1903-2009) put it very plainly: "On humanist assumptions, life leads to nothing, and every pretense that it does not is a deceit. If there is a bridge over a gorge which spans only half the distance and ends in mid-air, and if the bridge is crowded with human beings pressing on, one after the other they fall into the abyss. The bridge leads nowhere, and those who are pressing forward to cross it are going nowhere….It does not matter where they think they are going, what preparations for the journey they may have made, how much they may be enjoying it all. The objection merely points out objectively that such a situation is a model of futility"( H. J. Blackham, et al., Objections to Humanism (Riverside, Connecticut: Greenwood Press, 1967).
Harold John Blackham (1903 – 2009) was founder of British Humanist Association (pictured below)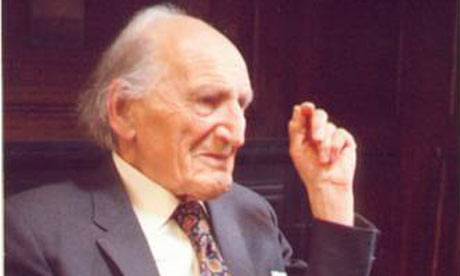 H.J.Blackham pictured in 1974 below:
In the 1986 debate on the John Ankerberg show between Paul Kurtz (1925-2012) and Norman Geisler, Kurtz reacted to the point Blackham was making by asserting:
I think you may be quoting Blackham out of context because I've heard Blackham speak, and read much of what he said, but Blackham has argued continuously that life is full of meaning; that there are points. The fact that one doesn't believe in God does not deaden the appetite or the lust for living. On the contrary; great artists and scientists and poets and writers have affirmed the opposite.
I read the book FORBIDDEN FRUIT by Paul Kurtz and I had the opportunity to correspond with him but I still reject his view that optimistic humanism can withstand the view of nihilism if one accepts there is no God. Christian philosopher R.C. Sproul put it best:
Nihilism has two traditional enemies–Theism and Naive Humanism. The theist contradicts the nihilist because the existence of God guarantees that ultimate meaning and significance of personal life and history. Naive Humanism is considered naive by the nihilist because it rhapsodizes–with no rational foundation–the dignity and significance of human life. The humanist declares that man is a cosmic accident whose origin was fortuitous and entrenched in meaningless insignificance. Yet in between the humanist mindlessly crusades for, defends, and celebrates the chimera of human dignity…Herein is the dilemma: Nihilism declares that nothing really matters ultimately…In my judgment, no philosophical treatise has ever surpassed or equaled the penetrating analysis of the ultimate question of meaning versus vanity that is found in the Book of Ecclesiastes. 
________________
Francis Schaeffer noted that Solomon took a look in Ecclesiastes at the meaning of life on the basis of human life standing alone between birth and death "under the sun." This phrase UNDER THE SUN appears over and over in Ecclesiastes. The Christian Scholar Ravi Zacharias noted, "The key to understanding the Book of Ecclesiastes is the term UNDER THE SUN — What that literally means is you lock God out of a closed system and you are left with only this world of Time plus Chance plus matter." 
Kerry Livgren is the writer of the song "Dust in the Wind" and he said concerning that song in 1981 and then in 2006:
 1981: "When I wrote "Dust in the Wind" I was  writing about a yearning emptiness that I felt which millions of people identified with because the song was very popular." 2006:"Dust In the Wind" was certainly the most well-known song, and the message was out of Ecclesiastes. I never ceased to be amazed at how the message resonates with people, from the time it came out through now. The message is true and we have to deal with it, plus the melody is memorable and very powerful. It disturbs me that there's only part of the [Christian] story told in that song. It's about someone yearning for some solution, but if you look at the entire body of my work, there's a solution to the dilemma."
Ecclesiastes reasons that chance and time have determined the past and will determine the future (9:11-13), and power reigns in this life and the scales are not balanced(4:1). Is that how you see the world? Solomon's experiment was a search for meaning to life "under the sun." Then in last few words in Ecclesiastes he looks above the sun and brings God back into the picture: "The conclusion, when all has been heard, is: Fear God and keep His commandments, because this applies to every person. For God will bring every act to judgment."
You can hear DAVE HOPE and Kerry Livgren's stories from this youtube link:
(part 1 ten minutes)
__________
Kansas, circa 1973 (Phil Ehart, Kerry Livgren, Steve Walsh, Rich Williams, Robby Steinhardt, Dave Hope) (photo credit: DON HUNSTEIN)
(part 2 ten minutes)
There is evidence that points to the fact that the Bible is historically true as Schaeffer pointed out in episode 5 of WHATEVER HAPPENED TO THE HUMAN RACE? There is a basis then for faith in Christ alone for our eternal hope. This link shows how to do that.
_
__
Francis Schaeffer on pages 178 to 179 of volume 1 THE GOD WHO IS THERE asserted:
I do not believe that there is a leap of faith needed; there are good and sufficient reasons to know why Christianity is true–and more than that, that is the Bible's insistence. The Bible's emphasis is that there are good and sufficient reasons to know Christianity is true, so much so that we are disobedient and guilty if we do not believe it.
The Christian system (what is taught in the whole Bible) is a unity of thought. Christianity is not just a lot of bits and pieces–there is a beginning and an end, a whole system of truth, and this system is the only system that will stand up to all the questions that are presented to us as we face the reality of existence. Some of the other systems answer some of the questions but leave others unanswered. I believe it is only Christianity that gives the answers to all the crucial questions.
What are those questions? The questions are those which are presented to us as we face the reality of existence. God shuts us up to reality. We cannot escape the reality of what is, no matter what we say we believe or think.
This reality of which I speak falls into two parts: the fact that the universe truly exists and it has form, and then what I would call the "mannishness" of man–which is my own term for meaning that man is unique. People have certain qualities that must be explained.
God has shut up all people to these things, and I always like to go back to the statement of Jean-Paul Sartre, though he had no answer for his own statement, and that is that the basic philosophic question is that something is there. Things do exist, and this demands an explanation for their existence. I would then go beyond Sartre's statement to one by Albert Einstein. Einstein said that the most amazing thing about the universe is that we can know something truly about it.In other words, it has a form that is comprehensible, even though we cannot exhaust it. And then I would say beyond that–no matter what people say they are, they are what they are, that is, man is unique as made in the image of God. Any system of thought, to be taken seriously, has to at least try to explain these two great phenomena of the universe and man. In other words, we are talking about objective truth related to reality and not just something within our own heads.
Now I would like to add a corollary to this: in WHATEVER HAPPENED TO THE HUMAN RACE?, and especially the extensive notes of the fifth chapter, there is a third thing and that is the way the Bible measures up to history. Once we say that, this is very exciting. It is very exciting because other religions are not founded in history, they are "out there" somewhere, or you can think of them as inside of your own head–whichever way you are looking at it. On the other hand, the Bible claims to be rooted in history. Whether we are considering the history of the Old Testament, whether we are considering the history of Christ, including the resurrection, or Paul's journeys, it is insisted on as real history. So now we have three interwoven parts. Usually I have dealt with the twentieth-century person, but the third is also there. We have to face the reality of the universe and its having an existence and having a form. We have to face the reality in the uniqueness of man. We are able to discuss the fact that the Bible is rooted in history.
____
Schaeffer then points to the historical accuracy of the Bible:
The Bible and Archaeology – Is the Bible from God? (Kyle Butt 42 min)
You want some evidence that indicates that the Bible is true? Here is a good place to start and that is taking a closer look at the archaeology of the Old Testament times. Is the Bible historically accurate? Here are some of the posts I have done in the past on the subject: 1. The Babylonian Chronicle, of Nebuchadnezzars Siege of Jerusalem, 2. Hezekiah's Siloam Tunnel Inscription. 3. Taylor Prism (Sennacherib Hexagonal Prism), 4. Biblical Cities Attested Archaeologically. 5. The Discovery of the Hittites, 6.Shishak Smiting His Captives, 7. Moabite Stone, 8. Black Obelisk of Shalmaneser III, 9A Verification of places in Gospel of John and Book of Acts., 9B Discovery of Ebla Tablets. 10. Cyrus Cylinder, 11. Puru "The lot of Yahali" 9th Century B.C.E., 12. The Uzziah Tablet Inscription, 13. The Pilate Inscription, 14. Caiaphas Ossuary, 14 B Pontius Pilate Part 2, 14c. Three greatest American Archaeologists moved to accept Bible's accuracy through archaeology., 
____
Related posts: