On November 21, 2014 I received a letter from Nobel Laureate Harry Kroto and it said:
…Please click on this URL http://vimeo.com/26991975
and you will hear what far smarter people than I have to say on this matter. I agree with them.
Harry Kroto
I have attempted to respond to all of Dr. Kroto's friends arguments and I have posted my responses one per week for over a year now. Here are some of my earlier posts:
Arif Ahmed, Haroon Ahmed,  Jim Al-Khalili, Sir David Attenborough, Mark Balaguer, Horace Barlow, Michael Bate, Sir Patrick Bateson, Simon Blackburn, Colin Blakemore, Ned Block, Pascal Boyer, Patricia Churchland, Aaron Ciechanover, Noam Chomsky, Brian Cox, Partha Dasgupta,  Alan Dershowitz, Frank Drake, Hubert Dreyfus, John Dunn, Bart Ehrman, Mark Elvin, Richard Ernst, Stephan Feuchtwang, Robert Foley, David Friend,  Riccardo Giacconi, Ivar Giaever , Roy Glauber, Rebecca Goldstein, David J. Gross,  Brian Greene, Susan Greenfield, Stephen F Gudeman,  Alan Guth, Jonathan Haidt, Theodor W. Hänsch, Brian Harrison,  Stephen Hawking, Hermann Hauser, Robert Hinde, Roald Hoffmann,  Bruce Hood, Gerard 't Hooft, Caroline Humphrey, Nicholas Humphrey,  Herbert Huppert,  Gareth Stedman Jones, Steve Jones, Shelly Kagan, Michio Kaku,  Stuart Kauffman, Masatoshi Koshiba,  Lawrence Krauss, Harry Kroto, George Lakoff,  Rodolfo Llinas, Elizabeth Loftus,  Alan Macfarlane, Dan McKenzie,  Mahzarin Banaji, Peter Millican, Marvin Minsky, Leonard Mlodinow,  P.Z.Myers,   Yujin Nagasawa, Alva Noe, Douglas Osheroff, David Parkin,  Jonathan Parry, Roger Penrose,  Saul Perlmutter, Herman Philipse,  Carolyn Porco, Robert M. Price, VS Ramachandran, Lisa Randall, Lord Martin Rees, Colin Renfrew, Alison Richard,  C.J. van Rijsbergen,  Oliver Sacks, John Searle, Marcus du Sautoy, Simon Schaffer, J. L. Schellenberg,   Lee Silver,  Peter Singer,  Walter Sinnott-Armstrong, Ronald de Sousa, Victor Stenger, John Sulston, Barry Supple,   Leonard Susskind, Raymond Tallis, Max Tegmark, Neil deGrasse Tyson,  Martinus J. G. Veltman, Craig Venter, .Alexander Vilenkin, Sir John Walker, James D. Watson, Frank Wilczek, Steven Weinberg, and  Lewis Wolpert,
From Wikipedia, the free encyclopedia
Peter William Atkins FRSC (born 10 August 1940) is an English chemist and former Professor of Chemistry at the University of Oxford and a Fellow of Lincoln College. He is a prolific writer of popular chemistry textbooks, including Physical Chemistry, Inorganic Chemistry, and Molecular Quantum Mechanics. Atkins is also the author of a number of popular science books, including Atkins' Molecules, Galileo's Finger: The Ten Great Ideas of Science and On Being.
Atkins left school (Dr Challoner's Grammar School, Amersham) at fifteen and took a job at Monsanto as a laboratory assistant. He studied for A-levels by himself and gained a place, following a last-minute interview, at the University of Leicester.
Atkins studied chemistry there, obtaining a BSc degree in chemistry, and a PhD degree in 1964 for research into electron spin resonance spectroscopy, and other aspects of theoretical chemistry. Atkins then took a postdoctoral position at UCLA as a Harkness Fellow of the Commonwealth fund.[1] He returned to Britain in 1965 as a fellow and tutor of Lincoln College, Oxford, and lecturer in physical chemistry (later, professor of physical chemistry). In 1969, he won the Royal Society of Chemistry's Meldola Medal. He retired in 2007, and since then has been a full-time author.[2]
He has honorary doctorates from the University of Utrecht, the University of Leicester (where he sits on the university Court), Mendeleev University in Moscow, and Kazan State Technological University.
He was a member of the Council of the Royal Institution and the Royal Society of Chemistry. He was the founding chairman of IUPAC Committee on Chemistry Education, and is a trustee of a variety of charities.
Atkins has lectured in quantum mechanics, quantum chemistry, and thermodynamics courses (up to graduate level) at the University of Oxford. He is a patron of the Oxford University Scientific Society.
Views on religion
[
edit
]
Atkins is a well-known atheist.[3] He has written and spoken on issues of humanism, atheism, and the incompatibility of science and religion. According to Atkins, whereas religion scorns the power of human comprehension, science respects it.[4]
He was the first Senior Member of the Oxford University Secular Society, a Distinguished Supporter of the British Humanist Association and an Honorary Associate of the National Secular Society. He is also a member of the Advisory Board of The Reason Project, a US-based charitable foundation devoted to spreading scientific knowledge and secular values in society. The organisation is led by fellow atheist and author Sam Harris. Atkins has regularly participated in debates with theists such as Alister McGrath, Stephen C. Meyer, William Lane Craig,[5][6] Rabbi Shmuley Boteach,[7] and Richard Swinburne.
In December 2006, Atkins was featured in a UK television documentary on atheism called The Trouble with Atheism, presented by Rod Liddle. In that documentary Liddle asked Atkins: "Give me your views on the existence, or otherwise, of god". Atkins replied: "Well it's fairly straightforward: there isn't one. And there's no evidence for one, no reason to believe that there is one, and so I don't believe that there is one. And I think that it is rather foolish that people do think that there is one".[8]
Atkins is known for his use of astringent language in criticising religion: he appeared in the 2008 documentary Expelled: No Intelligence Allowed, in which he told interviewer Ben Stein that religion was "a fantasy", and "completely empty of any explanatory content. It is also evil".[9] He appeared on a television panel about science and religion with Richard Dawkins and Richard Swinburne. When the latter tried to explain the Holocaust as God's way of giving Jews the opportunity to be brave and noble, Atkins growled: "May you rot in hell".[10]
In 2007, Atkins's position on religion was described by Colin Tudge in an article in The Guardian as being non-scientific. In the same article, Atkins was also described as being 'more hardline than Richard Dawkins', and of deliberately choosing to ignore Peter Medawar's famous adage that "Science is the art of the soluble".[11]
Private life
[
edit
]
Atkins married Judith Kearton in 1964 and they had one daughter, Juliet (born 1970). They divorced in 1983. In 1991, he married fellow scientist Susan Greenfield (later Baroness Greenfield). They divorced in 2005. In 2008, he married Patricia-Jean Nobes (née Brand).
Quote from Dr. Atkins and my reaction to it today:
"I think a lot of theology is grappling with phantoms. So theologians have invented this almost self-consistent subject which has no contact with physical reality at all. And they invent all sorts of questions which they then taunt humanity with . One of them is cosmic purpose. They say 'there must be a purpose; you and your science can't explain it.' And typical of theologians, they don't respect the power of the human intellect anyway. And they infer that no one will ever understand it; it is ineffable; God's purpose cannot be discerned. And of course that's – those are fine words, but utterly meaningless–why should the thing have a purpose?" –Peter Atkins, world-reknowned Oxford professor of chemistry
In  the first video below in the 10th clip in this series are his words and  my response is below them is in a letter that I wrote to him a couple of years ago. Today is May 28, 2017 and I want to make a few additional comments concerning his quote. 
I had a close friend and relative who passed away on April 7, 2017. My friend's favorite sermon was called WHO IS JESUS? by Adrian Rogers and he gave hundreds of that CD copies away.  Let me share a little from that message but first let me give you some background information.
In 1979 I went  on a mission trip to Toronto and  then to Europe  with my good friend David Rogers. We were involved with the group  Operation Mobilization (OM). After the OM Mission Conference in Belgium,  David went to Austria and I went to England. In Manchester, England our group went to the homes of Muslims and Hindus and shared  the gospel.
Fast forward several years later, I  got involved in my family business, but David continued in  missions and  moved to Spain.
Now the illustration from the sermon WHO IS JESUS? by Adrian Rogers:
The other day we called our son David in Madrid, Spain. Momma Bear is burning up our telephone and our bill is going to be big, talking to David and Kelly and little Jonathan. It is an amazing thing that in Memphis,  Tennessee when she picks up a phone  she eliminates everyone that doesn't have a phone. And then when she dials the first digit that deals with the country Spain she eliminates all other countries. And then when she dials a couple more digits she eliminates all the other cities in Spain except Madrid. And then when she dials a couple more digits she eliminates a lot of people in a particular city in Spain. And then when she dials that last digit it eliminates every home except the very last home which belongs to our son David. 
That is amazing that there are billions of people in the world and  with a phone you can start closing the focus. My friend that is what the Old Testament does.
In Genesis 3, we read about the One who will bruise the head of the serpent. In Genesis 12, He is going to come from the seed of Abraham. In Genesis 22, we read about the sacrifice of Isaac on the very mountain where Jesus was later crucified! The entire book of Leviticus is filled with pictures of blood-atoning sacrifices for sin. You'll read about the prophetic crucifixion of Jesus in Psalm 22. In Micah 5:2, it is told clearly that Jesus will be born in Bethlehem. There is only one person on the end of the line and his name is Jesus. 
No wonder my friend chose the song YOURS WILL BE to be sung at his funeral. It blessed me tremendously today when I heard it sung. Look it up on You Tube "Yours will Be (The Only Name)"  by Big Daddy Weave:
Big Daddy Weave- The only name (Yours will be)
Yours will be
The only name that matters to me
The only one whose favor I seek
The only name that matters to me
Yours will be
The friendship and affection I need
To feel my Father smiling on me
The only name that matters to me
And Yours is the name, the name that has saved me
Mercy and grace, the power that forgave me and Your love
Is all I've ever needed
When I wake up in the Land of Glory
With the saints I will tell my story
There will be one name that I proclaim, Jesus, Jesus, Jesus, just that Name
The answer to find MEANING in life is found in putting your faith and trust in Jesus Christ. Just two days ago I attended a U2 concert in Dallas and I heard them sing the song I STILL HAVEN'T FOUND WHAT I'M LOOKING FOR. That  song was perplexing to me because in the song they claim to be believers in Christ, but they are still looking for satisfaction and meaning to their lives outside of Christ.
(Bono spent the day with George W. Bush at his ranch earlier in the day on May 26, 2017 before doing the concert for us that evening in Dallas)
(Brandon Barnard pictured below)
This morning in his sermon, Brandon Barnard, one of our teaching pastors at FELLOWSHIP BIBLE CHURCH noted concerning Hebrews 12:1-3:
We have to look to Jesus , the Founder and Perfecter of our faith. Jesus is the one who completes us. The problem is that many of us are looking to other things to give us joy, peace, hope, meaning and purpose in life. We are looking to relationships, leisure, hobbies and all these other places to fulfill us, but we should look to Jesus. 
U2 – I Still Haven't Found What I'm Looking For (Dallas 05.26.17) HD
50 Renowned Academics Speaking About God (Part 1)
Another 50 Renowned Academics Speaking About God (Part 2
A Further 50 Renowned Academics Speaking About God (Part 3)
December 25, 2014
Professor Peter Atkins, University of Oxford,
Dear Dr. Atkins,
I saw your debate with William Lane Craig on you tube and I read the transcript too and felt like it was one of the most competitive debate of that sort that I have ever seen. I also recently ran across this quote from you:
"I think a lot of theology is grappling with phantoms. So theologians have invented this almost self-consistent subject which has no contact with physical reality at all. And they invent all sorts of questions which they then taunt humanity with . One of them is cosmic purpose. They say 'there must be a purpose; you and your science can't explain it.' And typical of theologians, they don't respect the power of the human intellect anyway. And they infer that no one will ever understand it; it is ineffable; God's purpose cannot be discerned. And of course that's – those are fine words, but utterly meaningless–why should the thing have a purpose?" –Peter Atkins, world-reknowned Oxford professor of chemistry
I wanted to reference later in this letter the Book of Ecclesiastes which has a lot to say about this subject.
I spent a whole summer in England in 1979 and it was a very interesting experience for several reasons. I was part of the organization OPERATION MOBILIZATION and we were an Christian Evangelical group that in that summer went to the homes of Muslims and Hindus and shared the gospel with them in the Manchester area. I also spent some time in  London and got to attend All Souls Church, Langham Place, and hear the famous John Stott preach and I got to meet Michael Baughen who was the pastor (or Rector as you would say in England) at the time.  Three noteworthy events during that time and one was attending a MANCHESTER UNITED soccer game. Secondly, I met several people who had recently visited with Cat Stevens and they told me he had recently converted to Islam and changed with name to Yusuf Islam. Cat Stevens had performed the song "Morning Has Broken" a few years earlier and it was one of my favorite songs. Thirdly, I got depressed in August because the sun only came out about 4 or 5 times that whole summer in England.
Billy Graham with John Stott:
Cat Stevens pictured below:
SINCE YOU ARE INTO SOCCER (BRITISH FOOTBALL LIKE ALL BRITS ARE) THEN YOU MAY BE FAMILIAR WITH "EVERTON GOAL KEEPER TIM HOWARD?" He lives in Collierville, Tennessee in his off season time and my niece often sees him at the fitness club where they both belong. We are big fans of the sport. YOU NEED TO GET OUT AND SEE THAT MOVIE about Stephen Hawking called THE THEORY OF EVERYTHING because it was really good!!!
__
A great movie
On November 21, 2014 I received a letter from Nobel Laureate Harry Kroto  who I have been corresponding with and it said:
…Please click on this URL http://vimeo.com/26991975
and you will hear what far smarter people than I have to say on this matter. I agree with them.
Harry Kroto
__________________________
There are 3 videos in this series and they have statements by 150 academics and scientists and I saw that you were featured in this film series. I have been responding to some of the statements concerning God and I plan on responding to what you have said on this issue too.
I have taken a look at the lives of many atheists and I still find that they have this longing from inside to find God. Let me present you with some evidence that God exists and also discuss some of these atheists that am talking about.
I wanted to write you today for two reasons. First, I wanted to make some observations about the life of Carl Sagan and I would love to hear your thoughts on his life too.
Second, I wanted to point out some scientific evidence that caused Antony Flew to switch from an atheist (as you are now) to a theist.
Twenty years I had the opportunity to correspond with two individuals that were regarded as two of the most famous atheists of the 20th Century, Antony Flew and Carl Sagan. (I have enclosed some of those letters between us.) I had read the books and seen the films of the Christian philosopher Francis Schaeffer and he had discussed the works of both of these men. I sent both of these gentlemen philosophical arguments from Schaeffer in these letters and in the first letter I sent a cassette tape of my pastor's sermon IS THE BIBLE TRUE? (CD is enclosed also.) You may have noticed in the news a few years ago that Antony Flew actually became a theist in 2004 and remained one until his death in 2010. Carl Sagan remained a skeptic until his dying day in 1996.
(Francis Schaeffer pictured below)
You will notice in the enclosed letter from June 1, 1994 that Dr. Flew commented, "Thank you for sending me the IS THE BIBLE TRUE? tape to which I have just listened with great interest and, I trust, profit." It would be a great honor for me if you would take time and drop me a note and let me know what your reaction is to this same message.
On December 5, 1995, I got a letter back from Carl Sagan and I was very impressed that he took time to answer several of my questions and to respond to some of the points that I had made in my previous letters. I had been reading lots of his books and watching him on TV since 1980 and my writing today is a result of that correspondence. It is my conclusion that Carl Sagan died an unfulfilled man on December 20, 1996 with many of the big questions he had going unanswered.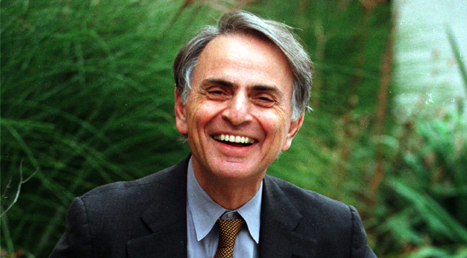 Much of Carl Sagan's aspirations and thoughts were revealed to a mass audience of movie goers just a few months after his death. The movie "CONTACT" with Jodie Foster and Matthew McConaughey  is a fictional story written by Sagan  about the SEARCH FOR EXTRATERRESTRIAL INTELLIGENCE (SETI). Sagan visited the set while it was filming and it was released on July 11, 1997 after his unfortunate death.
The movie CONTACT got me thinking about Sagan's life long hope to find a higher life form out in the universe and I was reminded of Dr. Donald E. Tarter of NASA who wrote me  in a letter a year or so earlier and stated, "I am not a theist. I simply and honestly do not know the answer to the great questions…This brings me to why I am interested in the SEARCH FOR EXTRATERRESTRIAL INTELLIGENCE (SETI)…Let me assure you, one of the first questions I would want to ask another intelligence if one were discovered is, DO YOU BELIEVE IN OR HAVE EVIDENCE OF A SUPREME INTELLIGENCE?"
Jim Fagan (Dr. Donald Tarter Video Interview)
Was Sagan ever satisfied with the answers he came up with in his life? It is my view that  true peace and satisfaction can come from a personal relationship with Christ and only in the Bible can we find absolute answers that touch this world we live in. The Apostle Paul was totally content when he wrote the book of Philippians from a jail in Rome right before he was beheaded (according to tradition). Paul observed, "Not that I am speaking of being in need, for I have learned in whatever situation I am to be content.  I know how to be brought low, and I know how to abound. In any and every circumstance, I have learned the secret of facing plenty and hunger, abundance and need.  I can do all things through him (Christ) who strengthens me" (Philippians 4:11-13). On March 11, 2012 my pastor Brandon Bernard at Fellowship Church Little Rock read that scripture and then commented:
Paul is reminding us that in every circumstance and in everything he has gone through that his satisfaction is found deeply in Christ. You think about this guy who is writing from prison. He is in this prison cell and it is a hardship in his life, but him of all people is saying that "I am writing to you but I am content and I am satisfied." That is a statement you don't hear from a lot of people these days… A lot of people are discontent and dissatisfied… Think about the poets from your generation or the generation before us. How about the deep theologians called "The Rolling Stones." Remember them. They wrote this song "I can't get no satisfaction." And you know what they say after that phrase? "And I try and I try and I try." I am not sure how deep most of their lyrics are, but they voice the cry of many people. "I can't get no satisfaction and I try and I am trying and I am trying."
What about one of those other poets by the name of Bono who wrote a song called, "I still haven't found what I am looking for." It is interesting. "I still haven't found what I am looking for." It has a nice melody to it but there is probably a reason why it is so popular because there is a lot of people deep down in their soul feel like they haven't found what they are looking for. It is true. What is so funny to me is that what is so desired is so elusive. 
(Bono with his band U 2 pictured below)
Rice Broocks in his book GOD'S NOT DEAD noted:
Astronomer Carl Sagan was a prolific writer and trustee of the SETI Institute (Search for Extraterrestrial Intelligence) founded in 1984 to scan the universe for any signs of life beyond earth. Sagan's best-selling work COSMOS also became an award-winning television series explaining the wonders of the universe and exporting the belief not in an intelligent Creator but in potential intelligent aliens. He believed somehow that by knowing who they are, we would discover who we as humans really are. "The very thought of there being other beings different from all of us can have a very useful cohering role for the human species" (quoted from you tube clip "Carl Sagan appears on CBC to discuss the importance of SETI [Carl Sagan Archives]" at the 7 minute mark, Oct 1988 ). Sagan reasoning? If aliens could have contacted us, knowing how impossible it is for us to reach them, they would have the answers we seek to our ultimate questions. This thought process shows the desperate need we have as humans for answers to the great questions of our existence. Does life have any ultimate meaning and purpose? Do we as humans have any more value than the other animals? Is there a purpose to the universe, or more specifically, to our individual lives?
Carl Sagan had to live  in the world that God made with the conscience that God gave him. This created a tension. As you know the movie CONTACT was written by Carl Sagan and it was about Dr. Arroway's SEARCH FOR EXTRATERRESTRIAL INTELLIGENCE (SETI) program and her desire to make contact with aliens and ask them questions. It is my view that Sagan should have examined more closely  the accuracy of the Bible and it's fulfilled prophecies from the Old Testament in particular before chasing after aliens from other planets for answers. Sagan himself had written,"Plainly, there's something within me that's ready to believe in life after death…If some good evidence for life after death was announced, I'd be eager to examine it; but it would have to be real scientific data, not mere antedote"(pp 203-204, The Demon Haunted World, 1995).
Sagan said he had taken a look at Old Testament prophecy and it did not impress him because it was too vague. He had taken a look at Christ's life in the gospels, but said it was unrealistic for God to send a man to communicate for God. Instead, Sagan suggested that God could have written a mathematical formula in the Bible or put a cross in the sky. However, what happens at the conclusion of the movie CONTACT?  This is Sagan's last message to the world in the form of the movie that appeared shortly after his death. Dr Arroway (Jodie Foster) who is a young atheistic scientist who meets with an alien and this alien takes the form of Dr. Arroway's father. The alien tells her that they thought this would make it easier for her. In fact, he meets her on a beach that resembles a beach that she grew up near so she would also be comfortable with the surroundings. Carl Sagan when writing this script chose to put the alien in human form so Dr. Arroway could relate to the alien. Christ chose to take our form and come into our world too and still many make up excuses for not believing.
(That evening she (future Dr. Arroway)  makes contact with a truck driver in Pensacola, Florida over her CB radio and she asks her Dad how far her radio can reach)
__
Lastly, Carl Sagan could not rid himself of the "mannishness of man." Those who have read Francis Schaeffer's many books know exactly what I am talking about. We are made in God's image and we are living in God's world. Therefore, we can not totally suppress the objective truths of our unique humanity. In my letter of Jan 10, 1996 to Dr. Sagan, I really camped out on this point a long time because I had read Sagan's  book SHADOWS OF FORGOTTON ANCESTORS  and in it  Sagan attempts to  totally debunk the idea that we are any way special.
However, what does Dr. Sagan have Dr. Arroway say at the end of the movie CONTACT when she is testifying before Congress about the alien that  communicated with her? See if you can pick out the one illogical word in her statement: "I was given a vision how tiny, insignificant, rare and precious we all are. We belong to something that is greater than ourselves and none of us are alone."
Dr Sagan deep down knows that we are special so he could not avoid putting the word "precious" in there. Francis Schaeffer said unbelievers are put in a place of tension when they have to live in the world that God has made because deep down they know they are special because God has put that knowledge in their hearts.We are not the result of survival of the fittest and headed back to the dirt forevermore. This is what Schaeffer calls "taking the roof off" of the unbeliever's worldview and showing the inconsistency that exists.
(Francis Schaeffer pictured below)
In several of my letters to Sagan I quoted this passage below:
Romans 1:17-22 (Amplified Bible)
17For in the Gospel a righteousness which God ascribes is revealed, both springing from faith and leading to faith [disclosed through the way of faith that arouses to more faith]. As it is written, The man who through faith is just and upright shall live and shall live by faith.18For God's [holy] wrath and indignation are revealed from heaven against all ungodliness and unrighteousness of men, who in their wickedness repress and hinder the truth and make it inoperative. 19For that which is known about God is evident to them and made plain in their inner consciousness, because God [Himself] has shown it to them. 20For ever since the creation of the world His invisible nature and attributes, that is, His eternal power and divinity, have been made intelligible and clearly discernible in and through the things that have been made (His handiworks). So [men] are without excuse [altogether without any defense or justification],21Because when they knew and recognized Him as God, they did not honor and glorify Him as God or give Him thanks. But instead they became futile and [a]godless in their thinking [with vain imaginings, foolish reasoning, and stupid speculations] and their senseless minds were darkened. 22Claiming to be wise, they became fools [professing to be smart, they made simpletons of themselves].
(Ravi Zacharias pictured below)
Can a man  or a woman find lasting meaning without God? Three thousand years ago, Solomon took a look at life "under the sun" in his book of Ecclesiastes. Christian scholar Ravi Zacharias has noted, "The key to understanding the Book of Ecclesiastes is the term 'under the sun.' What that literally means is you lock God out of a closed system, and you are left with only this world of time plus chance plus matter."
Let me show you some inescapable conclusions if you choose to live without God in the picture. Solomon came to these same conclusions when he looked at life "under the sun."
Death is the great equalizer (Eccl 3:20, "All go to the same place; all come from dust, and to dust all return.")
Chance and time have determined the past, and they will determine the future.  (Ecclesiastes 9:11-13 "I have seen something else under the sun:  The race is not to the swift
or the battle to the strong, nor does food come to the wise or wealth to the brilliant  or favor to the learned; but time and chance happen to them all.  Moreover, no one knows when their hour will come: As fish are caught in a cruel net, or birds are taken in a snare, so people are trapped by evil times  that fall unexpectedly upon them.")
Power reigns in this life, and the scales are not balanced(Eccl 4:1; "Again I looked and saw all the oppression that was taking place under the sun: I saw the tears of the oppressed—
and they have no comforter; power was on the side of their oppressors—  and they have no comforter." 7:15 "In this meaningless life of mine I have seen both of these: the righteous perishing in their righteousness,  and the wicked living long in their wickedness. ).
Nothing in life gives true satisfaction without God including knowledge (1:16-18), ladies and liquor (2:1-3, 8, 10, 11), and great building projects (2:4-6, 18-20).
There is no ultimate lasting meaning in life. (1:2)
By the way, the final chapter of Ecclesiastes finishes with Solomon emphasizing that serving God is the only proper response of man. Solomon looks above the sun and brings God back into the picture in the final chapter of the book in Ecclesiastes 12:13-14, " Now all has been heard; here is the conclusion of the matter: Fear God and keep his commandments, for this is the whole duty of man.  For God will bring every deed into judgment, including every hidden thing, whether it is good or evil."
The answer to find meaning in life is found in putting your faith and trust in Jesus Christ. The Bible is true from cover to cover and can be trusted. In 1978 I heard the song "Dust in the Wind" by Kansas when it rose to #6 on the charts. That song told me that Kerry Livgren the writer of that song and a member of Kansas had come to the same conclusion that Solomon had and that "all was meaningless." I remember mentioning to my friends at church that we may soon see some members of Kansas become Christians because their search for the meaning of life had obviously come up empty even though they had risen from being an unknown band to the top of the music business and had all the wealth and fame that came with that.

Livgren wrote, "All we do, crumbles to the ground though we refuse to see, Dust in the Wind, All we are is dust in the wind, Don't hang on, Nothing lasts forever but the Earth and Sky, It slips away, And all your money won't another minute buy."

Both Kerry Livgren and Dave Hope of Kansas became Christians eventually. Kerry Livgren first tried Eastern Religions and Dave Hope had to come out of a heavy drug addiction. I was shocked and elated to see their personal testimony on The 700 Club in 1981 and that same  interview can be seen on youtube today. Livgren lives in Topeka, Kansas today where he teaches "Diggers," a Sunday school class at Topeka Bible Church. Hope is the head of Worship, Evangelism and Outreach at Immanuel Anglican Church in Destin, Florida.

__

Thank you again for your time and I know how busy you are.

Everette Hatcher, everettehatcher@gmail.com, http://www.thedailyhatch.org, cell ph 501-920-5733, Box 23416, LittleRock, AR 72221