The Beatles in their song BLACKBIRD were taking  notice of the plight of the Blacks and their civil rights struggles in the USA in the 1960's. The song reminds me  of U2's song PRIDE and Dion's song ABRAHAM, MARTIN AND JOHN. Obviously Martin Luther King was the central leader of the Civil Rights Movement at this time and he was murdered  in Memphis just 2  months before the song was recorded by the Beatles. Paul McCartney wrote this song because it was a subject that had to be addressed!!! No wonder in the video THE AGE OF NON-REASON Francis Schaeffer noted that the Beatles did a great job of expressing exactly what people at the time were thinking and feeling in their songs.
How Should We then Live Episode 7 small (Age of Nonreason)
HowShouldweThenLive Episode 6
The Beatles – Blackbird (official video)
U2 – Pride (In The Name Of Love)
Dion — Abraham, Martin and John — Smothers Brothers Comedy Hour.
The Beatles – Blackbird Meaning
Martin Luther King noted in 1963 in his I HAVE A DREAM SPEECH: 
In a sense we've come to our nation's capital to cash a check. When the architects of our republic wrote the magnificent words of the Constitution and the Declaration of Independence, they were signing a promissory note to which every American was to fall heir. This note was a promise that all men, yes, black men as well as white men, would be guaranteed the "unalienable Rights" of "Life, Liberty and the pursuit of Happiness." It is obvious today that America has defaulted on this promissory note, insofar as her citizens of color are concerned. Instead of honoring this sacred obligation, America has given the Negro people a bad check, a check which has come back marked "insufficient funds."
But we refuse to believe that the bank of justice is bankrupt. We refuse to believe that there are insufficient funds in the great vaults of opportunity of this nation. And so, we've come to cash this check, a check that will give us upon demand the riches of freedom and the security of justice.
Francis Schaeffer asserted shortly before his death: 
The world view that the final reality is only material or energy shaped by pure chance, inevitably, (that's the next word I would bring to you ) mathematically — with mathematical certainty — brings forth all these other results which are in our country and in our society which have led to the breakdown in the country — in society — and which are its present sorrows. So, if you hold this other world view, you must realize that it is inevitable that we will come to the very sorrows of relativity and all these other things that are so represented in our country at this moment of history.
It should be noticed that this new dominant world view is a view which is exactly opposite from that of the founding fathers of this country. Now, not all the founding fathers were individually, personally, Christians. That certainly is true. But, nevertheless, they founded the country on the base that there is a God who is the Creator (now I come to the next central phrase) who gave the inalienable rights.
We must understand something very thoroughly. If society — if the state gives the rights, it can take them away — they're not inalienable. If the states give the rights, they can change them and manipulate them. But this was not the view of the founding fathers of this country. They believed, although not all of them were individual Christians, that there was a Creator and that this Creator gave the inalienable rights — this upon which our country was founded and which has given us the freedoms which we still have — even the freedoms which are being used now to destroy the freedoms.
The reason that these freedoms were there is because they believed there was somebody who gave the inalienable rights. But if we have the view that the final reality is material or energy which has existed forever in some form, we must understand that this view never, never, never would have given the rights which we now know and which, unhappily, I say to you (those of you who are Christians) that too often you take all too much for granted. You forget that the freedoms which we have in northern Europe after the Reformation (and the United States is an extension of that, as would be Australia or Canada, New Zealand, etc.) are absolutely unique in the world.
______________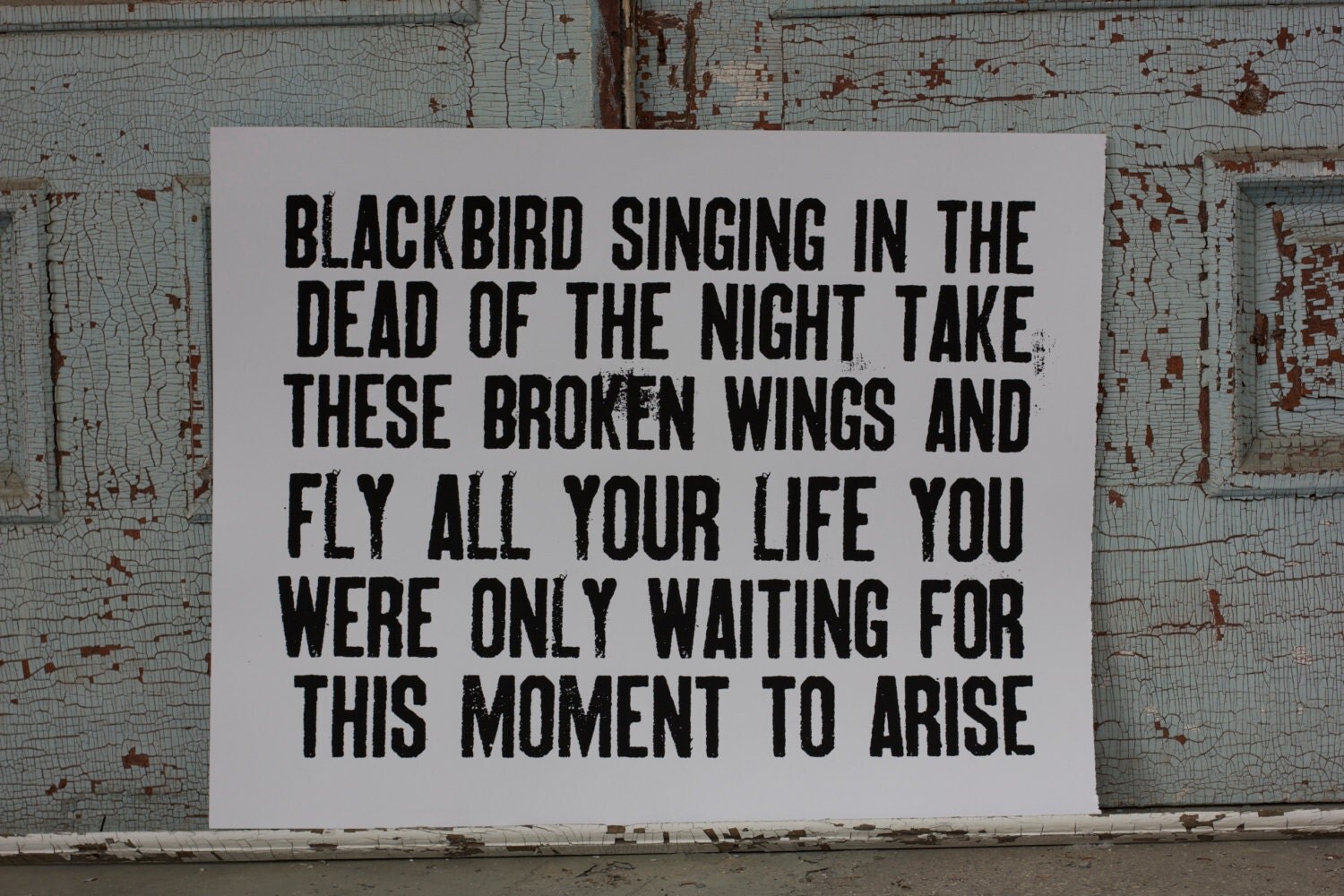 According to SONGFACTS.COM:
Paul McCartney wrote this about the civil rights struggle for blacks after reading about race riots in the US. He penned it in his kitchen in Scotland not long after Little Rock, when the federal courts forced the racial desegregation of the Arkansas capital's school system. McCartney told Mojo magazine October 2008: "We were totally immersed in the whole saga which was unfolding. So I got the idea of using a blackbird as a symbol for a black person. It wasn't necessarily a black 'bird', but it works that way, as much as then you called girls 'birds'; the Everlys had had Bird Dog, so the word 'bird' was around. 'Take these broken wings' was very much in my mind, but it wasn't exactly an ornithological ditty; it was purposely symbolic."
Paul McCartney 'Early Days'
Published on Jul 7, 2014
http://www.PaulMcCartney.com
'Early Days' is taken from Paul McCartney's 'NEW' album.
Get 'NEW':
From Amazon: http://smarturl.it/PMc_New_Album_Amzn
From iTunes: http://smarturl.it/PMnewiTunes
From Google Play: http://g.co/PlayPaulMcCartney
—
Early Days:
They can't take it from me if they try
I lived through those early days
So many times I had to change the pain to laughter
Just to keep from getting crazed
Dressed in black from head to toe
Two guitars across our backs
We would walk the city roads
Seeking someone who would listen to the music
That we were writing down at home
But they can't take it from me if they try
I lived through those early days
So many times I had to change the pain to laughter
Just to keep from getting crazy
Hair slicked back with Vaseline
Like the pictures on the wall
Of the local record shop
Hearing noises we were destined to remember
We willed the thrill to never stop
May sweet memories of friends from the past
Always come to you, when you look for them
And your inspiration, long may it last
May it come to you, time and time again
Now everybody seems to have their own opinion
Who did this and who did that
But as for me I don't see how they can remember
When they weren't where it was at
And they can't take it from me if they try
I lived through those early days
So many times I had to change the pain to laughter
Just to keep from getting crazed
I lived through those early days
I lived through those early days
Paul McCartney – Blackbird (Live)
From Wikipedia, the free encyclopedia
"Blackbird" is a Beatles song from the double-disc album The Beatles (known as the White Album). The song was written by Paul McCartney, though credited to Lennon–McCartney.
Origins
[
edit
]
McCartney explained on Chaos and Creation at Abbey Road, aired in 2005, that the guitar accompaniment for "Blackbird" was inspired by J.S. Bach's Bourrée in E minor, a well known lute piece, often played on the classical guitar.
The first night his future wife Linda Eastman stayed at his home, McCartney played "Blackbird" for the fans camped outside his house.[1]As teenagers, he and George Harrison tried to learn Bourrée as a "show off" piece. The Bourrée is distinguished by melody and bass notes played simultaneously on the upper and lower strings. McCartney adapted a segment of the Bourrée (reharmonised into the original's relative major key of G) as the opening of "Blackbird", and carried the musical idea throughout the song.
Meaning
[
edit
]
McCartney was inspired to write it while in Scotland as a reaction to racial tensions escalating in the United States in the spring of 1968.[2]
In May 2002, during a show at the Reunion Arena in Dallas, Texas as part of the Driving USA Tour supporting the Driving Rain album, McCartney spoke on stage about the meaning of the song. KCRW DJ Chris Douridas interviewed McCartney backstage afterwards for his radio show New Ground, and the meaning of the song was discussed.[3] This interview aired on KCRW on 25 May 2002.
I had been doing poetry readings. I had been doing some in the last year or so because I've got a poetry book out called Blackbird Singing, and when I would read "Blackbird", I would always try and think of some explanation to tell the people, 'cause there's not a lot you can do except just read the poem, you know, you read 10 poems that takes about 10 minutes, almost. It's like, you've got to, just, do a bit more than that. So, I was doing explanations, and I actually just remembered why I'd written "Blackbird", you know, that I'd been, I was in Scotland playing on my guitar, and I remembered this whole idea of "you were only waiting for this moment to arise" was about, you know, the black people's struggle in the southern states, and I was using the symbolism of a blackbird. It's not really about a blackbird whose wings are broken, you know, it's a bit more symbolic.— Paul McCartney, Interview with KCRW's Chris Douridas, 25 May 2002 episode of New Ground (17:50–19:00)
Also, before his solo acoustic guitar set during the Driving USA Tour, McCartney explained that "bird" is British slang for girl, making "blackbird" a synonym for 'black girl'. Near the end of the song's performance, a young black woman sang the lyrics, "You were only waiting for this moment to arrive, blackbird fly…", after which the program faded to a commercial.
In 2009, McCartney performed this song at the Coachella Valley Music and Arts Festival, commenting prior to singing it on how it had been written in response to the 1960s Civil Rights movement, and added, "It's so great to realise so many civil rights issues have been overcome."[4]
The Beatles – Blackbird (Subtitulada en español)
Composition and recording
[
edit
]
The song was recorded on 11 June 1968 in EMI Studios, with George Martin as the producer and Geoff Emerick as the audio engineer.[5] It is a solo performance with McCartney playing a Martin D 28 acoustic guitar. The track includes recordings of a male blackbird singing in the background.[5][6]
The accompaniment consists of guitar, tapping, and birdsong overdub. The tapping "has been incorrectly identified as a metronome in the past", according to engineer Geoff Emerick, who says it is actually the sound of Paul tapping his foot, which Emerick recalls as being mic'd up separately.[7] Footage included in the bonus content on disc two of the 2009 remaster of the album shows McCartney tapping both his feet alternately while performing the song.
The mono version contains bird sounds different from the stereo recording, and was originally issued on a mono incarnation of The Beatles (it has since been issued worldwide as part of The Beatles in Mono CD box set). The song appears on Love with "Yesterday", billed as "Blackbird/Yesterday". "Blackbird" provides an introduction to "Yesterday".
George Harrison Interview 2000 (rare!)
Personnel
[
edit
]
Cover versions
[
edit
]
| | |
| --- | --- |
| | This section needs additional citations for verification. (January 2014) |
"Blackbird" is, by one count, one of the top ten most recorded covers of all time.[8] The following artists have recorded "Blackbird" in a variety of styles (in alphabetical order):
_____________
Featured Photographer is Richard Avedon
Charlie Rose – Richard Avedon
Published on Feb 26, 2014
1999 Interview of photographer Richard Avedon by Charlie Rose. The first half of this episode of The Charlie Rose Show is an interview with photographer Annie Leibovitz here: http://bit.ly/1llyFo4
_________________
These first few people were on the cover of Sgt. Pepper's:
Marlene Dietrich, Actor, The Ritz, Paris, August 1955 © Richard Avedon
______________

Bob Dylan
__________________

Aldous Huxley
___________
Marilyn Monroe and Arthur Miller by Richard Avedon, New York, May 8, 1957
________________

William S. Burroughs
___________________
Below Paul by Richard Avedon
____________
Richard Avedon is mentioned at the 4:40 mark in the clip below:
Beatles Revolution #7-A
Richard Avedon below:
___________
___________
_____________________
_______________
_____________________________
______________
This shot of Ringo as Nero was taken by Richard Avedon on 29 January and used as illustration for a Daily Mail article titlled 'Hail, Ringo'. The pic was taken at Thomson House where Avedon later took his iconic image of the four Beatles on 11 August 1967 (used for the psychedelic Daily Express posters in 1968 and, of course, on the Love Songs album. The Beatles also came to thomson House to start the Mad Day out photo shoot on 28 July 1968. BTW, Thomson House is now the headquarters of the ITV media empire.
___________
Richard Avedon- Darkness and Light
Published on Sep 6, 2012
From the 1995 American Masters Series.
Let's kick off Once and For All February with a subject that hits on a large segment of the Hall's demographic, involving a favorite band, Rock Superpowers, and the all-important issues of Look. Let's determine—once and for all—The Beatles' Coolest Collective Look.
The nominees and the RTH People's Poll follow…after the jump!
Collarless Suits. What's more classic, more Beatle-esque than the original collarless suits? Next to the moptop hairdos (and the music, of course), those suits are most responsible for putting the band on the map.
Sgt. Pepper's. What's more classic, more Beatle-esque than the moustachioed Sgt. Pepper's Look? Any Beatles tribute band performance builds to a crescendo once the vaguely Beatles-looking members come back from a brief intermission in their colorful silk military suits and glue-on moustaches.
Rooftop Concert. The rooftop performance Look is heavy, man. Hair is blowing in the wind. Facial hair is in need of that snazzy electric razor favored by Adrien Brody, André 3000, and the Spanish guy from that overlooked gem of a movie The Science of Sleep. To top it off, they're wearing a mish-mash of women's fur coats, raincoats, green jeans, and proto-hipster sneaks!
Stoned Soul Picnic. The Rubber Soul album cover photo shoot caught the band on a day when they probably needed a haircut, but someone must have watched the weather report and realized that low humidity would allow for one more day of stoned shagginess.
Richard Avedon glossies. Fashion photographer Richard Avedon's White Album glossies capture a unique perspective on the boys: they are both immersed in their hippie-dom yet cleaned up and glammed up just enough to show their original guise as the fresh-faced lads they had been just a few years earlier.
Runners up (not eligible): Leonine (ie, when all 4 Beatles were bearded, which I don't believe was ever captured on camera simultaneously); Walrus/Eggman costumes; Beatles Dress Up Like The Band (ie, Beatles Again album cover)…
_____________
American photographer Richard Avedon was best known for his work in the fashion world and for his minimalist, large-scale character-revealing portraits.
American photographer Richard Avedon was best known for his work in the fashion world and for his minimalist portraits. He worked first as a photographer for the Merchant Marines, taking identification photos. He then moved to fashion, shooting for Harper's Bazaar and Vogue, demanding that his models convey emotion and movement, a departure from the norm of motionless fashion photography.
Profile
Richard Avedon was born on May 15, 1923 in New York City. His mother, Anna Avedon, came from a family of dress manufacturers, and his father, Jacob Israel Avedon, owned a clothing store called Avedon's Fifth Avenue. Inspired by his parents' clothing businesses, as a boy Avedon took a great interest in fashion, especially enjoying photographing the clothes in his father's store. At the age of 12, he joined the YMHA (Young Men's Hebrew Association) Camera Club.
Avedon later described one childhood moment in particular as helping to kindle his interest in fashion photography: "One evening my father and I were walking down Fifth Avenue looking at the store windows," he remembered. "In front of the Plaza Hotel, I saw a bald man with a camera posing a very beautiful woman against a tree. He lifted his head, adjusted her dress a little bit and took some photographs. Later, I saw the picture in Harper's Bazaar. I didn't understand why he'd taken her against that tree until I got to Paris a few years later: the tree in front of the Plaza had that same peeling bark you see all over the Champs-Elysees."
Avedon attended DeWitt Clinton High School in New York City, where one of his classmates and closest friends was the great writer James Baldwin. In addition to his continued interest in fashion and photography, in high school Avedon also developed an affinity for poetry. He and Baldwin served as co-editors of the school's prestigious literary magazine, The Magpie, and during his senior year, in 1941, Avedon was named "Poet Laureate of New York City High Schools." After high school, Avedon enrolled at Columbia University to study philosophy and poetry. However, he dropped out after only one year to serve in the United States Merchant Marine during World War II. As a Photographer's Mate Second Class, his main duty was taking identification portraits of sailors. Avedon served in the Merchant Marine for two years, from 1942 to 1944.
Upon leaving the Merchant Marine in 1944, Avedon attended the New School for Social Research in New York City to study photography under Alexey Brodovitch, the acclaimed art director of Harper's Bazaar. Avedon and Brodovitch formed a close bond, and within one year Avedon was hired as a staff photographer for the magazine. After several years photographing daily life in New York City, Avedon was assigned to cover the spring and fall fashion collections in Paris. While legendary editor Carmel Snow covered the runway shows, Avedon's task was to stage photographs of models wearing the new fashions out in the city itself. Throughout the late 1940s and early 1950s he created elegant black-and-white photographs showcasing the latest fashions in real-life settings such as Paris's picturesque cafes, cabarets and streetcars.
Already established as one of the most talented young fashion photographers in the business, in 1955 Avedon made fashion and photography history when he staged a photo shoot at a circus. The iconic photograph of that shoot, "Dovima with Elephants," features the most famous model of the time in a black Dior evening gown with a long white silk sash. She is posed between two elephants, her back serenely arched as she holds on to the trunk of one elephant while reaching out fondly toward the other. The image remains one of the most strikingly original and iconic fashion photographs of all time. "He asked me to do extraordinary things," Dovima said of Avedon. "But I always knew I was going to be part of a great picture."
Avedon served as a staff photographer for Harper's Bazaar for 20 years, from 1945 to 1965. In addition to his fashion photography, he was also well known for his portraiture. His black-and-white portraits were remarkable for capturing the essential humanity and vulnerability lurking in such larger-than-life figures as President Dwight D. Eisenhower, Marilyn Monroe, Bob Dylan and The Beatles. During the 1960s, Avedon also expanded into more explicitly political photography. He did portraits of civil rights leaders such as Dr. Martin Luther King Jr., Malcolm X and Julian Bond, as well as segregationists such as Alabama Governor George Wallace, and ordinary people involved in demonstrations. In 1969, he shot a series of Vietnam War portraits that included the Chicago Seven, American soldiers and Vietnamese napalm victims.
Avedon left Harper's Bazaar in 1965, and from 1966 to 1990 he worked as a photographer for Vogue, its chief rival among American fashion magazines. He continued to push the boundaries of fashion photography with surreal, provocative and often controversial pictures in which nudity, violence and death featured prominently. He also continued to take illuminating portraits of leading cultural and political figures, ranging from Stephen Sondheim and Toni Morrison to Hillary Clinton. In addition to his work for Vogue, Avedon was also a driving force behind photography's emergence as a legitimate art form during the 1960s, '70s and '80s. In 1959 he published a book of photographs, Observations, featuring commentary by Truman Capote, and in 1964 he published Nothing Personal, another collection of photographs, with an essay by his old friend James Baldwin.
In 1974 Avedon's photographs of his terminally ill father were featured at the Museum of Modern Art, and the next year a selection of his portraits was displayed at the Marlborough Gallery. In 1977, a retrospective collection of his photographs, "Richard Avedon: Photographs 1947-1977," was exhibited at the Metropolitan Museum of Art before beginning an international tour of many of the world's most famous museums. As one of the first self-consciously artistic commercial photographers, Avedon played a large role in defining the artistic purpose and possibilities of the genre. "The moment an emotion or fact is transformed into a photograph it is no longer a fact but an opinion," he once said. "There is no such thing as inaccuracy in a photograph. All photographs are accurate. None of them is the truth."
Richard Avedon married a model named Dorcas Nowell in 1944, and they remained married for six years before parting ways in 1950. In 1951, he married a woman named Evelyn Franklin; they had one son, John, before they also divorced.
In 1992, Avedon became the first staff photographer in the history of The New Yorker. "I've photographed just about everyone in the world," he said at the time. "But what I hope to do is photograph people of accomplishment, not celebrity, and help define the difference once again." His last project for The New Yorker, which remained unfinished, was a portfolio entitled "Democracy" that included portraits of political leaders such as Karl Rove and John Kerry as well as ordinary citizens engaged in political and social activism.
Richard Avedon passed away on October 1, 2004, while on assignment forThe New Yorker in San Antonio, Texas. He was 81 years old.
One of the greatest photographers of the 20th century, Richard Avedon expanded the genre of photography with his surreal and provocative fashion photography as well as portraits that bared the souls of some of the most important and opaque figures in the world. Avedon was such a predominant cultural force that he inspired the classic 1957 film Funny Face, in which Fred Astaire's character is based on Avedon's life. While much has been and continues to be written about Avedon, he always believed that the story of his life was best told through his photographs. Avedon said, "Sometimes I think all my pictures are just pictures of me. My concern is… the human predicament; only what I consider the human predicament may simply be my own."
______________
___________
Groucho Marx by Richard Avedon
_______________
__________
Buster Keaton, comedian, New York, September 1952. Photo Richard Avedon
______________
Dwight-Eistenhower
Richard Avedon Foundation. Eli Reed. 'Tupac Shakur' 1992 (printed 2013)
Richard Avedon. Charlie Chaplin Leaving America. NYC, September 13 1952
___________
Good luck keeping your $#!% together when you walk into a room and see Jackie O., Malcolm X, Elizabeth Taylor, Tina Turner, Truman Capote, Janis Joplin, Katharine Hepburn, and Andy Warhol all in the same place.  Perhaps one of the most striking photography exhibitions in modern history, the SF MoMA's Richard Avedon retrospective in 2009 was the first comprehensive retrospective of the American photographer since his death in 2004.  Titled "Richard Avedon: Photographs 1946-2004," the exhibit focused purely on Avedon's black and white photographs spanning his fifty+ year career, from pieces that graced the pages of Vogue to a portrait series of rural, Midwestern farm hands, carneys and beekeepers.
Born to a Russian Jewish family in New York City in 1923, Avedon began his career in his 20s in commercial and fashion photography, producing shots for Harper's Bazaar, and soon after for Vogue and Life Magazine.
Funny Face – trailer (1956) AUDREY HEPBURN
Though he began his career in fashion photography, as he became a more established artist his interests  meandered to the movers and shakers of the American political and social scene.  Many of Avedon's iconic photos depict some of the most famous models, actresses and actors, politicians, writers and artists in modern history.  In most cases, however, Avedon tried to capture a version of each person that is stripped of the Hollywood or political branding and bravado, instead aiming to represent basic human emotions and relatable expressions.
Keep in mind that the vast majority of the work reproduced below was originally produced on a larger-than-life scale, some reaching 8 by 10 feet or larger.
Even if you had no idea who these people were or what they did for a living, each portrait could give you a pretty good idea based on how Avedon chose to represent them.  The combination of the simple background with the close-up details and epic proportions of each photograph force your eyes to focus sharply on each facial expression and body movement; You notice the wrinkles around the lips of the trumpeter, the musician's easy posture, a wife's admirative stare, the grin and outstretched hand of a budding politician.
"He was trying to cut to the heart of the matter…to understand what people's lives were really like under force of pressure.  His work, in a way, strips away the masks that we all wear, and in doing so reveals a kind of deeper humanity.  I think that when photographers today, or artists or writers or the public at large, look at his photographs, that this is what they'll really be able to take away from the work: this penetrating of the masks that we all wear in order to hide ourselves."  -Paul Roth, curator of Photography at Corcoran Gallery in Washington D.C.
Famous for saying, "All photographs are accurate.  None of them is the truth.", Avedon understood that photography is an art of collaboration between a photographer and his subject, with push and pull, give and take from each.  He enjoyed using stories to evoke specific reactions from his subjects and to play with their emotions, allowing him to capture the expressions he wanted to show.
Take, for example, his photo shoot with the Duke and Duchess of Windsor.  Here is a photo of the duo taken in the Bahamas by the The Vancouver Sun in 1940 (not by Avedon):
Infamous for abdicating the throne to marry the woman he loved, Edward VIII was given the title Duke of Windsor, and his new wife Wallis Simpson became the Duchess of Windsor upon their marriage in the 1930s.  Wallis was an American socialite with two living ex-husbands (the second divorce was not finalized when she met Edward VIII)–hardly a suitable companion for a British monarch.  In addition to the initial political uproar that their romance caused in Britain,  during the Second World War the Duke and Duchess of Windsor were also suspected by many to be Nazi sympathizers.
Avedon knew that these political and socialite subjects were no strangers to being photographed, and that they were likely expecting a classic "stock photo shoot."  As they sat down in front of the camera, and with the knowledge that they were avid Pug lovers, Avedon told them that on his way to meet them that day, his taxi had run over and killed a dog.
The following expression ensued:

The Duke and Duchess of Windsor, Waldorf Astoria, Suite 28A, New York, April 16, 1957
In the late 1970s and early 1980s, Avedon's focus shifted from celebrity portraits to documenting "working class" Americans.  He created a series, eventually published into an exhibition catalogue, called "In the American West: 1979-1984."
Avedon himself said, during his transition from celebrity and fashion photographer  to "staff photographer" (ha!) at U.S.A. Today:
"I've photographed just about everyone in the world…but what I hope to do is photograph people of accomplishment, not celebrity, and help define the difference once again."
In lieu of me posting a million (or two) additional mesmerizing Avedon portraits, check out The Richard Avedon Foundation's website, which keeps his artwork and legacy alive in truly stunning photo displays, as well as in arts institutions worldwide.
________________
Salvador Dalí and Dovima, New York, January 1963Photographer: Richard Avedon
☛ Evidence 1944-1994 by Richard Avedon, Random House, 1994, p. 151: "Avedon's 8″ x 10″ portrait of his son, his father, and himself during a visit to Jacob Avedon's home in Sarasota, Florida, August 9, 1969". © Richard Avedon Foundation.
This is the portrait of three different generations of men from the same family, each of them moving through life at different speed and in different direction, immobilized for a fraction of a second within the same frame.
From left to right: John Avedon, Jacob Israel Avedon (died in 1973) and Richard Avedon (died in 2004). The complete series of photos Richard Avedon took of his father can be found online at The Richard Avedon Foundation website.
palonka: photo of Coco Chanel by Richard Avedon via Accro de la Mode
____________
PATTI HANSEN aka Ms KEITH RICHARDS – Richard Avedon (1977) (Via superseventies)
George Bush below:
Henri Cartier-Bresson – Photographer Richard Avedon, Carmel Snow and Marie-Louise Bousquet, Paris 1951
Legendary American fashion photographer Richard Avedon who revolutionized the industry during his 60-year-long career (until his death in 2004) has taken tens upon thousands of the most well-done and well-known photographs. He is also famous for saying, "Think about the dream of Paris that everyone has. I helped invent that dream." To honor this icon, theBoston Museum of Fine Arts is hosting a traveling exhibition of Avedon's works entitled Avedon Fashion 1944-2000 which runs through January 17 2011.
Whether it be his photos of 15-year-old Brooke Shields in the controversial Calvin Klein Jeans campaign, his portraits of Andy Warhol, The Beatles, Audrey Hepburn, Elizabeth Taylor, Bob Dylan, his tenure at Harper's Bazaar, US Vogue and Life, or his photos for Gianni Versace, Richard Avedon's name has been synonymous with fashion since the 1940s.
Brooke Shields, Calvin Klein Jeans, 1981

Andy Warhol, Jay Johnson and Candy Darling, New York, August 20, 1969

Audrey Hepburn, evening wear by Balmain, Dior, Patou, at Maxim's, Paris, 1957
Born in New York City in the 1920s, Richard Avedon was fascinated since childhood by the art of photography, and the power that it has to portray clothes and women. He realized this as he grew up watching his father's business (a women's clothing store). Dropping out of Columbia University, Avedon began his career as a photographer for the Merchant Marines in 1942, followed by shooting advertisements for a department store. He soon caught the eye of Harper's Bazaar's creative director, eventually leading him to occupy the role of chief photographer for the magazine. During this time, Avedon opened up his own studio and began working on assignments for US Vogue and Life magazine.
Dorian Leigh, evening dress by Piguet, Paris, August 1949

Marilyn Monroe, New York City, May 6, 1957

Dovima with elephants, evening dress by Dior, Cirque d'Hiver, 1955
In 1966, Avedon followed famous editor Diana Vreeland when she left Harper's Bazaar for Vogue; he subsequently became the staff photographer at Vogue until Anna Wintour's entry in 1988. He was also the star photographer year after year for the Gianni Versace label circa the 1980s. Numerous 1990s supermodels such as Linda Evangelista, Naomi Campbell, Christy Turlington, Stephanie Seymour and Cindy Crawford were featured in his photos. These images are now considered precious collectibles.
Christy Turlington, Linda Evangelista & Paulina Porizkova for Gianni Versace, 1988

Christy Turlington & Linda Evangelista for Gianni Versace, 1987

Karen Elson for Versace Couture, 1997
At a time, when fashion photographers followed de rigeur of asking models to remain still and emotionless in order to emphasize the clothes, Avedon went against the grain, asking models to jump, laugh, run down the street and wear rollerblades. He is said to have been able to animate the clothes via the model unlike any other photographer.
Model Carmen, coat by Cardin, Paris, August 1957

Richard Avedon with Twiggy in the 1960s

Stephanie Seymour, dress by Chanel, Paris, 1995
Richard Avedon was not only responsible for animating designers' creations, but his photos of Paris can be said to hold testament to his self-proclaimed statement regarding the invention of the dreamy vision of Paris that exists today. As he frequented Paris in the latter half of the 1940s on Harper's Bazaar assignments, Avedon began taking multiple series of photos of bleak Post-World War II Paris. However instead of showing a disheartened, gray city, he showed models skipping on the sidewalks, showing a real sense of joie de vivre.
Models Elise & Monique, hats by Schiaparelli, Cafe de Flore, Paris, August 1948

Suzy Parker & Robin Tattersall, evening dress by Grès, Moulin Rouge, Paris, 1957

Christian Bérard & Renée, suit by Dior, Le Marais, Paris, 1947
He found a way to take designers' creations, be it Dior or Balenciaga, depict a woman wearing these clothes with sophistication, and then involve her with an element of the city, be it at the Moulin Rouge, or watching street performers in the Marais or outside the many cafes that line the Parisian sidewalks.
Although Avedon did take non-fashion photographs as well, the Avedon Fashion exhibition explores only one aspect of his multi-faceted talent. The exhibition runs at the Boston Museum of Fine Arts until January 17, 2011.
Images from TFS & The Richard Avedon Foundation.
From Wikipedia, the free encyclopedia
Richard Avedon (May 15, 1923 – October 1, 2004) was an American fashion and portrait photographer. An obituary published in The New York Times said that "his fashion and portrait photographs helped define America's image of style, beauty and culture for the last half-century".[1]
Personal life and death
[
edit
]
In 1944, Avedon married 19-year-old bank teller Dorcas Marie Nowell who later became the model and actress Doe Avedon; they did not have children and divorced in 1949.[27] In 1951, he married Evelyn Franklin; she died on March 13, 2004.[28] Their marriage produced one son, John Avedon, who has written extensively about Tibet.[29][30][31] [32]
In 1970, Avedon purchased a former carriage house on the Upper East Side that would serve as both his studio and his apartment.[33] In the late 1970s, he purchased a four-bedroom house on a 7.5-acre (3.0 ha) estate in Montauk, nestled between the Atlantic Ocean and a nature preserve; in 1998, he put the place on the market for $10 million and sold it for almost $9 million in 2000.[32][34]
On October 1, 2004, Avedon died in a San Antonio, Texas hospital of complications from a cerebral hemorrhage. He was in San Antonio shooting an assignment for The New Yorker. At the time of his death, he was also working on a new project titled Democracy to focus on the run-up to the 2004 U.S. presidential election.[1]
The Richard Avedon Foundation is a private operating foundation, structured by Avedon during his lifetime. It began its work shortly after his death in 2004. Based in New York, the foundation is the repository for Avedon's photographs, negatives, publications, papers, and archival materials.[35] In 2006, Avedon's personal collection was shown at the Pace/MacGill Gallery, New York, and at the Fraenkel Gallery, San Francisco, and later sold to benefit the Avedon Foundation. The collection included photographs by Martin Munkacsi, Edward Steichen and Man Ray, among others. A slender volume, Eye of the Beholder: Photographs From the Collection of Richard Avedon (Fraenkel Gallery), assembles the majority of the collection in a boxed set of five booklets: "Diane Arbus," "Peter Hujar", "Irving Penn", "The Countess de Castiglione" and "Etcetera," which includes 19th- and 20th-century photographers.[36]
In popular culture
[
edit
]
Hollywood presented a fictional account of his early career in the 1957 musical Funny Face, starring Fred Astaire as the fashion photographer "Dick Avery." Avedon supplied some of the still photographs used in the production, including its most famous single image: an intentionally overexposed close-up of Audrey Hepburn's face in which only her famous features – her eyes, her eyebrows, and her mouth – are visible.
Hepburn was Avedon's muse in the 1950s and 1960s, and he went so far as to say: "I am, and forever will be, devastated by the gift of Audrey Hepburn before my camera. I cannot lift her to greater heights. She is already there. I can only record. I cannot interpret her. There is no going further than who she is. She has achieved in herself her ultimate portrait."[37]
Famous photographs
[
edit
]
Marella Agnelli, Italian socialite, 1953
Carmen Mayrink Veiga, Brazilian socialite (Vogue's 10 best dressed), 1970
Dovima with Elephants, 1955
Marilyn Monroe, actress, 1957
Homage to Munkacsi, Carmen, coat by Cardin, Paris, 1957
Brigitte Bardot, actress, 1959
Jacqueline de Ribes, 1961
Christina Bellin, model, 1962
Kareem Abdul-Jabbar (Lew Alcindor), athlete 1963
Dwight David Eisenhower, President of the United States, 1964
The Beatles, 1967
Andy Warhol and Members of the Factory, New York, 1969
Asha Puthli, (She Loves to Hear the Music Album back cover), 1974
Ronald Fischer, beekeeper, 1981
Nastassja Kinski and the Serpent, 1981 [38]
Pile of beautiful people, Versace campaign, 1982
_______________

Alberto Giacometti
________________

J. Robert Oppenheimer
____________
Ronald Reagan by Richard Avedon
Merce Cunningham, choreographer, New York, February 17, 1993
_______________
__________
Arnold Schwarzenegger, actor, Republican candidate for Governor of California, New York, June
_____________

Truman Capote
_________________


Richard Avedon with Francis Bacon
____________

Willem de Kooning
___________

Ronald Reagan
___________________

Patti Smith
____________

Janis Joplin
____________

John and Jackie Kennedy
__________

Andy Warhol and Group
_____________
–
Francis Schaeffer's favorite album was SGT. PEPPER"S and he said of the album "Sergeant Pepper's Lonely Hearts Club Band…for a time it became the rallying cry for young people throughout the world. It expressed the essence of their lives, thoughts and their feelings."  (at the 14 minute point in episode 7 of HOW SHOULD WE THEN LIVE? ) 
How Should We Then Live – Episode Seven – 07 – Portuguese Subtitles
Francis Schaeffer
______
Related posts: