_
The Beatles are featured in this episode below by Francis Schaeffer:
The Beatles were looking for lasting satisfaction in their lives and their journey took them down many of the same paths that other young people of the 1960's were taking INCLUDING THE PATH OF PSYCHEDELIC MUSIC AND FRAGMENTATION. No wonder in the video THE AGE OF NON-REASON Schaeffer noted,  " Sergeant Pepper's Lonely Hearts Club Band…for a time it became the rallying cry for young people throughout the world. It expressed the essence of their lives, thoughts and their feelings." 
_____
Francis Schaeffer correctly noted:
In this flow there was also the period of psychedelic rock, an attempt to find this experience without drugs, by the use of a certain type of music. This was the period of the Beatles' Revolver (1966) and Strawberry Fields Forever (1967). In the same period and in the same direction was Blonde on Blond (1966) by Bob Dylan….No great illustration could be found of the way these concepts were carried to the masses than "pop" music and especially the work of the BEATLES. The Beatles moved through several stages, including the concept of the drug and psychedelic approach. The psychedelic began with their records REVOLVER, STRAWBERRY FIELDS FOREVER, AND PENNY LANE. This was developed with great expertness in their record SERGEANT PEPPER'S LONELY HEARTS CLUB BAND in which psychedelic music, with open statements concerning drug-taking, was knowingly presented as a religious answer. 
Top 30 Psychedelic Beatles Songs
From Wikipedia, the free encyclopedia
"Because" is a song written by John Lennon[1] (credited to Lennon–McCartney) and recorded by the Beatles in 1969. It features a prominent three-part vocal harmony by Lennon, Paul McCartney, and George Harrison, overdubbed twice to make nine voices in all. It first appeared on Abbey Road (1969), immediately preceding the extended medley on side two of the record.
Composition
[
edit
]
The song begins with a distinctive electric harpsichord intro played by producer George Martin. The harpsichord is joined by Lennon's guitar (mimicking the harpsichord line) played through a Leslie speaker. Then vocals and bass guitar enter.
"Because" was one of few Beatles recordings to feature a Moog synthesiser, played by George Harrison. It appears in what Alan Pollack refers to as the "mini-bridge",[2] and then again at the end of the song.
According to Lennon, the song's close musical resemblance to the first movement of Ludwig van Beethoven's Moonlight Sonata was no coincidence: "Yoko was playing Beethoven's 'Moonlight Sonata' on the piano … I said, 'Can you play those chords backwards?', and wrote 'Because' around them. The lyrics speak for themselves … No imagery, no obscure references."[1][3]
Musical structure
[
edit
]
With regard to the controversy Lennon initiated by citing Beethoven's "Moonlight Sonata" as an inspiration, musicologist Walter Everett notes that "both arpeggiate triads and seventh chords in C♯ minorin the baritone range of a keyboard instrument at a slow tempo, move through the submediant to ♭II and approach vii dim7/IV via a common tone."[4] But while acknowledging the unusual shared harmonies, Dominic Pedler notes that the relationship is not the result of reversing the order of the chords as Lennon suggested.[5]
"Because" concludes with a vocal fade-out on D dim, which keeps listeners in suspense as they wait for the return to the home key of C♯ minor. Mellers states that: "causality is released and there is no before and no after: because that flat supertonic is a moment of revelation, it needs no resolution."[6] The D dim chord (and its accompanying melodic F♮) lingers until they resolve into the opening Am7 chord of "You Never Give Me Your Money".
Recording
[
edit
]
George Martin on "Because":[7]
Between us, we also created a backing track with John playing a riff on guitar, me duplicating every note on an electronic harpsichord, and Paul playing bass. Each note between the guitar and harpsichord had to be exactly together, and as I'm not the world's greatest player in terms of timing, I would make more mistakes than John did, so we had Ringo playing a regular beat on hi-hat to us through our headphones.
The main recording session for "Because" was on 1 August 1969, with vocal overdubs on 4 August, and a double-tracked Moog synthesiser overdub by Harrison on 5 August.[8] As a result, this was the last song on the album to be committed to tape, although there were still overdubs for other incomplete songs. This approach took extensive rehearsal, and more than five hours of extremely focused recording, to capture correctly. McCartney and Harrison both said it was their favourite track on Abbey Road. "They knew they were doing something special," said engineer Geoff Emerick, "and they were determined to get it right." [9] Versions of the song without instrumentation can be found on 1996's Anthology 3 and 2006's Love. Both versions highlight the three-part harmony by Lennon, McCartney and Harrison, though the Love version is lengthened and includes overdubbed birdsong from "Across the Universe".
Personnel
[
edit
]
Personnel per Ian MacDonald[10]
Cover versions
[
edit
]
External links
[
edit
]
[hide]
Songs
Related articles
Tribute albums
______
_____________
Previously unseen footage of The Beatles shot during the making of a documentary about the Fab Four's Magical Mystery Tour film has been made available .
___________
Magical Mystery Tour beatles on bus
______________
_
The Beatles – In my Life
Published on Feb 25, 2011
Here Comes The Sun – The Beatles Tribute
Not sung by George but good nonetheless!!
Francis Schaeffer's favorite album was SGT. PEPPER"S and he said of the album "Sergeant Pepper's Lonely Hearts Club Band…for a time it became the rallying cry for young people throughout the world. It expressed the essence of their lives, thoughts and their feelings."  (at the 14 minute point in episode 7 of HOW SHOULD WE THEN LIVE? ) 
How Should We Then Live – Episode Seven – 07 – Portuguese Subtitles
Francis Schaeffer
_
_
The Beatles – Revolution
Published on Oct 20, 2015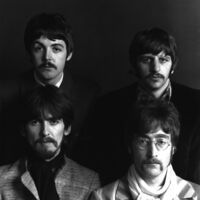 _
Today's featured artist is John Baldessari
John Baldessari's Beethoven's Trumpet (with Ear) Opus #132, 2007 is currently on view in Crystal Bridges' 1940s to Now gallery. A popular artwork with children, the sculpture plays Beethoven when you clap or speak into the large ear-trumpet.  Baldessari has created a huge body of work in many media over his career.
Today is Baldessari's birthday; he was born June 17, 1931.  I could write a pithy post about John Baldessari's work and career, but I just don't think there's any better overview than the short video below, narrated by the inimitable Tom Waits.
Watch carefully and you'll see Beethoven's Trumpet (with Ear) Opus #132 in this video, as well as Baldessari's cool Still Life app, which we are currently using in our interactive gallery adjacent to the American Encounters: The Simple Pleasures of Still Life exhibition.
American Collagist, Painter and Photographer
Movements: Conceptual Art, The Pictures Generation
Born: June 17, 1931 – National City, California
QUOTES
"If I saw the art around me that I liked, then I wouldn't do art."
"I guess a lot of it's just lashing out, because I didn't know how to be an artist, and all this time spent alone in the dark in these studios and importing my culture and constant questions. I'd say, 'Well, why is this art? Why isn't that art?'"
Synopsis
John Baldessari is renowned as a leading Californian Conceptual artist. Painting was important to his early work: when he emerged, in the early 1960s, he was working in a gestural style. But by the end of the decade he had begun to introduce text and pre-existing images, often doing so to create riddles that highlighted some of the unspoken assumptions of contemporary painting – as he once said, "I think when I'm doing art, I'm questioning how to do it." And in the 1970s he abandoned painting altogether and made in a diverse range of media, though his interests generally centered on the photographic image. Conceptual art has shaped his interest in exploring how photographic images communicate, yet his work has little of the austerity usually associated with that style; instead he works with light humor, and with materials and motifs that also reflect the influence of Pop art. Baldessari has also been a famously influential teacher. His ideas, and his relaxed and innovative approach to teaching, have made an important impact on many, most notably the so-called Pictures Generation, whose blend of Pop and Conceptual art was prominent in the 1980s.
Key Ideas
Baldessari first began to move away from gestural painting when he started to work with materials from billboard posters. It prompted him to analyze how these very popular, public means of communication functioned, and it could be argued that his work ever since has done the same. He invariably works with pre-existing images, often arranging them in such a way as to suggest a narrative, yet the various means he employs to distort them – from cropping the images, to collaging them with unrelated images, to blocking out faces and objects with colored dots – all force us to ask how and what the image is communicating.
A crucial development in Baldessari's work was the introduction of text to his paintings. It marked, for him, the realization that images and texts behave in similar ways – both using codes to convey their messages. Text began to disappear from his work in the early 1970s, and since then he has generally relied on collage, but his work has continued to operate with the same understanding of the coded character of images. Typically, he collages together apparently unrelated categories of image or motif, yet the result is to force us to recognize that those images often communicate similar messages.
On a visit to the Metropolitan Museum in New York in 1965, Baldessari was struck by the use of unpainted plaster to fill in missing shards of Greek vases. This prompted his interest in how images are effected by having portions removed or blotted out, and he has continued to explore this ever since. Often, the result of his alterations to photographs is to render them generic, suggesting to us that rather than capturing a special moment, or unusual event, photographs often communicate very standardized messages.
Most Important Art
I Am Making Art (1971)

In this video piece, Baldessari makes several arm movements, reciting the phrase, "I am making art," after each gesture. Baldessari has always been conscious of the power of choice in artistic practice – like choosing to paint something red rather than blue, for example. Here, he carefully associates the choice of arm movements with the artistic choices that a painter or sculptor may make, concluding that choice is a form of art in itself. But he also confronts one of the fascinating problems that unpinned the work of many early Conceptual artists: how much can art be reduced and simplified before it stops being art at all? Baldessari offers no definitive answer, but he suggests that the gap between art and the ordinary, between art and life, may be imperceptible.

Performance video. © John Baldessari
–
Francis Schaeffer's favorite album was SGT. PEPPER"S and he said of the album "Sergeant Pepper's Lonely Hearts Club Band…for a time it became the rallying cry for young people throughout the world. It expressed the essence of their lives, thoughts and their feelings."  (at the 14 minute point in episode 7 of HOW SHOULD WE THEN LIVE? ) 
How Should We Then Live – Episode Seven – 07 – Portuguese Subtitles
Francis Schaeffer
______
E P I S O D E 1 0   Dr. Francis Schaeffer – Episode X – Final Choices 27 min FINAL CHOICES I. Authoritarianism the Only Humanistic Social Option One man or an elite giving authoritative arbitrary absolutes. A. Society is sole absolute in absence of other absolutes. B. But society has to be […]
E P I S O D E 9 Dr. Francis Schaeffer – Episode IX – The Age of Personal Peace and Affluence 27 min T h e Age of Personal Peace and Afflunce I. By the Early 1960s People Were Bombarded From Every Side by Modern Man's Humanistic Thought II. Modern Form of Humanistic Thought Leads […]
E P I S O D E 8 Dr. Francis Schaeffer – Episode VIII – The Age of Fragmentation 27 min I saw this film series in 1979 and it had a major impact on me. T h e Age of FRAGMENTATION I. Art As a Vehicle Of Modern Thought A. Impressionism (Monet, Renoir, Pissarro, Sisley, […]
E P I S O D E 7 Dr. Francis Schaeffer – Episode VII – The Age of Non Reason I am thrilled to get this film series with you. I saw it first in 1979 and it had such a big impact on me. Today's episode is where we see modern humanist man act […]
E P I S O D E 6 How Should We Then Live 6#1 Uploaded by NoMirrorHDDHrorriMoN on Oct 3, 2011 How Should We Then Live? Episode 6 of 12 ________ I am sharing with you a film series that I saw in 1979. In this film Francis Schaeffer asserted that was a shift in […]
E P I S O D E 5 How Should We Then Live? Episode 5: The Revolutionary Age I was impacted by this film series by Francis Schaeffer back in the 1970′s and I wanted to share it with you. Francis Schaeffer noted, "Reformation Did Not Bring Perfection. But gradually on basis of biblical teaching there […]
Dr. Francis Schaeffer – Episode IV – The Reformation 27 min I was impacted by this film series by Francis Schaeffer back in the 1970′s and I wanted to share it with you. Schaeffer makes three key points concerning the Reformation: "1. Erasmian Christian humanism rejected by Farel. 2. Bible gives needed answers not only as to […]
Francis Schaeffer's "How should we then live?" Video and outline of episode 3 "The Renaissance" Francis Schaeffer: "How Should We Then Live?" (Episode 3) THE RENAISSANCE I was impacted by this film series by Francis Schaeffer back in the 1970′s and I wanted to share it with you. Schaeffer really shows why we have so […]
  Francis Schaeffer: "How Should We Then Live?" (Episode 2) THE MIDDLE AGES I was impacted by this film series by Francis Schaeffer back in the 1970′s and I wanted to share it with you. Schaeffer points out that during this time period unfortunately we have the "Church's deviation from early church's teaching in regard […]
__