I was saddened to learn of the passing of Dr. Riccardo Giacconi on 16 December 16, 2018, in La Jolla, CA,  and I wanted to spend time on several posts concentrating on him.
ann18090 — Announcement
Riccardo Giacconi (1931–2018)
"Father of X-ray astronomy" and former ESO Director General key to the success of ESO's Very Large Telescope has passed away
11 December 2018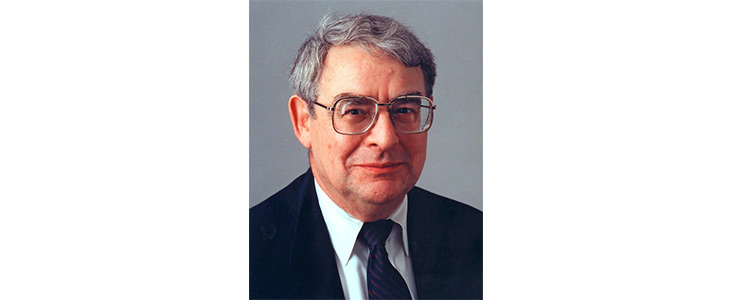 ESO's fifth Director General, Riccardo Giacconi, passed away on Sunday 9 December 2018 at the age of 87.
Riccardo Giacconi led ESO from 1993 to 1999, at a crucial time in the organisation's history. ESO was constructing what is now its flagship facility, the Very Large Telescope (VLT), on Cerro Paranal, and starting the partnership that would become the Atacama Large Millimeter/submillimeter Array(ALMA). The successes of these years, and in particular the construction of the VLT, put ESO on the path to being the world-leading astronomical organisation that it is today.
Riccardo Giacconi was born in Genova, Italy on 6 October 1931. He obtained both a degree in Physics and his PhD from the University of Milan. In 1956, two years after receiving his PhD, Giacconi moved to Indiana University, USA and then on to Princeton University, USA to work at the Princeton Cosmic Ray Laboratory.
Following his time at Princeton, Giacconi began the work that earned him the title of "father of X-ray astronomy". He was contracted by American Science and Engineering to initiate a space science programme, and Giacconi decided that the programme should focus on observations at X-ray wavelengths. This decision effectively marked the beginning of X-ray astronomy. In 1962, he and his group discovered Scorpius X-1, the first known X-ray source outside the Solar System, and the cosmic X-ray background.
"As an X-ray astronomer myself, Riccardo Giacconi and his work illuminated more than three decades of my career, long before I came to ESO," commented Xavier Barcons, ESO's current Director General. "I consider it a great honour to be one of his successors as Director General, at the organisation that he did so much to shape,"
During Giacconi's time as ESO's Director General he made significant changes to the organisation of ESO which were instrumental in making the VLT a success. In particular, his modern management techniques were well-suited to large programmes, and fostered greater collaboration between ESO and Chile. Thanks to his leadership, ESO was able to overcome significant technological and financial difficulties in building the VLT, and two of the four Unit Telescopes saw first light toward the end of his term.
During his tenure as Director General, he also oversaw further developments at La Silla — through his support, the New Technology Telescope (NTT) was improved. The NTT broke new ground for telescope engineering and design and was the first in the world to have a computer-controlled main mirror.
Upon leaving ESO, he returned to the United States to take up a post as President of Associated Universities Incorporated(AUI) in 2002. He was awarded a share of the Nobel Prize in Physics in 2002 "for pioneering contributions to astrophysics, which have led to the discovery of cosmic X-ray sources."
Riccardo Giacconi's contributions as Director General helped shape ESO into the world-leading organisation it has become, and his leadership will be remembered as instrumental for ESO's enduring success.
A fuller obituary has been published in ESO's quarterly journal The Messenger.
______
On November 21, 2014 I received a letter from Nobel Laureate Harry Kroto and it said:
…Please click on this URL http://vimeo.com/26991975
and you will hear what far smarter people than I have to say on this matter. I agree with them.
Harry Kroto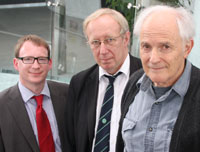 Nick Gathergood, David-Birkett, Harry-Kroto
I have attempted to respond to all of Dr. Kroto's friends arguments and I have posted my responses one per week for over a year now. Here are some of my earlier posts:
Arif Ahmed, Sir David Attenborough, Mark Balaguer, Horace Barlow, Michael Bate, Patricia Churchland, Aaron Ciechanover, Noam Chomsky,Alan Dershowitz, Hubert Dreyfus, Bart Ehrman, Stephan Feuchtwang, David Friend,  Riccardo Giacconi, Ivar Giaever , Roy Glauber, Rebecca Goldstein, David J. Gross,  Brian Greene, Susan Greenfield, Stephen F Gudeman,  Alan Guth, Jonathan Haidt, Theodor W. Hänsch, Brian Harrison,  Hermann Hauser, Roald Hoffmann,  Bruce Hood, Herbert Huppert,  Gareth Stedman Jones, Steve Jones, Shelly Kagan, Michio Kaku,  Stuart Kauffman,  Lawrence Krauss, Harry Kroto, George Lakoff, Elizabeth Loftus,  Alan Macfarlane, Peter Millican, Marvin Minsky, Leonard Mlodinow,  Yujin Nagasawa, Alva Noe, Douglas Osheroff,  Jonathan Parry,  Saul Perlmutter, Herman Philipse,  Carolyn Porco, Robert M. Price, Lisa Randall, Lord Martin Rees,  Oliver Sacks, John Searle, Marcus du Sautoy, Simon Schaffer, J. L. Schellenberg,   Lee Silver,  Peter Singer,  Walter Sinnott-Armstrong, Ronald de Sousa, Victor Stenger, Barry Supple,   Leonard Susskind, Raymond Tallis, Neil deGrasse Tyson,  .Alexander Vilenkin, Sir John Walker, Frank Wilczek, Steven Weinberg, and  Lewis Wolpert,
In  the first video below in the 47th clip in this series are his words and will be responding to them in the next few weeks, but today I just wanted to pause and look at this life. 
50 Renowned Academics Speaking About God (Part 1)
Another 50 Renowned Academics Speaking About God (Part 2)
A Further 50 Renowned Academics Speaking About God (Part 3)
__
_
_
_
_
December 25, 2014
Dr. Riccardo Giacconi, c/o Johns Hopkins University, Zanvyl Krieger School of Arts & Sciences
Department of Physics & Astronomy, Bloomberg Center for Physics and Astronomy, Room 366
3400 N. Charles Street, Baltimore, MD 21218
Dear Dr. Giacconi,
I love the town of Baltimore. "The Star-Spangled Banner" is the national anthem of the United States. The lyrics come from "Defence of Fort M'Henry", a poem written in 1814 by the 35-year-old lawyer and amateur poet Francis Scott Key after witnessing the bombardment of Fort McHenry by British ships of the Royal Navy in the Chesapeake Bay during the Battle of Fort McHenry in the War of 1812. My sons and I got to visit Fort McHenry back in 1996 in Baltimore, and we loved our tour.
Also I have done a lot of posts on my blog on William Foxwell Albright (from John Hopkins) who was the greatest biblical archaeologist of all time because of his knowledge of pottery.  One of the posts I did was entitled, "14c. Three greatest American Archaeologists moved to accept Bible's accuracy through archaeology." The final reason that I love your town so much is because of the nickname you chose for the NFL team in Baltimore which is tied into Edgar Allan Poe and that of course is the Ravens!!!!
Recently I ran across this quote from you, " Irrational thinking of any kind is very dangerous, …I wish that with the progress of science we could inject a little bit more rationality in the world. But in that sense we have failed. "
On November 21, 2014 I received a letter from Nobel Laureate Harry Kroto  who I have been corresponding with and it said:
…Please click on this URL http://vimeo.com/26991975
and you will hear what far smarter people than I have to say on this matter. I agree with them.
Harry Kroto
__________________________
There are 3 videos in this series and they have statements by 150 academics and scientists and I saw that you were featured in this film series. I have been responding to some of thestatements concerning God and I plan on responding to what you have said on this issue too.
Now on to the other topics I wanted to discuss with you today. I wanted to write you today for two reasons. First, do you believe that evangelicals should have a place at the table when it comes to science even though we believe in a personal Creator?  Second, I wanted to point out some scientific evidence that caused Antony Flew to switch from an atheist (as you are now) to a theist. Twenty years I had the opportunity to correspond with two individuals that were regarded as two of the most famous atheists of the 20th Century, Antony Flew and Carl Sagan. (I have enclosed some of those letters between us.) I had read the books and seen the films of the Christian philosopher Francis Schaeffer and he had discussed the works of both of these men. I sent both of these gentlemen philosophical arguments from Schaeffer in these letters and in the first letter I sent a cassette tape of my pastor's sermon IS THE BIBLE TRUE? (CD is enclosed also.) You may have noticed in the news a few years ago that Antony Flew actually became a theist in 2004 and remained one until his death in 2010. Carl Sagan remained a skeptic until his dying day in 1996.
You will notice in the enclosed letter from June 1, 1994 that Dr. Flew commented, "Thank you for sending me the IS THE BIBLE TRUE? tape to which I have just listened with great interest and, I trust, profit." It would be a great honor for me if you would take time and drop me a note and let me know what your reaction is to this same message.
In 1994 and 1995 I had the opportunity to correspond with the famous evolutionist Dr. Ernst Mayr of Harvard. He stated in his letter of 10-3-94, "Owing to your ideological commitments, it is only natural that you cannot accept the cogency of the scientific evidence. However, to a person such as myself without such commitments, the story of the gradual evolution of life as reconstructed by chemists and molecular biologists is totally convincing."
I responded by pointing out three points. First, Scientific Naturalism is atheistic by definition. Second, many great scientists of the past were Christians, and that did not disqualify their observations and discoveries. Third, the fact that evolution is true does not rule out God's existence (Harvard's own Owen Gingerich and many others such as Francis Collins hold to a Creator and evolution).
Let me just spend some time on my second point. Francis Schaeffer in his book "HOW SHOULD WE THEN LIVE?" stated that according to Alfred North Whitehead and J. Robert Oppenheimer, both renowned philosophers and scientists of our era (but not Christians themselves), modern science was born out of the Christian world view. Whitehead said that Christianity is the "mother of science" because of the insistence on the rationality of God. In the article, "Christianity and Technological Advance – The Astonishing Connection," by T. V. Varughese, Ph.D, he observed:
Without question, "technology" has now become the new magic word in place of the word "science." Since technology represents the practical applications of science, it is clearly consumer-oriented. Herein is bright economic promise to all who can provide technology.
In terms of technology, our present world can be divided into at least three groups: countries that are strong providers of technology, both original and improved; countries that are mass producers because of cheaper labor; and countries that are mostly consumers. Without a doubt, being in the position of "originating" superior technology should be a goal for any major country. The difficult question, however, is "how."
An obvious place to start suggests itself. Why not begin with the countries that have established themselves as strong originators of technology and see if there is a common thread between them? The western nations, after the Renaissance and the Reformation of the 16th century, offer a ready example. Any book on the history of inventions, such as the Guinness Book of Answers, will reveal that the vast majority of scientific inventions have originated in Europe (including Britain) and the USA since the dawn of the 17th century. What led to the fast technological advances in the European countries and North America around that time?
The answer is that something happened which set the stage for science and technology to emerge with full force. Strange as it may seem, that event was the return to Biblical Christianity in these countries.
The Epistemological Foundation of Technology
According to Alfred North Whitehead and J. Robert Oppenheimer, both renowned philosophers and scientists of our era (but not Christians themselves), modern science was born out of the Christian world view. Whitehead said that Christianity is the "mother of science" because of the insistence on the rationality of God.[1] Entomologist Stanley Beck,though not a Christian himself, acknowledged the corner-stone premises of science which the Judeo-Christian world view offers: "The first of the unprovable premises on which science has been based is the belief that the world is real and the human mind is capable of knowing its real nature. The second and best-known postulate underlying the structure of scientific knowledge is that of cause and effect. The third basic scientific premise is that nature is unified."[2] In other words, the epistemological foundation of technology has been the Judeo-Christian world view presented in the Bible…
Perhaps the most obvious affirmation that Biblical Christianity and science are friends and not foes comes from the fact that most of the early scientists after the Renaissance were also strong believers in the Bible as the authoritative source of knowledge concerning the origin of the universe and man's place in it.[4] The book of Genesis, the opening book of the Bible, presents the distinctly Judeo-Christian world view of a personal Creator God behind the origin and sustenance of the universe (Genesis 1:1; Colossians 1:17; etc.).
Among the early scientists of note who held the Biblical creationist world view are Blaise Pascal (1623-1662), Sir Isaac Newton (1642-1727), and Samuel Morse (1791-1872) – what motivated them was a confidence in the "rationality" behind the universe and the "goodness" of the material world. The creation account in Genesis presents an intelligent, purposeful Creator, who, after completing the creation work, declared it to be very good (Genesis 1:31). That assures us that the physical universe operates under reliable laws which may be discovered by the intelligent mind and used in practical applications. The confidence in the divinely pronounced goodness of the material world removed any reluctance concerning the development of material things for the betterment of life in this world. The spiritual world and the material world can work together in harmony.
 References –
Francis A. Schaeffer: How Should We Then Live (Revell, 1976), p. 132.
Henry M. Morris, Biblical Basis for Modern Science (Baker, 1991), p. 30.
Schaeffer, p. 131.
Henry M. Morris, Men of Science, Men of God (Master Books, CA, 1988), 107 pp.
_____________
Henry Morris pointed out:
Many of these great scientists of the past were before Darwin, but not all of them. However, all of them were acquainted with secular philosophies and some were in fact opponents of Darwinism (Agassiz, Pasteur, Lord Kelvin, Maxwell, Dawson, Virchow, Fabre, Fleming, etc). Many of them believed in the inspiration and authority of the Bible, as well as in the deity and saving work of Jesus Christ. They believed that God had supernaturally created all things, each with its own complex structure for its own unique purpose. They believed that, as scientists, they were "thinking God's thoughts after Him," learning to understand and control the laws and processes of nature for God's glory and man's good. They believed and practiced science in exactly the same way that modern creationist scientists do.
And somehow this attitude did not hinder them in their commitment to the "scientific method." In fact one of them, Sir Francis Bacon, is credited with formulating and establishing the scientific method! They seem also to have been able to maintain a proper "scientific attitude," for it was these men (Newton, Pasteur, Linnaeus, Faraday, Pascal, Lord Kelvin, Maxwell, Kepler, etc.) whose researches and analyses led to the very laws and concepts of science which brought about our modern scientific age…. 
To illustrate the caliber and significance of these great scientists of the past, Tables I and II have been prepared. These tabulations are not complete lists, of course, but at least are representative and they do point up the absurdity of modern assertions that no true scientist can be a creationist and Bible-believing Christian.
Table I lists the creationist "fathers" of many significant branches of modern science. Table II lists the creationist scientists responsible for various vital inventions, discoveries, and other contributions to mankind. These identifications are to some degree oversimplified, of course, for even in the early days of science every new development involved a number of other scientists, before and after. Nevertheless, in each instance, a strong case can be made for attributing the chief responsibility to the creationist scientist indicated. At the very least, his contribution was critically important and thus supports our contention that belief in creation and the Bible helps, rather than hinders, scientific discovery.
_______________
My relatives live 3 miles from Spring Hill, Tennessee. When the new General Motors plant opened there I got to go see it. What if I had said, "The assembly line created a beautiful Saturn automobile!" Hopefully, some would have corrected me by responding, "The assembly line did not create the automobile. It was first designed by the General Motors engineers in Detroit." ASSUMING EVOLUTION IS TRUE, IT WOULD STILL ONLY BE THE MECHANISM. DOES EVOLUTION ACCOUNT FOR THE DESIGNER?
Thank you again for your time and I know how busy you are.
Everette Hatcher, everettehatcher@gmail.com, http://www.thedailyhatch.org, cell ph 501-920-5733, Box 23416, LittleRock, AR 72221
___________________
Critics – Part 1
By Dr
In my ongoing debate with other bloggers on the Arkansas Times Blog, I had an interesting response from Dobert:
You can't have it both ways. If the Gospel writers were allowed to adapt their message to a particular audience then it can't be claimed that God literally took their hand and wrote the scriptures. If we allow the Gospel writers to adapt their message, then we had better get ready to accept the fact that Paul interjected his own opinion about so many matters that he was personally opposed to or were culturally dominant at the time he wrote it. God would not have written inconsistencies in His Scriptures unless we want to admit that God has a sense of humor.
Hank Hanegraaff the director of CRI has noted:
 "Can anything involving human beings contain the inerrant Word of God"? 
The short answer to that question is "yes." It's true that humans are fallible vessels that they're prone to error, but that in no way precludes the inerrancy of the Bible. All Scripture is God breathed. All Scripture is useful for teaching, rebuking, correcting, training in righteousness, so that the man of God may be thoroughly equipped for every good work (2 Tim. 3:16-17). The Apostle Paul there puts a very significant premium of the accuracy of all Scripture. 
The Apostle Peter does essentially the same thing. He says that prophecy never had its origin in the will of man, but men spoke from God as they were carried along by the Holy Spirit.  
The doctrine of inspiration tells us that God did something miraculous in inspiration. He worked through fallible human prophets, He utilized their individual personalities, all to pen what is authoritative, infallible, and sacred as Scripture. In fact we can demonstrate that the Bible is divine as opposed to human in origin. If you look just at archeology, you find what is concealed in the soil, corresponds to what is revealed in the Scriptures, and that with minute precision. I'm talking about people, and places, even particulars. So we know, we have evidence that the Bible corresponds to reality, and therefore it is truth, and a miracle—the miracle of infallible inspiration, the inspiration that comes from the Holy Spirit. 
Now we don't suppose that the disciples walked around with tape recorders, or we're programmed automatons, but what we do suppose is that the believers who are used by God to pen the Scriptures captured the essential voice of God in the Scripture. Not the exact words they heard. For example, if you look at the Sermon on the Mount, you'll see that there are various versions of the Sermon on the Mount given by Mark, Matthew, and Luke. And you see that the Sermon on the Mount is given in a different way but is essentially the same, because through their own personalities Matthew and Luke capture the essential voice of Jesus not the exact verbiage that Jesus used, and that's why there can be differences and yet complete agreement because there's no difference in the message that is being communicated in either case.
_________________________________
I remember listening to a 90 minute lecture by Francis Schaeffer on the conclusions the great American archaeologist (William F. Albright) who changed his views over the years because of the archaeological evidence. Below is some of that evidence. (You can access some of the evidence that convinced William Ramsey concerning the Book of Luke and Acts here.)
I went and secured a copy of the interview and read it myself. In a 1963 interview with Christianity Today magazine, William F. Albright (1891-1971) stated:
In my opinion, every book of the New Testament was written by a baptized Jew between the forties and eighties of the first century A.D. (very probably sometime between about 50 and 75 A.D.)(CHRISTIANITY TODAY, VII, 359, January 18, 1963, "Toward a More Conservative View," interview with William F. Albright.)
. ohn Ankerberg, Dr. John Weldon
Biblical Archaeology, Silencing the critics (Part 1)Significantly, even liberal theologians, secular academics, and critics generally cannot deny that archaeology has confirmed the biblical record at many points. Rationalistic detractors of the Bible can attack it all day long, but they cannot dispute archaeological facts. Consider the weekly PBS series "Mysteries of the Bible." Despite some shortcomings, such as the theologically liberal experts and non-Christian commentators, this program has offered example after example, week after week, of the archaeological reliability of the Bible.To further illustrate, probably the three greatest American archaeologists of the twentieth century each had their liberal training modified by their archaeological work. W. F. Albright, Nelson Glueck, and George Ernest Wright all "received training in the liberal scholarship of the day, which had resulted from the earlier and continuing critical study of the Bible, predominantly by German scholars."1 Despite their liberal training, it was archaeological research that bolstered their confidence in the biblical text:Albright said of himself, "I must admit that I tried to be rational and empirical in my approach [but] we all have presuppositions of a philosophical order." The same statement could be applied as easily to Gleuck and Wright, for all three were deeply imbued with the theological perceptions which infused their work. Albright, the son of a Methodist missionary, came to see that much of German critical thought was established upon a philosophical base that could not be sustained in the light of archaeological discoveries…. Nelson Glueck was Albright's student. In his own explorations in Trans-Jordan and the Negev and in his excavations, Glueck worked with the Bible in hand. He trusted what he called "the remarkable phenomenon of historical memory in the Bible." He was the president of the prestigious Hebrew Union College-Jewish Institute of Religion and an ordained Rabbi. Wright went from the faculty of the McCormick Theological Seminary in Chicago to a position in the Harvard Divinity School which he retained until his death. He, too, was a student of Albright.2Glueck forthrightly declared, "As a matter of fact, however, it may be clearly stated categorically that no archaeological discovery has ever controverted a single biblical reference. Scores of archaeological findings have been made which confirm in clear outline or exact details historical statements in the Bible."3In fact, "Much of the credit for this relatively new assessment of the patriarchal tradition must go to the 'Albright school.' Albright himself pointed out years ago that apart from 'a few diehards among older scholars' there is hardly a single biblical historian who is not at least impressed with the rapid accumulation of data supporting the 'substantial historicity' of patriarchal tradition."4And, in fact, this is true not just for the patriarchal tradition but the Bible generally. The earlier statement by assyriologist A. H. Sayce continues to hold true today: "Time after time the most positive assertions of a skeptical criticism have been disproved by archaeological discovery, events and personages that were confidently pronounced to be mythical have been shown to be historical, and the older [i.e., biblical] writers have turned out to have been better acquainted with what they were describing than the modern critics who has flouted them."5Millar Burrows of Yale points out that, "Archaeology has in many cases refuted the views of modern critics. It has been shown in a number of instances that these views rest on false assumptions and unreal, artificial schemes of historical development…." And, "The excessive skepticism of many liberal theologians stems not from a careful evaluation of the available data, but from an enormous predisposition against the supernatural."6Many other examples could be given of how firsthand archaeological work changed the view of a critic. One of the most prominent is that of Sir William Ramsay. Ramsey's own archaeological findings convinced him of the reliability of the Bible and the truth of what it taught. In his The Bearing of Recent Discovery on the Trustworthiness of the New Testament and other books, he shows why he came to conclude that "Luke's history is unsurpassed in respect of its trustworthiness" and that "Luke is a historian of the first rank … In short, this author should be placed along with the very greatest of historians."7As part of his secular academic duties, Dr. Clifford Wilson was for some years required to research and teach higher critical approaches to the Bible. This gave him a great deal of firsthand exposure and insight to the assumptions and methodologies that go into these approaches. Yet his own archaeological research was found to continually refute such skeptical theories, so much so that he finally concluded, "It is the steady conviction of this writer that the Bible is … the ancient world's most reliable history textbook…."8In a personal communication he added the following,I was not always the "literalist" I am today. I've always had a profound respect for the Bible, but accepted that the use of poetic forms meant that the record could often be interpreted symbolically where now I take it literally—though of course there are times when symbolism is clearly utilized. Thus in later Scriptures "Egypt" can be a geographic country or a symbolic term. That liberalism is especially true in relation to Genesis chapters 1 through 11, often considered allegorical or mythical, where my researches have led me to the conclusion that this is profound writing, meant to be taken literally. There was a real Adam, creation that was contemporaneous for the various life forms as shown in Genesis chapter 1, and a consistent style of history writing—such as the outlines given in Genesis one, then zeroing in on the specifics relating to mankind in Genesis chapter 2; the history of all the early peoples in Genesis chapter 10, then the concentration on Abraham and his descendants from Genesis chapter 11 onwards. Early man, "the birth of the lady of the rib," long-living man, giants in the earth (animals, birds, and men), the flood, the Tower of Babel—and much more—point to factual, accurate recording of history in these early chapters of Genesis. Over 40 years have passed since I first became professionally involved in biblical archaeology and my commitment to the Bible as the world's greatest history book is firmly settled. As Psalm 119:89 states, "Forever O Lord, your word is established in heaven."Indeed one of the most valuable contributions of modern archaeology has been its reputation of higher critical views toward scripture. Consider for example the discovery of the Dead Sea scrolls.J. Randall Price (Ph.D., Middle Eastern Studies) currently working on a forthcoming apologetic text on biblical archaeology writes, "Those who expect the [Dead Sea] scrolls to produce a radical revision of the Bible have been disappointed, for these texts have only verified the reliability and stability of the Old Testament as it appears in our modern translations."9

He further points out how the Daniel fragments of the Dead Sea Scrolls should require scholars to abandon a Maccabean date. The same kind of evidence forced scholars to abandon Maccabean dates for Chronicles, Ecclesiastes, and many of the Psalms. But so far, most scholars refuse to do this for Daniel: "Unfortunately, critical scholars have not arrived at a similar conclusion for the Book of Daniel, even though the evidence is identical."10 In fact, according to Old Testament scholar Gerhard Hasel, a date for Daniel in the sixth or fifth century BC "has more in its favor today from the point of view of language alone than ever before."11 The Dead Sea Scrolls also provide significant evidence for the unity and single authorship of the Book of Isaiah. Dr. Price concludes, "The discovery of the Dead Sea Scrolls, then, has made a contribution toward confirming the integrity of the biblical text and its own claim to predictive prophecy. Rather than support the recent theories of documentary disunity, the Scrolls have returned scholars to a time when the Bible's internal witness to its own consistency and veracity was fully accepted by its adherents."12

(to be continued)

Notes:

1 Keith N. Scoville, Biblical Archeology in Focus (Grand Rapids, MI: Baker, 1978), p. 163.

2 Ibid., p. 163.

3 Norman L. Geisler and Ron Brooks, When Skeptics Ask: A Handbook on Christian Evidences (Wheaton, IL: Victor, 1990), p. 179.

4 Eugene H. Merrill, Professor of Old Testament Studies, Dallas Theological Seminary, "Ebla and Biblical Historical Inerrancy" in Roy B. Zuck (Genesis ed.), Vital Apologetic Issues: Examining Reasons and Revelation in Biblical Perspective (Grand Rapids, MI: Kregel, 1995), p. 180.

5 A. H. Sayce, Monument Facts and Higher Critical Fancies (London: The Religious Tract Society, 1904), p. 23, Cited in Josh McDowell, More Evidence That Demands a Verdict (Arrowhead Springs, CA: Campus Crusade for Christ, 1975), p. 53.

6 As cited in Josh McDowell, Evidence that Demands a Verdict (Arrowhead Springs, CA: Campus Crusade for Christ, 1972) p. 66.

7 William M. Ramsay, The Bearing of Recent Discovery on the Trustworthiness of the New Testament (Grand Rapids, MI: Baker Bookhouse, 1959), p. 91; cf. William M. Ramsay, Luke the Physician, pp. 177-79, 222 from F. F. Bruce, The New Testament Documents: Are They Reliable? (Downers Grove, IL: InterVarsity Press, 1971), pp. 90-91.

8 Clifford Wilson, Rocks, Relics and Biblical Reliability (Grand Rapids, MI: Zondervan/Richardson, TX: Probe, 1977), p. 126

9 J. Randall Price, Secrets of the Dead Sea Scrolls (Eugene, OR: Harvest House, 1996), p. 146.

10 Ibid., p. 159.

11 Ibid., p. 163.
12 Ibid., p. 164; cf. p. 157.
_
Related posts:
____________
____
__