_______________
In this post I am going to talk about radical Muslim terrorists. On a personal note the recent terrorist attack on October 31, 2017 happened as I had one relative in New York about to fly out at the end of the week and another relative on a plane about to arrive in. In fact, many of the 8 victims of the terrorist were not from New York.
Bloembergen pictured far right
We learned of the passing away of Nicolaas Bloembergen, Nobel Prize winner in Physics (1981) at the age of 97.
Nico, as he was known in the community, graduated in Leiden in 1948 with Cor Gorter as promotor. His graduate research, performed with Ed Purcell and Bob Pound at Harvard on Nuclear Magnetic Relaxation was one of the first in the field of NMR. Nico did a postdoc in Leiden with Gorter in 1949 to return to the USA where he continued his career. He became one of the founding fathers of the fields of laser spectroscopy and nonlinear optics. In 1973 Nico returned to Leiden as Lorentz Professor. We honor Nico as a great scientist.
_
_
I was saddened to learn of the passing of Dr. Nicolaas Bloembergen on September 5, 2017, and I wanted to spend time on several posts concentrating on him. I always enjoyed corresponding with him during the last three decades. He brought up the issue of Religious wars to me in 1995 which I responded to back then, and also he discussed the issue of abortion with me. I also took time to write him back concerning that issue too.  Then on July 1, 2016, I was honored to get a call from Dr. Bloembergen, and we discussed several issues such as his abandonment of his childhood faith that he was brought up in, and I mentioned that Charles Darwin had gone through a similar situation. He seemed to know a lot about Darwin's background.
On July 3, 2016, I responded to our phone call with an email that basically recapped several things that Dr. Bloembergen and I had discussed in our phone discussion 2 days before. I pointed out to him on the phone that day that each religion was different and that in recent history it was Islam fanatics that were guilty of so much killing, and Dr Bloembergen seemed to resist that by saying that Muslims are not getting treated very well. I addressed this in my email of July 3rd that is posted below. So far in 2017 there are have been 1,049 attacks and 6,571 fatalities by Muslim radicals. In fact, on October 31, 2017, Eight people are killed and almost a dozen injured when a 29-year-old man in a rented pickup truck drives down a busy bicycle path near the World Trade Center in New York. The suspect has been identified as Sayfullo Habibullaevic Saipov. Authorities found a note near the truck used in the incident, claiming the attack was made in the name of ISIS, a senior law enforcement official said.
Also CNN Reported: 
In September 2014, 
ISIS 
spokesman Abu Mohammad al-Adnani called for lone wolf attacks using improvised weaponry, "If you are not able to find an IED or a bullet, then single out the disbelieving American, Frenchman or any of their allies. Smash his head with a rock or slaughter him with a knife or run him over with your car or throw him down from a high place or choke him or poison him."
Timeline:
March 3, 2006 – 
Mohammed Taheri-azar, an Iranian-American,
 drives an SUV into an area crowded with students at the University of North Carolina at Chapel Hill. Nine people sustain minor injuries during the attack, which Teheri-azar later says is retribution for the killing of Muslims overseas. He is convicted of attempted murder in 2008 and is sentenced to 33 years in prison.
October 22, 2014 –
 A three-month old girl and an Ecuadorian tourist are killed when a driver swerves into a crowd at a light rail station in Jerusalem. The driver, Abdel Rahman al-Shaludi is shot and killed by police. Israeli media reported he published militant writing on 
Facebook 
and supported Hamas, a fundamentalist
 Islamic 
group that has conducted attacks in Gaza and the West Bank, but his family denied he supported Hamas or any terror organization.
On November 21, 2014 I received a letter from Nobel Laureate Harry Kroto and it said:
…Please click on this URL http://vimeo.com/26991975
and you will hear what far smarter people than I have to say on this matter. I agree with them.
Harry Kroto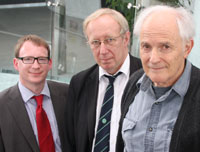 Nick Gathergood, David-Birkett, Harry-Kroto
I have attempted to respond to all of Dr. Kroto's friends arguments and I have posted my responses one per week for over a year now. Here are some of my earlier posts:
Arif Ahmed, Sir David Attenborough, Mark Balaguer, Horace Barlow, Michael Bate, Patricia Churchland, Aaron Ciechanover, Noam Chomsky,Alan Dershowitz, Hubert Dreyfus, Bart Ehrman, Stephan Feuchtwang, David Friend,  Riccardo Giacconi, Ivar Giaever , Roy Glauber, Rebecca Goldstein, David J. Gross,  Brian Greene, Susan Greenfield, Stephen F Gudeman,  Alan Guth, Jonathan Haidt, Theodor W. Hänsch, Brian Harrison,  Hermann Hauser, Roald Hoffmann,  Bruce Hood, Herbert Huppert,  Gareth Stedman Jones, Steve Jones, Shelly Kagan, Michio Kaku,  Stuart Kauffman,  Lawrence Krauss, Harry Kroto, George Lakoff, Elizabeth Loftus,  Alan Macfarlane, Peter Millican, Marvin Minsky, Leonard Mlodinow,  Yujin Nagasawa, Alva Noe, Douglas Osheroff,  Jonathan Parry,  Saul Perlmutter, Herman Philipse,  Carolyn Porco, Robert M. Price, Lisa Randall, Lord Martin Rees,  Oliver Sacks, John Searle, Marcus du Sautoy, Simon Schaffer, J. L. Schellenberg,   Lee Silver,  Peter Singer,  Walter Sinnott-Armstrong, Ronald de Sousa, Victor Stenger, Barry Supple,   Leonard Susskind, Raymond Tallis, Neil deGrasse Tyson,  .Alexander Vilenkin, Sir John Walker, Frank Wilczek, Steven Weinberg, and  Lewis Wolpert,
Nicolaas "Nico" Bloembergen (March 11, 1920 – September 5, 2017) was a Dutch–American physicist and Nobel laureate, recognized for his work in developing driving principles behind nonlinear optics for laser spectroscopy.[1] During his career, he was a professor at both Harvard University and later at the University of Arizona.
In  the first video below in the 9th clip in this series are his words and will be responding to them in the next few weeks, but today I just wanted to pause and look at this life. I was privileged to be able to correspond with him since the 1990's and he even called me on the phone. 
50 Renowned Academics Speaking About God (Part 1)
Another 50 Renowned Academics Speaking About God (Part 2)
A Further 50 Renowned Academics Speaking About God (Part 3)
__
Video interview with Nicolaas Bloembergen
Published on Aug 26, 2010
Nicolaas Bloembergen celebrated his 90th birthday in March 2010 with a scientific symposium and reception at the University of Arizona College of Optical Sciences, attended by three other Nobel laureates: Roy J. Glauber, John L. Hall, and Charles H. Townes.
Bloembergen received the Nobel Prize in 1981 for his contributions to the field of nonlinear optics and to the development of laser spectroscopy. He was a corecipient with Arthur Schawlow of the United States and Kai Manne Borje Siegbahn of Sweden of the 1981 Nobel Prize for Physics for their revolutionary spectroscopic studies of the interaction of electromagnetic radiation with matter. Bloembergen made a pioneering use of lasers in these investigations. His research has included nuclear and electronic magnetic resonance, solid state masers and lasers, and nonlinear optics and spectroscopy. His work on proton spin relaxation times in water and aqueous solutions, carried out in 1946 and 1947 under the guidance of his PhD thesis advisor, Edward M. Purcell, later became the basis for the medical diagnostic technique of magnetic resonance imaging (MRI).
In his autobiography on the Nobel Prize website, Bloembergen stated, "I held the opinion — even after Schawlow and Townes published their proposal for an optical maser in 1958 — that it would be impossible for a small academic laboratory, without previous expertise in optics, to compete successfully in the realization of lasers. This may have been a self-fulfilling prophesy, but it is a matter of record that nearly all types of lasers were first reduced to practice in industrial laboratories, predominantly in the U.S.A."
Bloembergen first came to the United States in 1945, after spending World War II "hiding indoors from the Nazis, eating tulip bulbs to fill the stomach and reading Kramers' book Quantum Theorie des Elektrons und der Strahlung by the light of a storm lamp." He received his PhD at the University of Leiden in 1948, after doing research at Harvard, then finally emigrated to the U.S. (and returned to Harvard) in 1949. He and his wife Deli moved to Arizona, and he has been on the UA College of Optical Sciences faculty since 2001.
He was interviewed at his birthday celebration by Daniel Stolte of the UA University Communications office, and this video is courtesy of the University of Arizona.
_
This was emailed on July 3, 2016 in response to our phone conversation 2 days earlier and I address his statement that "Muslims get too much blame.":
July 3, 2016
Dr. Nicolaas Bloembergen, c/o College of Optical Sciences
The University of Arizona
1630 E. University Blvd.
P.O. Box 210094
Tucson, AZ 85721-0094
Dear Dr. Bloembergen,
It was such a privilege to get a telephone call from you on July 1, 2016 because I know your time is very valuable. Since you said writing letters and mailing them was difficult for you I have chosen to email you this time around.
I told you on the phone that the last time we corresponded was way back on September 6, 1995  and at that time you responded in a letter to me with these words, "Less zealotry and more compassion for those who have different concepts of the world from yours would help make this world more livable." On the phone you commented, "Yes the religious people are fighting among themselves often." At that point I kidded you that it is the Muslims and not the Christians who seem to be on the warpath these days and you responded, "I think the Muslims get too much blame. Today's political situation is all [messed up.]"
Let me agree with you that the majority of Muslims in the USA are lovers of freedom. Here in Arkansas we have family friends who are Muslims and they were personally troubled by the recent attacks by Muslims on unarmed civilians.
That brings me to another point. Christianity is different than every other religion for two reasons according to Francis Schaeffer:
In every other religion we have to do something–everything from burning a joss stick to sacrificing our firstborn child to dropping a coin the collection plate–the whole spectrum. But with Christianity we do not do anything; God has done it all: He has created us and He has sent His Son; His Son died and because the Son is infinite, therefore He bears out total guilt. We do not need to bear our guilt, nor do we even have to merit the merit of Christ. He does it all. So in one way it is the easiest religion in the world….
In the book WHATEVER HAPPENED TO THE HUMAN RACE?, and especially in the extensive notes of fifth chapter [shows] the way the Bible measures up to history. Once we say that, this is very exciting. It is very exciting because other religions are not founded in history, they are "out there" somewhere, or you can think of them as inside your own head–whichever way you are looking at it. On the other hand, the Bible claims to rooted in history. 
Taking a look at the holy books of Islam and Mormonism and  you find many historical inaccuracies.  For instance, the Book of Mormon was wrong about horses, cows, steel, honey bees and barley existing in North America 2000 years ago. Furthermore, in 2012 during the Presidential Race Harry Kroto also asked why no one seemed to ask Mitt Romney if he actually believed that Christ visited North America 2000 years ago as the Book of Mormon claimed.
Blaise Pascal asserted, "There is a God-shaped vacuum in the heart of every man which cannot be filled by any created thing, but only by God the Creator, made known through Jesus Christ."  In other words, the spiritual answers your heart is seeking can be  found in putting your faith and trust in Jesus Christ. The Bible is true from cover to cover and can be trusted.
Let me close by talking to you about the ROMAN ROAD TO CHRIST.
Thanks for your time. Again it was such an honor to get to talk to you. I hope you enjoy the CD's on Michael Polanyi. He was a very wise man and his son John is a very outstanding man too.
Sincerely,
Everette Hatcher, everettehatcher@gmail.com, http://www.thedailyhatch.org, cell ph 501-920-5733, Box 23416, LittleRock, AR 72221
(END OF EMAIL)
_________
Are all religions the same in the area of historical accuracy? I would say that the evidence says NO. For instance, compare the historical accuracy of the BOOK OF MORMON versus the Bible.
Horses are mentioned eleven times in the Book of Mormon in the context of its New World setting.[33] There is no evidence that horses existed on the American continent during the 2500-3000 year history of the Book of Mormon (2500 BC – 400 AD) The only evidence of horses on the American continent dates to pre-historic times,[34](between 12,500 and 10,000 BC.[35]). It is widely accepted that horses were extinct in the Western Hemisphere over 10,000 years ago and did not reappear there until the Spaniards brought them from Europe.[36] Horses were re-introduced to the Americas (Caribbean) by Christopher Columbus in 1493[37] and to the American continent by Cortés in 1519.[38]
Rick Deem wrote the article, "Archaeology/Anthropolocical Problems in the Book of Mormon," and in it he asserted:
The Book of Mormon claims to be a record of the inhabitants of the Americas during the period from 2000 B.C. to 400 A.D. It makes many claims about the history and anthropology of pre-Columbian American cultures. Unfortunately, the author of the book, Joseph Smith, had little or no knowledge of pre-Columbian American civilizations. Borrowing and adapting many stories from the Old and New Testaments, Joseph Smith was unaware that the earlier Native American people were part of stone-age civilizations that were significantly less advanced than Hebrew and other Middle Eastern cultures of biblical times.
Weapons of war
The Book of Mormon describes the presence of chariots in the New World.However, archeologists have found neither evidence of chariots or even evidence of wheeled vehicle usage during the period described in the Book of Mormon. Scimitar ("cimiter") – not found in the New World Scimitars (spelled "cimeters" by Joseph Smith), were Old-World weapons of war that were mentioned throughout the Book of Mormon.However, they have not been found to have existed in the New World. LDS apologists cite the Mesoamerican maccuahuitl as a possible "cimiter".However, the maccuahuitl was a hardwood club with obsidian blades, which is quite different from the heavy, two-handed curved steel blade of the "cimeter." The Book of Mormon expressly states that the American peoples of the period used weapons of war made of metals,although none of these weapons have ever been found. The Hill Cumorah in New York is described as the location of two major wars that involved the deaths of millions of people. However, no remains or even weapons of war have been found there.
In contrast look at some of the archaeological evidence concerning the Bible. The Old and New Testaments present a rich description of biblical peoples, places and cultures. Archeology of the Middle East has revealed the cities, weapons, crops, animals, coins, writings, and references to biblical characters found in the Bible. However, none of the cities mentioned in the Book of Mormon have ever been identified by qualified archeologists. In addition, many Book of Mormon references to metals, weapons, crops, animals, articles of clothing are known to have not been present in the Americas during the time period claimed in the Book of Mormon.
___________________________________________
There is very little doubt in anyone's mind about the reality of so many of the Old and New Testament cities mentioned in the Bible. Therefore, it is hardly necessary to document their existence. Nevertheless, following is a partial list of some of the cities mentioned in the Bible that have been found and excavated by archaeologists. This is simply more evidence that the Bible describes actual locations that can be verified. This means that at the very least, the Bible accurately reflects the locations and cities of ancient times.
Remember, this is only a partial list. There are hundreds of biblical cities that have been verified in archaeological digs.
Chorazin

Matt. 11:21, "Woe to you, Chorazin! Woe to you, Bethsaida! For if the miracles had occurred in Tyre and Sidon which occurred in you, they would have repented long ago in sackcloth and ashes."

"Excavations of the now deserted town indicate that it once covered an area of twelve acres and was built on a series of terraces with the basalt stone local to this mountainous region."6

Dan

Judges 18:29, "And they called the name of the city Dan, after the name of Dan their father who was born in Israel; however, the name of the city formerly was Laish."

"The excavation of Dan began in 1966 under the direction fo Avraham Biran."7
"Formerly called Laish, it is mentioned in the execration texts, the eighteenth-century b.c. Mari tablets, and the records of the Egyptian pharaoh Thutmose III. It is identified with Tel Dan (modern Tell el-Qadi) covering about 50 acres in the center of a fertile valley near one of the principal springs feeding the Jordan River…Tel Dan has been excavated by A. Biran since 1966. The earliest occupation, probably the full extent of the tell, goes back to about the middle of the third millennium B.C."8

Ephesus

Eph. 1:1, "Paul, an apostle of Christ Jesus by the will of God, to the saints who are at Ephesus, and who are faithful in Christ Jesus."

"Austrian archaeologists in this century [2oth] have excavated the 24,000-seat theater and the commercial agora, as well as many other public buildings and streets of the first and second centuries a.d., so that the modern visitor can gain some impression of the city as known by Paul.9
Over the years there have been many criticisms leveled against the Bible concerning its historical reliability. These criticisms are usually based on a lack of evidence from outside sources to confirm the Biblical record. Since the Bible is a religious book, many scholars take the position that it is biased and cannot be trusted unless we have corroborating evidence from extra-Biblical sources. In other words, the Bible is guilty until proven innocent, and a lack of outside evidence places the Biblical account in doubt.
This standard is far different from that applied to other ancient documents, even though many, if not most, have a religious element. They are considered to be accurate, unless there is evidence to show that they are not. Although it is not possible to verify every incident in the Bible, the discoveries of archaeology since the mid-1800s have demonstrated the reliability and plausibility of the Bible narrative.
Here are some examples:
Many thought the Biblical references to Solomon's wealth were greatly exaggerated. Recovered records from the past show that wealth in antiquity was concentrated with the king and Solomon's prosperity was entirely feasible.
It was once claimed there was no Assyrian king named Sargon as recorded in Isaiah 20:1, because this name was not known in any other record. Then, Sargon's palace was discovered in Khorsabad, Iraq. The very event mentioned in Isaiah 20, his capture of Ashdod, was recorded on the palace walls. What is more, fragments of a stela memorializing the victory were found at Ashdod itself.
Another king who was in doubt was Belshazzar, king of Babylon, named in Daniel 5. The last king of Babylon was Nabonidus according to recorded history. Tablets were found showing that Belshazzar was Nabonidus' son who served as coregent in Babylon. Thus, Belshazzar could offer to make Daniel "third highest ruler in the kingdom" (Dan. 5:16) for reading the handwriting on the wall, the highest available position. Here we see the "eye-witness" nature of the Biblical record, as is so often brought out by the discoveries of archaeology.
---
How does archaeology conclusively demonstrate the Bible to be reliable and unique among all the holy books of world religions? Answers
For many more archaeological evidences in support of the Bible, see Archaeology and the Bible
---
[ If this information has been helpful, please prayerfully consider a donation to help pay the expenses for making this faith-building service available to you and your family! Donations are tax-deductible. ]
Author: Bryant Wood of Associates for Biblical ResearchThe Bible maintains several characteristics that prove it is from God. One of those is the fact that the Bible is accurate in every one of its details. The field of archaeology brings to light this amazing accuracy.
(Part 5 of 5 film series on archaeology)
Is the Bible historically accurate? Here are some of the posts I have done in the past on the subject:

1. The Babylonian Chronicle
of Nebuchadnezzars Siege of Jerusalem
This clay tablet is a Babylonian chronicle recording events from 605-594BC. It was first translated in 1956 and is now in the British Museum. The cuneiform text on this clay tablet tells, among other things, 3 main events: 1. The Battle of Carchemish (famous battle for world supremacy where Nebuchadnezzar of Babylon defeated Pharoah Necho of Egypt, 605 BC.), 2. The accession to the throne of Nebuchadnezzar II, the Chaldean, and 3. The capture of Jerusalem on the 16th of March, 598 BC.
2. Hezekiah's Siloam Tunnel Inscription.
King Hezekiah of Judah ruled from 721 to 686 BC. Fearing a siege by the Assyrian king, Sennacherib, Hezekiah preserved Jerusalem's water supply by cutting a tunnel through 1,750 feet of solid rock from the Gihon Spring to the Pool of Siloam inside the city walls (2 Kings 20; 2 Chron. 32). At the Siloam end of the tunnel, an inscription, presently in the archaeological museum at Istanbul, Turkey, celebrates this remarkable accomplishment.
3. Taylor Prism (Sennacherib Hexagonal Prism)
It contains the victories of Sennacherib himself, the Assyrian king who had besieged Jerusalem in 701 BC during the reign of king Hezekiah, it never mentions any defeats. On the prism Sennacherib boasts that he shut up "Hezekiah the Judahite" within Jerusalem his own royal city "like a caged bird." This prism is among the three accounts discovered so far which have been left by the Assyrian king Sennacherib of his campaign against Israel and Judah.
4. Biblical Cities Attested Archaeologically.
In addition to Jericho, places such as Haran, Hazor, Dan, Megiddo, Shechem, Samaria, Shiloh, Gezer, Gibeah, Beth Shemesh, Beth Shean, Beersheba, Lachish, and many other urban sites have been excavated, quite apart from such larger and obvious locations as Jerusalem or Babylon. Such geographical markers are extremely significant in demonstrating that fact, not fantasy, is intended in the Old Testament historical narratives;
5. The Discovery of the Hittites
Most doubting scholars back then said that the Hittites were just a "mythical people that are only mentioned in the Bible." Some skeptics pointed to the fact that the Bible pictures the Hittites as a very big nation that was worthy of being coalition partners with Egypt (II Kings 7:6), and these bible critics would assert that surely we would have found records of this great nation of Hittites.  The ironic thing is that when the Hittite nation was discovered, a vast amount of Hittite documents were found. Among those documents was the treaty between Ramesses II and the Hittite King.
6.Shishak Smiting His Captives
The Bible mentions that Shishak marched his troops into the land of Judah and plundered a host of cities including Jerusalem,  this has been confirmed by archaeologists. Shishak's own record of his campaign is inscribed on the south wall of the Great Temple of Amon at Karnak in Egypt. In his campaign he presents 156 cities of Judea to his god Amon.
The Moabite Stone also known as the Mesha Stele is an interesting story. The Bible says in 2 Kings 3:5 that Mesha the king of Moab stopped paying tribute to Israel and rebelled and fought against Israel and later he recorded this event. This record from Mesha has been discovered.
8. Black Obelisk of Shalmaneser III
The tribute of Jehu, son of Omri, silver, gold, bowls of gold, chalices of gold, cups of gold, vases of gold, lead, a sceptre for the king, and spear-shafts, I have received."
View from the dome of the Capitol!9A Verification of places in Gospel of John and Book of Acts.
Sir William Ramsay, famed archaeologist, began a study of Asia Minor with little regard for the book of Acts. He later wrote:
I found myself brought into contact with the Book of Acts as an authority for the topography, antiquities and society of Asia Minor. It was gradually borne upon me that in various details the narrative showed marvelous truth.
9B Discovery of Ebla Tablets. When I think of discoveries like the Ebla Tablets that verify  names like Adam, Eve, Ishmael, David and Saul were in common usage when the Bible said they were, it makes me think of what amazing confirmation that is of the historical accuracy of the Bible.
There is a well preserved cylinder seal in the Yale University Library from Cyrus which contains his commands to resettle the captive nations.
11. Puru "The lot of Yahali" 9th Century B.C.E.
This cube is inscribed with the name and titles of Yahali and a prayer: "In his year assigned to him by lot (puru) may the harvest of the land of Assyria prosper and thrive, in front of the gods Assur and Adad may his lot (puru) fall."  It provides a prototype (the only one ever recovered) for the lots (purim) cast by Haman to fix a date for the destruction of the Jews of the Persian Empire, ostensibly in the fifth century B.C.E. (Esther 3:7; cf. 9:26).
12. The Uzziah Tablet Inscription
The Bible mentions Uzziah or Azariah as the king of the southern kingdom of Judah in 2 Kings 15. The Uzziah Tablet Inscription is a stone tablet (35 cm high x 34 cm wide x 6 cm deep) with letters inscribed in ancient Hebrew text with an Aramaic style of writing, which dates to around 30-70 AD. The text reveals the burial site of Uzziah of Judah, who died in 747 BC.
The Pilate Inscription is the only known occurrence of the name Pontius Pilate in any ancient inscription. Visitors to the Caesarea theater today see a replica, the original is in the Israel Museum in Jerusalem. There have been a few bronze coins found that were struck form 29-32 AD by Pontius Pilate
This beautifully decorated ossuary found in the ruins of Jerusalem, contained the bones of Caiaphas, the first century AD. high priest during the time of Jesus.
In June 1961 Italian archaeologists led by Dr. Frova were excavating an ancient Roman amphitheatre near Caesarea-on-the-Sea (Maritima) and uncovered this interesting limestone block. On the face is a monumental inscription which is part of a larger dedication to Tiberius Caesar which clearly says that it was from "Pontius Pilate, Prefect of Judea."
14c. Three greatest American Archaeologists moved to accept Bible's accuracy through archaeology.
Despite their liberal training, it was archaeological research that bolstered their confidence in the biblical text:Albright said of himself, "I must admit that I tried to be rational and empirical in my approach [but] we all have presuppositions of a philosophical order." The same statement could be applied as easily to Gleuck and Wright, for all three were deeply imbued with the theological perceptions which infused their work.
__________
Harry Farley
JOURNALIST
Prominent evangelical leaders are backing religious freedoms for Muslims and other faiths as well as Christianity after a poll highlighted few Americans back civil liberties for Islam.
A 2015 survey from the Associated Press and NORC Center for Public Affairs Research found the vast majority of US citizens backed freedom of religion for various groups.
But it also highlighted that 'while 82 per cent of Americans say it is very or extremely important that Christians are allowed to practise their religion freely in the United States, just 61 per cent say the same about protecting religious freedom for Muslims'.
Just 61 per cent of Americans thought Muslims should be protected by religious freedoms
Reuters
The report adds: 'Another 80 per cent of Americans say it is very or extremely important for people like them to be able to practise their religion freely, 72 per cent say it is important to protect the religious freedoms of Jews, and 67 percent say it is important to protect the religious freedoms of Mormons.'
In response to the findings the National Association of Evangelicals held its own survey and found church leaders unanimously supported the 'same religious freedom protection for people of non-Christian faiths as for Christians'.
The January 2017 evangelical leaders survey found 100 per cent of respondents agreed the same liberties should apply to non-Christians as to Christians.
'Evangelical leaders believe religious freedom is a basic human right for all people, and that protecting the religious freedom for people of other faiths is protecting their own freedom,' said Leith Anderson, president of the National Association of Evangelicals (NAE).
'Supporting religious freedom for all does not mean we endorse other religions, but we recognise that our government should protect its people's ability to choose and practise their religious faith.'
President of Wheaton College, Philip Ryken, agreed. 'The freedom to practise any religion — or no religion at all — is basic to religious liberty. When Christians advocate for religious liberty, we are not seeking a special privilege for Christians, but promoting a basic human right for all people,' he said.
William Bohline, founding pastor of Hosanna! Lutheran Church, added: 'If religious freedom is not extended to other religions, then it is simply "Christian freedom", a narrow and exclusive "freedom" which is not freedom at all.'
Steve Moore, president of nexleader, said: 'How could we ask Muslim countries to grant freedom of religion to Jesus-followers in their country if we don't grant it for all religions in the United States?'
The monthly poll of the Board of Directors of the National Association of Evangelicals includes the CEOs of denominations and representatives of a wide range of evangelical organisations including missions groups, Christian universities, publishers and churches. It is not a representative sample of all evangelical leaders. The sample size was not reported.
_
Related posts:
____________