I was saddened to learn of the passing of Dr. Nicolaas Bloembergen and this is the third post showing my interaction with Dr. B. over the last 3 decades.
__________
On November 21, 2014 I received a letter from Nobel Laureate Harry Kroto and it said:
…Please click on this URL http://vimeo.com/26991975
and you will hear what far smarter people than I have to say on this matter. I agree with them. Harry Kroto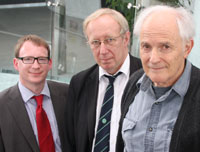 Nick Gathergood, David-Birkett, Harry-Kroto
I have attempted to respond to all of Dr. Kroto's friends arguments and I have posted my responses one per week for over a year now. Here are some of my earlier posts:
Arif Ahmed, Sir David Attenborough, Mark Balaguer, Horace Barlow, Michael Bate, Patricia Churchland, Aaron Ciechanover, Noam Chomsky,Alan Dershowitz, Hubert Dreyfus, Bart Ehrman, Stephan Feuchtwang, David Friend,  Riccardo Giacconi, Ivar Giaever , Roy Glauber, Rebecca Goldstein, David J. Gross,  Brian Greene, Susan Greenfield, Stephen F Gudeman,  Alan Guth, Jonathan Haidt, Theodor W. Hänsch, Brian Harrison,  Hermann Hauser, Roald Hoffmann,  Bruce Hood, Herbert Huppert,  Gareth Stedman Jones, Steve Jones, Shelly Kagan, Michio Kaku,  Stuart Kauffman,  Lawrence Krauss, Harry Kroto, George Lakoff, Elizabeth Loftus,  Alan Macfarlane, Peter Millican, Marvin Minsky, Leonard Mlodinow,  Yujin Nagasawa, Alva Noe, Douglas Osheroff,  Jonathan Parry,  Saul Perlmutter, Herman Philipse,  Carolyn Porco, Robert M. Price, Lisa Randall, Lord Martin Rees,  Oliver Sacks, John Searle, Marcus du Sautoy, Simon Schaffer, J. L. Schellenberg,   Lee Silver,  Peter Singer,  Walter Sinnott-Armstrong, Ronald de Sousa, Victor Stenger, Barry Supple,   Leonard Susskind, Raymond Tallis, Neil deGrasse Tyson,  .Alexander Vilenkin, Sir John Walker, Frank Wilczek, Steven Weinberg, and  Lewis Wolpert,
Nicolaas "Nico" Bloembergen (March 11, 1920 – September 5, 2017) was a Dutch–American physicist and Nobel laureate, recognized for his work in developing driving principles behind nonlinear optics for laser spectroscopy.[1] During his career, he was a professor at both Harvard University and later at the University of Arizona.
In  the first video below in the 9th clip in this series are his words. 
50 Renowned Academics Speaking About God (Part 1)
Another 50 Renowned Academics Speaking About God (Part 2)
A Further 50 Renowned Academics Speaking About God (Part 3)
_
An excerpt from phone call I received   from Dr. Nicolaas Bloembergen on July 1, 2016 went something like this: 
Dr. B said, I wanted to call you since it is so hard to write letters. I fell and broke my hip 6 months ago. I responded, "I very humbled that you took the time to call me. It is a real honor to speak with you." Dr. B said Thank you for writing me….Next I pointed out that  we corresponded  way back on September 6, 1995 on the subject of abortion and religious wars but even though he didn't doubt that it happened, Dr. B had no memory of that….
Back in 1995 I had the opportunity to correspond with Nobel Prize Winner Nicolaas Bloembergen concerning the issue of abortion.
ABC network has rejected [an]… ad… sponsored by the Caring Outreach, [which] has nothing to do with politics but is a 30-second television ad that features information on fetal development.

I wanted to share with you a correspondence I had with Dr. Nicolaas Bloembergen of Harvard. He won the Nobel Prize in Physics in 1981 and was born in Dordrecht, the Netherlands on March 11, 1920. He spent the last two years of World War II hiding from the Nazis. I found his story very interesting.
In his September 6, 1995 letter to me he wrote:
I respect your anti-abortion views, but do not attempt to impose your views on others. It is more important to be concerned with the fate of already born children than that of the unborn.
Less zealotry and more compassion for those who have different concepts of the world from yours would help make this world more livable.
I wrote him back on October 24, 1995  that I read a work by Professor J. Beckwith, Dept of Philosophy, Univ of Nevada, Las Vegas that seemed to address the issue he brought up in his letter. Here is what Dr. Beckwith wrote:
Some abortion-rights advocates, in response to pro-life arguments, emote such bumper-sticker slogans as: "Pro-choice, but personally opposed,"  or "Abortion is against my beliefs, but I would never dream of imposing my beliefs on others." These slogans attempt to articulate in a simple way a common avenue taken by politicians and others who want to avoid the slings and arrows that naturally follow a firm position on abortion. It is an attempt to find "a compromise" or "a middle ground"; it's a way to avoid being labeled "an extremist" of either camp.
During the 1984 presidential campaign — when questions of Geraldine Ferraro's Catholicism and its apparent conflict with her abortion-rights stance were prominent in the media — New York Governor Mario Cuomo, in a lecture delivered at the University of Notre Dame, attempted to give this "middle ground" intellectual respectability. He tried to provide a philosophical foundation for his friend's position, but failed miserably. For one cannot appeal to the fact that we live in a pluralistic society (characterized by moral pluralism/relativism) when the very question of who is part of that society (that is, whether it includes unborn children) is itself the point under dispute. Cuomo begged the question and lost the argument.
The pro-abortionist's unargued assumption of moral relativism to solve the abortion debate reveals a tremendous ignorance of the pro-life position. For the fact is that if one believes that the unborn are fully human (persons), then the unborn carried in the wombs of pro-choice women are just as human as those carried in the wombs of pro-life women. For the pro-lifer, an unborn child is no less a human person simply because the child happens to be living inside Whoopi Goldberg or Cybil Shepherd. Ideology does not change identity.
Pro-choicers ought to put at least some effort into understanding the pro-life position. When they tell pro-lifers (as they often do) that they have a right to believe what they want to believe, they are unwittingly promoting the radical tactics of Operation Rescue (OR). Think about it. If you believed that a class of persons were being murdered by methods that include dismemberment, suffocation, and burning — resulting in excruciating pain in many cases — wouldn't you be perplexed if someone tried to ease your outrage by telling you that you didn't have to participate in the murders if you didn't want to? That is exactly what pro-lifers hear when abortion-rights supporters tell them, "Don't like abortion, don't have one," or "I'm pro-choice, but personally opposed." In the mind of the pro-lifer, this is like telling an abolitionist, "Don't like slavery, don't own one," or telling Dietrich Bonhoffer, "Don't like the holocaust, don't kill a Jew." Consequently, to request that pro-lifers "shouldn't force their pro-life belief on others" while at the same time claiming that "they have a right to believe what they want to believe" is to reveal an incredible ignorance of their position.
Contrary to popular belief, the so-called "pro-choice" position is not neutral. The abortion-rights activist's claim that women should have the "right to choose" to kill their unborn fetuses amounts to denying the pro-life position that the unborn are worthy of protection. And the pro-lifer's affirmation that the unborn are fully human with a "right to life" amounts to denying the abortion-rights position that women have a fundamental right to terminate their pregnancies, since such a termination would result in a homicide. It seems, then, that appealing to moral relativism (or moral pluralism ala Mario Cuomo) to "solve" the abortion debate is an intellectual impossibility and solves nothing.
____________________________________
We can say that we want a society where no one forces their view on others, but if we are discussing who is a part of that society (that is, whether it includes unborn children) then we have to settle that question first.
_______________________________________________________
Francis Schaeffer "BASIS FOR HUMAN DIGNITY" Whatever…HTTHR
Dr. Francis schaeffer – The flow of Materialism(from Part 4 of Whatever happened to human race?)

Dr. Francis Schaeffer – The Biblical flow of Truth & History (intro)
Francis Schaeffer – The Biblical Flow of History & Truth (1)
Dr. Francis Schaeffer – The Biblical Flow of Truth & History (part 2)
_____________________________
Adrian Rogers on Darwinism
Related posts:
____________