The letter I sent to Dr. Bloembergen in 2016 that prompted him to call me on the phone is below at the end of this post!!
I was saddened to learn of the passing of Dr. Nicolaas Bloembergen on September 5, 2017, and I wanted to spend time on several posts concentrating on him. I always enjoyed corresponding with him during the last three decades.
He brought up the issue of Religious wars to me in 1995 which I responded to back then, and also he discussed the issue of abortion with me. I also took time to write him back concerning that issue too.  Then on July 1, 2016, I was honored to get a call from Dr. Bloembergen, and we discussed several issues such as his abandonment of his childhood faith that he was brought up in, and I mentioned that Charles Darwin had gone through a similar situation. He seemed to know a lot about Darwin's background.
Today I want to discuss the letter I sent to Dr. Bloembergen that prompted me to call me in July of 2016.
__________
On November 21, 2014 I received a letter from Nobel Laureate Harry Kroto and it said:
…Please click on this URL http://vimeo.com/26991975
and you will hear what far smarter people than I have to say on this matter. I agree with them.
Harry Kroto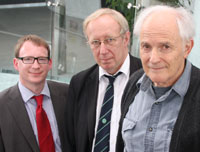 Nick Gathergood, David-Birkett, Harry-Kroto
I have attempted to respond to all of Dr. Kroto's friends arguments and I have posted my responses one per week for over a year now. Here are some of my earlier posts:
Arif Ahmed, Sir David Attenborough, Mark Balaguer, Horace Barlow, Michael Bate, Patricia Churchland, Aaron Ciechanover, Noam Chomsky,Alan Dershowitz, Hubert Dreyfus, Bart Ehrman, Stephan Feuchtwang, David Friend,  Riccardo Giacconi, Ivar Giaever , Roy Glauber, Rebecca Goldstein, David J. Gross,  Brian Greene, Susan Greenfield, Stephen F Gudeman,  Alan Guth, Jonathan Haidt, Theodor W. Hänsch, Brian Harrison,  Hermann Hauser, Roald Hoffmann,  Bruce Hood, Herbert Huppert,  Gareth Stedman Jones, Steve Jones, Shelly Kagan, Michio Kaku,  Stuart Kauffman,  Lawrence Krauss, Harry Kroto, George Lakoff, Elizabeth Loftus,  Alan Macfarlane, Peter Millican, Marvin Minsky, Leonard Mlodinow,  Yujin Nagasawa, Alva Noe, Douglas Osheroff,  Jonathan Parry,  Saul Perlmutter, Herman Philipse,  Carolyn Porco, Robert M. Price, Lisa Randall, Lord Martin Rees,  Oliver Sacks, John Searle, Marcus du Sautoy, Simon Schaffer, J. L. Schellenberg,   Lee Silver,  Peter Singer,  Walter Sinnott-Armstrong, Ronald de Sousa, Victor Stenger, Barry Supple,   Leonard Susskind, Raymond Tallis, Neil deGrasse Tyson,  .Alexander Vilenkin, Sir John Walker, Frank Wilczek, Steven Weinberg, and  Lewis Wolpert,
Nicolaas "Nico" Bloembergen (March 11, 1920 – September 5, 2017) was a Dutch–American physicist and Nobel laureate, recognized for his work in developing driving principles behind nonlinear optics for laser spectroscopy.[1] During his career, he was a professor at both Harvard University and later at the University of Arizona.
In  the first video below in the 9th clip in this series are his words and will be responding to them in the next few weeks, but today I just wanted to pause and look at this life. I was privileged to be able to correspond with him since the 1990's and he even called me on the phone. 
50 Renowned Academics Speaking About God (Part 1)
Another 50 Renowned Academics Speaking About God (Part 2)
A Further 50 Renowned Academics Speaking About God (Part 3)
__
Nicolaas Bloembergen, a Dutch-born American scientist who ate tulip bulbs to survive during World War II and went on to win the Nobel Prize in physics, died Sept. 5 at a retirement community in Tucson. He was 97.His son, Brink Bloembergen, who confirmed the death, said the cause was cardiorespiratory failure.Over a much-honored career that included 40 years on the faculty of Harvard University, Dr. Bloembergen became a pioneer and major contributor in three significant areas of physics, all of which have significant applications in daily life.He was one of the pioneers in the development of nuclear magnetic resonance (NMR) techniques, which have become invaluable to modern medicine for creating images of the tissues of the body.A paper published by Dr. Bloembergen and co-authors on the subject of NMR was said for many years to be one of the most quoted articles in the physics literature. Published in the Physical Review, it was by Dr. Bloembergen, Edward M. Purcell and Robert V. Pound and relied heavily on Dr. Bloembergen's doctoral thesis.

In physicists' shorthand the paper was known as "BPP."

Dr. Bloembergen was also recognized for making important advances in the development of the maser, a device similar to the laser but that amplifies microwaves rather than light waves.
He was one of three physicists awarded the Nobel Prize in 1981, along with Kai M. Siegbahn of Sweden and Arthur L. Schawlow of the United States. The Swedish Academy cited Dr. Bloembergen for his work in nonlinear optics. Of all his accomplishments, it appeared that Dr. Bloembergen was proudest of his pioneering work in nonlinear optics. The field has important applications in modern optical communications, among other areas.
Dr. Bloembergen, who once described physics as the science that explains "the how and why of things," can be seen as part of a generation of scientists trained in Europe before World War II who later came to the United States. Many arrived before the war. Their contributions helped put the United States at the forefront of scientific discovery.
Nicolaas Bloembergen was born March 11, 1920, in Dordrecht, the Netherlands. His father was a chemical engineer and executive. His maternal grandfather was a high school principal with a doctorate in mathematical physics.
Dr. Bloembergen began to concentrate on physics not because he found it easy but because he considered it "the most and difficult and challenging subject."
He enrolled at the University of Utrecht in 1938 and obtained the equivalent of a bachelor's degree (in 1941) and master's degree (in 1943) before the Nazis shut down the institution. He later went into hiding and endured such privation that he recalled the winter of 1944 as the "hunger winter."
Concealed from the Nazis, with food almost impossible to find, he ate tulip bulbs. They required long preparation and provided little nourishment, he recalled. But they staved off the worst hunger pangs by filling his stomach.
After the defeat of the Nazis in 1945, Dr. Bloembergen was accepted into graduate school at Harvard, where he worked on NMR under Purcell, one of his two co-authors on the often-cited 1948 Physical Review paper, and a 1952 Nobel laureate.
Certain laboratory techniques, he said, he found difficult to master. But he once wrote, "I found that many abilities can be acquired by perseverance."
Dr. Bloembergen received his PhD in physics at the University of Leiden in his home country in 1948. This was said to have come about because he had completed preliminary qualifications there. The next year, he returned to Harvard, where he remained on the faculty until retiring in 1990.
He was said to have never missed a class in his four decades on the faculty at Harvard, where he was known for his kindness towards students. He became a naturalized U.S. citizen in 1958.
In later years, he joined the faculty of the University of Arizona.
Survivors include his wife of 67 years, the former Huberta Deliana Brink of Tucson; and three children.
The title of Dr. Bloembergen's PhD thesis was "Nuclear Magnetic Relaxation." In this context, relaxation refers to a change in the energy state of a magnetic system composed of the spins of atomic nuclei. The spins of electrically charged particles, such as protons in the nucleus, create circulating electric currents, permitting individual nuclei to be treated as subatomic magnets.
In the process of relaxation, these nuclear magnets, which line up with or against a fixed magnetic field return to their original positions. In NMR spins that have lined up in one direction may flip to the opposite direction in response to an oscillating electromagnetic field.
The frequency at which the nuclei respond is the resonant frequency. It can be used to find out about atoms, molecules and the substances they compose and the environments in which they exist.
Edward Purcell was one of the first to demonstrate NMR in certain materials, and at Harvard, Dr. Bloembergen became his first graduate student. "It was my good fortune to arrive at the right time at the right place," Dr. Bloembergen later said of coming to Harvard. .
Following his NMR work, Dr. Bloembergen devoted his attention to the amplification of microwave energy and the device for producing this effect, the maser. The word is the acronym for microwave amplification by stimulated emission of radiation.
The device was a forerunner of the better-known and more widely used laser, in which the L stands for light.
With the ability to create extremely intense light beams, it was possible to open up the barely known areas of nonlinear optics and nonlinear spectroscopy.
In nonlinear processes, the consistent correspondence between signal and response breaks down. An increase in the intensity of one no longer creates an equivalent increase in the other. One of Dr. Bloembergen's major contributions was enabling these nonlinear effects to be understood.
If for any of his scientific accomplishments, his son said, he wanted to be remembered as the father of nonlinear optics.
Despite the seriousness with which he approached his work, Dr. Bloembergen was not without wit and humor. After his retirement at Harvard, he was made professor emeritus. He described his change in status this way: "A professor can do as he pleases, but a professor emeritus can do as he damn well pleases."
_
 The letter I sent to Dr. Bloembergen in 2016 that prompted him to call me on the phone!!!
_________
Francis Schaeffer (30 January 1912 – 15 May 1984[1])  and his wife Edith  (November 3, 1914 – March 30, 2013)
James Watson (1928-) and Francis Crick  (8 June 1916 – 28 July 2004)
Michael Polanyi, FRS[1] (11 March 1891 – 22 February 1976)
John Charles Polanyi,  (born 23 January 1929)
___
John Scott Haldane (2 May 1860 – 14/15 March 1936)
J. B. S. Haldane
Haldane in 1914
(5 November 1892 – 1 December 1964)
Maurice Wilkins (15 December 1916 – 5 October 2004)
Erwin Schrödinger (12 August 1887 – 4 January 1961)
Sir Peter Medawar ( 28 February 1915 – 2 October 1987)
Barry Commoner (May 28, 1917 – September 30, 2012)
Enjoy the pictures of an amazing life
Harry Kroto with his father above
Margaret with David and Stephen

leaving Liverpool for Canada 1964
June 11, 2016
Dr. Nicolaas Bloembergen, c/o College of Optical Sciences
The University of Arizona
1630 E. University Blvd.
P.O. Box 210094
Tucson, AZ 85721-0094
Dear Dr. Bloembergen,
I had the privilege of corresponding with you about 20 years ago when you were at Harvard and I was always impressed with your responses to me since you took time out of your busy schedule to give a thoughtful response. I was very sad to learn of the passing of the great scientist Harry Kroto. Judging from comments of his close friends, Kroto was not only a great scientist but an even better man personally.
Tim Logan, chair of Chemistry and Biochemistry at Florida State: "What always brought out the best in Harry was his wife, Margaret. Margaret and Harry were always together, until the end of Harry's life. She served as his business manager, scheduling his many speaking engagements around the world, organizing the travel, and supporting him in many, many ways. What I found so remarkable is that even after 57 years together, they were so obviously in love. Harry would include photos and sketches he made of her in his lectures, and he always acknowledged her as his moral compass." 
HAVE YOU EVER WONDERED WHY I WAS PROMPTED ORIGINALLY TO WRITE YOU? It was because Harry Kroto took the time in 2014 to correspond with me. After I wrote him in  the spring and summer of 2014 he emailed me twice and then sent me a letter in November of 2014. In that letter he referred me to a film series  Renowned Academics talk about God that featured your comments. 
Furthermore, your full interview appears on the VEGA website which Kroto founded, and he was so proud of your interview that he featured a clip from it during his speech at  a BEYOND BELIEF CONFERENCE (he actually spoke there in 2006, 2007 and 2008 and all those speeches are on You Tube). I have always been fascinated by brilliant individuals and recently I had the opportunity to come across a very interesting article by Michael Polanyi, LIFE TRANSCENDING PHYSICS AND CHEMISTRY, in the magazine CHEMICAL AND ENGINEERING NEWS, August 21, 1967, and I also got hold of a 1968 talk by Francis Schaeffer based on this article. ISN'T IT AMAZING THAT JUST LIKE KROTO'S FAMILY POLANYI HAD TO FLEE EUROPE BECAUSE OF HITLER'S INSANE GRUDGE AGAINST THE JEWS!!!!I know you don't believe in God or the Devil but if anyone was demon-possessed it had to be Hitler.
Polanyi's son John actually won the 1986 Nobel Prize for Chemistry. This article by Michael Polanyi concerns Francis Crick and James Watson and their discovery of DNA in 1953. Polanyi noted:
Mechanisms, whether man-made or morphological, are boundary conditions harnessing the laws of in
animate nature, being themselves irreducible to those laws. The pattern of organic bases in DNA which functions as a genetic code is a boundary condition irreducible to physics and chemistry. Further controlling principles of life may be represented as a hierarchy of boundary conditions extending, in the case of man, to consciousness and responsibility.
I am sending you this two CD's of this talk because I thought you may find it very interesting. It includes references to not only James D. Watson, and Francis Crick but also  Maurice Wilkins, Erwin Schrodinger, J.S. Haldane (his son was the famous J.B.S. Haldane), Peter Medawar, and Barry Commoner.
Thank you for your time. I know how busy you are and I want to thank you for taking the time to read this letter.
Sincerely,
Everette Hatcher,
P.O. Box 23416, Little Rock, AR 72221, United States, cell ph 501-920-5733, everettehatcher@gmail.com
__
Related posts:
____________