I was saddened to learn of the passing of Dr. John Raymond Smythies on January 28, 2019 in La Jolla, CA, and I wanted to spend time on several posts concentrating on him. I have several tributes, but the best I read can be found at this link.
______
_______________
Francis August Schaeffer (January 30, 1912 – May 15, 1984[1])
building of king solomon's temple
__
Adrian Pierce Rogers (September 12, 1931 – November 15, 2005)
___
Larry Joe Speaks (August 20, 1947 to April 7, 2017)
Larry Joe Speaks, 69, of Cabot, passed Friday, April 7, 2017. He was born August 20, 1947 in Fort Smith, Arkansas to the late Joe and Doris Speaks. H
On April 16, 2017 is the day we celebrate Easter which is about Christ's resurrection from the dead!!!
__
_
April 16, 2017
John Raymond Smythies, Center for Brain and Cognition,
La Jolla, CA 92093-0109
Dear Dr. Smythies,
Today I want to start off talking about your life's work and your accomplishments.
You have been tremendously blessed in your talents and your life work has brought you much in financial rewards and notoriety in your field. With that in mind in today's letter I want to compare you to King Solomon and look at what both you and Solomon have accomplished in the area of LABOR (or his life's work).
Wikipedia noted:
John Raymond Smythies M.D. F.R.C.P. (born 30 November 1922) is a neuropsychiatrist, neuroscientist and neurophilosopher.
Smythies has served as President of the International Society of Psychoneuroendocrinology from 1970-1974 (31), Consultant to the World Health Organization from 1963-1968 (32), and Editor of the International Review of Neurobiology from 1958-1991. He was elected a member of the Athenaeum in 1968 (33). He has published over 200 scientific papers and sixteen books.
He has made extensive contributions to knowledge in a number of fields including the neurochemistry of schizophrenia (5,6) and the neuropharmacology of psychedelic drugs (7); the functional neuroanatomy of synapses with particular regard to the role of synaptic plasticity, endocytosis and redox factors (8,9); the role in the brain of orthoquinone metabolites of catecholamines (10); the role of virtual reality mechanisms in visual perception (11) and, in particular, theories of brain-consciousness relations (12-17). Smythies has held positions as the Charles Byron Ireland Professor Emeritus of Psychiatric Research at the University of Alabama Medical Center at Birmingham, Visiting Scholar at the Center for Brain and Cognition, University of California, San Diego, and Senior Research Fellow at the Institute of Neurology, University College London.
At the start of his book on the effects of mescaline, The Doors of Perception, the author Aldous Huxley credits Smythies with having inspired him to take the substance.
____
As you know in these series of letters I am looking at the 6 L words that Solomon pursued in the Book of Ecclesiastes and today I am looking at LABOR (Solomon's life work). Now that we have looked at some of your accomplishments, let us take a look at SOLOMON. I consider you a very successful man in your field and in that sense you are similar to SOLOMON, and by comparing you two I am in no way trying to belittle your accomplishments. However, I do want to point out some of SOLOMON's own words of analysis concerning his legacy from Ecclesiastes (which is Richard Dawkinsfavorite book in the Bible).
SOLOMON was remembered for his WISDOM and his success with the LADIES, but he was also remembered for his LABOR (his life work). For Solomon that basically came down to the labor he commissioned in his building campaigns through out his kingdom plus the effort he put forth building his own palace and the temple in Jerusalem.
Below are the comments of Francis Schaeffer on SOLOMON and the Book of Ecclesiastes:
Leonardo da Vinci and Solomon both were universal men searching for the meaning in life. Solomon was searching for a meaning in the midst of the details of life. His struggle was to find the MEANING OF LIFE. Not just plans in life. Anybody can find plans in life. A child can fill up his time with plans of building tomorrow's sand castle when today's has been washed away. There is a difference between finding plans in life and purpose in life. Humanism since the Renaissance and onward has never found it. Modern man has not found it and it has always got worse and darker in a very real way.
We have here the declaration of Solomon's universality:
1 Kings 4:30-34
English Standard Version (ESV)
30 so that Solomon's wisdom surpassed the wisdom of all the people of the east and all the wisdom of Egypt. 31 For he was wiser than all other men…and his fame was in all the surrounding nations. 32 He also spoke 3,000 proverbs, and his songs were 1,005. 33 He spoke of trees, from the cedar that is in Lebanon to the hyssop that grows out of the wall. He spoke also of beasts, and of birds, and of reptiles, and of fish. 34 And people of all nations came to hear the wisdom of Solomon, and from all the kings of the earth, who had heard of his wisdom.
_________________________
Here is the universal man and his genius. Solomon is the universal man with a empire at his disposal. Solomon had it all.
Ecclesiastes 1:3
English Standard Version (ESV)
3 What does man gain by all the toil
at which he toils under the sun?
Solomon took a look at the meaning of life on the basis of human life standing alone between birth and death "under the sun."
After wisdom Solomon comes to the great WORKS of men. Ecclesiastes 1:14, "I have seen all the works which have been done under the sun, and behold, all is [p]vanity and striving after wind." Solomon is the man with an empire at this disposal that speaks. This is the man who has the copper refineries in Ezion-geber. This is the man who made the stables across his empire. This is the man who built the temple in Jerusalem. This is the man who stands on the world trade routes. He is not a provincial. He knew what was happening on the Phonetician coast and he knew what was happening in Egypt. There is no doubt he already knew something of building. This is Solomon and he pursues the greatness of his own construction and his conclusion is VANITY AND VEXATION OF SPIRIT.
Ecclesiastes 2:18-20
18 Thus I hated all the fruit of my labor for which I had labored under the sun, for I must leave it to the man who will come after me. 19 And who knows whether he will be a wise man or a fool? Yet he will have control over all the fruit of my labor for which I have labored by acting wisely under the sun. This too is vanity. 20 Therefore I completely despaired of all the fruit of my labor for which I had labored under the sun.
He looked at the works of his hands, great and multiplied by his wealth and his position and he shrugged his shoulders.
Ecclesiastes 2:22-23
22 For what does a man get in all his labor and in his striving with which he labors under the sun? 23 Because all his days his task is painful and grievous; even at night his mind does not rest. This too is vanity.
Man can not rest and yet he is never done and yet the things which he builds will out live him. If one wants an ironical three phrases these are they. There is a Dutch saying, "The tailor makes many suits but one day he will make a suit that will outlast the tailor."
———
Many have tried sexual exploits just like Solomon did, and many have thrown their efforts into business too. Sadly Solomon also found the pursuit of great works in his LABOR just as empty. In Ecclesiastes 2:11 he asserted, "THEN I CONSIDERED ALL THAT MY HANDS HAD DONE AND THE TOLL I HAD EXPENDED IN DOING IT, AND BEHOLD, ALL WAS VANITY AND A STRIVING AFTER WIND, and there was nothing to be gained under the sun."
Many people through history have reminded me of Solomon because they are looking for lasting meaning in their life and they are looking in the same 6 areas that King Solomon did in what I call the 6 big L words. He looked into learning (1:16-18), laughter, ladies, luxuries, and liquor (2:1-3, 8, 10, 11), and LABOR (2:4-6, 18-20).
Then in last few words in the Book of Ecclesiastes he looks above the sun and brings God back into the picture: "The conclusion, when all has been heard, is: Fear God and keep His commandments, because this applies to every person. For God will bring every act to judgment, everything which is hidden, whether it is good or evil."
I started writing this series of 7 letters to you concerning Solomon and the meaning of life after the death of my good friend LARRY SPEAKS. During the last 20 years of his life Larry would hand out CD's of Adrian Rogers'message WHO IS JESUS? and I wanted to share one of the points that is made in that sermon that particularly applies today since it is EASTER:
Simon Peter gave THREE LINES OF EVIDENCE, three witnesses; and we use these same three witnesses when we share Jesus today. Let's look at Acts chapter 10:
39 And we are witnesses of all that he did both in the country of the Jews and in Jerusalem. They put him to death by hanging him on a tree, 40 but God raised him on the third day and made him to appear, 41 not to all the people but to us who had been chosen by God as witnesses, who ate and drank with him after he rose from the dead. 42 And he commanded us to preach to the people and to testify that he is the one appointed by God to be judge of the living and the dead. 43 To him all the prophets bear witness that everyone who believes in him receives forgiveness of sins through his name."
I THE PERSONAL WITNESS OF THE SAINTS (Acts 10:39)
The apostles were a diverse group, yet they were united in their witness. Among them:
John was young, observant and sensitive.
Peter was a rough, hard-working fisherman.
Simon the Zealot was a political activist.
Nathaniel and Thomas both tended to be skeptical and inquiring.
Matthew was a hardened, political businessman.
Andrew was gentle and compassionate.
Philip was a calculating thinker.
James was a straight shooter.
They were eyewitnesses of the virtuous life of Jesus.
Acts 10:34 & 38
Matthew 17:1-5
They were eyewitnesses of His vicarious death.
Acts 10:39
Deuteronomy 21:23
They were eyewitnesses of His victorious resurrection.
Acts 10:40-41
II THE PROPHETIC WITNESS OF THE SCRIPTURES (Acts 10:43) (We looked at this in a previous letter.)
III THE PERSUASIVE WITNESS OF THE SPIRIT (Acts 10:44)
____________
Today is Easter and I listened to one one my favorite Easter Songs "O Praise the Name." Let me encourage you to look it up on You Tube. Christ died NOT for his own sins because he was sinless, but for ours (Romans 10:9) so we could receive the free gift of grace (Ephesians 2:8). Through your LABOR you can NOT earn salvation.
Romans 10:8-13 English Standard Version (ESV)
8 But what does it say? "The word is near you, in your mouth and in your heart" (that is, the word of faith that we proclaim); 9 because, if you confess with your mouth that Jesus is Lord and believe in your heart that God raised him from the dead, you will be saved. 10 For with the heart one believes and is justified, and with the mouth one confesses and is saved. 11 For the Scripture says, "Everyone who believes in him will not be put to shame." 12 For there is no distinction between Jew and Greek; for the same Lord is Lord of all, bestowing his riches on all who call on him. 13 For "everyone who calls on the name of the Lord will be saved."
The answer to find meaning in life is found in putting your faith and trust in Jesus Christ. The Bible is true from cover to cover and can be trusted.
Thanks for your time.
Sincerely,
Everette Hatcher, everettehatcher@gmail.com, http://www.thedailyhatch.org, cell ph 501-920-5733, Box 23416, Little Rock, AR 72221
On November 21, 2014 I received a letter from Nobel Laureate Harry Kroto and it said:
…Please click on this URL http://vimeo.com/26991975
and you will hear what far smarter people than I have to say on this matter. I agree with them.
Harry Kroto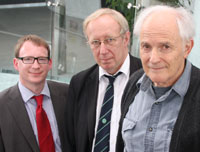 Nick Gathergood, David-Birkett, Harry-Kroto
I have attempted to respond to all of Dr. Kroto's friends arguments and I have posted my responses one per week for over a year now. Here are some of my earlier posts:
Arif Ahmed, Sir David Attenborough, Mark Balaguer, Horace Barlow, Michael Bate, Patricia Churchland, Aaron Ciechanover, Noam Chomsky,Alan Dershowitz, Hubert Dreyfus, Bart Ehrman, Stephan Feuchtwang, David Friend, Riccardo Giacconi, Ivar Giaever , Roy Glauber, Rebecca Goldstein, David J. Gross, Brian Greene, Susan Greenfield, Stephen F Gudeman, Alan Guth, Jonathan Haidt, Theodor W. Hänsch, Brian Harrison, Hermann Hauser, Roald Hoffmann, Bruce Hood, Herbert Huppert, Gareth Stedman Jones, Steve Jones, Shelly Kagan, Michio Kaku, Stuart Kauffman, Lawrence Krauss, Harry Kroto, George Lakoff, Elizabeth Loftus, Alan Macfarlane, Peter Millican, Marvin Minsky, Leonard Mlodinow, Yujin Nagasawa, Alva Noe, Douglas Osheroff, Jonathan Parry, Saul Perlmutter, Herman Philipse, Carolyn Porco, Robert M. Price, Lisa Randall, Lord Martin Rees, Oliver Sacks, John Searle, Marcus du Sautoy, Simon Schaffer, J. L. Schellenberg, Lee Silver, Peter Singer, Walter Sinnott-Armstrong, Ronald de Sousa, Victor Stenger, Barry Supple, Leonard Susskind, Raymond Tallis, Neil deGrasse Tyson, .Alexander Vilenkin, Sir John Walker, Frank Wilczek, Steven Weinberg, and Lewis Wolpert,
In the second video below in the 95th clip in this series are his words but today I just wanted to pause and look at this life.
Quote from Dr. John Raymond Smythies
I would like to describe how mescaline works. These hallucination drugs have a very specific action in two ways. Number 1 they produce fantastic visual hallucinations. These are described by the people who have them (most of them are down to earth scientists such as MacDonald Critchley) as being more beautiful than anything they have ever seen in normal art. Some of these people have the sort of experience as union with God, mystical experiences and so on.
50 Renowned Academics Speaking About God (Part 1)
Another 50 Renowned Academics Speaking About God (Part 2)
A Further 50 Renowned Academics Speaking About God (Part 3)
__
—
Related posts:
____________
____
__