I was saddened to learn of the passing of Dr. John Raymond Smythies on January 28, 2019 in La Jolla, CA, and I wanted to spend time on several posts concentrating on him. I have several tributes, but the best I read can be found at this link.
______
___
Larry Joe Speaks, 69, of Cabot, passed Friday, April 7, 2017. He was born August 20, 1947 in Fort Smith, Arkansas to the late Joe and Doris Speaks. H
Larry Joe Speaks pictured above his pastor Pastor Kirk Wetsell pictured below:
___
___
Nelson Price pictured above and Adrian Rogers pictured below
XXX
__
XXXX
__
may 14 christina perri and david hodges on stage during bmi's 61st annual pop awards at the beverly wilshire four seasons hotel on may 14 2013 in beverly hills california
__
_____
Daughtry frontman Chris Daughtry with opening act David Hodges at Pure in Caesars Palace.
______
Three founding members of Evanescence, Amy Lee, Ben Moody and David Hodges
______
April 14, 2017
John Raymond Smythies, Center for Brain and Cognition,
La Jolla, CA 92093-0109
Dear Dr. Smythies,
On April 9, 2015, I wrote you a letter about Carl Gustav Jung (1875-1961) and his idea of the collective consciousness and I tied it in to Romans 1. In this letter I want to return to that subject. It still amazes me that you knew Carl Gustav Jung personally.
Today was Larry Speaks' funeral. It was known that Larry loved watches, knives, firearms and fine jewelry, but when he died he could not take any of his possessions with him. Moreover, Larry wasn't depending on those things to get him to heaven. Larry's heart did not concentrate on luxuries but on serving Christ. Larry often went to the Mall to hand out free CD's of the message WHO IS JESUS? by Adrian Rogers.
I wanted to share with you what was said by Pastor Kirk Wetsell about Larry's life. Kirk knew Larry very well because he was not only Larry's pastor but also his brother-in-law. Over the last few days I have got to know Pastor Kirk Wetsell since we both were frequent visitors to the hospital after Larry's stroke in early April. Kirk made some opening comments then he read several verses from Romans chapters 1, 2 and 3:
Larry had a passion for the study of scripture. He had assurance of his salvation because he had a conviction of his sin and he had repented.
Nothing focuses us on the afterlife more than times of death. Is there life after death? Is there any higher power or are we just a product of chance?
Does my life have any meaning or purpose?
The
WESTMINSTER CATECHISM
states, What is the chief end of man?
A.
Man's chief end is to glorify God, and to enjoy him forever.
Romans Chapter 1
18 For [God does not overlook sin and] the wrath of God is revealed from heaven against all ungodliness and unrighteousness of men who in their wickedness suppress and stifle the truth, 19 because that which is known about God is evident within them [in their inner consciousness], for God made it evident to them. 20 For ever since the creation of the world His invisible attributes, His eternal power and divine nature, have been clearly seen, being understood through His workmanship [all His creation, the wonderful things that He has made], so that they [who fail to believe and trust in Him] are without excuse and without defense.21 For even though they knew God [as the Creator], they did not honor Him as God or give thanks [for His wondrous creation]. On the contrary, they became worthless in their thinking [godless, with pointless reasonings, and silly speculations], and their foolish heart was darkened.
Chapter 2
14 When Gentiles, who do not have the Law [since it was given only to Jews], do instinctively the things the Law requires [guided only by their conscience], they are a law to themselves, though they do not have the Law.15 They show that the essential requirements of the Law are written in their hearts; and their conscience [their sense of right and wrong, their moral choices] bearing witness and their thoughts alternately accusing or perhaps defending them 16 on that day when, as my gospel proclaims, God will judge the secrets [all the hidden thoughts and concealed sins] of men through Christ Jesus.
Chapter 3
23 since all have sinned and continually fall short of the glory of God, 24 and are being justified [declared free of the guilt of sin, made acceptable to God, and granted eternal life] as a gift by His [precious, undeserved] grace, through the redemption [the payment for our sin] which is [provided] in Christ Jesus…
________
Now let me interject another insight. Romans 1:18-19 says, "For [God does not overlook sin and] the wrath of God is revealed from heaven against all ungodliness and unrighteousness of men who in their wickedness suppress and stifle the truth, 19 because that which is known about God is evident within them [in their inner consciousness], for God made it evident to them."
Nelson Price in THE EMMANUEL FACTOR (1987) tells the story about Brown Trucking Company in Georgia who used to give polygraph tests to their job applicants. However, in part of the test the operator asked, "Do you believe in God?" In every instance when a professing atheist answered "No," the test showed the person to be lying. My pastor Adrian Rogers used to tell this same story to illustrate Romans 1:19 and it was his conclusion that "there is no such thing anywhere on earth as a true atheist. If a man says he doesn't believe in God, then he is lying. God has put his moral consciousness into every man's heart, and a man has to try to kick his conscience to death to say he doesn't believe in God."
It is true that polygraph tests for use in hiring were banned by Congress in 1988. Mr and Mrs Claude Brown on Aug 25, 1994 wrote me a letter confirming that over 15,000 applicants previous to 1988 had taken the polygraph test and EVERY TIME SOMEONE SAID THEY DID NOT BELIEVE IN GOD, THE MACHINE SAID THEY WERE LYING.
Two little lines I heard one day, Traveling along life's busy way;
Bringing conviction to my heart, And from my mind would not depart;
Only one life, 'twill soon be past, Only what's done for Christ will last.
Only one life, yes only one, Soon will its fleeting hours be done;
Then, in 'that day' my Lord to meet, And stand before His Judgment seat;
Only one life, 'twill soon be past, Only what's done for Christ will last.
___
Can we all agree with C.T. STUDD that after we die we can't arrange to take our possessions with us?
Solomon had it all and especially gold but he said all thefame and fortune is vanity and a chasing of the wind because it will NOT bring satisfaction or even last.
Back in 2001 our friend David Hodges was in a struggling rock band named EVANESCENCE in Little Rock but then they hit it big. Not only did Evanescence sell 20 million records but afterwards David wrote #1 smash singles: Kelly Clarkson's "Because of You," Daughtry's"What About Now," Carrie Underwood's "See You Again" and many others. My personal favorite is A THOUSAND YEARS sung by Christina Perri.
In October of 2016 David Hodges spoke to a meeting I attended in Little Rock. He said the 15 years he lived in Los Angeles had taught him a lot of lessons and the MOST IMPORTANT is the lesson from the BOOK OF ECCLESIASTES that TRUE JOY and HAPPINESS does not come from MONEY and POSSESSIONS.
I have been writing you the last few times on Solomon. He was searching for meaning in life in what I call the 6 big L words in the Book of Ecclesiastes. He looked into learning (1:16-18), laughter, ladies, luxuries, and liquor(2:1-3, 8, 10, 11), and labor (2:4-6, 18-20). After searching in area of luxuries Solomon found them to be "vanity and a striving after the wind."
Ecclesiastes 2:7-11 English Standard Version (ESV)
7I had also great possessions of herds and flocks, more than any who had been before me in Jerusalem. 8 I also gathered for myself silver and gold and the treasure of kings and provinces. 9 So I became great and surpassed all who were before me in Jerusalem…10 And whatever my eyes desired I did not keep from them. 11 Then I considered all that my hands had done and the toil I had expended in doing it, and behold, all was vanity and a striving after wind, and there was nothing to be gained UNDER THE SUN.
"For what does it profit a man to gain the whole world and forfeit his soul?" Mark 8:36 (Christ's words)
God put Solomon's story in Ecclesiastes in the Bible with the sole purpose of telling people like you that without God in the picture you will find out the emptiness one feels when possessions are trying to fill the void that God can only fill.
Then in the last chapter of Ecclesiastes Solomon returns to looking above the sun and he says that obeying the Lord is the proper way to live your life. The answer to find meaning in life is found in putting your faith and trust in Jesus Christ. The Bible is true from cover to cover and can be trusted. If you need more evidence then go to You Tube and watch the short videos "Francis Schaeffer – The Biblical Flow of History & Truth (1),"(3 min, 5 sec) and "Dr. Francis Schaeffer – The Biblical Flow of Truth & History (part 2)," (10 min, 46 sec).
On November 21, 2014 I received a letter from Nobel Laureate Harry Kroto and it said:
…Please click on this URL http://vimeo.com/26991975
and you will hear what far smarter people than I have to say on this matter. I agree with them.
Harry Kroto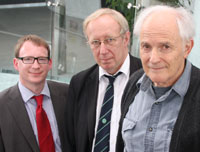 Nick Gathergood, David-Birkett, Harry-Kroto
I have attempted to respond to all of Dr. Kroto's friends arguments and I have posted my responses one per week for over a year now. Here are some of my earlier posts:
Arif Ahmed, Sir David Attenborough, Mark Balaguer, Horace Barlow, Michael Bate, Patricia Churchland, Aaron Ciechanover, Noam Chomsky,Alan Dershowitz, Hubert Dreyfus, Bart Ehrman, Stephan Feuchtwang, David Friend, Riccardo Giacconi, Ivar Giaever , Roy Glauber, Rebecca Goldstein, David J. Gross, Brian Greene, Susan Greenfield, Stephen F Gudeman, Alan Guth, Jonathan Haidt, Theodor W. Hänsch, Brian Harrison, Hermann Hauser, Roald Hoffmann, Bruce Hood, Herbert Huppert, Gareth Stedman Jones, Steve Jones, Shelly Kagan, Michio Kaku, Stuart Kauffman, Lawrence Krauss, Harry Kroto, George Lakoff, Elizabeth Loftus, Alan Macfarlane, Peter Millican, Marvin Minsky, Leonard Mlodinow, Yujin Nagasawa, Alva Noe, Douglas Osheroff, Jonathan Parry, Saul Perlmutter, Herman Philipse, Carolyn Porco, Robert M. Price, Lisa Randall, Lord Martin Rees, Oliver Sacks, John Searle, Marcus du Sautoy, Simon Schaffer, J. L. Schellenberg, Lee Silver, Peter Singer, Walter Sinnott-Armstrong, Ronald de Sousa, Victor Stenger, Barry Supple, Leonard Susskind, Raymond Tallis, Neil deGrasse Tyson, .Alexander Vilenkin, Sir John Walker, Frank Wilczek, Steven Weinberg, and Lewis Wolpert,
In the second video below in the 95th clip in this series are his words but today I just wanted to pause and look at this life.
Quote from Dr. John Raymond Smythies
I would like to describe how mescaline works. These hallucination drugs have a very specific action in two ways. Number 1 they produce fantastic visual hallucinations. These are described by the people who have them (most of them are down to earth scientists such as MacDonald Critchley) as being more beautiful than anything they have ever seen in normal art. Some of these people have the sort of experience as union with God, mystical experiences and so on.
50 Renowned Academics Speaking About God (Part 1)
Another 50 Renowned Academics Speaking About God (Part 2)
A Further 50 Renowned Academics Speaking About God (Part 3)
__
—
Related posts:
____________
____
__