I was saddened to learn of the passing of Dr. John Raymond Smythies on January 28, 2019 in La Jolla, CA, and I wanted to spend time on several posts concentrating on him. I have several tributes, but the best I read can be found at this link.
______
Sean Michael preaching on April 9, 2017 Palm Sunday at Calvary Chapel in Bauxite, Arkansas and he preached on II Corinthians chapters 4 and 5:
17 Therefore, if anyone is in Christ, he is a new creation.[f]The old has passed away; behold, the new has come. 18 All this is from God, who through Christ reconciled us to himself and gave us the ministry of reconciliation; 19 that is, in
Picture of Sean preaching here
Christ God was reconciling[g] the world to himself, not counting their trespasses against them, and entrusting to us the message of reconciliation. 20 Therefore, we are ambassadors for Christ, God making his appeal through us. We implore you on behalf of Christ, be reconciled to God. 21 For our sake he made him to be sin who knew no sin, so that in him we might become the righteousness of God.
(seen below) Sean Michel made it to Hollywood in the 2007 AMERICAN IDOL COMPETITION while singing theJohnny Cash song GOD'S GONNA CUT YOU DOWN
Simon was taken back by the song GOD'S GONNA CUT YOU DOWN
Check out on You Tube the song THIS IS AMAZING GRACE (It has about 30 million views)
Jesus paid for our sin even though he was sinless
__________
Larry Joe Speaks, 69, of Cabot, passed Friday, April 7, 2017. He was born August 20, 1947 in Fort Smith, Arkansas to the late Joe and Doris Speaks. H
The sermon WHO IS JESUS? was preached by Adrian Rogers (pictured below) and my good friend Larry Speaks (pictured above) gave out hundreds of CD copies of it before he died on April 7, 2017 at the age of 69.
____
Blaise Pascal was one of the most brilliant scientists of all time and a believer
__
April 9, 2017
John Raymond Smythies,
La Jolla, CA 92093-0109
Dear Dr. Smythies,
It is simply amazing to me that you knew Aldous Huxleyand Carl Gustav Jung. These are two men that had major impacts on 20th century culture and thinking. I would love to know if you had any more stories to tell about these too intellectuals.
Today I want to ask you to match your wit with King Solomon's words from 3000 years ago.
In my last letter I told you that the loss of my good friend Larry Speaks has got me thinking a lot about the meaning of life. In this letter today I want to do 3 things.
First, I will tell you what the sermon and music was about today on Palm Sunday at the church service I attended.
Second, I want to take a short look at the message WHO IS JESUS? by Adrian Rogers and Rogers interaction with a scientist from NASA. This sermon was Larry's favorite sermon.
Third, I want to start looking at the 6 L words that Solomon pursued UNDER THE SUN to try to get meaning and satisfaction in this life without God in the picture in the Book of Ecclesiastes. Today's word is LEARNING. Can one find a lasting meaning to life in the area of education? Solomon had a lot to say about that in the Book of Ecclesiastes.
Today I was invited by our family friend Sean Michel to come hear him preach at Calvary Chapel today in Bauxite, Arkansas. Not only did Sean Michel preach but he also helped provide some of the music. In fact, one of the songs they played was my favorite and it is called "This is Amazing Grace," by Phil Wickham and you can check it out on You Tube.
In Sean's sermon we discover that it is NOT an uneducated head that is the problem to finding God but an UNWILLING STUBBORN HEART.
II Corinthians 4:3-4 (Amplified Bible)
3 But even if our gospel is [in some sense] hidden [behind a veil], it is hidden [only] to those who are perishing;4 among them the god of this world [Satan] has blinded the minds of the unbelieving to prevent them from seeing the illuminating light of the gospel of the glory of Christ, who is the image of God.
This verse is clarified even more by Matthew 11:25 (AMP)
25 At that time Jesus said, "I praise You, Father, Lord of heaven and earth [I openly and joyfully acknowledge Your great wisdom], that You have hidden these things [these spiritual truths] from the wise and intelligent and revealed them to infants [to new believers, to those seeking God's will and purpose].
Here we must observe that many people don't want to find the truth just like a thief doesn't want to find a policeman. I now want to share a portion of the sermon WHO IS JESUS? by Adrian Rogers because this very point is made:
Years ago Adrian Rogers counseled with a NASA scientist and his severely depressed wife. The wife pointed to her husband and said, "My problem is him." She went on to explain that her husband was a drinker, a liar, and an adulterer.
Dr. Rogers asked the man if he were a Christian. "No!" the man laughed. "I'm an atheist." "Really?" Dr. Rogers replied. "That means you're someone who knows that God does not exist." "That's right," said the man. "Would it be fair to say that you don't know all there is to know in the universe?" "Of course," the man admitted. Dr. Rogers asked, "Would it be generous to say you know half of all there is to know?" "Yes!" Then Dr. Rogers inquired,"Wouldn't it be possible that God's existence might be in the half you don't know?" The man acknowledged, "Okay, but I don't think He exists." Dr. Rogers replied, "Well then, you're not an atheist; you're an agnostic. You're a doubter." The man asserted, "Yes, and I'm a big one." Then Dr. Rogers popped the question, "It doesn't matter what size you are. I want to know what kind [of doubter] you are."
"What kinds are there?"
"There are honest doubters and dishonest doubters. An honest doubter is willing to search out the truth and live by the results; a dishonest doubter doesn't want to know the truth. He can't find God for the same reason a thief can't find a policeman."
"I want to know the truth."
"Would you like to prove that God exists?"
"It can't be done."
"It can be done. You've just been in the wrong laboratory. Jesus said, 'If any man's will is to do His will, he will know whether my teaching is from God or whether I am speaking on my own authority' (John 7:17). I suggest you read one chapter of the book of John each day, but before you do, pray something like this, 'God, I don't know if You're there, I don't know if the Bible is true, I don't know if Jesus is Your Son. But if You show me that You are there, that the Bible is true, and that Jesus is Your Son, then I will follow You. My will is to do your will."
The man agreed. About three weeks later he returned to Dr. Rogers's office and invited Jesus Christ to be his Savior and Lord.
_________
WHAT DOES SOLOMON HAVE TO SAY ABOUT PURSUING LEARNING in the Book of Ecclesiastes?
Francis Schaeffer noted that Solomon took a look at the meaning of life on the basis of human life standing alone between birth and death "under the sun." This phrase UNDER THE SUN appears over and over in Ecclesiastes. The Christian Scholar Ravi Zacharias noted, "The key to understanding the Book of Ecclesiastes is the term UNDER THE SUN — What that literally means is you lock God out of a closed system and you are left with only this world of Time plus Chance plus matter."
As you know Solomon was searching for for meaning in life in what I call the 6 big L words in the Book of Ecclesiastes. He looked into LEARNING (1:12-18, 2:12-17), laughter, ladies, luxuries, and liquor (2:1-2, 8, 10, 11), and labor (2:4-6, 18-20).
Here is his final conclusion concerning LEARNING:
ECCLESIASTES 1:12-18, 2:12-17 LEARNING
12 I the Preacher have been king over Israel in Jerusalem.13 And I applied my heart to seek and to search out by wisdom all that is done under heaven. It is an unhappy business that God has given to the children of man to be busy with. 14 I have seen everything that is done UNDER THE SUN, and behold, all is vanity and a striving after wind.
15 What is crooked cannot be made straight,
and what is lacking cannot be counted.
16 I said in my heart, "I have acquired great wisdom, surpassing all who were over Jerusalem before me, and my heart has had great experience of wisdom and knowledge." 17 And I applied my heart to know wisdom and to know madness and folly. I perceived that this also is but a striving after wind.
18 For in much wisdom is much vexation,
and he who increases knowledge increases sorrow.
12 So I turned to consider wisdom and madness and folly. For what can the man do who comes after the king? Only what has already been done. 13 Then I saw that there is more gain in wisdom than in folly, as there is more gain in light than in darkness. 14 The wise person has his eyes in his head, but the fool walks in darkness. And yet I perceived that the same event happens to all of them.15 Then I said in my heart, "What happens to the fool will happen to me also. Why then have I been so very wise?" And I said in my heart that this also is vanity. 16 For of the wise as of the fool there is no enduring remembrance, seeing that in the days to come all will have been long forgotten. How the wise dies just like the fool! 17 So I hated life, because what is done UNDER THE SUN was grievous to me, for all is vanity and a striving after wind.
Ecclesiastes was written to those who wanted to examine life UNDER THE SUN without God in the picture and Solomon's conclusion in the final chapter was found in Ecclesiastes 12 when he looked at life ABOVE THE SUN:
13 The end of the matter; all has been heard. Fear God and keep his commandments, for this is the whole duty of man. 14 For God will bring every deed into judgment, with every secret thing, whether good or evil.
In an earlier letter to you I quoted Psalms chapter 22. Why not take a few minutes and just read the short chapter of Psalms 22 that was written hundreds of years before the Romans even invented the practice of Crucifixion. 1000 years BC the Jews had the practice of stoning people but we read in this chapter a graphic description of Christ dying on the cross. How do you explain that without looking ABOVE THE SUN to God.
Thanks for your time.
Sincerely,
Everette Hatcher, everettehatcher@gmail.com, http://www.thedailyhatch.org, cell ph 501-920-5733, Box 23416, LittleRock, AR 72221
PS: Like I promised I will continue to write you and go through these 6 L words that Solomon was pursuing UNDER THE SUN in the Book of Ecclesiastes in order to find a lasting meaning to our lives.
On November 21, 2014 I received a letter from Nobel Laureate Harry Kroto and it said:
…Please click on this URL http://vimeo.com/26991975
and you will hear what far smarter people than I have to say on this matter. I agree with them.
Harry Kroto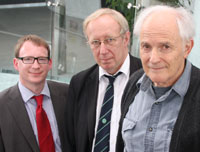 Nick Gathergood, David-Birkett, Harry-Kroto
I have attempted to respond to all of Dr. Kroto's friends arguments and I have posted my responses one per week for over a year now. Here are some of my earlier posts:
Arif Ahmed, Sir David Attenborough, Mark Balaguer, Horace Barlow, Michael Bate, Patricia Churchland, Aaron Ciechanover, Noam Chomsky,Alan Dershowitz, Hubert Dreyfus, Bart Ehrman, Stephan Feuchtwang, David Friend, Riccardo Giacconi, Ivar Giaever , Roy Glauber, Rebecca Goldstein, David J. Gross, Brian Greene, Susan Greenfield, Stephen F Gudeman, Alan Guth, Jonathan Haidt, Theodor W. Hänsch, Brian Harrison, Hermann Hauser, Roald Hoffmann, Bruce Hood, Herbert Huppert, Gareth Stedman Jones, Steve Jones, Shelly Kagan, Michio Kaku, Stuart Kauffman, Lawrence Krauss, Harry Kroto, George Lakoff, Elizabeth Loftus, Alan Macfarlane, Peter Millican, Marvin Minsky, Leonard Mlodinow, Yujin Nagasawa, Alva Noe, Douglas Osheroff, Jonathan Parry, Saul Perlmutter, Herman Philipse, Carolyn Porco, Robert M. Price, Lisa Randall, Lord Martin Rees, Oliver Sacks, John Searle, Marcus du Sautoy, Simon Schaffer, J. L. Schellenberg, Lee Silver, Peter Singer, Walter Sinnott-Armstrong, Ronald de Sousa, Victor Stenger, Barry Supple, Leonard Susskind, Raymond Tallis, Neil deGrasse Tyson, .Alexander Vilenkin, Sir John Walker, Frank Wilczek, Steven Weinberg, and Lewis Wolpert,
In the second video below in the 95th clip in this series are his words but today I just wanted to pause and look at this life.
Quote from Dr. John Raymond Smythies
I would like to describe how mescaline works. These hallucination drugs have a very specific action in two ways. Number 1 they produce fantastic visual hallucinations. These are described by the people who have them (most of them are down to earth scientists such as MacDonald Critchley) as being more beautiful than anything they have ever seen in normal art. Some of these people have the sort of experience as union with God, mystical experiences and so on.
50 Renowned Academics Speaking About God (Part 1)
Another 50 Renowned Academics Speaking About God (Part 2)
A Further 50 Renowned Academics Speaking About God (Part 3)
__
—
Related posts:
____________
____
__