I was saddened to learn of the passing of Dr. John Raymond Smythies on January 28, 2019 in La Jolla, CA, and I wanted to spend time on several posts concentrating on him.
______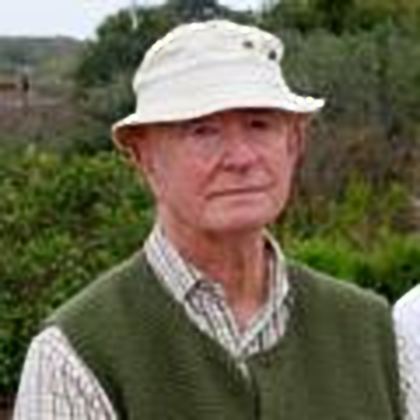 Well into his 80's, John decided to join the world-famous neuroscience team lead by Dr. Ramachandran, in California and remained active until a few months before his demise in January this year. A tribute by Prof. Ashoka, exclusively in Different Truths.
I have always harboured the belief that psychiatry over the years has lost a large part of its sheen because of its reluctance to encompass the entire scope of the discipline. Many if not most of its dimensions are completely ignored in the training process, which suffocates the specialty to a large extent.
One of the foremost pioneers to challenge this status quo was John Raymond Smythies. As he had deviated from the mainstream, he is not as widely known as his contribution merits.
John was born in Nainital where his father was a philatelist in 1922. His more than
fluent Hindi had its provenance to his various interactions with his playmates and father's colleagues with whom he retained lifelong contact. Following his relocation to the United Kingdom, he completed his medical training in Cambridge and then worked with the Royal Navy in Bermuda, which is where he developed an interest in psychiatry.
But he was very clear that he did not wish to step into his discipline unless he had what he regarded as 'proper grounding.' He therefore decided to train as a neuroscientist under the Nobel Laureate, Sir John Eccles. While still a neuroscience researcher, he appreciated the philosophico-anthropological contribution to the understanding of mental health and developed a deep friendship with Aldous Huxley. He then moved to the United States where he formally trained and obtained a masters' in philosophy and submitted his dissertation to the University of Cambridge, which earned him an M.D.
Only then did he consider himself ready to undergo psychiatric training at the Maudsley Hospital under Sir Aubrey Lewis. He then felt he needed some grounding in biochemistry and worked with John Osmond for two years before taking up a clinical assignment. He spent 12 years in Edinburgh at the Royal Edinburgh Hospital (where I trained).
His orientation quite frequently put him at odds with his colleagues, but he persisted, nevertheless. He noticed that mescaline could produce schizophrenia like symptoms and published a hypothesis that came to be the first biological explanation for schizophrenia and was popularised as 'transmethylation hypothesis'. This created quite a lot of excitement in those days. But he firmly believed that in order to fully comprehend schizophrenia, one needed a philosophical orientation along with a neurobiological.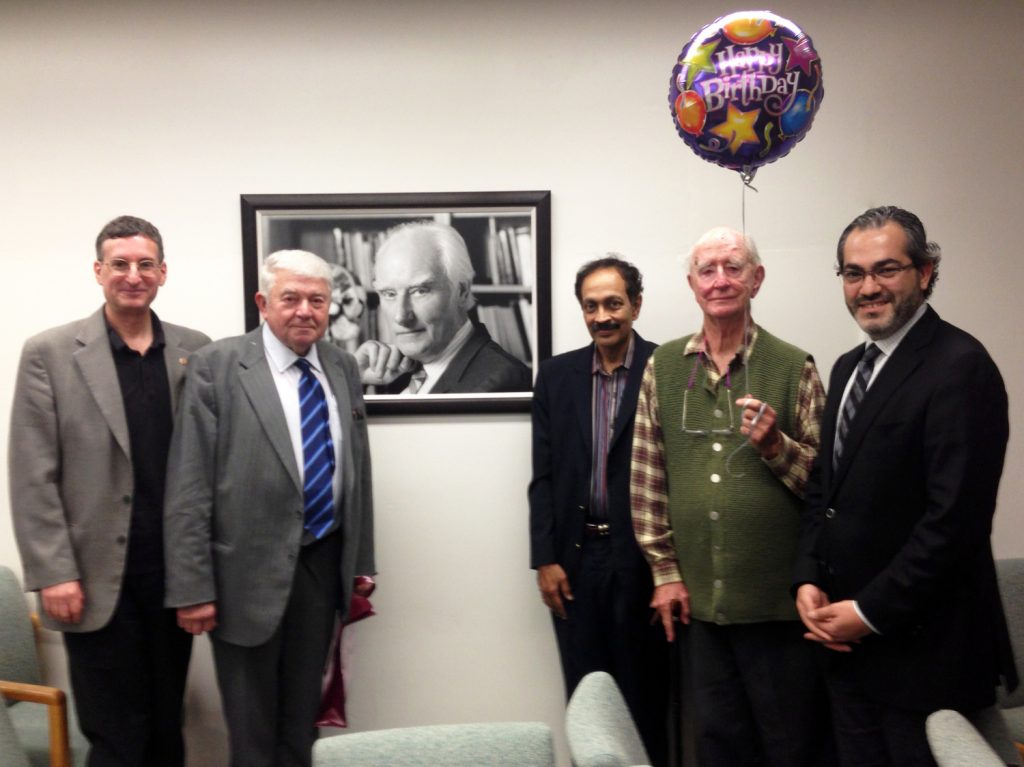 He moved to Alabama to take up an endowed chair in psychiatry and remained there for over 20 years continuing with his neurobiological-philosophical research in psychiatric disorders. He was an absolute delight to listen to and a regular at both neuroscience and philosophical conclaves. Well into his 80's, he decided to join the world-famous neuroscience team lead by Dr. Ramachandran, in California, and remained active until a few months before his demise in January this year.
Somehow the sad news took its time to reach me. There are many, me included, who looked to him for inspiration and were always rewarded with effusive hospitality over meals at his place, where he lived with his Italian wife.
I mourn the passing away of a pioneer. We shall not see the likes of him again!
©Prof. Ashoka Jahnavi Prasad
Ashoka Jahnavi Prasad is a physician /psychiatrist holding doctorates in pharmacology, history and philosophy plus a higher doctorate. He is also a qualified barrister and geneticist. He is a regular columnist in several newspapers, has published over 100 books and has been described by the Cambridge News as the 'most educationally qualified in the world'.
—
Email
To John Smythies, Concerning my personal interaction with Clinton, election of Trump and a movie recommendation, From Everette Hatcher of Little Rock on 11-28-16
I am currently the JUSTICE OF THE PEACE for District 2 of Saline County which is the 6th largest county in Arkansas and I just finished going through my 3rd election. I won my first election by 4 1/2% and my last two elections by double digit margins in probably the most Democratic leaning district in the whole county even though I am a Republican.
At the age of 21 in January of 1983 I moved from Memphis to Little Rock and I had never seen a politician in person. I suppose it was because Memphis is a large city and I lived in a suburb outside it. However, the first week I was in Little Rock I got to meet Governor Bill Clinton and I ran into both of our U.S. Senators and our Congressman in downtown Little Rock when I was dropping off a deposit at Worthen Bank and attending a meeting in a small meeting room at the State House Convention Center. In fact, I ran into them again and again often at restaurants, movie theaters and ballgames around town. After a while I didn't really take notice anymore since it was so common. My uncle explained to me that Little Rock was a capitol city and since we worked downtown we could often run into politicians.
Our plant location was on 300 Industrial Road which is right next to the Arkansas River within a few hundred feet from where the Clinton Library stands today. In 1985 we moved to another part of Little Rock.
A quick couple of stories about my personal interaction with Bill Clinton. One of the first times I spoke with him was at the 1983 ARKANSAS INDEPENDENT GROCERY WHOLESALER MEETING and he came into our meeting tardy because he said there was a big emergency at the Capitol and that was Hillary wanted a private meeting with him. The amazing thing that day was that I noticed that he personally greeted the dozen or so elderly men that owned these grocery wholesale businesses and called them all by their first names. Since then the Krogers and large supermarkets of the world have completely run these wholesalers out of business in Arkansas.
A year later I was at a relative's wedding and I was seated on the aisle and when the father of the bride began to escort her down the aisle I noticed that Bill Clinton was in the seat directly behind me. Being a politician he couldn't resist shaking the father's hand and Hillary promptly elbowed Bill and his face turned red. I am sure she has had to elbow him a few times since 1984!!!
I am an evangelical conservative so even though I was very upset that Donald Trump was the Republican Nominee, I did hold my noise and vote for him over Hillary Clinton. However, I DIDN'T HAVE A GOOD EXPLANATION WHY CLINTON LOST UNTIL I READ THESE WORDS A FEW DAYS AGO in the DAILY MAIL:
In the waning days of the presidential campaign, Bill and Hillary Clinton had a knock-down, drag-out fight about her effort to blame FBI Director James Comey for her slump in the polls and looming danger of defeat….[Bill Clinton] got so angry that he threw his phone off the roof of his penthouse apartment and toward the Arkansas River.'
Bill has a luxurious penthouse apartment with an outdoor garden at the Clinton Presidential Library and Museum in Little Rock.
During the campaign, Bill Clinton felt that he was ignored by Hillary's top advisers when he urged them to make the economy the centerpiece of her campaign.
He repeatedly urged them to connect with the people who had been left behind by the revolutions in technology and globalization.
_________
Are you buying Bill's explanation?
I just saw the movie GREATER about the life of Brandon Burlsworth and there was a secularist farmer played by Nick Searcy that reminded me of you and when the DVD is released on 12-20-16 I would like to send you a free one.
Yesterday while in my attic I ran across a cassette tape labeled "April 1999" and it has the recording of my 12 year old son calling into a local radio show where he got to talk to Brandon Burlsworth who had just been drafted by the Indianapolis Colts to play in the NFL. Just a few days later Burlsworth was on his way to his Harrison, Ark., home from Fayetteville, where he received an SEC West title ring along with the rest of the 1998 Razorbacks on April 28, 1999. Every Wednesday, he returned to take his mom, Barbara, to church. The drive was supposed to take about 90 minutes.
He never made it.
The 22-year-old Burlsworth, who had been drafted by the Colts 11 days earlier after earning first-team All-America honors as a fifth-year senior, was involved in a head-on crash with a tractor-trailer about 15 miles outside Harrison and was killed. He was in the prime of his life and football career, and then he was gone.
There's a great deal of Christian content in this film. It can perhaps best be summarized by saying that Brandon's unwavering faith deeply informs everything he does, while his brother's faltering faith after Brandon's death is something he grapples with mightily.
Brandon has deep trust in God. At every step along his journey, when naysayers rise up to tell him that he's being unrealistic, Brandon keeps moving forward in faith. Marty is more pragmatic, asking his brother things like, "You think God would give you D I [Division 1] dreams and a D III (Division III) body?" To Marty, the answer to that rhetorical, spiritual question is self-evident. Brandon, however, soldiers on, refusing to give up. "Have faith, Marty," he says elsewhere. "This is my road."
For his part, Marty struggles to cling to his faith in the wake of his brother's death. That internal battle is depicted in a dramatic way through ongoing dialogue with a doubter named the Farmer. Marty's trying to summon the courage to go into Brandon's memorial service at Harrison High School. And the Farmer (played by Nick Searcy), depicted very nearly as a Satan-like tempter, repeatedly delivers soliloquies about the utter foolishness of faith. In one scene, the man (who's whittling a portrait of Marty into a block of wood, almost as if he's creating a voodoo doll) says, "Brandon did have faith. He believed if he worked hard and did everything he was supposed to do, God would make everything turn out for the best. Did everything turn out for the best, Marty?"
Elsewhere, the Farmer taunts, "There is no loving God, Marty. That's ridiculous. There's just a howling void. And a real man, an honest man, doesn't get down on his knees to pray to it for his mercy. He stands up to it, and he looks it right in his face and he howls right back."
But Marty also talks with his godly mother about how to process the randomness of Brandon's death. She tells him that it's only random when looked at from an earthly perspective. "If you assume this is all there is, you'd have a point, Marty. But that's not true. This life is a drop in the ocean. One tick of eternity's clock, and we'll all be together again, Marty. And every trouble we had here will recede away like a dream."
__
It has been a pleasure to send you these letters in the past and I hope you take me up on this offer to see this inspirational true story about Brandon Burlsworth who was truly one of the greatest rags to richest stories in sports history. Also I would encourage you to google FRANCIS SCHAEFFER THE PROBLEM OF EVIL.
Sincerely,
Everette Hatcher, cell ph 501-920-5733, P.O. Box 23416, Little Rock, AR 72221, everettehatcher@gmail.com
____
Brandon below with his brother Marty and his two nephews
XXXXXXXXX
__________
______
Linda Bloodworth-Thomason and Harry Thomason with the Clintons in the White House
___
___
Bill was on the phone at his luxurious penthouse apartment he keeps at the Clinton Presidential Library in Little Rock
On November 21, 2014 I received a letter from Nobel Laureate Harry Kroto and it said:
…Please click on this URL http://vimeo.com/26991975
and you will hear what far smarter people than I have to say on this matter. I agree with them.
Harry Kroto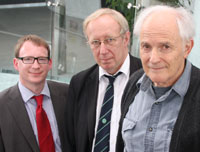 Nick Gathergood, David-Birkett, Harry-Kroto
I have attempted to respond to all of Dr. Kroto's friends arguments and I have posted my responses one per week for over a year now. Here are some of my earlier posts:
Arif Ahmed, Sir David Attenborough, Mark Balaguer, Horace Barlow, Michael Bate, Patricia Churchland, Aaron Ciechanover, Noam Chomsky,Alan Dershowitz, Hubert Dreyfus, Bart Ehrman, Stephan Feuchtwang, David Friend, Riccardo Giacconi, Ivar Giaever , Roy Glauber, Rebecca Goldstein, David J. Gross, Brian Greene, Susan Greenfield, Stephen F Gudeman, Alan Guth, Jonathan Haidt, Theodor W. Hänsch, Brian Harrison, Hermann Hauser, Roald Hoffmann, Bruce Hood, Herbert Huppert, Gareth Stedman Jones, Steve Jones, Shelly Kagan, Michio Kaku, Stuart Kauffman, Lawrence Krauss, Harry Kroto, George Lakoff, Elizabeth Loftus, Alan Macfarlane, Peter Millican, Marvin Minsky, Leonard Mlodinow, Yujin Nagasawa, Alva Noe, Douglas Osheroff, Jonathan Parry, Saul Perlmutter, Herman Philipse, Carolyn Porco, Robert M. Price, Lisa Randall, Lord Martin Rees, Oliver Sacks, John Searle, Marcus du Sautoy, Simon Schaffer, J. L. Schellenberg, Lee Silver, Peter Singer, Walter Sinnott-Armstrong, Ronald de Sousa, Victor Stenger, Barry Supple, Leonard Susskind, Raymond Tallis, Neil deGrasse Tyson, .Alexander Vilenkin, Sir John Walker, Frank Wilczek, Steven Weinberg, and Lewis Wolpert,
In the second video below in the 95th clip in this series are his words but today I just wanted to pause and look at this life.
Quote from Dr. John Raymond Smythies
I would like to describe how mescaline works. These hallucination drugs have a very specific action in two ways. Number 1 they produce fantastic visual hallucinations. These are described by the people who have them (most of them are down to earth scientists such as MacDonald Critchley) as being more beautiful than anything they have ever seen in normal art. Some of these people have the sort of experience as union with God, mystical experiences and so on.
50 Renowned Academics Speaking About God (Part 1)
Another 50 Renowned Academics Speaking About God (Part 2)
A Further 50 Renowned Academics Speaking About God (Part 3)
__
—
Related posts:
____________
____
__