I was saddened to learn of the passing of Dr. Riccardo Giacconi on 16 December 16, 2018, in La Jolla, CA,  and I wanted to spend time on several posts concentrating on him.
______
On November 21, 2014 I received a letter from Nobel Laureate Harry Kroto and it said:
…Please click on this URL http://vimeo.com/26991975
and you will hear what far smarter people than I have to say on this matter. I agree with them.
Harry Kroto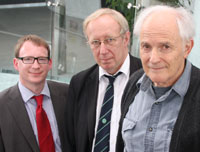 Nick Gathergood, David-Birkett, Harry-Kroto
I have attempted to respond to all of Dr. Kroto's friends arguments and I have posted my responses one per week for over a year now. Here are some of my earlier posts:
Arif Ahmed, Sir David Attenborough, Mark Balaguer, Horace Barlow, Michael Bate, Patricia Churchland, Aaron Ciechanover, Noam Chomsky,Alan Dershowitz, Hubert Dreyfus, Bart Ehrman, Stephan Feuchtwang, David Friend,  Riccardo Giacconi, Ivar Giaever , Roy Glauber, Rebecca Goldstein, David J. Gross,  Brian Greene, Susan Greenfield, Stephen F Gudeman,  Alan Guth, Jonathan Haidt, Theodor W. Hänsch, Brian Harrison,  Hermann Hauser, Roald Hoffmann,  Bruce Hood, Herbert Huppert,  Gareth Stedman Jones, Steve Jones, Shelly Kagan, Michio Kaku,  Stuart Kauffman,  Lawrence Krauss, Harry Kroto, George Lakoff, Elizabeth Loftus,  Alan Macfarlane, Peter Millican, Marvin Minsky, Leonard Mlodinow,  Yujin Nagasawa, Alva Noe, Douglas Osheroff,  Jonathan Parry,  Saul Perlmutter, Herman Philipse,  Carolyn Porco, Robert M. Price, Lisa Randall, Lord Martin Rees,  Oliver Sacks, John Searle, Marcus du Sautoy, Simon Schaffer, J. L. Schellenberg,   Lee Silver,  Peter Singer,  Walter Sinnott-Armstrong, Ronald de Sousa, Victor Stenger, Barry Supple,   Leonard Susskind, Raymond Tallis, Neil deGrasse Tyson,  .Alexander Vilenkin, Sir John Walker, Frank Wilczek, Steven Weinberg, and  Lewis Wolpert,
In  the first video below in the 47th clip in this series are his words and will be responding to them in the next few weeks, but today I just wanted to pause and look at this life. 
50 Renowned Academics Speaking About God (Part 1)
Another 50 Renowned Academics Speaking About God (Part 2)
A Further 50 Renowned Academics Speaking About God (Part 3)
__
_
'Father of X-ray astronomy' Riccardo Giacconi dies at 87
The Italian astrophysicist Riccardo Giacconi, who shared the 2002 Nobel Prize for Physics with Raymond Davis Jr and Masatoshi Koshiba, has died at the age of 87. He pioneered the field of X-ray astronomy working on a mission that lead to the first detection of a cosmic X-ray source outside our solar system.
Giacconi was born in Genoa, Italy, on 6 October 1931 and obtained a PhD in physics from the University of Milan. After working as an assistant professor at the University of Milan in 1956 he moved to the US first working at Indiana University and then Princeton University.
In 1959 Giacconi began work at the start-up firm American Science and Engineering (AS&E) in Cambridge, Massachusetts, which at the time was mostly involved with military research. At AS&E, Giacconi started work on an X-ray astronomy programme. Since X-rays from the Sun and other sources are absorbed by the atmosphere, X-ray astronomy can only be carried out from space. In the late 1940s Herbert Friedman from the Naval Research Laboratory in the US had observed X-rays from the Sun using a rocket. But given the strength of the solar X-rays, it was thought that X-rays could not be detected from more distant stars.
That was overturned in 1962 when Giacconi and his team began producing scientific payloads for rockets. One such rocket took off on 12 June 1962 and managed to detect the first cosmic X-ray source outside our solar system as well as proving that the universe contains an X-ray background. This discovery opened a new window on the universe and resulted in a burgeoning programme of X-ray astronomy. Indeed, in 1970, Giacconi's group launched the first X-ray satellite – Uhuru – that led to the discovery of black holes.
Pioneering contributions
In 1973 Giacconi's group moved to the Harvard-Smithsonian Center for Astrophysics (CfA) in Cambridge, Massachusetts. It was there that they worked on the Einstein X-ray Observatory — the first imaging X-ray telescope – that launched in 1978. The probe, which ended in 1982, discovered that all types of astronomical objects and systems emit X-rays. Giacconi was also instrumental in Einstein's successor — NASA's Chandra X-ray Observatory – that was launched in 1999 and is now in its 20th year or operation.
READ MORE
Nobel Prize rewards neutrino astrophysics and X-ray astronomy
Giacconi moved from the CfA to the Space Telescope Science Institute in Baltimore in 1981, becoming its first permanent director. In 1993 he then became director general of the European Southern Observatory, in Garching, Germany; a position he held until 1999. Giacconi then moved back to the US to become president of Associated Universities where he worked on the Atacama Large Millimeter Array before retiring in 2004.
Giacconi was awarded one half of the 2002 Nobel Prize for Physics for his "pioneering contributions to astrophysics, which have led to the discovery of cosmic X-ray sources". The other half was divided between Davis and Koshiba for discovering cosmic neutrinos.
https://www.youtube.com/watch?v=afa6daZvnAw
_
June 11, 2016
Dr. Riccardo Giacconi, c/o Johns Hopkins University, Zanvyl Krieger School of Arts & Sciences
Department of Physics & Astronomy, Bloomberg Center for Physics and Astronomy, Room 366
3400 N. Charles Street, Baltimore, MD 21218
Dear Dr. Giacconi,
I was very sad to learn of the passing of the great scientist Harry Kroto. Judging from comments of his close friends, Kroto was not only a great scientist but an even better man personally.
Tim Logan, chair of Chemistry and Biochemistry at Florida State: "What always brought out the best in Harry was his wife, Margaret. Margaret and Harry were always together, until the end of Harry's life. She served as his business manager, scheduling his many speaking engagements around the world, organizing the travel, and supporting him in many, many ways. What I found so remarkable is that even after 57 years together, they were so obviously in love. Harry would include photos and sketches he made of her in his lectures, and he always acknowledged her as his moral compass." 
HAVE YOU EVER WONDERED WHY I WAS PROMPTED ORIGINALLY TO WRITE YOU? It was because Harry Kroto took the time in 2014 to correspond with me. After I wrote him in  the spring and summer of 2014 he emailed me twice and then sent me a letter in November of 2014. In that letter he referred me to a film series  Renowned Academics talk about God that featured your comments. 
Furthermore, your full interview appears on the VEGA website which Kroto founded, and he was so proud of your interview that he featured a clip from it during his speech at  a BEYOND BELIEF CONFERENCE (he actually spoke there in 2006, 2007 and 2008 and all those speeches are on You Tube). I have always been fascinated by brilliant individuals and recently I had the opportunity to come across a very interesting article by Michael Polanyi, LIFE TRANSCENDING PHYSICS AND CHEMISTRY, in the magazine CHEMICAL AND ENGINEERING NEWS, August 21, 1967, and I also got hold of a 1968 talk by Francis Schaeffer based on this article. ISN'T IT AMAZING THAT JUST LIKE KROTO'S FAMILY POLANYI HAD TO FLEE EUROPE BECAUSE OF HITLER'S INSANE GRUDGE AGAINST THE JEWS!!!!I know you don't believe in God or the Devil but if anyone was demon-possessed it had to be Hitler.
Polanyi's son John actually won the 1986 Nobel Prize for Chemistry. This article by Michael Polanyi concerns Francis Crick and James Watson and their discovery of DNA in 1953. Polanyi noted:
Mechanisms, whether man-made or morphological, are boundary conditions harnessing the laws of in
animate nature, being themselves irreducible to those laws. The pattern of organic bases in DNA which functions as a genetic code is a boundary condition irreducible to physics and chemistry. Further controlling principles of life may be represented as a hierarchy of boundary conditions extending, in the case of man, to consciousness and responsibility.
I am sending you this two CD's of this talk because I thought you may find it very interesting. It includes references to not only James D. Watson, and Francis Crick but also  Maurice Wilkins, Erwin Schrodinger, J.S. Haldane (his son was the famous J.B.S. Haldane), Peter Medawar, and Barry Commoner.
Thank you for your time. I know how busy you are and I want to thank you for taking the time to read this letter.
Sincerely,
Everette Hatcher,
P.O. Box 23416, Little Rock, AR 72221, United States, cell ph 501-920-5733, everettehatcher@gmail.comFrom
_
_
_
Related posts:
____________
____
__