I was saddened to learn of the passing of Dr. Riccardo Giacconi on 16 December 16, 2018, in La Jolla, CA,  and I wanted to spend time on several posts concentrating on him.
The Smithsonian Archives is saddened to learn of the death of 2002 Nobel laureate in Physics, astrophysicist Riccardo Giacconi. Among Giacconi's numerous accomplishments is his creation of X-ray astronomy.
While at the Harvard-Smithsonian Center for Astrophysics, Giacconi served as Director of the High Energy Astrophysics Division from 1973 to 1981. He oversaw the conception, fabrication, and design of the Einstein Observatory, preparation of the software and hardware for data reduction for the Einstein, and the establishment and implementation of the Guest Observer Program.
The Smithsonian Institution Archives is the official repository for Riccardo Giacconi's personal papers. These papers document Giacconi's scientific career and illustrate his scientific work and administrative records relating to the institutions at which he worked. There is extensive documentation of Giacconi's professional activities, including meetings attended, papers presented (and published), his services as officer or board member of professional societies; grants, proposals, and contracts, mainly with NASA; correspondence with colleagues; slides and photographs of many facilities with which Giacconi was associated; news clippings and press releases; and appointment books and journals.
The Archives also holds an oral history of Giacconi. David H. DeVorkin, a curator in the Department of Astronautics at National Air and Space Museum, conducted a videotaped interview of Dr. Giacconi after a symposium in Giacconi's honor, held at the Smithsonian's National Museum of American History and sponsored by its Lemelson Center, on January 22, 2004. In the interview, he discussed his education, research, and career in astrophysics, including his work at the Smithsonian, Project Starfish, and the Hubble Space Telescope.
______
On November 21, 2014 I received a letter from Nobel Laureate Harry Kroto and it said:
…Please click on this URL http://vimeo.com/26991975
and you will hear what far smarter people than I have to say on this matter. I agree with them.
Harry Kroto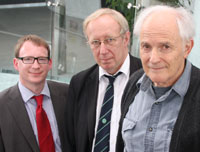 Nick Gathergood, David-Birkett, Harry-Kroto
I have attempted to respond to all of Dr. Kroto's friends arguments and I have posted my responses one per week for over a year now. Here are some of my earlier posts:
Arif Ahmed, Sir David Attenborough, Mark Balaguer, Horace Barlow, Michael Bate, Patricia Churchland, Aaron Ciechanover, Noam Chomsky,Alan Dershowitz, Hubert Dreyfus, Bart Ehrman, Stephan Feuchtwang, David Friend,  Riccardo Giacconi, Ivar Giaever , Roy Glauber, Rebecca Goldstein, David J. Gross,  Brian Greene, Susan Greenfield, Stephen F Gudeman,  Alan Guth, Jonathan Haidt, Theodor W. Hänsch, Brian Harrison,  Hermann Hauser, Roald Hoffmann,  Bruce Hood, Herbert Huppert,  Gareth Stedman Jones, Steve Jones, Shelly Kagan, Michio Kaku,  Stuart Kauffman,  Lawrence Krauss, Harry Kroto, George Lakoff, Elizabeth Loftus,  Alan Macfarlane, Peter Millican, Marvin Minsky, Leonard Mlodinow,  Yujin Nagasawa, Alva Noe, Douglas Osheroff,  Jonathan Parry,  Saul Perlmutter, Herman Philipse,  Carolyn Porco, Robert M. Price, Lisa Randall, Lord Martin Rees,  Oliver Sacks, John Searle, Marcus du Sautoy, Simon Schaffer, J. L. Schellenberg,   Lee Silver,  Peter Singer,  Walter Sinnott-Armstrong, Ronald de Sousa, Victor Stenger, Barry Supple,   Leonard Susskind, Raymond Tallis, Neil deGrasse Tyson,  .Alexander Vilenkin, Sir John Walker, Frank Wilczek, Steven Weinberg, and  Lewis Wolpert,
In  the first video below in the 47th clip in this series are his words and will be responding to them in the next few weeks, but today I just wanted to pause and look at this life. 
50 Renowned Academics Speaking About God (Part 1)
Another 50 Renowned Academics Speaking About God (Part 2)
A Further 50 Renowned Academics Speaking About God (Part 3)
__
_
_
September 28, 2015
Dr. Riccardo Giacconi, c/o Johns Hopkins University, Zanvyl Krieger School of Arts & Sciences
Department of Physics & Astronomy, Bloomberg Center for Physics and Astronomy, Room 366
3400 N. Charles Street, Baltimore, MD 21218
Dear Dr. Giacconi,
Recently I had the opportunity to come across a very interesting article by Michael Polanyi, LIFE TRANSCENDING PHYSICS AND CHEMISTRY, in the magazine CHEMICAL AND ENGINEERING NEWS, August 21, 1967, and I also got hold of a 1968 talk by Francis Schaeffer based on this article. Polanyi's son John actually won the 1986 Nobel Prize for Chemistry.This article by Michael Polanyi concerns Francis Crick and James Watson and their discovery of DNA in 1953. Polanyi noted:
Mechanisms, whether man-made or morphological, are boundary conditions harnessing the laws of in
animate nature, being themselves irreducible to those laws. The pattern of organic bases in DNA which functions as a genetic code is a boundary condition irreducible to physics and chemistry. Further controlling principles of life may be represented as a hierarchy of boundary conditions extending, in the case of man, to consciousness and responsibility.
I would like to send you a CD copy of this talk because I thought you may find it very interesting. It includes references to not only James D. Watson, and Francis Crick but also Maurice Wilkins, Erwin Schrodinger, J.S. Haldane (his son was the famous J.B.S. Haldane), Peter Medawar, and Barry Commoner. I WONDER IF YOU EVER HAD THE OPPORTUNITY TO RUN ACROSS THESE MEN OR ANY OF THEIR FORMER STUDENTS?
Below is a portion of the transcript from the CD and Michael Polanyi's words are in italics while Francis Schaeffer's words are not:
During the past 15 years, I have worked on these questions, achieving gradually stages of the argument presented in this paper. These are:
Machines are not formed by physical and chemical equilibration. 
The functional terms needed for characterizing a machine cannot for defined in terms of physics and chemistry. 
Polanyi is talking about specific machines but I would include the great cause and effect machine of the external universe that functions on a cause and effect basis. So if this is true of the watch,  then you have to ask the same question about the total machine that Sartre points out that is there, and that is the cause and effect universe. Polanyi doesn't touch on this and he doesn't have an answer, and I know people who know him. Yet nevertheless he sees the situation exactly as it is. And I would point out what  Alfred North Whitehead (1861–1947) and J. Robert Oppenheimer (1904–1967) said and that it needed a Christian consensus to produce modern science because it was the Christian consensus that gave the concept that the world being created by a reasonable God and that it could be found out and discovered by reason. So the modern science when it began with Copernicus and Galileo and all these men conceived that the cause and effect system of the universe would be there on the basis that it was created by a reasonable God, and that is Einstein's big dilemma and that is why he became a mystic at the end of life…What Polanyi says here can be extended to the watch, and the bridge and the automobile but also to the big cause and effect universe. You have to give some kind of answer to this too and I would say this to Michael Polanyi if I ever have a chance to talk to him.You need another explanation too Polanyi.
3. No physical chemical topography will tell us that we have a machine before us and what its functions are. 
In other words, if you only know the chemicals and the physics you don't know if you have a machine. It may just be junk. So nobody in the world could tell if it was a machine from merely the "physical chemical-topography." You have to look at the machineness of the machine to say it is a machine. You could take an automobile and smash it into a small piece of metal with a giant press and it would have the same properties of the automobile, but the automobile would have disappeared. The automobile-ness of the automobile is something else than the physical chemical-topography.
4. Such a topography can completely identify one particular specimen of a machine, but can tell us nothing about a class of machines. 
5. And if we are asked how the same solid system can be subject to control by two independent principles, the answer is: The boundary conditions of the system are free of control by physics and can be controlled therefore by nonphysical, purely technical, principles. 
In other words you have to explain the engineering by something other than merely physical principles and of course it is. You can't explain the watchness of the watch merely by this. You can explain it on the basis of engineering principles in which the human mind conceives of a use for the machine and produces the machine. But notice where Polanyi is and that is in our argument of a need of personality in the universethough Polanyi doesn't draw this final conclusion, though I thought that is the only explanation.
If you look at the watch a man has made it for the purpose of telling time. When you see the automobile a man has made it for the purpose of locomotion and the explanation of the difference is not in the chemical and physical properties but in the personality of a man to make these two different machines for two different purposes out of the same material. So what you are left here is the need of personality in the universe.
____
Thank you for your time. I know how busy you are and I want to thank you for taking the time to read this letter.
Sincerely,
Everette Hatcher,
P.O. Box 23416, Little Rock, AR 72221, United States, cell ph 501-920-5733, everettehatcher@gmail.com
_
_
_
Related posts:
____________
____
__