I was saddened to learn of the passing of Dr. Riccardo Giacconi on 16 December 16, 2018, in La Jolla, CA,  and I wanted to spend time on several posts concentrating on him.
______
On Sunday, December 9 Riccardo Giacconi passed away. He was the father of X-ray astronomy and Nobel Prize in physics in 2002 for his contributions in that field.
Riccardo Giacconi was born on October 6, 1931 in Genoa, Italy. He obtained a degree in physics at the University of Milan with a specialization in the research on cosmic rays. In 1956 he moved to the USA, where he carried out research first with the University of Princeton and then at AS&E (American Science and Engineering), where he started developing the first instruments to detect cosmic X-rays.
In 1962 Riccardo Giacconi discovered the first extraterrestrial X-ray source, named Scorpius X-1. In 1970 he oversaw the launch of NASA's Uhuru satellite, the first specialized in X-ray astronomy, followed in the following decades by increasingly sophisticated stellites such as the Einstein Observatory (HEAO-2) in 1978, designed while Giacconi was director of the Harvard Smithsonian Center for Astrophysics, to NASA's Chandra X-ray Observatory in 1999.
Although Riccardo Giacconi is remembered above all for the development of X-ray astronomy, he also worked in other specializations. In particular, in 1981 he became the first director of the Space Telescope Science Institute, the center of scientific operations for what was then another pioneering project, the Hubble Space Telescope. Giacconi kept that office until 1993 and directed the search for a solution to correct the primary mirror flaw discovered after Hubble's activation in space.
After that experience, between 1993 and 1999 Riccardo Giacconi was general director of ESO, directing among other things the construction of the Very Large Telescope (VLT), an observatory on which various instruments were installed over the following years making it one of the best ground-based telescpes in the world.
In 2002 Riccardo Giacconi was awarded the Nobel prize for his pioneering contributions to astrophysics, which led to the discovery of cosmic X-ray sources. It's the most famous among the awards he received but there were several others in Italy, in the USA and in other countries. In Italy he also received the honor of Order of Merit of the Italian Republic (Cavaliere di gran croce dell'Ordine al merito della Repubblica italiana) in 2002 and the Italian Medal of Merit for Culture and Art (Medaglia d'oro ai benemeriti della scuola, della cultura e dell'arte) in 2005.
Riccardo Giacconi returned to work with NASA as principal investigator in the Chandra Deep Field-South project of the Chandra X-ray observatory. He leaves a huge legacy as today X-ray astronomy means studying a part of the universe full of violent events that generate those strong electromagnetic emissions such as neutron stars and black holes
Emailed on 1-17-15
To Dr. Riccardo Giacconi, From Everette Hatcher, I thought you would  like to see this movie Monday night in a theater near you!!
Dear Dr. Giacconi,
I am in the process of posting a  response on my blog to your comments on the film series RENOWNED ACADEMICS SPEAKING ABOUT GOD (which received over 300,000 hits on You Tube). I have already finished responding to some of your other fellow academics  who also appear on the same film series such as David J. Gross,  Frank Wilczek,  .Alexander Vilenkin,  Roy Glauber, Roald Hoffmann,  Rebecca Goldstein, Noam Chomsky, Brian Greene, Marvin Minsky,  Shelly Kagan, Hubert Dreyfus,  Simon Schaffer,  Marcus du Sautoy,  Steven Weinberg, Barry Supple,  Lawrence Krauss, Lord Martin Rees,  Alan Dershowitz, Lewis Wolpert, Aaron Ciechanover, Leonard Mlodinow,  Herbert Huppert,  Leonard Susskind,  Alan Macfarlane,  Saul Perlmutter,  Stuart Kauffman,  Douglas Osheroff,   Alan Guth,  Sir David Attenborough, and  Harry Kroto who started it all by promoting this video series in the first place.  However, it has taken me a little longer to respond to your comments.
I thought of you when I heard about this film PATTERNS OF EVIDENCE: THE EXODUS, which is only showing one time this Monday night January 19, 2015 at 7 pm at a theater near you. You have contended you don't believe in the Bible because you don't have the scientific type evidence that you require.This film contains the findings of over a dozen academics who are experts in archaeology and here it is at a nearby theater to you.
You can get a ticket by going to this website at this link and putting in your zip code to find a theater near you. It stars Israel Finkelstein, Benjamin Netanyahu,  Shimon Peres,  and many more and they will be discussing if the Exodus took place or not with only scientific facts.  I have posted several very good reviews of the major motion picture on my blog.
Here are some theaters near you that are showing the film:
1. CINEMARK TOWSON AND XD,  111 East Joppa Road, Towson, MD 21286, 2. AMC OWINGS MILLS 17, 10100 Mill Run Circle, Owings Mills, MD 21117, 3. CINEMARK EGYPTIAN 24 AND XD,  7000 Arundel Mills Circle, Hanover, MD 21076
Everette Hatcher, cell ph 501-920-733, everettehatcher@gmail.com, P.O. Box 23416, Little Rock, AR 72221
On November 21, 2014 I received a letter from Nobel Laureate Harry Kroto and it said:
…Please click on this URL http://vimeo.com/26991975
and you will hear what far smarter people than I have to say on this matter. I agree with them.
Harry Kroto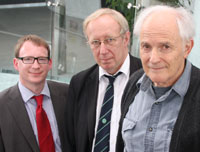 Nick Gathergood, David-Birkett, Harry-Kroto
I have attempted to respond to all of Dr. Kroto's friends arguments and I have posted my responses one per week for over a year now. Here are some of my earlier posts:
Arif Ahmed, Sir David Attenborough, Mark Balaguer, Horace Barlow, Michael Bate, Patricia Churchland, Aaron Ciechanover, Noam Chomsky,Alan Dershowitz, Hubert Dreyfus, Bart Ehrman, Stephan Feuchtwang, David Friend,  Riccardo Giacconi, Ivar Giaever , Roy Glauber, Rebecca Goldstein, David J. Gross,  Brian Greene, Susan Greenfield, Stephen F Gudeman,  Alan Guth, Jonathan Haidt, Theodor W. Hänsch, Brian Harrison,  Hermann Hauser, Roald Hoffmann,  Bruce Hood, Herbert Huppert,  Gareth Stedman Jones, Steve Jones, Shelly Kagan, Michio Kaku,  Stuart Kauffman,  Lawrence Krauss, Harry Kroto, George Lakoff, Elizabeth Loftus,  Alan Macfarlane, Peter Millican, Marvin Minsky, Leonard Mlodinow,  Yujin Nagasawa, Alva Noe, Douglas Osheroff,  Jonathan Parry,  Saul Perlmutter, Herman Philipse,  Carolyn Porco, Robert M. Price, Lisa Randall, Lord Martin Rees,  Oliver Sacks, John Searle, Marcus du Sautoy, Simon Schaffer, J. L. Schellenberg,   Lee Silver,  Peter Singer,  Walter Sinnott-Armstrong, Ronald de Sousa, Victor Stenger, Barry Supple,   Leonard Susskind, Raymond Tallis, Neil deGrasse Tyson,  .Alexander Vilenkin, Sir John Walker, Frank Wilczek, Steven Weinberg, and  Lewis Wolpert,
In  the first video below in the 47th clip in this series are his words and will be responding to them in the next few weeks, but today I just wanted to pause and look at this life. 
50 Renowned Academics Speaking About God (Part 1)
Another 50 Renowned Academics Speaking About God (Part 2)
A Further 50 Renowned Academics Speaking About God (Part 3)
__
_
_
_
_
_
Related posts:
____________
____
__