I was saddened to learn of the passing of Sir John Sulston on March 6, 2018 and I wanted to spend time on several posts concentrating on him. Probably the best video tribute to him I have found is this video below, but the best interview of Dr. Sulston ever done was by Alan Macfarlane and it is below too.
______
Interview of Sir John Sulston – part one
Uploaded on Jun 24, 2010
An Interview on the life and work of Sir John Sulston, Nobel Prize winner, who organized the team which sequenced the human genome for the first time. For a higher quality, downloadable, version, with a detailed summary please see http://www.alanmacfarlane.com
Interview of Sir John Sulston – part two
Uploaded on Jun 24, 2010
An Interview on the life and work of Sir John Sulston, Nobel Prize winner, who organized the team which sequenced the human genome for the first time. For a higher quality, downloadable, version, with a detailed summary please see http://www.alanmacfarlane.com
_________
QUOTE from Dr. Sulston:
I see that we have enormous amounts to discover as a strategy for going forward as human beings; I believe atheism makes coherent sense; all the religions are in conflict with each other; they have different stories, based on insubstantial records, but justify them with saying that there was some direct communication with a deity in the past which has led them to this belief; I find those unconvincing, particularly because of the conflict; this was my main argument in discussions with my father and he found it hard to answer that.
Larry Joe Speaks was 69 years old (his middle name came from his father Joe who fought in the BATTLE OF THE BULGE in World War 2)
__
For 16 years Larry owned his store Southern Fruit & Grocery Sheridan, AR 72150
Francis Schaeffer pictured below
The Visit of the Queen of Sheba to King Solomon', oil on canvas painting by Edward Poynter, 1890
Adrian Rogers pictured below
The Passion of the Christ: The Crucifixion.
_____
April 7, 2017
Professor John Sulston, The University of Manchester,
Dear Dr Sulston,
I discovered that on this morning of April 7, 2017 my good friend Larry Speaks has died and gone to heaven. Let me tell you a little about him. After Larry put is faith in Christ alone for his salvation over 20 years ago he got started on a hobby of listening and discussing some of the great sermons that he heard. One of those sermons was WHO IS JESUS? by Adrian Rogers. In fact, he asked me to run off some cassette tapes of that message so he could give it to people who used to come into his store SOUTHERN FRUIT & GROCERY. After he sold the store he continued to give out this message and over the years I switched to putting it on CD's for him to give out. Even the last years of his life he would go to McCain Mall and walk through the mall and give out the CD's. He was thrilled that so many people were glad to get them, and he was disappointed when occasionally someone would decline to accept his gift.
I know that you had a religious upbringing but you have rejected it. But still do you ever get around to thinking about the issue of death? In the last years of his life King Solomon took time to look back and then he wrote the BOOK OF ECCLESIASTES. Solomon did believe in God but in this book he took a look at life "UNDER THE SUN." Christian scholar Ravi Zacharias has noted, "The key to understanding the Book of Ecclesiastes is the term 'UNDER THE SUN.' What that literally means is you lock God out of a closed system, and you are left with only this world of time plus chance plus matter."
Francis Schaeffer comments on the Book of Ecclesiastes and the subject of death:
Ecclesiastes 9:11
11 Again I saw that under the sun the race is not to the swift, nor the battle to the strong, nor bread to the wise, nor riches to the intelligent, nor favor to those with knowledge, but time and chance happen to them all.
Chance rules. If a man starts out only from himself and works outward it must eventually if he is consistent seem so that only chance rules and naturally in such a setting you can not expect him to have anything else but finally a hate of life.
Ecclesiastes 2:17-18a
17 So I hated life, because what is done under the sun was grievous to me, for all is vanity and a striving after wind. 18 I hated all my toil in which I toil under the sun…
That first great cry "So I hated life." Naturally if you hate life you long for death and you find him saying this in Ecclesiastes 4:2-3:
2 And I thought the dead who are already dead more fortunate than the living who are still alive. 3 But better than both is he who has not yet been and has not seen the evil deeds that are done under the sun.
He lays down an order. It is best never have to been. It is better to be dead, and worse to be alive. But like all men and one could think of the face of Vincent Van Gogh in his final paintings as he came to hate life and you watch something die in his self portraits, the dilemma is double because as one is consistent and one sees life as a game of chance, one must come in a way to hate life. Yet at the same time men never get beyond the fear to die. Solomon didn't either. So you find him in saying this.
Ecclesiastes 2:14-15
14 The wise person has his eyes in his head, but the fool walks in darkness. And yet I perceived that the same event happens to all of them. 15 Then I said in my heart, "What happens to the fool will happen to me also. Why then have I been so very wise?" And I said in my heart that this also is vanity.
The Hebrew is stronger than this and it says "it happens EVEN TO ME," Solomon on the throne, Solomon the universal man. EVEN TO ME, even to Solomon.
Ecclesiastes 3:18-21
18 I said in my heart with regard to the children of man that God is testing them that they may see that they themselves are but beasts. 19 For what happens to the children of man and what happens to the beasts is the same; as one dies, so dies the other. They all have the same breath, and man has no advantage over the beasts, for all is vanity.[n] 20 All go to one place. All are from the dust, and to dust all return.21 Who knows whether the spirit of man goes upward and the spirit of the beast goes down into the earth?
What he is saying is as far as the eyes are concerned everything grinds to a stop at death.
Ecclesiastes 4:16
16 There was no end of all the people, all of whom he led. Yet those who come later will not rejoice in him. Surely this also is vanity and a striving after wind.
That is true. There is no place better to feel this than here in Switzerland. You can walk over these hills and men have walked over these hills for at least 4000 years and when do you know when you have passed their graves or who cares? It doesn't have to be 4000 years ago. Visit a cemetery and look at the tombstones from 40 years ago. Just feel it. IS THIS ALL THERE IS? You can almost see Solomon shrugging his shoulders.
Ecclesiastes 8:8
8 There is no man that hath power over the spirit to retain the spirit; neither hath he power in the day of death: and there is no discharge in that war; neither shall wickedness deliver those that are given to it. (King James Version)
A remarkable two phrase. THERE IS NO DISCHARGE IN THAT WAR or you can translate it "no casting of weapons in that war." Some wars they come to the end. Even the THIRTY YEARS WAR (1618-1648) finally finished, but this is a war where there is no casting of weapons and putting down the shield because all men fight this battle and one day lose. But more than this he adds, WICKEDNESS WON'T DELIVER YOU FROM THAT FIGHT. Wickedness delivers men from many things, from tedium in a strange city for example. But wickedness won't deliver you from this war. It isn't that kind of war. More than this he finally casts death in the world of chance.
Ecclesiastes 9:12
12 For man does not know his time. Like fish that are taken in an evil net, and like birds that are caught in a snare, so the children of man are snared at an evil time, when it suddenly falls upon them.
Death can come at anytime. Death seen merely by the eye of man between birth and death and UNDER THE SUN. Death too is a thing of chance. Albert Camus speeding in a car with a pretty girl at his side and then Camus dead. Lawrence of Arabia coming up over a crest of a hill 100 miles per hour on his motorcycle and some boys are standing in the road and Lawrence turns aside and dies.
Surely between birth and death these things are chance. Modern man adds something on top of this and that is the understanding that as the individual man will dies by chance so one day the human race will die by chance!!! It is the death of the human race that lands in the hand of chance and that is why men grew sad when they read Nevil Shute's book ON THE BEACH.
__________
By the way, the final chapter of Ecclesiastes finishes with Solomon emphasizing that serving God is the only proper response of man. Solomon looks above the sun and brings God back into the picture. I am hoping that your good friend Woody Allen will also come to that same conclusion that Solomon came to concerning the meaning of life and man's proper place in the universe in Ecclesiastes 12:13-14:
13 Now all has been heard;
here is the conclusion of the matter:
Fear God and keep his commandments,
for this is the whole duty of man.
14 For God will bring every deed into judgment,
including every hidden thing,
whether it is good or evil
NOW BACK TO MY FRIEND LARRY SPEAKS. If Larry was here now he would urge you to listen to the message WHO IS JESUS? by Adrian Rogers. Therefore, I wanted to give you a little part of that message. Under the point THE PROPHETIC WITNESS OF THE SCRIPTURES Adrian Rogers talks about Psalm 22:
__
Psalm 22 is an incredible chapter. Perhaps more than any other chapter in the Bible, you cannot read it and come away not loving the Bible and the Lord Jesus Christ.
Turn to Psalm 22. Just below the name of a psalm, often the name of the one who wrote it is given. Who is the human author of Psalm 22?
Through the inspiration of the Holy Spirit, almost half (73) of the Bible's 150 psalms were written by King David.
One thousand years before Jesus Christ, David prophetically foretold His crucifixion.
Since crucifixion was a Roman, not Jewish, form of execution, how is that possible? Crucifixion was completely unknown to the Jewish culture. It would be another 800 years before crucifixion came into the Jewish world. But here we find by divine inspiration a portrait of the cross.
__
Thanks for your time.
Sincerely,
Everette Hatcher, everettehatcher@gmail.com, http://www.thedailyhatch.org, cell ph 501-920-5733, Box 23416, LittleRock, AR 72221
PS: This is the FIRST of SEVEN letters I am writing you on ECCLESIASTES and SOLOMON's SEARCH for MEANING.
On November 21, 2014 I received a letter from Nobel Laureate Harry Kroto and it said:
…Please click on this URL http://vimeo.com/26991975
and you will hear what far smarter people than I have to say on this matter. I agree with them.
Harry Kroto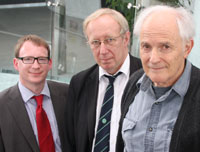 Nick Gathergood, David-Birkett, Harry-Kroto
I have attempted to respond to all of Dr. Kroto's friends arguments and I have posted my responses one per week for over a year now. Here are some of my earlier posts:
Arif Ahmed, Sir David Attenborough, Mark Balaguer, Horace Barlow, Michael Bate, Patricia Churchland, Aaron Ciechanover, Noam Chomsky,Alan Dershowitz, Hubert Dreyfus, Bart Ehrman, Stephan Feuchtwang, David Friend, Riccardo Giacconi, Ivar Giaever , Roy Glauber, Rebecca Goldstein, David J. Gross, Brian Greene, Susan Greenfield, Stephen F Gudeman, Alan Guth, Jonathan Haidt, Theodor W. Hänsch, Brian Harrison, Hermann Hauser, Roald Hoffmann, Bruce Hood, Herbert Huppert, Gareth Stedman Jones, Steve Jones, Shelly Kagan, Michio Kaku, Stuart Kauffman, Lawrence Krauss, Harry Kroto, George Lakoff, Elizabeth Loftus, Alan Macfarlane, Peter Millican, Marvin Minsky, Leonard Mlodinow, Yujin Nagasawa, Alva Noe, Douglas Osheroff, Jonathan Parry, Saul Perlmutter, Herman Philipse, Carolyn Porco, Robert M. Price, Lisa Randall, Lord Martin Rees, Oliver Sacks, John Searle, Marcus du Sautoy, Simon Schaffer, J. L. Schellenberg, Lee Silver, Peter Singer, Walter Sinnott-Armstrong, Ronald de Sousa, Victor Stenger, Barry Supple, Leonard Susskind, Raymond Tallis, Neil deGrasse Tyson, .Alexander Vilenkin, Sir John Walker, Frank Wilczek, Steven Weinberg, and Lewis Wolpert,
In the second video below in the 61st clip in this series are his words but today I just wanted to pause and look at this life.
50 Renowned Academics Speaking About God (Part 1)
Another 50 Renowned Academics Speaking About God (Part 2)
A Further 50 Renowned Academics Speaking About God (Part 3)
__
—
Related posts:
____________
____
__