The Incredible Steven Weinberg (1933-2021) – Sixty Symbols
—
XXXXXXXXXXXXXXXX
November 14, 2016
Professor Steven Weinberg, The University of Texas at Austin, Department of Physics, 1 University Station C1600, Austin, TX 78712-0264
Dear Dr. Weinberg,
The last time I wrote you on September 4, 2016, I told you I was in the process of reading your book THE FIRST THREE MINUTES. Since then I have finished it and I must say that I found it very thought provoking. I haven't given much thought to responding to it until today when I went to our LITTLE ROCK TOUCHDOWN CLUB meeting and heard both Mack Brown (former Texas Football Coach) and Mike Perrin (current Texas Athletic Director) speak today. You can watch the same program on You Tube by putting in the words "Little Rock Touchdown Club November 14th."
One name in your book that comes up over and over is the name FRED HOYLE.  I noticed at the beginning of your book you thank several people and you include Hoyle in that list:
I have also been
helped more than I can say in writing this book by the kind
advice of my colleagues in physics and astronomy. For taking
the trouble to read and comment on portions of the book, I
wish especially to thank" Ralph Alpher, Bernard Burke,
Robert Dicke, George Field, Gary Feinberg, William Fowler,
Robert Herman, Fred Hoyle, Jim Peebles, Arno Penzias, Bill
Press, Ed Purcell and Robert Wagoner.
____
As you know Creationists have been fond of quoting Fred Hoyle over the years too.
Hoyle and Wickramasinghe: "Life cannot have had a random beginning The trouble is that there are about two thousand enzymes, and the chance of obtaining them all in a random trial is only one part in (10 to the 20th) to the 2,000th = 10 to the 40,000th, an outrageously small probability that could not be faced even if the whole universe consisted of organic soup. If one is not prejudiced either by social beliefs or by a scientific training into the conviction that life originated on the Earth, this simple calculation wipes the idea entirely out of court. The enormous information content of even the simplest living systems cannot in our view be generated by what are often called "natural" processes For life to have originated on the Earth it would be necessary that quite explicit instruction should have been provided for its assembly. There is no way in which we can expect to avoid the need for information, no way in which we can simply get by with a bigger and better organic soup, as we ourselves hoped might be possible a year or two ago." [Fred Hoyle and N. Chandra Wickramasinghe, Evolution from Space (Aldine House, 33 Welbeck Street, London W1M 8LX: J.M. Dent & Sons, 1981), p. 148, 24, 150, 30, 31 (emphasis added).]
Read more at: http://www.christiananswers.net/q-eden/origin-of-life-ref.html
I grew up in Memphis and my pastor at Bellevue Baptist was Adrian Rogers. ADRIAN ROGERS NOTED IN HIS SERMON "The Cradle that Rocked the World":
Sir Fred Hoyle, at the British Academy of Science—a leading mathematician, a leading astronomer—shook up a lot of people in the scientific community, when he said this—listen: "We must now admit to ourselves that the probability of life arising by chance, by evolution, is the same probability as throwing six on a die 5 million consecutive times." Now, get a die, and begin to throw it; and, if you can throw six, it'll land on six 5 million times in a row—that's the probability that life could arise by spontaneous generation. He went on to say—this is Sir Fred Hoyle: "Let us be scientifically honest with ourselves. The probability of having life arise to greater and greater complexity in organization by chance is the same probability of having a tornado tear through a junkyard and form a 747 on the other end." What is this great scientist saying? That random and impersonal chance does not create complexity in design— that's what he's saying.
IF WE ARE LEFT WITH JUST THE MACHINE THEN WHAT IS THE FINAL CONCLUSION IF THERE WAS NO PERSONAL GOD THAT CREATED US? I sent you a CD that starts off with the song DUST IN THE WIND by Kerry Livgren of the group KANSAS which was a hit song in 1978 when it rose to #6 on the charts because so many people connected with the message of the song. It included these words, "All we do, crumbles to the ground though we refuse to see, Dust in the Wind, All we are is dust in the wind, Don't hang on, Nothing lasts forever but the Earth and Sky, It slips away, And all your money won't another minute buy."
Kerry Livgren himself said that he wrote the song because he saw where man was without a personal God in the picture. Solomon pointed out in the Book of Ecclesiastes that those who believe that God doesn't exist must accept three things. FIRST, death is the end and SECOND, chance and time are the only guiding forces in this life.  FINALLY, power reigns in this life and the scales are never balanced. The Christian can  face death and also confront the world knowing that it is not determined by chance and time alone and finally there is a judge who will balance the scales.
Both Kerry Livgren and the bass player Dave Hope of Kansas became Christians eventually. Kerry Livgrenfirst tried Eastern Religions and Dave Hope had to come out of a heavy drug addiction. I was shocked and elated to see their personal testimony on The 700 Club in 1981 and that same  interview can be seen on You Tube today. Livgren lives in Topeka, Kansas today where he teaches "Diggers," a Sunday school class at Topeka Bible Church. DAVE HOPE is the head of Worship, Evangelism and Outreach at Immanuel Anglican Church in Destin, Florida.
The answer to find meaning in life is found in putting your faith and trust in Jesus Christ. The Bible is true from cover to cover and can be trusted.
Thank you again for your time and I know how busy you are.
Everette Hatcher, everettehatcher@gmail.com, http://www.thedailyhatch.org, cell ph 501-920-5733, Box 23416, LittleRock, AR 72221, United States
Is the Bible historically accurate? Here are some of the posts I have done in the past on the subject: 1. The Babylonian Chronicle, of Nebuchadnezzars Siege of Jerusalem, 2. Hezekiah's Siloam Tunnel Inscription. 3. Taylor Prism (Sennacherib Hexagonal Prism), 4. Biblical Cities Attested Archaeologically. 5. The Discovery of the Hittites, 6.Shishak Smiting His Captives, 7. Moabite Stone, 8. Black Obelisk of Shalmaneser III, 9A Verification of places in Gospel of John and Book of Acts., 9B Discovery of Ebla Tablets. 10. Cyrus Cylinder, 11. Puru "The lot of Yahali" 9th Century B.C.E., 12. The Uzziah Tablet Inscription, 13. The Pilate Inscription, 14. Caiaphas Ossuary, 14 B Pontius Pilate Part 2, 14c. Three greatest American Archaeologists moved to accept Bible's accuracy through archaeology., 
XXXXXXXXXX
Adrian Rogers is pictured below and Francis Schaeffer above.
Watching the film HOW SHOULD WE THEN LIVE? in 1979 impacted my life greatly
Francis Schaeffer in the film WHATEVER HAPPENED TO THE HUMAN RACE?
Francis and Edith Schaeffer
_______
On May 15, 1994 on the 10th anniversary of the passing of Francis Schaeffer I sent a letter to Steven Weinberg and here is a portion of that letter below:
I have enclosed a cassette tape by Adrian Rogers and it includes  a story about  Charles Darwin's journey from  the position of theistic evolution to agnosticism. Here are the four bridges that Adrian Rogers says evolutionists can't cross in the CD  "Four Bridges that the Evolutionist Cannot Cross." 1. The Origin of Life and the law of biogenesis. 2. The Fixity of the Species. 3.The Second Law of Thermodynamics. 4. The Non-Physical Properties Found in Creation.  
In the first 3 minutes of the cassette tape is the hit song "Dust in the Wind." Below I have given you some key points  Francis Schaeffer makes about the experiment that Solomon undertakes in the book of Ecclesiastes to find satisfaction by  looking into  learning (1:16-18), laughter, ladies, luxuries,  and liquor (2:1-3, 8, 10, 11), and labor (2:4-6, 18-20).
Schaeffer noted that Solomon took a look at the meaning of life on the basis of human life standing alone between birth and death "under the sun." This phrase UNDER THE SUN appears over and over in Ecclesiastes. The Christian Scholar Ravi Zacharias noted, "The key to understanding the Book of Ecclesiastes is the term UNDER THE SUN — What that literally means is you lock God out of a closed system and you are left with only this world of Time plus Chance plus matter."
Here the first 7 verses of Ecclesiastes followed by Schaeffer's commentary on it:
The words of the Preacher, the son of David, king in Jerusalem. Vanity of vanities, says the Preacher, vanity of vanities! All is vanity. What does man gain by all the toil at which he toils under the sun? A generation goes, and a generation comes, but the earth remains forever. The sun rises, and the sun goes down, and hastens to the place where it rises. The wind blows to the south and goes around to the north; around and around goes the wind, and on its circuits the wind returns. All streams run to the sea, but the sea is not full; to the place where the streams flow, there they flow again.  
Solomon is showing a high degree of comprehension of evaporation and the results of it.  Seeing also in reality nothing changes. There is change but always in a set framework and that is cycle. You can relate this to the concepts of modern man. Ecclesiastes is the only pessimistic book in the Bible and that is because of the place where Solomon limits himself. He limits himself to the question of human life, life under the sun between birth and death and the answers this would give.
Solomon doesn't place man outside of the cycle. Man doesn't escape the cycle. Man is in the cycle. Birth and death and youth and old age.
There is no doubt in my mind that Solomon had the same experience in his life that I had as a younger man (at the age of 18 in 1930). I remember standing by the sea and the moon arose and it was copper and beauty. Then the moon did not look like a flat dish but a globe or a sphere since it was close to the horizon. One could feel the global shape of the earth too. Then it occurred to me that I could contemplate the interplay of the spheres and I was exalted because I thought I can look upon them with all their power, might, and size, but they could contempt nothing. Then came upon me a horror of great darkness because it suddenly occurred to me that although I could contemplate them and they could contemplate nothing yet they would continue to turn in ongoing cycles when I saw no more forever and I was crushed.
Let me show you some inescapable conclusions if you choose to live without God in the picture. Schaeffer noted that Solomon came to these same conclusions when he looked at life "under the sun."
Death is the great equalizer (Eccl 3:20, "All go to the same place; all come from dust, and to dust all return.")
Chance and time have determined the past, and they will determine the future.  (Ecclesiastes 9:11-13 "I have seen something else under the sun:  The race is not to the swift
or the battle to the strong, nor does food come to the wise or wealth to the brilliant  or favor to the learned; but time and chance happen to them all.  Moreover, no one knows when their hour will come: As fish are caught in a cruel net, or birds are taken in a snare, so people are trapped by evil times  that fall unexpectedly upon them.")
Power reigns in this life, and the scales are not balanced(Eccl 4:1; "Again I looked and saw all the oppression that was taking place under the sun: I saw the tears of the oppressed—
and they have no comforter; power was on the side of their oppressors—  and they have no comforter." 7:15 "In this meaningless life of mine I have seen both of these: the righteous perishing in their righteousness,  and the wicked living long in their wickedness. ).
Nothing in life gives true satisfaction without God including knowledge (1:16-18), ladies and liquor (2:1-3, 8, 10, 11), and great building projects (2:4-6, 18-20).
There is no ultimate lasting meaning in life. (1:2)
By the way, the final chapter of Ecclesiastes finishes with Solomon emphasizing that serving God is the only proper response of man. Solomon looks above the sun and brings God back into the picture in the final chapter of the book in Ecclesiastes 12:13-14, " Now all has been heard; here is the conclusion of the matter: Fear God and keep his commandments, for this is the whole duty of man.  For God will bring every deed into judgment, including every hidden thing, whether it is good or evil."
The answer to find meaning in life is found in putting your faith and trust in Jesus Christ. The Bible is true from cover to cover and can be trusted. In 1978 I heard the song "Dust in the Wind" by Kansas when it rose to #6 on the charts. That song told me that Kerry Livgren the writer of that song and a member of Kansas had come to the same conclusion that Solomon had and that "all was meaningless UNDER THE SUN," and looking ABOVE THE SUN was the only option.  I remember mentioning to my friends at church that we may soon see some members of Kansas become Christians because their search for the meaning of life had obviously come up empty even though they had risen from being an unknown band to the top of the music business and had all the wealth and fame that came with that.
Livgren wrote, "All we do, crumbles to the ground though we refuse to see, Dust in the Wind, All we are is dust in the wind, Don't hang on, Nothing lasts forever but the Earth and Sky, It slips away, And all your money won't another minute buy."
Both Kerry Livgren and Dave Hope of Kansas became Christians eventually. Kerry Livgren first tried Eastern Religions and Dave Hope had to come out of a heavy drug addiction. I was shocked and elated to see their personal testimony on The 700 Club in 1981.  Livgren lives in Topeka, Kansas today where he teaches "Diggers," a Sunday school class at Topeka Bible Church. Hope is the head of Worship, Evangelism and Outreach at Immanuel Anglican Church in Destin, Florida.
XXXXXXXXXXXX
On the Shoulders of Giants: Steven Weinberg and the Quest to Explain the…
—
Steven Weinberg Discussion (1/8) – Richard Dawkins
—-
Whatever Happened To The Human Race? (2010) | Full Movie | Michael Hordern
——
Professor Steven Weinberg – a Nobel Prize-winning physicist and astronomer – died on Friday at 88.
The cause of death has yet to be confirmed. However, he had been hospitalized for some time, according to the Washington Post.
Weinberg's Achievement to Physics
Weinberg, born in 1933 in New York City to Jewish immigrants, had a distinguished academic career. His most notable achievement was a 1967 study on the interplay of electromagnetism and the weak nuclear force, two of the universe's four fundamental forces that work together as a united electroweak force.
The research, titled "A Model of Leptons," was published in the scholarly journal Physical Review Letters and was only three pages long. However, it has had a significant impact on physics since it is one of the most-cited publications in the field of high-energy physics.
The equation-heavy paper analyzed and speculated notions and qualities that were never seen before yet crucial to the field's advancement. In later years, his predictions were confirmed, including the finding of the Higgs boson particle at CERN's Large Hadron Collider in Switzerland in 2012.
He and fellow scientists Sheldon Glashow and Abdus Salam were awarded the Nobel Prize in Physics for their contribution in 1979.
Weinberg was noted for attempting to make science more approachable, despite the intricacy of his work. Live Science said he guided readers through the first minutes of the universe's existence in an easy-to-understand manner in his 1977 book The Initial Three Minutes: A Modern View of The Origin of The Universe.
Weinberg: A Science Advocate
Weinberg was well-known for more than his scientific achievements. Rather, he was a well-known activist who advocated for science. He'd testified before Congress, given lectures on the history and philosophy of science, and made headlines for opposing concealed carry in UT classrooms.
Weinberg, on the other hand, was a vocal supporter of Israel. This was highlighted in his essay "Zionism and Its Adversaries," published in 1997.
He had also been a vocal opponent of antisemitism, which he saw as being exemplified by the boycott of Israel.
ALSO READ: Is a Wind-Powered Car Cruise Faster Than the Wind? YouTuber and Physicist Place $10,000 Bet; Who Will Win?
Jerusalem Post said Weinberg had canceled visits to UK institutions in the early 2000s due to UK anti-Israel boycotts. The physicist stated in a letter that he saw "a pervasive anti-Israel and antisemitic current in British opinion" as the basis for his withdrawal.
Weinberg Says There Is No Cosmic Plan
Dr. Weinberg, who never retired, taught until this year's spring semester.
Aside from the Nobel Prize, he earned other honors and medals, including the National Medal of Science in 1991 and the Benjamin Franklin Medal for Distinguished Achievement in Science in 2004. In the United States, he was inducted into the American Academy of Arts and Sciences, and in the United Kingdom, he was inducted into the Royal Society.
Last year, the Breakthrough Prize Foundation, created by Mark Zuckerberg of Facebook, Sergey Brin of Google, and Jack Ma of Alibaba, awarded him a $3 million prize for his contributions to fundamental physics.
He is survived by his wife and a granddaughter, in addition to his daughter, a medical doctor.
He was asked about his often-quoted phrase near the end of "The First Three Minutes: A Modern View of the Origin of the Universe" in his interview with the Nobel Institute: "The more that the universe seems comprehensible, the more it also seems pointless."
"What I meant by that statement is that there is no point to be discovered in nature itself; there is no cosmic plan for us," he said per The New York Times. "We are not actors in a drama that has been written with us playing the starring role. There are laws – we are discovering those laws – but they are impersonal, they are cold."
He added: "It is not an entirely happy view of human life. I think it is a tragic view, but that is not new to physicists. A tragic view of life has been expressed by so many poets – that we are here without purpose, trying to identify something that we care about."
The Bill Moyers Interview – Steven Weinberg
How Should We Then Live (1977) | Full Movie | Francis Schaeffer | Edith …

Steven Weinberg Discussion (2/8) – Richard Dawkins
RESPONDING TO HARRY KROTO'S BRILLIANT RENOWNED ACADEMICS!!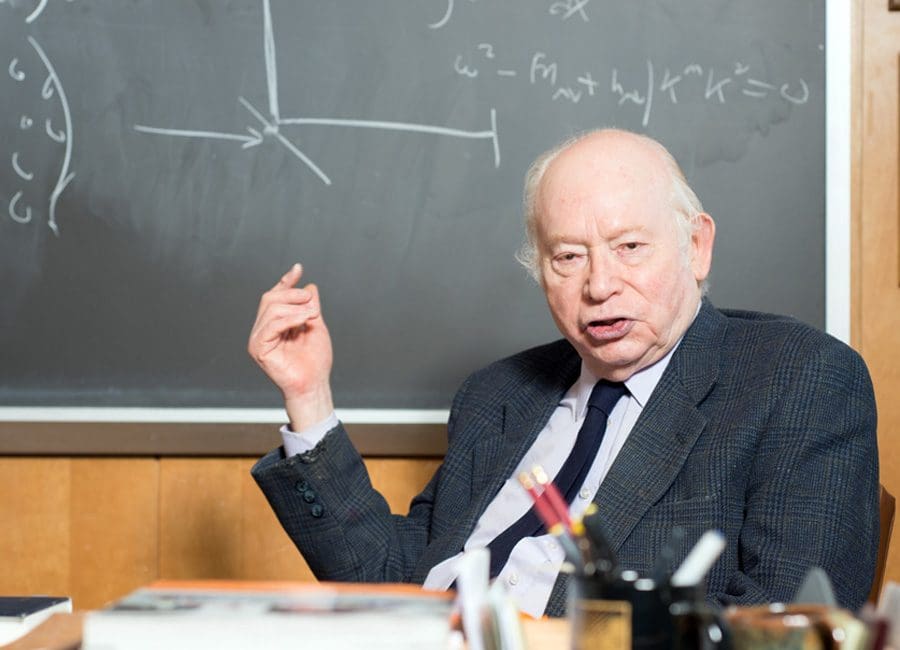 Steven Weinberg – Dreams of a Final Theory
—
Steven Weinberg Discussion (3/8) – Richard Dawkins
—
Steven Weinberg, Author
How Should We Then Live | Season 1 | Episode 6 | The Scientific Age
—-
Steven Weinberg Discussion (4/8) – Richard Dawkins
I am grieved to hear of the death of Dr. Steven Weinberg who I have been familiar with since reading about him in 1979 in WHATEVER HAPPENED TO THE HUMAN RACE? by Dr. C. Everett Koop and Francis Schaeffer. I have really enjoyed reading his books and DREAMS OF A FINAL REALITY and TO EXPLAIN THE WORLD were two of my favorite!
C. Everett Koop
—-
Steven Weinberg Discussion (5/8) – Richard Dawkins
—
Francis Schaeffer : Reclaiming the World part 1, 2
The Atheism Tapes – Steven Weinberg [2/6]

—
The Story of Francis and Edith Schaeffer
—
Steven Weinberg – What Makes the Universe Fascinating?
On November 21, 2014 I received a letter from Nobel Laureate Harry Kroto and it said:
…Please click on this URL http://vimeo.com/26991975
and you will hear what far smarter people than I have to say on this matter. I agree with them.
Harry Kroto
_________________
Below you have picture of Dr. Harry Kroto:
______________
I have attempted to respond to all of Dr. Kroto's friends arguments and I have posted my responses one per week for over a year now. Here are some of my earlier posts:
Sir David Attenborough, Mark Balaguer, Patricia Churchland, Aaron Ciechanover, Noam Chomsky,Alan Dershowitz, Hubert Dreyfus, Bart Ehrman, Ivar Giaever , Roy Glauber, Rebecca Goldstein, David J. Gross,  Brian Greene, Susan Greenfield, Alan Guth, Jonathan Haidt, Hermann Hauser, Roald Hoffmann,  Bruce Hood, Herbert Huppert,  Gareth Stedman Jones, Shelly Kagan, Stuart Kauffman,  Lawrence Krauss, Harry Kroto, Elizabeth Loftus,  Alan Macfarlane, Peter Millican, Marvin Minsky, Leonard Mlodinow,  Yujin Nagasawa, Douglas Osheroff,   Saul Perlmutter, Herman Philipse,  Robert M. Price, Lisa Randall, Lord Martin Rees,  Oliver Sacks, Marcus du Sautoy, Simon Schaffer, J. L. Schellenberg,   Lee Silver,  Peter Singer,  Walter Sinnott-Armstrong, Ronald de Sousa, Victor Stenger, Barry Supple,   Leonard Susskind, Raymond Tallis, Neil deGrasse Tyson,  .Alexander Vilenkin, Sir John Walker, Frank Wilczek, Steven Weinberg, and  Lewis Wolpert,
____________________________
In  the 1st video below in the 50th clip in this series are his words. 
50 Renowned Academics Speaking About God (Part 1)
Another 50 Renowned Academics Speaking About God (Part 2)
A Further 50 Renowned Academics Speaking About God (Part 3)
_________________________________
Steven Weinberg: To Explain the World
I have a friend — or had a friend, now dead — Abdus Salam, a very devout Muslim, who was trying to bring science into the universities in the Gulf states and he told me that he had a terrible time because, although they were very receptive to technology, they felt that science would be a corrosive to religious belief, and they were worried about it… and damn it, I think they were right. It is corrosive of religious belief, and it's a good thing too.
________
Related posts:
__