The Incredible Steven Weinberg (1933-2021) – Sixty Symbols
—
On the Shoulders of Giants: Steven Weinberg and the Quest to Explain the…
—
Steven Weinberg Discussion (1/8) – Richard Dawkins
—-
Whatever Happened To The Human Race? (2010) | Full Movie | Michael Hordern
——
January 5, 2016
Professor Steven Weinberg, The University of Texas at Austin, Department of Physics, 1 University Station C1600, Austin, TX 78712-0264
Dear Dr. Weinberg,
Although I knew that many people knew John Polanyi since he won the Nobel Prize but little did I  know that anyone would have known his father Michael Polanyi who died in 1976 but I have discovered there are those who knew him well.
DID YOU EVER HAVE A CHANCE TO HEAR HIM SPEAK OR ARE YOU FAMILIAR WITH HIS WORK?
Actually he was born in Budapest in 1891 and graduated from the University of Budapest in 1913 as a doctor of medicine. From there, he went on to study chemistry at the Technische Hochschule in Baden, Germany. and in 1915 he wrote a thesis in physical chemistry for his Ph.D. from the University of Budapest.
Dr. Polanyi taught at the University of Budapest in 1919 and, in 1920, began teaching at the Kaiser Wilheim Institute, Berlin. In 1929, he was appointed life member of the institute, but he resigned four years later (after being run out by HITLER'S THUGS IN BERLIN) to accept the chair of physical chemistry at Victoria University, Manchester, England. In 1948, he exchanged his chair in physical chemistry for one in social sciences at Manchester. In 1950, he began a series of visiting professorships and fellowships and he has taught at the universities of Aberdeen, Keele (Staffordshire), Oxford, California (Berkeley), Chicago, Duke, Stanford, Wesleyan (Middletown, Conn.), and Yale.
I thought this would be of interest to you so I have I have enclosed two CD's of Francis Schaeffer (1912-1984) in 1968 taking the time to read the crucial parts of Polanyi's groundbreaking article, LIFE TRANSCENDING PHYSICS AND CHEMISTRY, in the magazine CHEMICAL AND ENGINEERING NEWS, August 21, 1967, and then Schaeffer comments on them. Polanyi's arguments confront those of Francis Crick (1916-2004) and James D. Watson concerning the ramifications of the DNA discovery.
I have always been amazed at the ability of the Jewish people to dominate the sciences as they have. That impression was strengthened in  1976 when I visited Israel and realized how they were able to take a small piece of land in 1948 and make it such a thriving community that exports all over the whole world. Of course, I believe that Genesis 12 was inspired by God and it says:
The Lord had said to Abram, "Go from your country, your people and your father's household to the land I will show you. I will make you into a great nation, and I will bless you; I will make your name great, and you will be a blessing.  I will bless those who bless you, and whoever curses you I will curse; and all peoples on earth will be blessed through you."
Thanks again for your time.
Sincerely,
Everette Hatcher, everettehatcher@gmail.com, P.O. Box 23416, Little Rock, AR 72221, USA, cell ph 501-920-5733
N
______
John C. Polanyi, Michael Polanyi, and Eugene P. Wigner around 1934, on the lawn of the. Polanyi home in Didsbury Park, Manchester,
X
XXXXXXXXXXXXXXXXXXX
July 24, 2021 • 1:00 pm
Reader Rick informed me of this news, summarized in the piece below from Not Even Wrong (click on screenshot):  Steven Weinberg, a physicist, writer, and popularizer of science, died yesterday at the age of 88. (In fact, his Wikipedia biography hasn't yet been updated.) For his work on unifying two of the fundamental forces of nature: electromagnetism and the weak force in nuclei, he was awarded the Nobel Prize in physics along with Sheldon Glashow, and Abdus Salam.
I've read several of his books (he was an excellent writer), and of course all of us know his most famous bon mot: ""With or without religion, good people can behave well and bad people can do evil; but for good people to do evil – that takes religion."  He was a diehard atheist.
Click on the screenshot to read more about him:
As the obituary above gives you the relevant information about his career, I'll tell just one story about him. In October, 2012, we were both participants in the small "Moving Naturalism Forward" conference organized by physicist Sean Carroll in Stockbridge, Massachusetts. I sat next to Steve during the two days of the meeting, and watched as he worked out physics equations on a notepad during the talks. When he left the room, and his notes, I asked him if I could have them. He said, "sure", but I included them as lagniappe in the autographed version of WEIT that he signed and we put up for auction.
Here's a photo I took of Weinberg and the hard-core materialist Alex Rosenberg at the meeting:
And here's Weinberg's signature (circled) in my book, which was illuminated by Kelly Houle and auctioned off for charity for more than $10,000. I'm not sure what that diagram shows, but I am sure that one reader will tell us.
Although I had lunch with Weinberg one day, and remember that it was fun, I can't recall what we talked about. My Weinberg story is this. At the meeting, Dan Dennett and I gave dueling presentations about free will, with Dan claiming, of course, that we had a form of it—a compatibilist one—while I argued not only that we had no libertarian free will, but also criticized compatibilism. (This led to Dan haranguing me for the entire three-hour drive back on the turnpike from Stockbridge to Boston, which wasn't covered with snow.)
At any rate, at some point after my talk, Weinberg asked me something like this: "Are you telling me that at any given point in time when I'm making a choice, I could not have chosen otherwise?" I said "Yes." And he said he didn't believe that. I was a bit taken aback that an atheist, determinist physicist of the stature of Weinberg could still accept what seems like libertarian free will. But we never got to discuss it further.
We've lost another great one—not just a scientist, but a writer, scholar, historian of science, and nice guy.
The Bill Moyers Interview – Steven Weinberg
How Should We Then Live (1977) | Full Movie | Francis Schaeffer | Edith …

Steven Weinberg Discussion (2/8) – Richard Dawkins
RESPONDING TO HARRY KROTO'S BRILLIANT RENOWNED ACADEMICS!!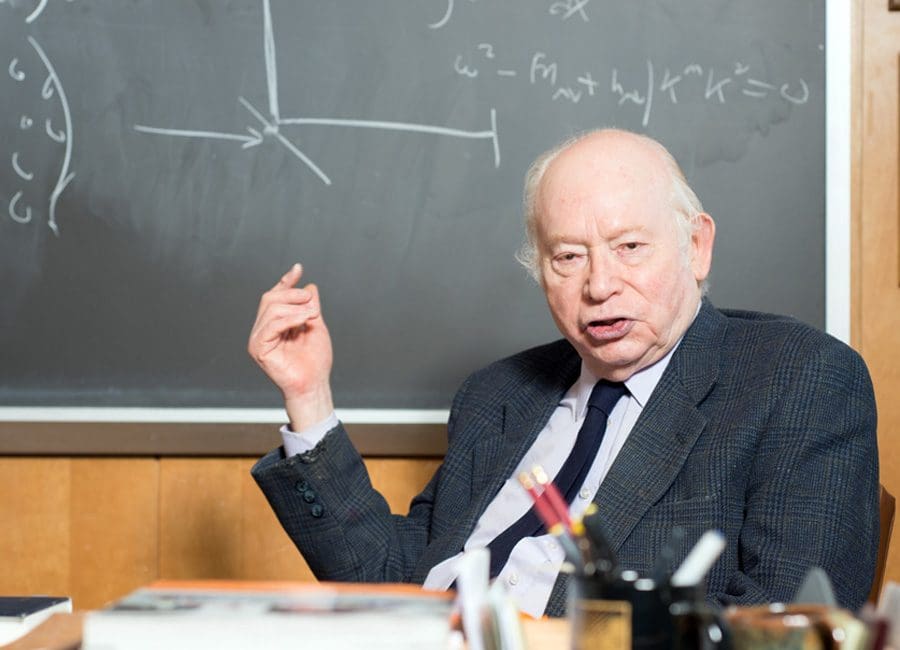 Steven Weinberg – Dreams of a Final Theory
—
Steven Weinberg Discussion (3/8) – Richard Dawkins
—
Steven Weinberg, Author
How Should We Then Live | Season 1 | Episode 6 | The Scientific Age
—-
Steven Weinberg Discussion (4/8) – Richard Dawkins
I am grieved to hear of the death of Dr. Steven Weinberg who I have been familiar with since reading about him in 1979 in WHATEVER HAPPENED TO THE HUMAN RACE? by Dr. C. Everett Koop and Francis Schaeffer. I have really enjoyed reading his books and DREAMS OF A FINAL REALITY and TO EXPLAIN THE WORLD were two of my favorite!
C. Everett Koop
—-
Steven Weinberg Discussion (5/8) – Richard Dawkins
—
Francis Schaeffer : Reclaiming the World part 1, 2
The Atheism Tapes – Steven Weinberg [2/6]

—
The Story of Francis and Edith Schaeffer
—
Steven Weinberg – What Makes the Universe Fascinating?
On November 21, 2014 I received a letter from Nobel Laureate Harry Kroto and it said:
…Please click on this URL http://vimeo.com/26991975
and you will hear what far smarter people than I have to say on this matter. I agree with them.
Harry Kroto
_________________
Below you have picture of Dr. Harry Kroto:
______________
I have attempted to respond to all of Dr. Kroto's friends arguments and I have posted my responses one per week for over a year now. Here are some of my earlier posts:
Sir David Attenborough, Mark Balaguer, Patricia Churchland, Aaron Ciechanover, Noam Chomsky,Alan Dershowitz, Hubert Dreyfus, Bart Ehrman, Ivar Giaever , Roy Glauber, Rebecca Goldstein, David J. Gross,  Brian Greene, Susan Greenfield, Alan Guth, Jonathan Haidt, Hermann Hauser, Roald Hoffmann,  Bruce Hood, Herbert Huppert,  Gareth Stedman Jones, Shelly Kagan, Stuart Kauffman,  Lawrence Krauss, Harry Kroto, Elizabeth Loftus,  Alan Macfarlane, Peter Millican, Marvin Minsky, Leonard Mlodinow,  Yujin Nagasawa, Douglas Osheroff,   Saul Perlmutter, Herman Philipse,  Robert M. Price, Lisa Randall, Lord Martin Rees,  Oliver Sacks, Marcus du Sautoy, Simon Schaffer, J. L. Schellenberg,   Lee Silver,  Peter Singer,  Walter Sinnott-Armstrong, Ronald de Sousa, Victor Stenger, Barry Supple,   Leonard Susskind, Raymond Tallis, Neil deGrasse Tyson,  .Alexander Vilenkin, Sir John Walker, Frank Wilczek, Steven Weinberg, and  Lewis Wolpert,
____________________________
In  the 1st video below in the 50th clip in this series are his words. 
50 Renowned Academics Speaking About God (Part 1)
Another 50 Renowned Academics Speaking About God (Part 2)
A Further 50 Renowned Academics Speaking About God (Part 3)
_________________________________
Steven Weinberg: To Explain the World
I have a friend — or had a friend, now dead — Abdus Salam, a very devout Muslim, who was trying to bring science into the universities in the Gulf states and he told me that he had a terrible time because, although they were very receptive to technology, they felt that science would be a corrosive to religious belief, and they were worried about it… and damn it, I think they were right. It is corrosive of religious belief, and it's a good thing too.
________
Related posts:
__