I was saddened to learn of the passing of Dr. John Raymond Smythies on January 28, 2019 in La Jolla, CA, and I wanted to spend time on several posts concentrating on him. I have several tributes, but the best I read can be found at this link.
______
CRAIG VENTER, JOHN SULSTON, FRANCIS COLLINS, HAMILTON SMITH AND JEAN WEISSENBACH
XXXXXXXXXXX
Francis Schaeffer above
Charles Darwin
Adrian Rogers
Hamilton Smith above, and Craig Venter with Smith below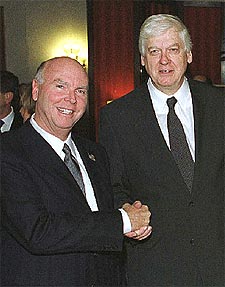 __
July 6, 2017
John Raymond Smythies, Center for Brain and Cognition,
La Jolla, CA 92093-0109
Dear Dr. Smythies,
I recently enjoyed reading about several of your friends in the book A LIFE DECODED BY J. Craig Venter. Venter talks about those who were involved with the Wellcome Trust, the Sanger Centre, Celera Genomics and the National Institutes of Health because they all were involved in the Human Genome Project. Venter started off the book with a quote from someone you hold in high esteem.
We must, however, acknowledge, as it seems to me, that man with
all his noble qualities . . . still bears in his bodily frame the indelible
stamp of his lowly origin.
—Charles Darwin
Did you know that Charles Darwin struggled his whole life attempting to get to a place where he was at peace with the idea that all this was a result of just time and chance, but he never was satisfied on that point.
Another person mentioned in that book is Ham Smith and I actually had the opportunity to correspond with him back in 1994 when I sent him a recorded message, and I have enclosed the letter Smith wrote back to me in 1994. Did you know that Ham Smith's son is an evangelical? On the tenth anniversary of Francis Schaeffer's passing, May 15, 1994, I sent out to several hundred prominent skeptics an evangelistic letter that told about Schaeffer's life. This same letter included the audio recording entitled "Dust, Darwin, and Disbelief," by Adrian Rogers and Bill Elliff. That recording started off with the song DUST IN THE WIND by the group KANSAS for the simple reason that if we accept that we are the result of chance then all we are is DUST IN THE WIND.
Let start off by quoting Francis Schaeffer from his talk In the spring of 1968 which centered on the Autobiography of Charles Darwin:
Darwin in his autobiography Darwin, Francis ed. 1892. Charles Darwin: his life told in an autobiographical chapter, and in a selected series of his published letters [abridged edition]. London: John Murray, and in his letters showed that all through his life he NEVER really came to a QUIETNESS concerning the possibility that chance really explained the situation of the biological world. You will find there is much material on this [from Darwin] extended over many many years that constantly he was wrestling with this problem. Darwin never came to a place of satisfaction. You have philosophically ONLY TWO possible beginnings. The first would be a PERSONAL beginning and the other would be an IMPERSONEL beginning plus time plus CHANCE. There is no other possible alternative except the alternative that everything comes out of nothing and that has to be a total nothing and that has to be a total nothing without mass, energy or motion existing. No one holds this last view because it is unthinkable. Darwin understood this and therefore until his death he was uncomfortable with the idea of CHANCE producing the biological variation.
Darwin, C. R. to Graham, William 3 July 1881:
Nevertheless you have EXPRESSED MY INWARD CONVICTION, though far more vividly and clearly than I could have done, that the Universe is NOT THE RESULT OF CHANCE.* But THEN with me the HORRID DOUBT ALWAYS ARISES whether the convictions of man's mind, which has been developed from the mind of the lower animals, are of any value or at all trustworthy. Would any one trust in the convictions of a monkey's mind, if there are any convictions in such a mind?
Francis Schaeffer comments:
Can you feel this man? He is in real agony. You can feel the whole of modern man in this tension with Darwin. My mind can't accept that ultimate of chance, that the universe is a result of chance. He has said 3 or 4 times now that he can't accept that it all happened by chance and then he will write someone else and say something different. How does he say this (about the mind of a monkey) and then put forth this grand theory? Wrong theory I feel but great just the same. Grand in the same way as when I look at many of the paintings today and I differ with their message but you must say the mark of the mannishness of man are one those paintings titanic-ally even though the message is wrong and this is the same with Darwin. But how can he say you can't think, you come from a monkey's mind, and you can't trust a monkey's mind, and you can't trust a monkey's conviction, so how can you trust me? Trust me here, but not there is what Darwin is saying. In other words it is very selective.
Evidently Darwin was telling his friends that he was an agnostic and that he did not think that God had anything to do with it but it was all left to the hands of chance. Is that the way you are reading this?
The answer to find meaning in life is found in putting your faith and trust in Jesus Christ. The Bible is true from cover to cover and can be trusted. The world is not a result of blind chance, but we all were put here for a purpose by God. If you want to investigate the evidence concerning the accuracy of the Bible then I suggest you read Psalms 22 which was written about a thousand years before the crucifixion events it described. Furthermore, when King David wrote those words the practice of stoning was the primary way of executing someone in Israel.
Sincerely,
Everette Hatcher, everettehatcher@gmail.com, http://www.thedailyhatch.org, cell ph 501-920-5733, Box 23416, LittleRock, AR 72221, United States
On November 21, 2014 I received a letter from Nobel Laureate Harry Kroto and it said:
…Please click on this URL http://vimeo.com/26991975
and you will hear what far smarter people than I have to say on this matter. I agree with them.
Harry Kroto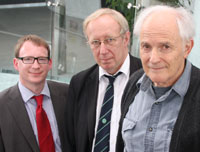 Nick Gathergood, David-Birkett, Harry-Kroto
I have attempted to respond to all of Dr. Kroto's friends arguments and I have posted my responses one per week for over a year now. Here are some of my earlier posts:
Arif Ahmed, Sir David Attenborough, Mark Balaguer, Horace Barlow, Michael Bate, Patricia Churchland, Aaron Ciechanover, Noam Chomsky,Alan Dershowitz, Hubert Dreyfus, Bart Ehrman, Stephan Feuchtwang, David Friend, Riccardo Giacconi, Ivar Giaever , Roy Glauber, Rebecca Goldstein, David J. Gross, Brian Greene, Susan Greenfield, Stephen F Gudeman, Alan Guth, Jonathan Haidt, Theodor W. Hänsch, Brian Harrison, Hermann Hauser, Roald Hoffmann, Bruce Hood, Herbert Huppert, Gareth Stedman Jones, Steve Jones, Shelly Kagan, Michio Kaku, Stuart Kauffman, Lawrence Krauss, Harry Kroto, George Lakoff, Elizabeth Loftus, Alan Macfarlane, Peter Millican, Marvin Minsky, Leonard Mlodinow, Yujin Nagasawa, Alva Noe, Douglas Osheroff, Jonathan Parry, Saul Perlmutter, Herman Philipse, Carolyn Porco, Robert M. Price, Lisa Randall, Lord Martin Rees, Oliver Sacks, John Searle, Marcus du Sautoy, Simon Schaffer, J. L. Schellenberg, Lee Silver, Peter Singer, Walter Sinnott-Armstrong, Ronald de Sousa, Victor Stenger, Barry Supple, Leonard Susskind, Raymond Tallis, Neil deGrasse Tyson, .Alexander Vilenkin, Sir John Walker, Frank Wilczek, Steven Weinberg, and Lewis Wolpert,
In the second video below in the 95th clip in this series are his words but today I just wanted to pause and look at this life.
Quote from Dr. John Raymond Smythies
I would like to describe how mescaline works. These hallucination drugs have a very specific action in two ways. Number 1 they produce fantastic visual hallucinations. These are described by the people who have them (most of them are down to earth scientists such as MacDonald Critchley) as being more beautiful than anything they have ever seen in normal art. Some of these people have the sort of experience as union with God, mystical experiences and so on.
50 Renowned Academics Speaking About God (Part 1)
Another 50 Renowned Academics Speaking About God (Part 2)
A Further 50 Renowned Academics Speaking About God (Part 3)
__
—
Related posts:
____________
____
__