I was saddened to learn of the passing of Sir John Sulston on March 6, 2018  and I wanted to spend time on several posts concentrating on him. Probably the best video tribute to him I have found is this video below, but the best interview of Dr. Sulston ever done was by Alan Macfarlane and it is below too.
______
Interview of Sir John Sulston – part one
Uploaded on Jun 24, 2010
An Interview on the life and work of Sir John Sulston, Nobel Prize winner, who organized the team which sequenced the human genome for the first time. For a higher quality, downloadable, version, with a detailed summary please see http://www.alanmacfarlane.com
Interview of Sir John Sulston – part two
Uploaded on Jun 24, 2010
An Interview on the life and work of Sir John Sulston, Nobel Prize winner, who organized the team which sequenced the human genome for the first time. For a higher quality, downloadable, version, with a detailed summary please see http://www.alanmacfarlane.com
_________
QUOTE from Dr. Sulston:
I see that we have enormous amounts to discover as a strategy for going forward as human beings; I believe atheism makes coherent sense; all the religions are in conflict with each other; they have different stories, based on insubstantial records, but justify them with saying that there was some direct communication with a deity in the past which has led them to this belief; I find those unconvincing, particularly because of the conflict; this was my main argument in discussions with my father and he found it hard to answer that.
XXXXXXXXX
___
Francis Schaeffer (30 January 1912 – 15 May 1984[1])  and his wife Edith  (November 3, 1914 – March 30, 2013)
James Watson (1928-) and Francis Crick  (8 June 1916 – 28 July 2004)
Michael Polanyi, FRS[1] (11 March 1891 – 22 February 1976)
John Charles Polanyi,  (born 23 January 1929)
___
John Scott Haldane (2 May 1860 – 14/15 March 1936)
J. B. S. Haldane
Haldane in 1914
(5 November 1892 – 1 December 1964)
Maurice Wilkins (15 December 1916 – 5 October 2004)
Erwin Schrödinger (12 August 1887 – 4 January 1961)
Sir Peter Medawar ( 28 February 1915 – 2 October 1987)
Barry Commoner (May 28, 1917 – September 30, 2012)
Enjoy the pictures of an amazing life
Harry Kroto with his father above
Margaret with David and Stephen

leaving Liverpool for Canada 1964
June 11, 2016
Professor John Sulston, The University of Manchester
Dear Dr Sulston,
I wrote you recently in April but I was very sad on April 30th to  learn of the passing of the great scientist Harry Kroto. Last time I wrote you about your association with the BRITISH HUMANIST ASSOCIATION and as you know Harry Kroto was also active in that same group.  Not only was Harry Kroto a Nobel Prize winning chemist but judging from comments of his close friends, Kroto was  an even better man personally.
Tim Logan, chair of Chemistry and Biochemistry at Florida State: "What always brought out the best in Harry was his wife, Margaret. Margaret and Harry were always together, until the end of Harry's life. She served as his business manager, scheduling his many speaking engagements around the world, organizing the travel, and supporting him in many, many ways. What I found so remarkable is that even after 57 years together, they were so obviously in love. Harry would include photos and sketches he made of her in his lectures, and he always acknowledged her as his moral compass." 
HAVE YOU EVER WONDERED WHY I WAS PROMPTED ORIGINALLY TO WRITE YOU? It was because Harry Kroto took the time in 2014 to correspond with me. After I wrote him in  the spring and summer of 2014 he emailed me twice and then sent me a letter in November of 2014. In that letter he referred me to a film series  Renowned Academics talk about God that featured your comments. 
Furthermore, your full interview appears on the VEGA website which Kroto founded, and he was so proud of his videos from the VEGA website that he played some of them  during his speech at  a BEYOND BELIEF CONFERENCE (he actually spoke there in 2006, 2007 and 2008 and all those speeches are on You Tube). I have always been fascinated by brilliant individuals and recently I had the opportunity to come across a very interesting article by Michael Polanyi, LIFE TRANSCENDING PHYSICS AND CHEMISTRY, in the magazine CHEMICAL AND ENGINEERING NEWS, August 21, 1967, and I also got hold of a 1968 talk by Francis Schaeffer based on this article. ISN'T IT AMAZING THAT JUST LIKE KROTO'S FAMILY POLANYI HAD TO FLEE EUROPE BECAUSE OF HITLER'S INSANE GRUDGE AGAINST THE JEWS!!!!I know you don't believe in God or the Devil but if anyone was demon-possessed it had to be Hitler.
Polanyi's son John actually won the 1986 Nobel Prize for Chemistry. This article by Michael Polanyi concerns Francis Crick and James Watson and their discovery of DNA in 1953. Polanyi noted:
Mechanisms, whether man-made or morphological, are boundary conditions harnessing the laws of in
animate nature, being themselves irreducible to those laws. The pattern of organic bases in DNA which functions as a genetic code is a boundary condition irreducible to physics and chemistry. Further controlling principles of life may be represented as a hierarchy of boundary conditions extending, in the case of man, to consciousness and responsibility.
I am sending you this two CD's of this talk because I thought you may find it very interesting. It includes references to not only James D. Watson, and Francis Crick but also  Maurice Wilkins, Erwin Schrodinger, J.S. Haldane (his son was the famous J.B.S. Haldane), Peter Medawar, and Barry Commoner.
Thank you for your time. I know how busy you are and I want to thank you for taking the time to read this letter.
Sincerely,
Everette Hatcher,
P.O. Box 23416, Little Rock, AR 72221, United States, cell ph 501-920-5733, everettehatcher@gmail.com
On November 21, 2014 I received a letter from Nobel Laureate Harry Kroto and it said:
…Please click on this URL http://vimeo.com/26991975
and you will hear what far smarter people than I have to say on this matter. I agree with them.
Harry Kroto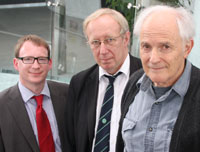 Nick Gathergood, David-Birkett, Harry-Kroto
I have attempted to respond to all of Dr. Kroto's friends arguments and I have posted my responses one per week for over a year now. Here are some of my earlier posts:
Arif Ahmed, Sir David Attenborough, Mark Balaguer, Horace Barlow, Michael Bate, Patricia Churchland, Aaron Ciechanover, Noam Chomsky,Alan Dershowitz, Hubert Dreyfus, Bart Ehrman, Stephan Feuchtwang, David Friend,  Riccardo Giacconi, Ivar Giaever , Roy Glauber, Rebecca Goldstein, David J. Gross,  Brian Greene, Susan Greenfield, Stephen F Gudeman,  Alan Guth, Jonathan Haidt, Theodor W. Hänsch, Brian Harrison,  Hermann Hauser, Roald Hoffmann,  Bruce Hood, Herbert Huppert,  Gareth Stedman Jones, Steve Jones, Shelly Kagan, Michio Kaku,  Stuart Kauffman,  Lawrence Krauss, Harry Kroto, George Lakoff, Elizabeth Loftus,  Alan Macfarlane, Peter Millican, Marvin Minsky, Leonard Mlodinow,  Yujin Nagasawa, Alva Noe, Douglas Osheroff,  Jonathan Parry,  Saul Perlmutter, Herman Philipse,  Carolyn Porco, Robert M. Price, Lisa Randall, Lord Martin Rees,  Oliver Sacks, John Searle, Marcus du Sautoy, Simon Schaffer, J. L. Schellenberg,   Lee Silver,  Peter Singer,  Walter Sinnott-Armstrong, Ronald de Sousa, Victor Stenger, Barry Supple,   Leonard Susskind, Raymond Tallis, Neil deGrasse Tyson,  .Alexander Vilenkin, Sir John Walker, Frank Wilczek, Steven Weinberg, and  Lewis Wolpert,
In  the second video below in the 61st clip in this series are his words but today I just wanted to pause and look at this life. 
50 Renowned Academics Speaking About God (Part 1)
Another 50 Renowned Academics Speaking About God (Part 2)
A Further 50 Renowned Academics Speaking About God (Part 3)
__
—
Related posts:
____________
____
__