I was saddened to learn of the passing of Sir John Sulston on March 6, 2018 and I wanted to spend time on several posts concentrating on him. Probably the best video tribute to him I have found is this video below, but the best interview of Dr. Sulston ever done was by Alan Macfarlane and it is below too.
______
Interview of Sir John Sulston – part one
Uploaded on Jun 24, 2010
An Interview on the life and work of Sir John Sulston, Nobel Prize winner, who organized the team which sequenced the human genome for the first time. For a higher quality, downloadable, version, with a detailed summary please see http://www.alanmacfarlane.com
Interview of Sir John Sulston – part two
Uploaded on Jun 24, 2010
An Interview on the life and work of Sir John Sulston, Nobel Prize winner, who organized the team which sequenced the human genome for the first time. For a higher quality, downloadable, version, with a detailed summary please see http://www.alanmacfarlane.com
_________
QUOTE from Dr. Sulston:
I see that we have enormous amounts to discover as a strategy for going forward as human beings; I believe atheism makes coherent sense; all the religions are in conflict with each other; they have different stories, based on insubstantial records, but justify them with saying that there was some direct communication with a deity in the past which has led them to this belief; I find those unconvincing, particularly because of the conflict; this was my main argument in discussions with my father and he found it hard to answer that.
EMAILED HIM ON 4-23-16,
From Everette Hatcher, My 3 responses to your assertions on RENOWNED ACADEMICS You Tube Interview, BTW I agree with your parents!!!
April 23, 2016
Dear Dr. Sulston,
I really enjoyed your interviews on You Tube with Alan MacFarlane. They were very informative.
In my correspondence with Harry Kroto he suggested that I check out the You Tube series "RESPONDING TO HARRY KROTO'S BRILLIANT RENOWNED ACADEMICS!!" and since then I have been responding to all 150 academics one at a time. Today I finally got around to responding to what you said and here is my response on my blog post.
I sent you a letter last week that actually was my response but something in your interview reminded me of my good friend Dr. John Redmond here in Little Rock. This is what you said:
My mother was my confidant and my rock as I was growing up; I could come home from school and talk; she had been a teacher of English at Watford Grammar School for Girls; throughout the time I was losing my links with my father over religion, my mother was always the neutral party; although she clearly was a believer and strongly supported my father she never indicated to me that she thought I was going off the rails as he did; she was the go-between; the most extraordinary event was that after her death, among her possessions was a letter to me saying how sad she was that I had lost my faith and her hope that one day I would regain it; it shocked me, it was a second bereavement, as here was this person who I had thought of as being at the unbelieving end of Anglicanism, and I had disappointed her…
Dr. Redman also had to deal with a stack a letters that he had never read from his father. However, he opened them after his father's death and it impacted him greatly. Below is his story:
Another Special Life in Christ

John Fletcher Redman, M. D.:
Born about 1938, he resides in Little Rock, Arkansas. He graduated from the UAMS medical school there in 1963 & won the distinguished faculty award in 1993. He was the 2014 UAMS Hall of Fame inductee, HERE. Long before the 1990's, Dr. John Redman had reached the pinnacle of success! By the age of 55, he had written every textbook but one in the field of Urology, and had received every national and international award that a medical professional in his field could receive. Dr. Redman was known and highly respected around the world, and had been serving for 25 years as the Chairman of the Department of Urology at the University of Arkansas for Medical Sciences in Little Rock, Arkansas. His brilliance was renowned, reflected by his being asked in 1973 (at a younger age than ever before in the history of the school ) to take on the position of Urology Department Chairman. You didn't get any higher up the professional ladder in the field of medicine than Dr. Redman had achieved!
Although his professional reputation was sterling, he also had a broad reputation for being foul-mouthed, a lady's man, and a party specialist. His lifestyle outside of his professional career was fast and wild. Full of himself, John often bragged about his escapades, including being responsible for starting the Poker Club at the Medical School. He had several failed marriages behind him, and no relationship at all with his parents, who were devout Christians. Dr. Redman had been exposed to Christianity at an early age, but rejected it as a life plan for weaklings (see Ted Turner). And he viewed himself as anything but weak! He had a world to conquer, and no namby-pamby, goody-two-shoes religion was going to slow him down!
One day Dr. Redman was 'speed walking' around a track in Little Rock, and found himself cooling down next to one of Arkansas's most famous joggers, then-Governor Bill Clinton! They chatted for a few moments, and that was that. Several years later, when Bill Clinton became the President of the United States, one of Dr. Redman's friends made note of that encounter by commenting that John had formerly been talking with the most powerful man in the world. John considered that encounter to be no big deal, since he saw himself as having also reached the top of his field! There was no shortage of arrogance at the Redman household!
Dr. Redman had, many years previously, estranged himself from his parents as a result of their efforts to guide him toward the spiritual straight and narrow. He was determined to live life his way. And then his world was crushed when his mother died. Ironically, John's mother died at about the same time as Bill Clinton's mother died [Clinton's mom's grave] and her story, HERE). The two funerals were held on the same day, at approximately the same time. This 'coincidence' ultimately had a life-changing impact on John's life.
While Dr. Redman was sitting at the tiny graveside service, a scripture was quoted that he had heard as a small boy…"What does it profit a man if he gains the whole world, but loses his own soul?" He began to consider the fact that both he and the most powerful man in the world were both doing the same thing at the same time, i.e., burying their mothers (Jan. 1994). At that point, he realized that no matter what level of success you achieve on this earth, you are still going to be put in the ground someday. All of your success and the adulation from others would one day end. And what then?
Dr. Redman soon came to realize that he was a lost soul with no hope of eternal life with his parents or with God. And that began to bring great turmoil into his life. His heart was under great conviction, but he didn't know how to fix his problem. Knowing that this was a spiritual problem (but still incredibly full of pride), Dr. Redman wasn't about to humble himself to go and talk with a preacher! So he spent several restless nights tossing and turning, unable to sleep. One Saturday, he went to his office to work because his heart was so burdened with the lostness of his soul's condition.
AS HE WAS CLEANING OUT HIS DESK, HE CAME ACROSS A STACK OF UNOPENED LETTERS SENT TO HIM BY HIS FATHER BEFORE HE DIED FOUR YEARS PREVIOUSLY. When John had received them, because he knew that they would be full of religious comments, he simply threw them (unopened) into the bottom drawer of his desk.
But now he was more than eager to read the legacy left by his father! As he opened each letter, he discovered the pathway for his soul to eternal salvation! Privately in his office, he cried out to God and admitted his rebellion. He asked for forgiveness and expressed a willingness to turn his life around. He now understood that Jesus had already paid the penalty for his sins by sacrificing his life on a cross. So Dr. Redman humbled himself, asking Jesus to take up residence in his heart. He followed his father's written advice to surrender his life totally to the leadership and guidance of Jesus Christ, the living son of God.
And his life began to change dramatically! Shortly thereafter, as a result of the difference she saw in John's behavior, Anna (John's live-in girlfriend) also gave her life to Christ, and they were married! They then followed the Lord's leadership to outwardly demonstrate (1) their rejection of the old way of life and (2) their new commitment to follow the Spirit of the living God through the act of baptism! And there is no question in anyone's mind (of those who know them) that these two physicians have experienced a radical life change!
Since that time, Dr. Redman has extensively exercised the gift of evangelism that the Lord blessed him with. He has become a powerful speaker for the Lord, and has allowed his new Spiritual Father to position him in many high-level positions to share his testimony of how the Lord can bring salvation to even the most hardened sinner. In similar fashion, Anna utilizes every opportunity to share the good news of life through Jesus Christ, even being blessed to lead some of her patients to Christ in her office!
This is truly a victory story of reaching the pinnacle of what the world has to offer, coming up empty, and finding the pathway that leads to real life [written for me 7 Jan. 2004 by my…and Dr. Redmond's…friendD. O.].
I was at church the day that Dr. Redmond joined and he gave his testimony in about 6 minutes and it was an amazing story. Thank you for your time. I know how busy you are.
Everette Hatcher, cell ph 501-920-5733
Below: Urology Department Chair Rodney Davis, M.D., (left) nominated John Redman, M.D., for induction into the college's Hall of Fame.

On November 21, 2014 I received a letter from Nobel Laureate Harry Kroto and it said:
…Please click on this URL http://vimeo.com/26991975
and you will hear what far smarter people than I have to say on this matter. I agree with them.
Harry Kroto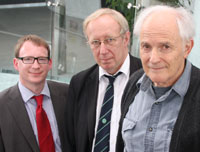 Nick Gathergood, David-Birkett, Harry-Kroto
I have attempted to respond to all of Dr. Kroto's friends arguments and I have posted my responses one per week for over a year now. Here are some of my earlier posts:
Arif Ahmed, Sir David Attenborough, Mark Balaguer, Horace Barlow, Michael Bate, Patricia Churchland, Aaron Ciechanover, Noam Chomsky,Alan Dershowitz, Hubert Dreyfus, Bart Ehrman, Stephan Feuchtwang, David Friend, Riccardo Giacconi, Ivar Giaever , Roy Glauber, Rebecca Goldstein, David J. Gross, Brian Greene, Susan Greenfield, Stephen F Gudeman, Alan Guth, Jonathan Haidt, Theodor W. Hänsch, Brian Harrison, Hermann Hauser, Roald Hoffmann, Bruce Hood, Herbert Huppert, Gareth Stedman Jones, Steve Jones, Shelly Kagan, Michio Kaku, Stuart Kauffman, Lawrence Krauss, Harry Kroto, George Lakoff, Elizabeth Loftus, Alan Macfarlane, Peter Millican, Marvin Minsky, Leonard Mlodinow, Yujin Nagasawa, Alva Noe, Douglas Osheroff, Jonathan Parry, Saul Perlmutter, Herman Philipse, Carolyn Porco, Robert M. Price, Lisa Randall, Lord Martin Rees, Oliver Sacks, John Searle, Marcus du Sautoy, Simon Schaffer, J. L. Schellenberg, Lee Silver, Peter Singer, Walter Sinnott-Armstrong, Ronald de Sousa, Victor Stenger, Barry Supple, Leonard Susskind, Raymond Tallis, Neil deGrasse Tyson, .Alexander Vilenkin, Sir John Walker, Frank Wilczek, Steven Weinberg, and Lewis Wolpert,
In the second video below in the 61st clip in this series are his words but today I just wanted to pause and look at this life.
50 Renowned Academics Speaking About God (Part 1)
Another 50 Renowned Academics Speaking About God (Part 2)
A Further 50 Renowned Academics Speaking About God (Part 3)
__
—
Related posts:
____________
____
__