________________
I found Dr. Barlow to be a true gentleman and he was very kind to take the time to answer the questions that I submitted to him. In the upcoming months I will take time once a week to pay tribute to his life and reveal our correspondence. In the first week I noted:
Today I am posting my first letter to him in February of 2015 which discussed Charles Darwin lamenting his loss of aesthetic tastes which he blamed on Darwin's own dedication to the study of evolution. In a later return letter, Dr. Barlow agreed that Darwin did in fact lose his aesthetic tastes at the end of his life.
In the second week I look at the views of Michael Polanyi and share the comments of Francis Schaeffer concerning Polanyi's views.
In the third week, I look at the life of Brandon Burlsworth in the November 28, 2016 letter and the movie GREATER and the problem of evil which Charles Darwin definitely had a problem with once his daughter died.
On the 4th letter to Dr. Barlow looks at Darwin's admission that he at times thinks that creation appears to look like the expression of a mind. Francis Schaeffer discusses Darwin's own words in 1968 sermon at this link.
Horace Barlow pictured below:
_____________
On November 21, 2014 I received a letter from Nobel Laureate Harry Kroto and it said:
…Please click on this URL http://vimeo.com/26991975
and you will hear what far smarter people than I have to say on this matter. I agree with them.
Harry Kroto
__________________________
Tribute for Horace Barlow:
discrepancies to be immediately identified and dealt with. Horace's information theory-based approach underlies many modern approaches to unsupervised learning in neural networks and Bayesian learning.
In the 30-odd years after his formal 'retirement', Horace continued to make highly original and creative contributions to the field. He published 56 articles during this period, many as the single author. His interests were very varied, including information redundancy, predictive coding, Bayesian inference, unsupervised learning, development and many others, but all were motivated by the common themes of information theory and neural efficiency. A recent example of his creative thinking was
his talk at the symposium on 'Turing Enduring: Information Processing by Brains and Machines' (Rockefeller University, December 2012), published in the journal Visual Neuroscience. There, Horace challenged the traditional (and still prevalent) wisdom that orientation- tuned simple and complex cells in primary visual cortex act as 'edge- detectors'. Looking for more general guiding principles of brain function, he claimed that "the prime role of V1 is to search for regularity or redundancy in the input", leading to the hypothesis that simple cells perform cross-correlations between the retinal input and internal templates, while complex cells calculate auto-correlations in the retinal input. Characteristically, he did not leave this as a simple hypothesis but provided solid quantitative psychophysical data in favour of his theory.
Horace was renowned for his intelligence and quick-wittedness. Neuroscientists presented their research to the Cambridge 'Craik Club' with some trepidation. But this was unwarranted,
for besides being smart Horace was
kind, especially to young researchers. He quickly understood the message of the talk and gave many useful suggestions, absolutely on point, and never intended to humiliate. But his clever quips could also be fun. At a dinner that he gave for
a bunch of graduate students, he invited his friend Francis Crick, who held forth on several topics throughout the evening. At one stage, Francis brought up his lineage, lamenting that he could trace it back only to Elizabethan times. With a disarming smile, Horace instantly retorted, "oh yes Francis, and which Elizabeth is that?"
1Professor of Physiological Psychology at the
2 University of Florence, Florence, Italy. Emeritus
Professor of Neurobiology at Cambridge University, Cambridge, UK.
E-mail: dcb492@gmail.com (D.B.); sl104@cam.ac.uk (S.L.
XXXXXXXXXXXX
Fourth letter dated 2-1-17 was an Email on first cause, By chance? Mind of monkey, creation done by expression of a mind? To Horace Barlow, I hope all is well with you and yours, Letter on correspondence with email Duke of Argyll (1823-1900)
pictured below with his eldest child William:
Dear Dr. Barlow,
I'm an evangelical Christian and you are a secularist but I am sure we can both agree with the apostle Paul when he said in First Corinthians 15 that if Christ did not rise from the dead then Christians are to be most pited!!!! This passage is one of favorite at Fellowship Bible Church in Little Rock at Easter time. Our pastor Mark Henry has asserted that there is plenty of evidence that indicates that the Bible is historically accurate. Did you know that CHARLES DARWIN thought about this very subject quite a lot?
I just finished reading the online addition of the book Darwin, Francis ed. 1892. Charles Darwin: his life told in an autobiographical chapter, and in a selected series of his published letters [abridged edition]. London: John Murray. There are several points that Charles Darwin makes in this book that were very wise, honest, logical, shocking and some that were not so wise. The Christian Philosopher Francis Schaeffer once said of Darwin's writings, "Darwin in his autobiography and in his letters showed that all through his life he never really came to a quietness concerning the possibility that chance really explained the situation of the biological world. You will find there is much material on this [from Darwin] extended over many manufacturers years that constantly he was wrestling with this problem."
When I read the book Charles Darwin: his life told in an autobiographical chapter, and in a selected series of his published letters, I also read a commentary on it by Francis Schaeffer and I wanted to both quote some of Charles Darwin's own words to you and then include the comments of Francis Schaeffer on those words.
Darwin, C. R. to Doedes, N. D., 2 Apr 1873
"It is impossible to answer your question briefly; and I am not sure that I could do so, even if I wrote at some length. But I may say that the impossibility of conceiving that this grand and wondrous universe, with our conscious selves, arose through chance, seems to me the chief argument for the existence of God; but whether this is an argument of real value, I have never been able to decide…Nor can I overlook the difficulty from the immense amount of suffering through the world. I am aware that if we admit a First Cause, the mind still craves to know whence it came, and how it arose."
Jan Constantijn Costerus and Nicolaas Dirk Doedes pictured below: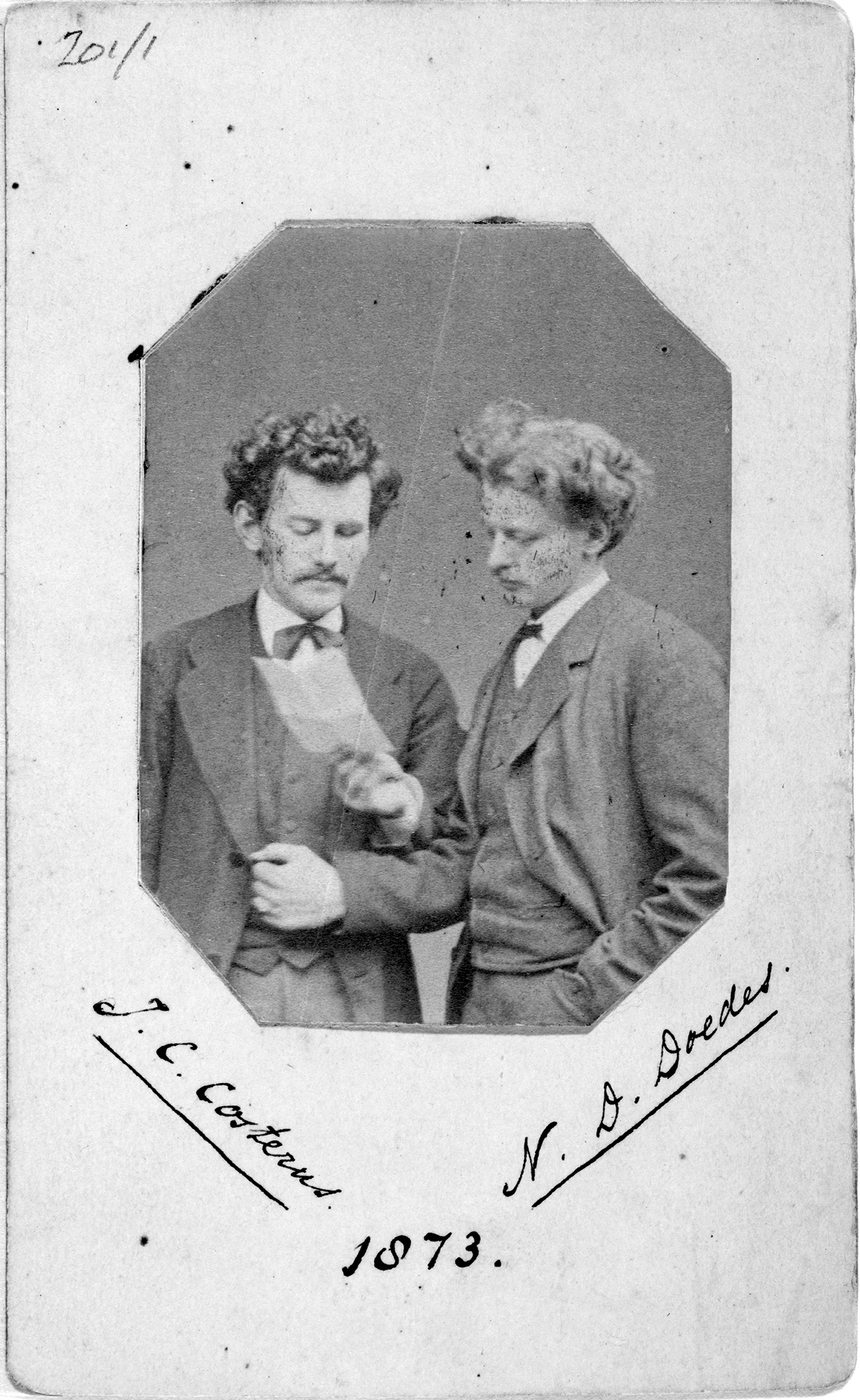 Francis Schaeffer noted:
What he is saying is if you say there is a first cause, then the mind says, "Where did this come from?" I think this is a bit old fashioned, with some of the modern thinkers, this would not have carry as much weight today as it did when Darwin expressed it. Jean Paul Sartre said it as well as anyone could possibly say it. The philosophic problem is that something is there and not nothing being there. No one has the luxury of beginning with nothing. Nobody I have ever read has put forth that everything came from nothing. I have never met such a person in all my reading,or all my discussion. If you are going to begin with nothing being there, it has to be nothing nothing, and it can't be something nothing. When someone says they believe nothing is there, in reality they have already built in something there. The only question is do you begin with an impersonal something or a personal something. All human thought is shut up to these two possibilities. Either you begin with an impersonal and then have Darwin's own dilemma which impersonal plus chance, now he didn't bring in the amount of time that modern man would though. Modern man has brought in huge amounts of time into the equation as though that would make a difference because I have said many times that time can't make a qualitative difference but only a quantitative difference. The dilemma is it is either God or chance. Now you find this intriguing thing in Darwin's own situation, he can't understand how chance could have produced these two great factors of the universe and its form and the mannishness of man.
From Charles Darwin, Autobiography (1876), in The Life and Letters of Charles Darwin, ed. Francis Darwin, vol. 1 (London: John Murray, 1888), pp. 307 to 313.
"Another source of conviction in the existence of God, connected with the reason and not with the feelings, impresses me as having much more weight. This follows from the extreme difficulty or rather impossibility of conceiving this immense and wonderful universe, including man with his capacity of looking far backwards and far into futurity, as the result of blind chance or necessity. When thus reflecting, I feel compelled to look to a First Cause having an intelligent mind in some degree analogous to that of man; and I deserve to be called a Theist. This conclusion was strong in my mind about the time, as far as I can remember, when I wrote the Origin of Species, and it is since that time that it has very gradually, with many fluctuations, become weaker. But then arises the doubt…"
Francis Schaeffer commented:
On the basis of his reason he has to say there must be an intelligent mind, someone analogous to man. You couldn't describe the God of the Bible better. That is man is made in God's image and therefore, you know a great deal about God when you know something about man. What he is really saying here is that everything in my experience tells me it must be so, and my mind demands it is so. Not just these feelings he talked about earlier but his MIND demands it is so, but now how does he counter this? How does he escape this? Here is how he does it!!!
Charles Darwin went on to observe: "—can the mind of man, which has, as I fully believe, been developed from a mind as low as that possessed by the lowest animals, be trusted when it draws such grand conclusions?"
Francis Schaeffer asserted:
So he says my mind can only come to one conclusion, and that is there is a mind behind it all. However, the doubt comes because his mind has come from the lowest form of earthworm, so how can I trust my mind. But this is a joker isn't it? Then how can you trust his mind to support such a theory as this? He proved too much. The fact that Darwin found it necessary to take such an escape shows the tremendous weight of Romans 1, that the only escape he can make is to say how can I trust my mind when I come from the lowest animal the earthworm? Obviously think of the grandeur of his concept, I don't think it is true, but the grandeur of his concept, so what you find is that Darwin is presenting something here that is wrong I feel, but it is not nothing. It is a tremendously grand concept that he has put forward. So he is accepting the dictates of his mind to put forth a grand concept which he later can't accept in this basic area with his reason, but he rejects what he could accept with his reason on this escape. It really doesn't make sense. This is a tremendous demonstration of the weakness of his own position.
Darwin also noted, "I cannot pretend to throw the least light on such abstruse problems. The mystery of the beginning of all things is insoluble by us, and I for one must be content to remain an Agnostic."
Francis Schaeffer remarked:
What a stupid reply and I didn't say wicked. It just seems to me that here is 2 plus 2 equals 36 at this particular place.
Darwin, C. R. to Graham, William 3 July 1881
Nevertheless you have expressed my inward conviction, though far more vividly and clearly than I could have done, that the Universe is not the result of chance.* But then with me the horrid doubt always arises whether the convictions of man's mind, which has been developed from the mind of the lower animals, are of any value or at all trustworthy. Would any one trust in the convictions of a monkey's mind, if there are any convictions in such a mind?
Francis Schaeffer observed:
Can you feel this man? He is in real agony. You can feel the whole of modern man in this tension with Darwin. My mind can't accept that ultimate of chance, that the universe is a result of chance. He has said 3 or 4 times now that he can't accept that it all happened by chance and then he will write someone else and say something different. How does he say this (about the mind of a monkey) and then put forth this grand theory? Wrong theory I feel but great just the same. Grand in the same way as when I look at many of the paintings today and I differ with their message but you must say the mark of the mannishness of man are one those paintings titanic-ally even though the message is wrong and this is the same with Darwin. But how can he say you can't think, you come from a monkey's mind, and you can't trust a monkey's mind, and you can't trust a monkey's conviction, so how can you trust me? Trust me here, but not there is what Darwin is saying. In other words it is very selective.
Now we are down to the last year of Darwin's life.
* The Duke of Argyll (Good Words, April 1885, p. 244) has recorded a few words on this subject, spoken by my father in the last year of his life. ". . . in the course of that conversation I said to Mr. Darwin, with reference to some of his own remarkable works on the Fertilisation of Orchids, and upon The Earthworms,and various other observations he made of the wonderful contrivances for certain purposes in nature—I said it was impossible to look at these without seeing that they were the effect and the expression of mind. I shall never forget Mr. Darwin's answer. He looked at me very hard and said, 'Well, that often comes over me with overwhelming force; but at other times,' and he shook his head vaguely, adding, 'it seems to go away.'"
_________
(Despite differing opinions, Darwin and Argyll had great respect for each other and he served as one of the pall bearers at Darwin's funeral.)
__
Francis Schaeffer summarized :
And this is the great Darwin, and it makes you cry inside. This is the great Darwin and he ends as a man in total tension.
Francis Schaeffer noted that in Darwin's 1876 Autobiography that Darwin he is going to set forth two arguments for God in this and again you will find when he comes to the end of this that he is in tremendous tension. Darwin wrote,
At the present day the most usual argument for the existence of an intelligent God is drawn from the deep inward conviction and feelings which are experienced by most persons.Formerly I was led by feelings such as those just referred to (although I do not think that the religious sentiment was ever strongly developed in me), to the firm conviction of the existence of God and of the immortality of the soul. In my Journal I wrote that whilst standing in the midst of the grandeur of a Brazilian forest, 'it is not possible to give an adequate idea of the higher feelings of wonder, admiration, and devotion which fill and elevate the mind.' I well remember my conviction that there is more in man than the mere breath of his body; but now the grandest scenes would not cause any such convictions and feelings to rise in my mind. It may be truly said that I am like a man who has become colour-blind.
Francis Schaeffer remarked:
Now Darwin says when I look back and when I look at nature I came to the conclusion that man can not be just a fly! But now Darwin has moved from being a younger man to an older man and he has allowed his presuppositions to enter in to block his logic. These things at the end of his life he had no intellectual answer for. To block them out in favor of his theory. Remember the letter of his that said he had lost all aesthetic senses when he had got older and he had become a clod himself. Now interesting he says just the same thing, but not in relation to the arts, namely music, pictures, etc, but to nature itself. Darwin said, "But now the grandest scenes would not cause any such convictions and feelings to rise in my mind. It may be truly said that I am like a man who has become colour-blind…" So now you see that Darwin's presuppositions have not only robbed him of the beauty of man's creation in art, but now the universe. He can't look at it now and see the beauty. The reason he can't see the beauty is for a very, very , very simple reason: THE BEAUTY DRIVES HIM TO DISTRACTION. THIS IS WHERE MODERN MAN IS AND IT IS HELL. The art is hell because it reminds him of man and how great man is, and where does it fit in his system? It doesn't. When he looks at nature and it's beauty he is driven to the same distraction and so consequently you find what has built up inside him is a real death, not only the beauty of the artistic but the beauty of nature. He has no answer in his logic and he is left in tension. He dies and has become less than human because these two great things (such as any kind of art and the beauty of nature) that would make him human stand against his theory.
________________________
Erasmus Alvey Darwin with Charles Darwin's sons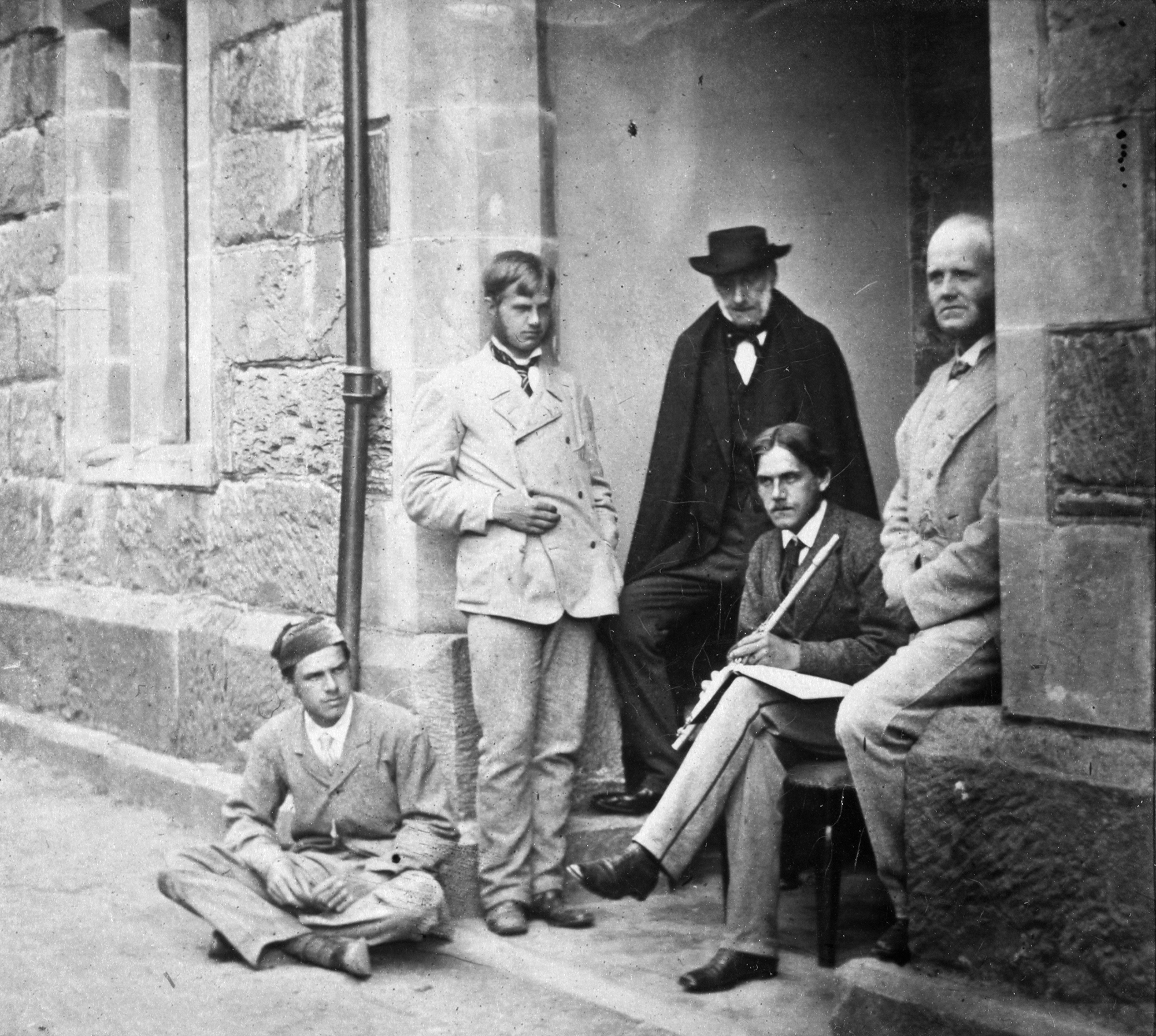 DO THESE WORDS OF DARWIN APPLY TO YOU TODAY? "I am like a man who has become colour-blind." As a secularist you believe that it is sad indeed that millions of Christians are hoping for heaven but no heaven is waiting for them. Paul took a close look at this issue too. I Corinthians 15 asserts:
12 But if it is preached that Christ has been raised from the dead, how can some of you say that there is no resurrection of the dead? 13 If there is no resurrection of the dead, then not even Christ has been raised. 14 And if Christ has not been raised, our preaching is useless and so is your faith. 15 More than that, we are then found to be false witnesses about God, for we have testified about God that he raised Christ from the dead. But he did not raise him if in fact the dead are not raised. 16 For if the dead are not raised, then Christ has not been raised either.17 And if Christ has not been raised, your faith is futile; you are still in your sins. 18 Then those also who have fallen asleep in Christ are lost. 19 If only for this life we have hope in Christ, we are of all people most to be pitied.
_______________________________________
Is the Bible historically accurate? Here are some of the posts I have done in the past on the subject: 1. The Babylonian Chronicle, of Nebuchadnezzars Siege of Jerusalem, 2. Hezekiah's Siloam Tunnel Inscription. 3. Taylor Prism (Sennacherib Hexagonal Prism), 4. Biblical Cities Attested Archaeologically. 5. The Discovery of the Hittites, 6.Shishak Smiting His Captives, 7. Moabite Stone, 8. Black Obelisk of Shalmaneser III, 9A Verification of places in Gospel of John and Book of Acts., 9B Discovery of Ebla Tablets. 10. Cyrus Cylinder, 11. Puru "The lot of Yahali" 9th Century B.C.E., 12. The Uzziah Tablet Inscription, 13. The Pilate Inscription, 14. Caiaphas Ossuary, 14 B Pontius Pilate Part 2, 14c. Three greatest American Archaeologists moved to accept Bible's accuracy through archaeology.,
There are 3 videos in this series and they have statements by 150 academics and scientists and I hope to respond to all of them. Wikipedia notes Horace Basil Barlow FRS was a British visual neuroscientist.
Barlow was the son of the civil servant Sir Alan Barlow and his wife Lady Nora (née Darwin), and thus the great-grandson of Charles Darwin (see Darwin — Wedgwood family). He earned an M.D. at Harvard University in 1946.
In 1953 Barlow discovered that the frog brain has neurons which fire in response to specific visual stimuli. This was a precursor to the work of Hubel and Wiesel on visual receptive fields in the visual cortex. He has made a long study of visual inhibition, the process whereby a neuron firing in response to one group of retinal cells can inhibit the firing of another neuron; this allows perception of relative contrast.
In 1961 Barlow wrote a seminal article where he asked what the computational aims of the visual system are. He concluded that one of the main aims of visual processing is the reduction of redundancy. While the brightnesses of neighbouring points in images are usually very similar, the retina reduces this redundancy. His work thus was central to the field of statistics of natural scenes that relates the statistics of images of real world scenes to the properties of the nervous system.
——
—
Barlow and his co-workers also did substantial work in the field of factorial codes. The goal was to encode images with statistically redundant components or pixels such that the code components are statistically independent. Such codes are hard to find but highly useful for purposes of image classification etc.
Barlow was a fellow of Trinity College, University of Cambridge. He was elected a Fellow of the Royal Society in 1969 and was awarded their Royal Medal in 1993.[1] He received the 1993 Australia Prize for his research into the mechanisms of visual perception and the 2009 Swartz Prize for Theoretical and Computational Neuroscience from the Society for Neuroscience.
________________
His comments can be found on the 3rd video and the 128th clip in this series. Below the videos you will find his words.
50 Renowned Academics Speaking About God (Part 1)
Another 50 Renowned Academics Speaking About God (Part 2)
A Further 50 Renowned Academics Speaking About God (Part 3)
_______________
Interview of Horace Barlow – part 1
Published on Jun 18, 2014
Interviewed and filmed by Alan Macfarlane on 5 March 2012
______________________
Interview of Horace Barlow – part 2
Horace Barlow's quote taken from interview with Alan Macfarlane:
HAS RELIGION EVER BEEN IMPORTANT TO YOU? IS IT IMPORTANT TO YOU? No, it is not important to me. Saying you don't believe in God is a very foolish thing to say as it doesn't explain why so many people talk about it, there has got to be more to it than that; also I think one has to respect what some godly people say and some of the things they do; I wish one could make more sense of it but I don't think the godly people have done a very good job; I was never baptized or confirmed so have never been a practitioner, and I don't miss it; DO YOU THINK THAT SCIENCE HAS DIS-PROVEN RELIGION AS DAWKINS ARGUES? I think it [science] provides some hope of acting rationally to handle the social and political problems we have to deal with on a personal level and one a worldwide level. Religion is a way of perpetuating a way of thought that might have otherwise been lost, and I imagine that is fine.
Dr. Barlow's only three solid claims in this response to Alan Macfarlane is that science is #1 the best help today with our social problems,(which is in the original clip), #2 Saying you don't believe in God (position of atheism) is foolish, and #3 we need an explanation for why so many people talk about [God.]
My response to #1 is to look at how the secular humanists have messed up so many things in the past and I include Barlow's personal family friend Margaret Mead in that. My responses to #2 and #3 were both covered in my earlier response to Roald Hoffmann.
(Roald Hoffmann is a Nobel Prize winner who I have had the honor of corresponding with in the past. Pictured below)
(This July 1933 photo shows [left to right] anthropologist Gregory Bateson with Margaret Mead)
Horace Barlow's words from interview conducted by Alan Macfarlane:
I don't ever remember going to Bateson's house in Granchester as a child; William Bateson's wife was a friend of my mother's; when Gregory Bateson was out in Bali he met Margaret Mead; Beatrice Bateson, his mother, felt she was too old to go out and inspect her so she sent my mother instead; she flew off in an Imperial Airlines plane and we saw her off from Hendon; that must have been 1937-8; my mother got on very well with Margaret Mead – she was not altogether convinced by her, but very impressed by her breadth of knowledge and energy; she came and stayed with us many times; I was even more sceptical than my mother and thought she was a very impressive person; Gregory was born 1904 and my mother, in 1886, so there was quite a big age difference between them; I never got on close intellectual terms with Gregory even though we were to some extent interested in the same sort of thing, both in cybernetics and psychology, and his ideas were always interesting; however, my model of a scientist was taken from my mother and not from Gregory; my mother was interested in genetics and the paper for which she was famous was on the reproductive system in plants like cowslips; my mother reasoned like a scientist whereas Gregory was a guru – he liked to think things out for himself; he obviously influenced many others too; I saw him once or twice when I went to Berkeley
Postscript:
I was sad to see that Jon Stewart is stepping down from the DAILY SHOW so I wanted to include one of the best clips I have ever seen on his show and it is a short debate between the brilliant scientists Edward J. Larson (an evolutionist), William A. Dembski (an Intelligent Design Proponent), and then he threw in a nutball in for laughs, Ellie Crystal (a metaphysical theorist). Dembski gives several great examples of design and it reminded me of many of the words of Darwin show above in my letter to Horace Barlow.
William Dembski on The Jon Stewart Show
Uploaded on Nov 15, 2010
Wednesday September 14, 2005 – Jon Stewart's "Evolution, Schmevolution" segment with panelists Edward J. Larson (an evolutionist), William A. Dembski (an Intelligent Design Proponent), and Ellie Crystal (a metaphysical theorist).
Related posts:
_________________
___