—
I found Dr. Barlow to be a true gentleman and he was very kind to take the time to answer the questions that I submitted to him. In the upcoming months I will take time once a week to pay tribute to his life and reveal our correspondence. Today I am posting my first letter to him in February of 2015 which discussed Charles Darwin lamenting his loss of aesthetic tastes which he blamed on Darwin's own dedication to the study of evolution. In a later return letter, Dr. Barlow agreed that Darwin did in fact lose his aesthetic tastes at the end of his life.
Horace Barlow pictured below:
_____________
On November 21, 2014 I received a letter from Nobel Laureate Harry Kroto and it said:
…Please click on this URL http://vimeo.com/26991975
and you will hear what far smarter people than I have to say on this matter. I agree with them.
Harry Kroto
__________________________
——
—
Professor Horace Barlow (8 December 1921 – 5 July 2020) was a neuroscientist and Fellow of Trinity College Cambridge.
Horace Barlow was born into a scientific family: his mother was Nora Darwin, the granddaughter of Charles Darwin, who worked in the field of genetics with William Bateson at Cambridge and his paternal grandfather was physician to Queen Victoria's household.
He studied Natural Sciences at Cambridge University and then completed medical training at Harvard Medical School and University College Hospital, London before returning to Cambridge to study neurophysiology under the tutelage of Lord Adrian. He was awarded an Sc.D in 1943.
His research investigated the visual system at the level of single neurons and their interactions in both humans and animals. His emphasis was on understanding the act of seeing through the underlying machinery of vision.
After holding various positions at Cambridge University he became Professor of Physiological Optics and Physiology at the University of California, Berkeley. He later returned to Cambridge, where he was Royal Society Research Professor of Physiology.
Professor Barlow was elected Fellow of the Royal Society in 1969 and was awarded the Society's Royal Medal in 1993. In the same year (1993) he received the Australia Prize for research into the mechanisms of visual perception. His other awards include Swartz Prize for Theoretical and Computational Neuroscience (2009) and Ken Nakayama Prize from the Vision Sciences Society (2016).
Trinity Fellow, Professor Roger Keynes, of the Department of Physiology, Development and Neuroscience at the University of Cambridge, said:
Horace Barlow made seminal discoveries in brain physiology. After medical qualification he began research in the Cambridge Physiological Laboratory, recording electrical signals from single nerve cells in the frog's eye. These showed that nerve cells are wired to detect essential features of the frog's visual world, such as a small moving insect, and its direction. His approach paved the way for major advances in understanding how visual information in mammals is processed and stored in the brain. He also initiated psychophysical studies of human visual perception and wrote cogently on the brain in all its aspects, working in his departmental office and visiting Trinity well into his 90s.
Priyamvada Natarajan, Professor in the Departments of Astronomy and Physics at Yale University, and a Trinity alumna, said:
Deeply sad to hear the news of his passing. I fondly remember many wonderful conversations with Horace Barlow during my time at Trinity as a junior research fellow in 1997-2003. We chatted about science – in particular, about optics, and how the various wavelengths of light revealed disparate aspects of the cosmos and about the achromatic bending of light (gravitational lensing) that I worked on and its analogy to geometric optics. He patiently answered many of my naive questions about neuroscience and we were both ardent fans of Ramon Cajal's drawings of neurons. Horace was soft-spoken, utterly curious about the natural world, and remarkably insightful –  it was a privilege to know him.
February 11, 2015
Dr. Horace Barlow, Department of Physiology,
Dear Dr. Barlow,
I just finished reading the online addition of the book Darwin, Francis ed. 1892. Charles Darwin: his life told in an autobiographical chapter, and in a selected series of his published letters [abridged edition]. London: John Murray. There are several points that Charles Darwin makes in this book that were very wise, honest, logical, shocking and some that were not so wise. The Christian Philosopher Francis Schaeffer once said of Darwin's writings, "Darwin in his autobiography and in his letters showed that all through his life he never really came to a quietness concerning the possibility that chance really explained the situation of the biological world. You will find there is much material on this [from Darwin] extended over many many years that
constantly he was wrestling with this problem."
(Charles Darwin below)
Recently I watched a lengthy interview you did on You Tube with Dr. Alan Macfarlane:
HAS RELIGION EVER BEEN IMPORTANT TO YOU? IS IT IMPORTANT TO YOU? No, it is not important to me. Saying you don't believe in God is a very foolish thing to say as it doesn't explain why so many people talk about it, there has got to be more to it than that; also I think one has to respect what some godly people say and some of the things they do; I don't have a lack of respect for religion. YOU ARE NOT A RICHARD DAWKINS? No. No. No. I just think it is foolish. Well, I wish one could make more sense of it but I don't think the godly people have done a very good job; I was never baptized or confirmed so have never been a practitioner, and I don't miss it; DO YOU THINK THAT SCIENCE HAS DIS-PROVEN RELIGION AS DAWKINS ARGUES? I think it provides some hope of acting rationally to handle the social and political problems we have to deal with on a personal level and one a worldwide level. Religion is a way of perpetuating a way of thought that might have otherwise been lost, and I imagine that is fine.
________
I just want to say that Alan Macfarlane's series on You Tube has been so enjoyable to watch and I have got some much out of them. Thank you for taking the time to sit down with him and give such a thorough interview. I especially enjoyed hearing about such interesting people that you interacted with such as  Gregory Bateson,  Margaret Mead, Beatrice Bateson, Thomas Barlow (your grandfather), and your mother too. I noticed that you in your interview with Dr. Macfarlane said that your mother thought that Charles Darwin was underrated when she was younger but may be a little overrated by the time she died. I THINK DARWIN OPENED UP ABOUT HIS MOST INNER FEELINGS MUCH MORE THAN HE HAS BEEN GIVEN CREDIT FOR AND THAT IS WHAT I WROTE YOU ABOUT TODAY. Also I was curious if your grandfather Horace Darwin (whom you are named after) ever got to meet you? 
At the 25:18:12 mark in the You Tube video you noted, "At Winchester I was interested in photography; I was also interested in music but not good enough at it; I was taught piano to begin with but only reached about grade three; we had an aunt whom I later liked very much; she used to sing folk songs and I couldn't stand that; I later took up the flute and played in orchestras; I still play; music has been important in my life; I don't like listening to music as background; there is a quartet club in Cambridge and I still go to that quite often; I used to be in a quartet which met mostly in my house, but the first and second violins got married, had children, and the quartet came to an end; my taste is for early classical music in the main."
Your love of music and of photography o
f nature made me think of you when I read the book Charles Darwin: his life told in an autobiographical chapter, and in a selected series of his published letters because of what Darwin said about science causing him to lose his aesthetic tastes and enjoyment of the beauty of nature. These are two things you still seem to enjoy. I am going to quote some of Charles Darwin's own words and then include the comments of Francis Schaeffer on those words. I have also enclosed a CD with two messages from Adrian Rogers and Bill Elliff concerning Darwinism.
 CHARLES DARWIN'S AUTOBIOGRAPHY. Addendum. Written May 1st, 1881 [the year before his death].
I have said that in one respect my mind has changed during the last twenty or thirty years. Up to the age of thirty, or beyond it, poetry of many kinds, such as the works of Milton, Gray, Byron, Wordsworth, Coleridge, and Shelley, gave me great pleasure, and even as a schoolboy I took intense delight in Shakespeare, especially in the historical plays. I have also said that formerly pictures gave me considerable, and music very great delight. But now for many years I cannot endure to read a line of poetry: I have tried lately to read Shakespeare, and found it so intolerably dull that it nauseated me. I have also almost lost my taste for pictures or music. Music generally sets me thinking too energetically on what I have been at work on, instead of giving me pleasure. I retain some taste for fine scenery, but it does not cause me the exquisite delight which it formerly did. On the other hand, novels, which are works of the imagination, though not of a very high order, have been for years a wonderful relief and pleasure to me, and I often bless all novelists. A surprising number have been read aloud to me, and I like all if moderately good, and if they do not end unhappily—against which a law ought to be passed. A novel, according to my taste, does not come into the first class unless it contains some person whom one can thoroughly love, and if a pretty woman all the better.
This curious and lamentable loss of the higher æsthetic tastes is all the odder, as books on history, biographies, and travels (independently of any scientific facts which they may contain), and essays on all sorts of subjects interest me as much as ever they did. My mind seems to have become a kind of machine for grinding general laws out of large collections of facts, but why this should have caused the atrophy of that part of the brain alone, on which the higher tastes depend, I cannot conceive. A man with a mind more highly organised or better constituted than mine, would not, I suppose, have thus suffered; and if I had to live my life again, I would have made a rule to read some poetry and listen to some music at least once every week; for perhaps the parts of my brain now atrophied would thus have been kept active through use. The loss of these tastes is a loss of happiness, and may possibly be injurious to the intellect, and more probably to the moral character, by enfeebling the emotional part of our nature.

Francis Schaeffer commented:
This is the old man Darwin writing at the end of his life. What he is saying here is the further he has gone on with his studies the more he has seen himself reduced to a machine as far as aesthetic things are concerned. I think this is crucial because as we go through this we find that his struggles and my sincere conviction is that he never came to the logical conclusion of his own position, but he nevertheless in the death of the higher qualities as he calls them, art, music, poetry, and so on, what he had happen to him was his own theory was producing this in his own self just as his theories a hundred years later have produced this in our culture. I don't think you can hold the evolutionary position as he held it without becoming a machine. What has happened to Darwin personally is merely a forerunner to what occurred to the whole culture as it has fallen in this world of pure material, pure chance and later determinism. Here he is in a situation where his mannishness has suffered in the midst of his own position.
Darwin, C. R. to Fordyce, John, 7 May 1879
"What my own views may be is a question of no consequence to any one but myself. But, as you ask, I may state that my judgment often fluctuates . . . In my most extreme fluctuations I have never been an Atheist in the sense of denying the existence of a God. I think that generally (and more and more as I grow older), but not always, that an Agnostic would be the more correct description of my state of mind."
Francis Schaeffer asserted:
What we find now is that he comes to the place in being agnostic, but as we read through this section on religion what we find is in reality his reason leads him against this position, which is interesting but his theory makes him accept the  position of agnosticism. You will notice as we go on, on the basis of his intellect he can't stand the thought of his own position, of there not being an answer. Nevertheless, he is increasingly forced to this because it wouldn't conform to his own theory, man being shoved against his own will because of presuppositions. I think what you have in Darwin is a magnificent example, although a sad one of what I lecture on in apologetics,  and that is if a man takes a set of nonchristian presuppositions he is forced eventually to be in a place of tension. The more consistent he is with his own nonchristian presuppositions the more he is away from the real world. When he is closer to the real world then he is more illogical to his own presuppositions. Darwin shows this in his own writings in his own lifetime. So the things in his human nature he is sorry to lose, but he loses them, at the same time he finds that couldn't explain things on the basis of his reason.  Yet he was driven to certain conclusions which were away from what he himself felt were the real world on the basis of his own presuppositions. He was never satisfied. Just as I very often use Sartre and Camus to point out this dilemma of nonchristian presuppositions, in actuality these sections from Darwin are a perfect example of the same thing.
pictured below with his eldest child William: 
Darwin, C. R. to Doedes, N. D., 2 Apr 1873
"It is impossible to answer your question briefly; and I am not sure that I could do so, even if I wrote at some length. But I may say that the impossibility of conceiving that this grand and wondrous universe, with our conscious selves, arose through chance, seems to me the chief argument for the existence of God; but whether this is an argument of real value, I have never been able to decide."
Francis Schaeffer observed:
So he sees here exactly the same that I would labor and what Paul gives in Romans chapter one, and that is first this tremendous universe [and it's form] and the second thing, the mannishness of man and the concept of this arising from chance is very difficult for him to come to accept and he is forced to leap into this, his own kind of Kierkegaardian leap, but he is forced to leap into this because of his presuppositions but when in reality the real world troubles him. He sees there is no third alternative. If you do not have the existence of God then you only have chance. In my own lectures I am constantly pointing out there are only two possibilities, either a personal God or this concept of the impersonal plus time plus chance and Darwin understood this . You will notice that he divides it into the same exact two points that Paul does in Romans chapter one into and that Carl Gustav Jung (1875-1961) will in the problem of existence, the external universe, and man and his consciousness. Paul points out there are these two steps that man is confronted with, what I would call two things in the real world. The universe and it's form and I usually quote Jean Paul Sartre here, and Sartre says the basic philosophic problem is that something is there rather than nothing is there and I then I add at the point the very thing that Darwin feels and that is it isn't a bare universe that is out there, it is an universe in a specific form. I always bring in Einstein and the uniformity of the form of the universe and that it is constructed as a well formulated word puzzle or you have Carl Gustav Jung who says two things cut across a man's will that he can not truly be autonomous, the external world and what Carl Gustav Jung would call his "collected unconsciousness." It is the thing that churns up out of man, the mannishness of man. Darwin understood way back here this is a real problem. So he says "the impossibility of conceiving that this grand and wondrous  universe," part one, the real world, the external universe, and part two "with our conscious selves arose through chance" and then he goes on and says this is not "an argument of real value." This only thing he has to put in its place is his faith in his own theory.
______________
Here below is the Romans passage that Schaeffer is referring to and verse 19 refers to what Schaeffer calls "the mannishness of man" and verse 20 refers to Schaeffer's other point which is  "the universe and it's form."Romans 1:18-22Amplified Bible (AMP) 18 For God's [holy] wrath and indignation are revealed from heaven against all ungodliness and unrighteousness of men, who in their wickedness repress and hinder the truth andmake it inoperative. 19 For that which is known about God is evident to them and made plain in their inner consciousness,because God [Himself] has shown it to them. 20 For ever since the creation of the world His invisible nature and attributes, that is, His eternal power and divinity, have been made intelligible and clearly discernible in and through the things that have been made (His handiworks). So [men] are without excuse [altogether without any defense or justification], 21 Because when they knew and recognized Him as God, they did not honor andglorify Him as God or give Him thanks. But instead they became futile andgodless in their thinking [with vain imaginings, foolish reasoning, and stupid speculations] and their senseless minds were darkened. 22 Claiming to be wise, they became fools [professing to be smart, they made simpletons of themselves].
_________________
Francis Schaeffer noted that in Darwin's 1876 Autobiography that Darwin he is going to set forth two arguments for God in this and again you will find when he comes to the end of this that he is in tremendous tension. Darwin wrote, 
At the present day the most usual argument for the existence of an intelligent God is drawn from the deep inward conviction and feelings which are experienced by most persons.Formerly I was led by feelings such as those just referred to (although I do not think that the religious sentiment was ever strongly developed in me), to the firm conviction of the existence of God and of the immortality of the soul. In my Journal I wrote that whilst standing in the midst of the grandeur of a Brazilian forest, 'it is not possible to give an adequate idea of the higher feelings of wonder, admiration, and devotion which fill and elevate the mind.' I well remember my conviction that there is more in man than the mere breath of his body; but now the grandest scenes would not cause any such convictions and feelings to rise in my mind. It may be truly said that I am like a man who has become colour-blind.
Francis Schaeffer remarked:
Now Darwin says when I look back and when I look at nature I came to the conclusion that man can not be just a fly! But now Darwin has moved from being a younger man to an older man and he has allowed his presuppositions to enter in to block his logic. These things at the end of his life he had no intellectual answer for. To block them out in favor of his theory. Remember the letter of his that said he had lost all aesthetic senses when he had got older and he had become a clod himself. Now interesting he says just the same thing, but not in relation to the arts, namely music, pictures, etc, but to nature itself. Darwin said, "But now the grandest scenes would not cause any such convictions  and feelings to rise in my mind. It may be truly said that I am like a man who has become colour-blind…" So now you see that Darwin's presuppositions have not only robbed him of the beauty of man's creation in art, but now the universe. He can't look at it now and see the beauty. The reason he can't see the beauty is for a very, very , very simple reason: THE BEAUTY DRIVES HIM TO DISTRACTION. THIS IS WHERE MODERN MAN IS AND IT IS HELL. The art is hell because it reminds him of man and how great man is, and where does it fit in his system? It doesn't. When he looks at nature and it's beauty he is driven to the same distraction and so consequently you find what has built up inside him is a real death, not  only the beauty of the artistic but the beauty of nature. He has no answer in his logic and he is left in tension.  He dies and has become less than human because these two great things (such as any kind of art and the beauty of  nature) that would make him human  stand against his theory.
________________________
Erasmus Alvey Darwin with Charles Darwin's sons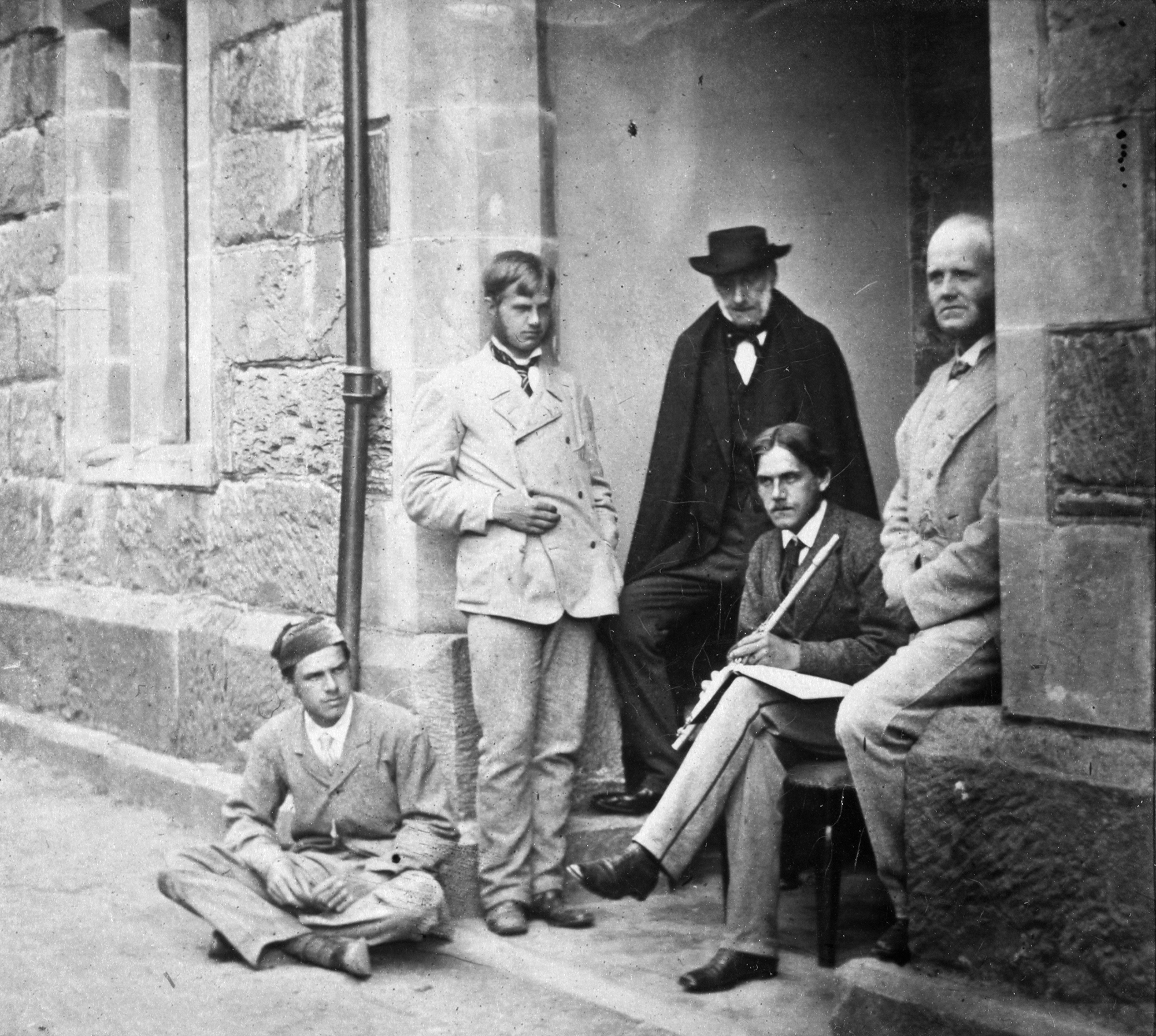 A letter to Sir J. D. Hooker, June 17, 1868, which repeats to some extent what is given in the Autobiography:—
"I am glad you were at the Messiah, it is the one thing that I should like to hear again, but I dare say I should find my soul too dried up to appreciate it as in old days; and then I should feel very flat, for it is a horrid bore to feel as I constantly do, that I am a withered leaf for every subject except Science. It sometimes makes me hate Science, though God knows I ought to be thankful for such a perennial interest, which makes me forget for some hours every day my accursed stomach.'
Francis Schaeffer summarized:
So he is glad for science because his stomach bothers him, but on the other hand when I think of what it costs me I almost hate science. You can almost hear young Jean-Jacques Rousseau speaking here, he sees what the machine is going to do and he hates the machine and Darwin is constructing the machine and it leads as we have seen to his own loss of human values in the area of aesthetics, the area of art and also in the area of nature. This is what it has cost him. His theory has led him to this place. When you come to this then it seems to me that you understand man's dilemma very, very well, to think of the origin of the theory of mechanical evolution bringing  Darwin himself to the place of this titanic tension.
IF WE ARE LEFT WITH JUST THE MACHINE THEN WHAT IS THE FINAL CONCLUSION IF THERE WAS NO PERSONAL GOD THAT CREATED US? I sent you a CD that starts off with the song DUST IN THE WIND by Kerry Livgren of the group KANSAS which was a hit song in 1978 when it rose to #6 on the charts because so many people connected with the message of the song. It included these words, "All we do, crumbles to the ground though we refuse to see, Dust in the Wind, All we are is dust in the wind, Don't hang on, Nothing lasts forever but the Earth and Sky, It slips away, And all your money won't another minute buy."
Kerry Livgren himself said that he wrote the song because he saw where man was without a personal God in the picture. Solomon pointed out in the Book of Ecclesiastes that those who believe that God doesn't exist must accept three things. FIRST, death is the end and SECOND, chance and time are the only guiding forces in this life.  FINALLY, power reigns in this life and the scales are never balanced. The Christian can  face death and also confront the world knowing that it is not determined by chance and time alone and finally there is a judge who will balance the scales.
Both Kerry Livgren and the bass player Dave Hope of Kansas became Christians eventually. Kerry Livgrenfirst tried Eastern Religions and Dave Hope had to come out of a heavy drug addiction. I was shocked and elated to see their personal testimony on The 700 Club in 1981 and that same  interview can be seen on You Tube today. Livgren lives in Topeka, Kansas today where he teaches "Diggers," a Sunday school class at Topeka Bible Church. DAVE HOPE is the head of Worship, Evangelism and Outreach at Immanuel Anglican Church in Destin, Florida.
The answer to find meaning in life is found in putting your faith and trust in Jesus Christ. The Bible is true from cover to cover and can be trusted.
Thank you again for your time and I know how busy you are.
Everette Hatcher, everettehatcher@gmail.com, http://www.thedailyhatch.org, cell ph 501-920-5733, 13900 Cottontail Lane, Alexander, AR 72002 United States
Is the Bible historically accurate? Here are some of the posts I have done in the past on the subject: 1. The Babylonian Chronicle, of Nebuchadnezzars Siege of Jerusalem, 2. Hezekiah's Siloam Tunnel Inscription. 3. Taylor Prism (Sennacherib Hexagonal Prism), 4. Biblical Cities Attested Archaeologically. 5. The Discovery of the Hittites, 6.Shishak Smiting His Captives, 7. Moabite Stone, 8. Black Obelisk of Shalmaneser III, 9A Verification of places in Gospel of John and Book of Acts., 9B Discovery of Ebla Tablets. 10. Cyrus Cylinder, 11. Puru "The lot of Yahali" 9th Century B.C.E., 12. The Uzziah Tablet Inscription, 13. The Pilate Inscription, 14. Caiaphas Ossuary, 14 B Pontius Pilate Part 2, 14c. Three greatest American Archaeologists moved to accept Bible's accuracy through archaeology., 
You can hear DAVE HOPE and Kerry Livgren's stories from this youtube link:
—-
—-
——
Uploaded on Nov 7, 2009
Pre-Order Miracles Out of Nowhere now at http://www.miraclesoutofnowhere.com
About the film:
In 1973, six guys in a local band from America's heartland began a journey that surpassed even their own wildest expectations, by achieving worldwide superstardom… watch the story unfold as the incredible story of the band KANSAS is told for the first time in the DVD Miracles Out of Nowhere.
_____________________________
Adrian Rogers on Darwinism
There are 3 videos in this series and they have statements by 150 academics and scientists and I hope to respond to all of them. Wikipedia notes Horace Basil Barlow FRS was a British visual neuroscientist.
Barlow was the son of the civil servant Sir Alan Barlow and his wife Lady Nora (née Darwin), and thus the great-grandson of Charles Darwin (see Darwin — Wedgwood family). He earned an M.D. at Harvard University in 1946.
In 1953 Barlow discovered that the frog brain has neurons which fire in response to specific visual stimuli. This was a precursor to the work of Hubel and Wiesel on visual receptive fields in the visual cortex. He has made a long study of visual inhibition, the process whereby a neuron firing in response to one group of retinal cells can inhibit the firing of another neuron; this allows perception of relative contrast.
In 1961 Barlow wrote a seminal article where he asked what the computational aims of the visual system are. He concluded that one of the main aims of visual processing is the reduction of redundancy. While the brightnesses of neighbouring points in images are usually very similar, the retina reduces this redundancy. His work thus was central to the field of statistics of natural scenes that relates the statistics of images of real world scenes to the properties of the nervous system.
Barlow and his co-workers also did substantial work in the field of factorial codes. The goal was to encode images with statistically redundant components or pixels such that the code components are statistically independent. Such codes are hard to find but highly useful for purposes of image classification etc.
Barlow was a fellow of Trinity College, University of Cambridge. He was elected a Fellow of the Royal Society in 1969 and was awarded their Royal Medal in 1993.[1] He received the 1993 Australia Prize for his research into the mechanisms of visual perception and the 2009 Swartz Prize for Theoretical and Computational Neuroscience from the Society for Neuroscience.
________________
His comments can be found on the 3rd video and the 128th clip in this series. Below the videos you will find his words.
50 Renowned Academics Speaking About God (Part 1)
Another 50 Renowned Academics Speaking About God (Part 2)
A Further 50 Renowned Academics Speaking About God (Part 3)
_______________
Interview of Horace Barlow – part 1
Published on Jun 18, 2014
Interviewed and filmed by Alan Macfarlane on 5 March 2012
______________________
Interview of Horace Barlow – part 2
Horace Barlow's quote taken from interview with Alan Macfarlane:
HAS RELIGION EVER BEEN IMPORTANT TO YOU? IS IT IMPORTANT TO YOU? No, it is not important to me. Saying you don't believe in God is a very foolish thing to say as it doesn't explain why so many people talk about it, there has got to be more to it than that; also I think one has to respect what some godly people say and some of the things they do; I wish one could make more sense of it but I don't think the godly people have done a very good job; I was never baptized or confirmed so have never been a practitioner, and I don't miss it; DO YOU THINK THAT SCIENCE HAS DIS-PROVEN RELIGION AS DAWKINS ARGUES? I think it [science] provides some hope of acting rationally to handle the social and political problems we have to deal with on a personal level and one a worldwide level. Religion is a way of perpetuating a way of thought that might have otherwise been lost, and I imagine that is fine.   
Dr. Barlow's only three solid claims in this response to Alan Macfarlane is that science is #1 the best help today with our social problems,(which is in the original clip), #2 Saying you don't believe in God (position of atheism) is foolish, and #3 we need an explanation for why so many people talk about [God.]
My response to #1 is to look at how the secular humanists have messed up so many things in the past and I include Barlow's personal family friend Margaret Mead in that. My responses to #2 and #3 were both covered in my earlier response to Roald Hoffmann. 
(Roald Hoffmann is a Nobel Prize winner who I have had the honor of corresponding with in the past. Pictured below)
(This July 1933 photo shows [left to right] anthropologist Gregory Bateson with Margaret Mead)
Horace Barlow's words  from interview conducted by Alan Macfarlane:
I don't ever remember going to Bateson's house in Granchester as a child; William Bateson's wife was a friend of my mother's; when Gregory Bateson was out in Bali he met Margaret Mead; Beatrice Bateson, his mother, felt she was too old to go out and inspect her so she sent my mother instead; she flew off in an Imperial Airlines plane and we saw her off from Hendon; that must have been 1937-8; my mother got on very well with Margaret Mead – she was not altogether convinced by her, but very impressed by her breadth of knowledge and energy; she came and stayed with us many times; I was even more sceptical than my mother and thought she was a very impressive person; Gregory was born 1904 and my mother, in 1886, so there was quite a big age difference between them; I never got on close intellectual terms with Gregory even though we were to some extent interested in the same sort of thing, both in cybernetics and psychology, and his ideas were always interesting; however, my model of a scientist was taken from my mother and not from Gregory; my mother was interested in genetics and the paper for which she was famous was on the reproductive system in plants like cowslips; my mother reasoned like a scientist whereas Gregory was a guru – he liked to think things out for himself; he obviously influenced many others too; I saw him once or twice when I went to Berkeley
Postscript:
I was sad to see that Jon Stewart is stepping down from the DAILY SHOW so I wanted to include one of the best clips I have ever seen on his show and it is a short debate between the brilliant scientists  Edward J. Larson (an evolutionist), William A. Dembski (an Intelligent Design Proponent), and then he threw in a nutball in for laughs,  Ellie Crystal (a metaphysical theorist). Dembski gives several great examples of design and it reminded me of many of the words of Darwin show above in my letter to Horace Barlow.
William Dembski on The Jon Stewart Show
Uploaded on Nov 15, 2010
Wednesday September 14, 2005 – Jon Stewart's "Evolution, Schmevolution" segment with panelists Edward J. Larson (an evolutionist), William A. Dembski (an Intelligent Design Proponent), and Ellie Crystal (a metaphysical theorist).
Related posts:
_________________
___