—

Ricky Gervais plays bereaved husband Tony Johnson in AFTER LIFE
Tony and his wife Lisa who died 6 months ago of cancer
(Above) Tony and Anne on the bench at the graveyard where their spouses are buried.
—
July 12, 2020 
Ricky Gervais 

Dear Ricky,
This is the 86th day in a row that I have written another open letter to you to comment on some of your episodes of AFTER LIFE.
Tony Johnson in AFTER LIFE asserted, "You never know what's around the corner, do you? One minute you're happy and safe and smug about it, the next minute, everything's taken away from you." Let me tell you a recent story that illustrates that point. I have been reading the books and listening to the talks of Ravi Zacharias since his visit to Harvard in 1992 (which I heard on cassette tapes.) Then in January it was announced that Ravi was coming in February to Immanuel Baptist in Little Rock where my grandchildren go to church and my son and daughter-in-law invited me to come hear him speak. I also daydreamed of meeting him since back in the 1990's my sister and her husband had a personal dinner with Ravi when he came in town to speak at Bellevue Baptist (the church I grew up attending.) However, one week before the event at Immanuel Ravi had to post the event because he had to have his bad back examined, and when he did they found cancer. He was sent then to M.D. Anderson Hospital in Houston and when they couldn't do anything then he was sent home to Atlanta and he died two weeks later. Ravi Zacharias (March 26, 1946- May 19, 2020) was a Christian who knew the Bible well and how Christ could change a life. Ravi Zacharias put his faith in Christ while in a hospital bed after a failed suicide attempt. You can see how this relates to AFTERLIFE and this is why I have purposely put many of his responses to the issues you have raised against the Bible. So much better to read his responses than Kath's. Also many of the issues that AFTERLIFE brings up can only be dealt with satisfactorily with spiritual answers.
As you know I am writing you a series of letters on Solomon's efforts to find a meaning and purpose to life. Solomon tried to find a meaning and purpose to life UNDER THE SUN in the Book of Ecclesiastes in all of the 6 "L" words and looked into learning(1:16-18),laughter, ladies, luxuries, and liquor (2:1-3, 8, 10, 11), and labor (2:4-6, 18-20).

After Life has Tony giving his postman a hard time constantly:
Postman Pat arrives at Tony's door one morning exactly when Tony opens it:
Pat: Do you still want me to put it through the door?
Tony: Just give it to me.
Pat: Just a postcard from Mike and Beth whoever they are.
Tony: Friends. What does it say?
Pat: It says they have been having a great time and Mike has been having diarrhea.
Tony: Good. Let's hope you are still are my postman when I am blind.
On your Twitter Live broadcast on March 21, 2020 you commented:
One day I will be too fat and old to do any more. I will look back on my life. It will be just me on a big toilet with wires coming out of me. Just watching [television] and drinking. Just keeping me alive. I wake up and say "Hell, I didn't die and I got to do it again. Nurse!" I will be just eating smoothies mixed with Vodka. That is my future.

Skip's Teachings > Bible from 30,000 Feet, The > Destination: Ecclesiastes 1-12

Skip Heitzig on ECCLESIASTES 12
Now watch this, very vivid description of old age. I have never ever in literature found a more picturesque description of age, than the next few verses.
Ecclesiastes 12:2
While the sun and the light — Verse 2, the moon, and the stars are not darken, and the clouds do not return after the rain; describes the fading mental powers that comes with old age. It is one of the marks of older people, their memory can sometimes — I have to say that, sometimes fade.
Ecclesiastes 12:3
"And the days when the keepers of the house tremble, those would be your arms and your hands that would defend from anybody trying to attack. The keepers of the house tremble, he starts shaking, your body shakes as you get older. And the strong men bow down, that's your legs, that's like the supporting pillars give way, you hobble. When the grinder cease, because they are few, what is that? It's your teeth. Dentistry wasn't what it is today, and you just lost teeth back in those days. You got two teeth to chew your food, and a meal could take quite some time. And those who look through the window grow dim. What's that? Your eyesight, fades away, glasses are so thick you can burn ants with them.
I notice this as soon as I got into my 40s, I used to do this, then I was like that. And then pretty soon it's like this. The elasticity is lost in the eyes, and you can't focus, so I have always – well, I grew up wearing glasses, then I got contacts, and now as I get older, I have a contact that focuses in for the distance, and then one that focuses for the close, and I have to keep changing them every few years, because this happens. When the doors are shut in the streets, the ancient homes had courtyards, and that gate that led out into the street is what he is speaking about here, but this metaphorically, probably speaks of the face falling inward because you lose your grinders.
Right, make sense? And the sound of grinding is low. Some scholars believe this refers to the digestive system. Enough said, I am not going to describe how that works. Notice what's next.When one rises up at the sound of a bird, you wake up a lot at night, and usually I have heard older people talk, my mom and dad they are like, how many times did you wake up last night? And start numbering how many times as they get older. And the daughters of music are brought low. What's that? Your hearing, it's not as sensitive as it is used to be. Those bones and membrane aren't sensitive as they used to be in your ear. Everyone, sounds like they are mumbling, speak up.
Also they are afraid of height and terror in the way, fear of falling.When the almond tree blossoms. What's that? That's your hair turning white. Almond tree has white flowers in the spring, white blossoms. So, you get older. Of course, again, this was before the days of hair color, but I have got the almond tree happening here on the sides. The grasshopper is a burden, and desire fails, for men goes to his eternal home, and the mourners go about the streets. You know age is funny, and I know we have noticed this. When you are young, you think eternity is spread out before you, will never die, you will never get old, we have all thought that somehow.
But then as you get a little bit older, the years go faster, they clip by, and so you tell the kid, don't worry we'll do this next year. What? You might as well say, in the eternity that will happen. Now we say, I will do it next year. Good, and you put that off of two years; put it off a while, because it will happen so quickly.
Verse 13 and we will close, Verse 13 and 14. Let us hear the conclusion of the whole matter. So here is the summary statement made by the searcher, made by the man who observed under the sun. Here is the summary statement, here is the basics. Here is the conclusion of the whole matter. Fear God and keep His Commandments, for this is man's all. For God will bring every work into judgment, including every secret thing, whether good or bad.
These three things I want you to walk away with, and they are all right here. Here is the summary statement of life from a guy who lived it all.
Number one, fear God. Remember what that means, fear God, when we went through proverbs? Reverential awe that produces loving submission to a Holy God, fear God.
Number two, obey God, keep His Commandments. Don't just get enthusiastic; enthusiasm is a lot easier than obedience. You get worked up and worship and enthusiastic about Jesus, obedience, though harder than enthusiasm should follow a fear of the Lord, obey Him. Jesus said, "If you love Me, keep My Commandments".
Number three, prepare to give an account.
Ecclesiastes 12:14
"God will bring every work into judgment, including every secret thing, whether good or bad. Now six times in this course called the Ecclesiastes, Solomon mentions, "One day we are all going to stand before God and give an account for our lives".
Think of this, think of this. If you are a believer tonight, if you are a believer this earth is the closest you will ever get to hell. Now that's good news. If you are a believer tonight, no matter how you have suffered, no matter trials, how many losses you have had, as bad as it is that has ever been, you will never ever see hell. You have been saved from that. This is the closest you will ever get to it.
If you are an unbeliever tonight, and you don't turn to Christ, this earth is the closest you will ever get to heaven. How sad is that? That's like ultra-sad, that's like way sad. Yet I hear unbelievers die, I always hear, when they die, I hear their relatives say, yeah, well, they are in heaven, up in the great golf course in the sky right now. No, they are not. This earth was as good as it got for them, if they don't know Christ. So here's the sum of it all. Give your life to Jesus Christ, fear God, keep His Commandment, for this is man's all.
I will give you three summary statements, life is an opportunity, life without God is empty, death without God is a calamity.
Let's pray, Heavenly Father, I thank You for the struggles and the journal that came from the struggles of Solomon. Thank You that we could learn from it tonight. I pray that these would be abiding lessons that would form our worldview that we wouldn't just look at life under the S-U-N, but under the SON. As You rule and reign in our lives, things makes sense. I pray if anybody here doesn't know You, they'll make their commitment tonight. In Jesus name, Amen!
—-

The answer to find meaning in life is found in putting your faith and trust in Jesus Christ. The Bible is true from cover to cover and can be trusted.
Thank you again for your time and I know how busy you are.
Sincerely,
Everette Hatcher, everettehatcher@gmail.com, http://www.thedailyhatch.org, cell ph 501-920-5733, 13900 Cottontail Lane, Alexander, AR 72002
PS: What is the meaning of life? Find it in the end of the open letter I wrote to you on April 23, 2020.
—
Below is the workforce of THE TAMBURY GAZETTE
—
Seen below is the third episode of AFTERLIFE (season 1) when Matt takes Tony to a comedy club with front row seats to cheer him up but it turns into disaster!!!
——
—-
—
Part 1 "Why have integrity in Godless Darwinian Universe where Might makes Right?"
Part 2 "My April 14, 2016 Letter to Ricky mentioned Book of Ecclesiastes and the Meaninglessness of Life"
Part 3 Letter about Brandon Burlsworth concerning suffering and pain and evil in the world. "Why didn't Jesus save her [from cancer]?" (Tony's 10 year old nephew George in episode 2)
Part 4 Letter on Solomon on Death Tony in episode one, "It should be everyone's moral duty to kill themselves."
Part 5 Letter on subject of Learning in Ecclesiastes "I don't read books of fiction but mainly science and philosophy"
Part 6 Letter on Luxuries in Ecclesiastes Part 6, The Music of AFTERLIFE (Part A)
Part 7 Letter on Labor in Ecclesiastes My Letter to Ricky on Easter in 2017 concerning Book of Ecclesiastes and the legacy of a person's life work
Part 8 Letter on Liquor in Ecclesiastes Tony's late wife Lisa told him, "Don't get drunk all the time alright? It will only make you feel worse in the log run!"
Part 9 Letter on Laughter in Ecclesiastes , I said of laughter, "It is foolishness;" and of mirth, "What does it accomplish?" Ecclesiastes 2:2
Part 10 Final letter to Ricky on Ladies in Ecclesiastes "I gathered a chorus of singers to entertain me with song, and—most exquisite of all pleasures— voluptuous maidens for my bed…behold, all was vanity and a striving after wind, and there was nothing to be gained under the sun" Ecclesiastes 2:8-11.
Part 11 Letter about Daniel Stanhope and optimistic humanism "If man has been kicked up out of that which is only impersonal by chance , then those things that make him man-hope of purpose and significance, love, motions of morality and rationality, beauty and verbal communication-are ultimately unfulfillable and thus meaningless." (Francis Schaeffer)
Part 12 Letter on how pursuit of God is only way to get Satisfaction Dan Jarrell "[In Ecclesiastes] if one seeks satisfaction they will never find it. In fact, every pleasure will be fleeting and can not be sustained, BUT IF ONE SEEKS GOD THEN ONE FINDS SATISFACTION"
Part 13 Letter to Stephen Hawking on Solomon realizing he will die just as a dog will die "For men and animals both breathe the same air, and both die. So mankind has no real advantage over the beasts; what an absurdity!" Ecclesiastes
Part 14 Letter to Stephen Hawking on 3 conclusions of humanism and Bertrand Russell destruction of optimistic humanism. "That Man is the product of causes which had no prevision of the end they were achieving; that his origin, his growth, his hopes and fears, his loves and his beliefs, are but the outcome of accidental collocations of atoms—no philosophy which rejects them can hope to stand. Only within the scaffolding of these truths, only on the firm foundation of unyielding despair, can the soul's habitation henceforth be safely built."(Bertrand Russell, Free Man's Worship)
Part 15 Letter to Stephen Hawking on Leonardo da Vinci and Solomon and Meaningless of life "I hate life. As far as I can see, what happens on earth is a bad business. It's smoke—and spitting into the wind" Ecclesiastes Book of Ecclesiastes Part 15 "I hate life. As far as I can see, what happens on earth is a bad business. It's smoke—and spitting into the wind" Ecclesiastes 2:17
Part 16 Letter to Stephen Hawking on Solomon's longing for death but still fear of death and 5 conclusions of humanism on life UNDER THE SUN. Francis Schaeffer "Life is just a series of continual and unending cycles and man is stuck in the middle of the cycle. Youth, old age, Death. Does Solomon at this point embrace nihilism? Yes!!! He exclaims that the hates life (Ecclesiastes 2:17), he longs for death (4:2-3) Yet he stills has a fear of death (2:14-16)"
—
Mandeep Dhillon as Sandy on her first assignment in 'After Life'. (Twitter)
A still from 'After Life' that captures the vibe of the Tambury Gazette. (Twitter)
Michael Scott of THE OFFICE (USA) with Ricky Gervais
After Life on Netflix stars Ricky Gervais as a bereaved husband (Image: Netflix)
—-
Psychiatrist played by Paul Kaye seen below.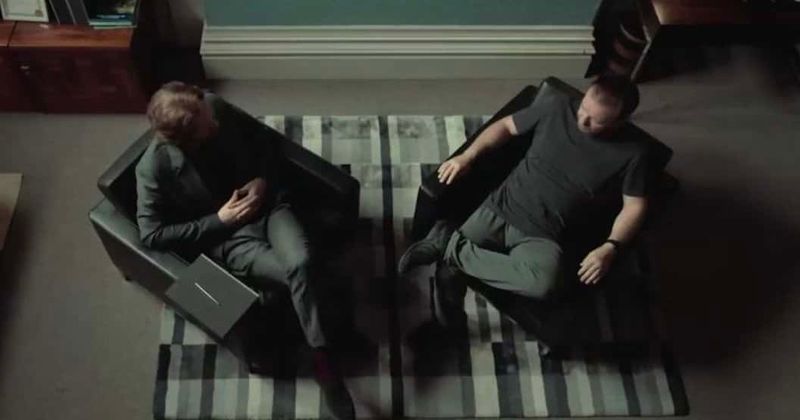 —
Tony Johnson with his dog Brandi seen below:
—-
Related posts:
I have gone back and forth and back and forth with many liberals on the Arkansas Times Blog on many issues such as abortion, human rights, welfare, poverty, gun control and issues dealing with popular culture. Here is another exchange I had with them a while back. My username at the Ark Times Blog is Saline […]By Everette Hatcher III | Posted in Biblical Archaeology, Francis Schaeffer, Prolife | Edit|Comments (0)
I have posted many of the sermons by John MacArthur. He is a great bible teacher and this sermon below is another great message. His series on the Book of Proverbs was outstanding too. I also have posted several of the visits MacArthur made to Larry King's Show. One of two most popular posts I […]By Everette Hatcher III | Posted in Adrian Rogers, Current Events | Edit|Comments (0)
I have posted many of the sermons by John MacArthur. He is a great bible teacher and this sermon below is another great message. His series on the Book of Proverbs was outstanding too. I also have posted several of the visits MacArthur made to Larry King's Show. One of two most popular posts I […]By Everette Hatcher III | Posted in Adrian Rogers, Current Events |Tagged Bible Prophecy, john macarthur | Edit|Comments (0)
Prophecy–The Biblical Prophesy About Tyre.mp4 Uploaded by TruthIsLife7 on Dec 5, 2010 A short summary of the prophecy about Tyre and it's precise fulfillment. Go to this link and watch the whole series for the amazing fulfillment from secular sources. http://www.youtube.com/watch?v=qvt4mDZUefo________________ John MacArthur on the amazing fulfilled prophecy on Tyre and how it was fulfilled […]By Everette Hatcher III | Posted in Biblical Archaeology | Edit|Comments (1)
John MacArthur on the Bible and Science (Part 2) I have posted many of the sermons by John MacArthur. He is a great bible teacher and this sermon below is another great message. His series on the Book of Proverbs was outstanding too. I also have posted several of the visits MacArthur made to Larry […]By Everette Hatcher III | Posted in Current Events | Edit|Comments (0)
John MacArthur on the Bible and Science (Part 1) I have posted many of the sermons by John MacArthur. He is a great bible teacher and this sermon below is another great message. His series on the Book of Proverbs was outstanding too. I also have posted several of the visits MacArthur made to Larry […]By Everette Hatcher III | Posted in Current Events | Edit|Comments (0)
Adrian Rogers – How you can be certain the Bible is the word of God Great article by Adrian Rogers. What evidence is there that the Bible is in fact God's Word? I want to give you five reasons to affirm the Bible is the Word of God. First, I believe the Bible is the […]By Everette Hatcher III | Posted in Adrian Rogers, Biblical Archaeology | Edit|Comments (0)
Is there any evidence the Bible is true? Articles By PleaseConvinceMe Apologetics Radio The Old Testament is Filled with Fulfilled Prophecy Jim Wallace A Simple Litmus Test There are many ways to verify the reliability of scripture from both internal evidences of transmission and agreement, to external confirmation through archeology and science. But perhaps the […]By Everette Hatcher III | Posted in Biblical Archaeology, Current Events | Edit|Comments (0)
I have gone back and forth and back and forth with many liberals on the Arkansas Times Blog on many issues such as abortion, human rights, welfare, poverty, gun control and issues dealing with popular culture. Here is another exchange I had with them a while back. My username at the Ark Times Blog is […]By Everette Hatcher III | Posted in Francis Schaeffer, Prolife | Edit|Comments (0)
Here is some very convincing evidence that points to the view that the Bible is historically accurate. Archaeological and External Evidence for the Bible Archeology consistently confirms the Bible! Archaeology and the Old Testament Ebla tablets—discovered in 1970s in Northern Syria. Documents written on clay tablets from around 2300 B.C. demonstrate that personal and place […]By Everette Hatcher III | Posted in Biblical Archaeology | E
——