—-
After Life #1 Trailer
—-
After Life 2 Trailer
—-
On Saturday April 18, 2020 at 6pm in London and noon in Arkansas, I had a chance to ask Ricky Gervais a question on his Twitter Live broadcast which was "Is Tony a Nihilist?" At the 20:51 mark Ricky answers my question. Below is the video:
—-
—-
If Death is the end then what is the point Kath asks below:
——
Kath: You are an atheist?
—-
Adrian Rogers on Evolution
—-
Charles Darwin Autobiography
—
Ricky Gervais plays bereaved husband Tony Johnson in AFTER LIFE
Tony and his wife Lisa who died 6 months ago of cancer
(Above) Tony and Anne on the bench at the graveyard where their spouses are buried.
—
May 14, 2020 (72nd anniversary of founding of Israel)
Ricky Gervais

Dear Ricky,
This is the 27th day in a row that I have written another open letter to you to comment on some of your episodes of AFTER LIFE, and then I wanted to pass along some evidence that indicates the Bible contains some Bible prophecy that has been fulfilled predicting the existence of the country of modern Israel. How could this happen unless the God of the Bible caused it to happen in what would amount to a modern day miracle!!!
Ecclesiastes is a book that is truly a picture of how modern secular man looks at the world. The Christian Scholar Ravi Zacharias noted, "The key to understanding the Book of Ecclesiastes is the term UNDER THE SUN — What that literally means is you lock God out of a closed system and you are left with only this world of Time plus Chance plus matter."
—


Ecclesiastes 9:11
11 Again I saw that under the sun the race is not to the swift, nor the battle to the strong, nor bread to the wise, nor riches to the intelligent, nor favor to those with knowledge, but time and chance happen to them all.
Chance rules. If a man starts out only from himself and works outward it must eventually if he is consistent seem so that only chance rules.
In this letter, I want to take a look at Charles Darwin's views concerning miracles and then turn my attention to some evidence of fulfilled Old Testament prophecy concerning Israel and give some archaeological evidence in favor of the Bible being accurate.
Charles Darwin is a hero of yours. And like Darwin you have accepted the uniformity of natural causes in a closed system which I say is the basic presupposition of modern man.
Tony Johnson with his dog Brandi seen below:
In episode 2 of the second season of AFTER LIFE is the following discussion:
Tony: I drink in times of trouble. I can't help it the world is filled with trouble. It is a horrible place. Everyone is screwed up in someway. Everyone has worries like money or health or famine, war. We are chimps with brains the size of planets. No wonder we get drunk and try to kill each other. It is mental.
Matt: Always good to talk.
Tony: I was just explaining my new plan is to drink myself to death till I eventually implode in on my own evolution.
Kath: Do you believe in all that?
Tony: What? The proven fact that there is evolution? Yeah.
Kath: That is the problem that your science only deals with facts. I am the more opened mind type. I love anything paranormal. Do you know when an angel has entered the room?

—-

Francis Schaeffer comments on the book Darwin, Francis ed. 1892. Charles Darwin: his life told in an autobiographical chapter, and in a selected series of his published letters [abridged edition]. London: John Murray.
Charles Darwin: "By further reflecting that the clearest evidence would be requisite to make any sane man believe in the miracles by which Christianity is supported,—and that the more we know of the fixed laws of nature the more incredible do miracles become,—that the men at that time were ignorant and credulous to a degree almost incomprehensible by us,
Francis Schaeffer commented:
He now says who can accept the miracles? But notice again this is an argument from presuppositions, because what this means is that he has accepted the uniformity of natural causes in a closed system which I say is the basic presupposition of modern man. So therefore since he has accepted a closed system he assumes there is no miracle, but that doesn't mean he has any evidence that there were no miracles. It doesn't mean he is at ease as a man because he has ruled these things out. Darwin is a man in tension. Does the uniformity of natural causes in a closed system explain the wonder of the universe and secondly the mannishness of man? He himself feels caught on these two great hooks of the real world. In others I would say, "DARWIN your presuppositions don't even satisfy you. You rule miracles on the basis of your presuppositions but your belief of the uniformity of natural causes in a closed system does not even satisfy you." Darwin went to his death unsatisfied and yet he was forced to give up his own presuppositions but he never gave them up. It seems to me you have the old man Darwin perspiring in his tension that you can only think of Paul's conclusion in Romans 1, that when men deliberately turn away from the truth that is there, the external universe and the mannishness of man, God gives them up to an unsound mind. If there even was anybody that ever demonstrated this it was Darwin himself at the end of his life. It is a position that Darwin holds with implicit faith. You must understand what the term IMPLICIT FAITH means. In the old Roman Catholic Church when someone who became a Roman Catholic they had to promise implicit faith. That meant that you not only had to believe everything that Roman Catholic Church taught then but also everything it would teach in the future. It seems to me this is the kind of faith that these people have in the uniformity of natural causes in a closed system and they have accepted it no matter what it leads them into.
Francis Schaeffer noted:
[Daniel] Bell's most astute warning concerns the ethical implications of this situation: "A post-industrial society cannot provide a transcendent ethic…The lack of a rooted moral belief system is the cultural contribution of the society, the deepest challenge to its survival." He adds that in the future men can be remade, their behavior conditioned, or their consciousness altered. The constraints of the part vanish. To the extent that Bell's picture of the future is fulfilled, Galbraith's form of the elite will be the actuality.
Humanism has led to its natural conclusion. It has ground down to the point Leonardo da Vinci visualized so long ago when he realized that, starting only from man, mathematics leads us only to particular—and particulars lead only to mechanics.
Humanism had no way to find the universal in the areas of meaning and values. As my son, Franky, put it, "Humanism has changed the Twenty-third Psalm:

They began – I am my shepherd
Then – Sheep are my shepherd
Then – Everything is my shepherd
Finally – Nothing is my shepherd."
There is a death wish inherent in humanism – the impulsive drive to beat to death the base which made our freedoms and our culture possible.
In ancient Israel, when the nation had turned from God and from His truth and commands as given in Scripture, the prophet Jeremiah cried out that there was death in the city. He was speaking not only of physical death in Jerusalem but also a wider death. God had given them in the Scripture, there was death in the polis—that is, death in the total culture and the total society.
In our era, sociologically man destroyed the base which gave him the possibility of freedoms without chaos. Humanists have been determined to beat to death the knowledge of God and the knowledge that God has not been silent, but has spoken in the Bible and through Christ—and they have been determined to do this even though the death of values has come with the death of that knowledge.
We see two effects of our loss of meaning and values. The first is degeneracy. Think of New York City's Time Square—Forty-second and Broadway. If one goes to what used to be the lovely Kalverstraat in Amsterdam, one finds that it too, has become equally squalid. The same is true of lovely old streets in Copenhagen. Pompeii has returned! The marks of Ancient Rome scar us: degeneracy, decadence, depravity, a love of violence for violence's sake. The situation is plain. If we look, we see it. If we see it, we are concerned. (Francis Schaeffer, HOW SHOULD WE THEN LIVE? Chapter11)
On Friday July 18, 2014 I had the opportunity to visit personally with Bill Kristol who is the founder of THE WEEKLY STANDARD MAGAZINE. I told him that I had the privilege to correspond with both his father, Irving Kristol, and his father's good friend Daniel Bell back in 1995. I actually gave him a copy of both letters I received back from them and he read them both as we stood there. I told him that those copies were his to keep, and he thanked me for that.I went on to explain how the correspondence started. I had come across several quotes from Daniel Bell when I was reading the books HOW SHOULD WE THEN LIVE? and WHATEVER HAPPENED TO THE HUMAN RACE? by Francis Schaeffer (and this second book was co-authored by Dr. C. Everett Koop). Dr. Koop's name caught Mr. Kristol's attention and he said he found that interesting. I pointed out those quotes by Bell led me to eventually begin a correspondence with both Bell and Kristol's father Irving on the subject of what the Old Testament scriptures have to say about the Jews being returned from all over the world back to the land of Israel.Finally, I asked how his mother was doing and he said that she was doing very well in fact. I told him how much I respected her work as a historian.Let me make a few observations about Irving Kristol who I was very fascinated with because of some of his comments in the 1990′s. First, isn't it worth noting that the Old Testament predicted that the Jews would regather from all over the world and form a new reborn nation of Israel. Second, it was also predicted that the nation of Israel would become a stumbling block to the whole world. Third, it was predicted that the Hebrew language would be used again as the Jews first language even though we know in 1948 that Hebrew at that time was a dead language!!!Fourth, it was predicted that the Jews would never again be removed from their land.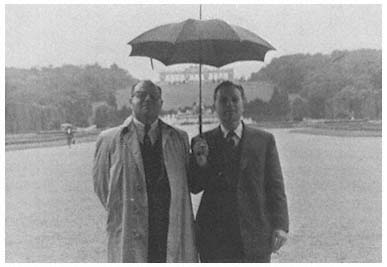 [Full Size]
Daniel Bell and Irving Kristol share an umbrella in Rome in the mid-1950s. In
1965 the two founded The Public Interest, which they co-edited. In 1969 a special
issue of the magazine, devoted to an evaluati
—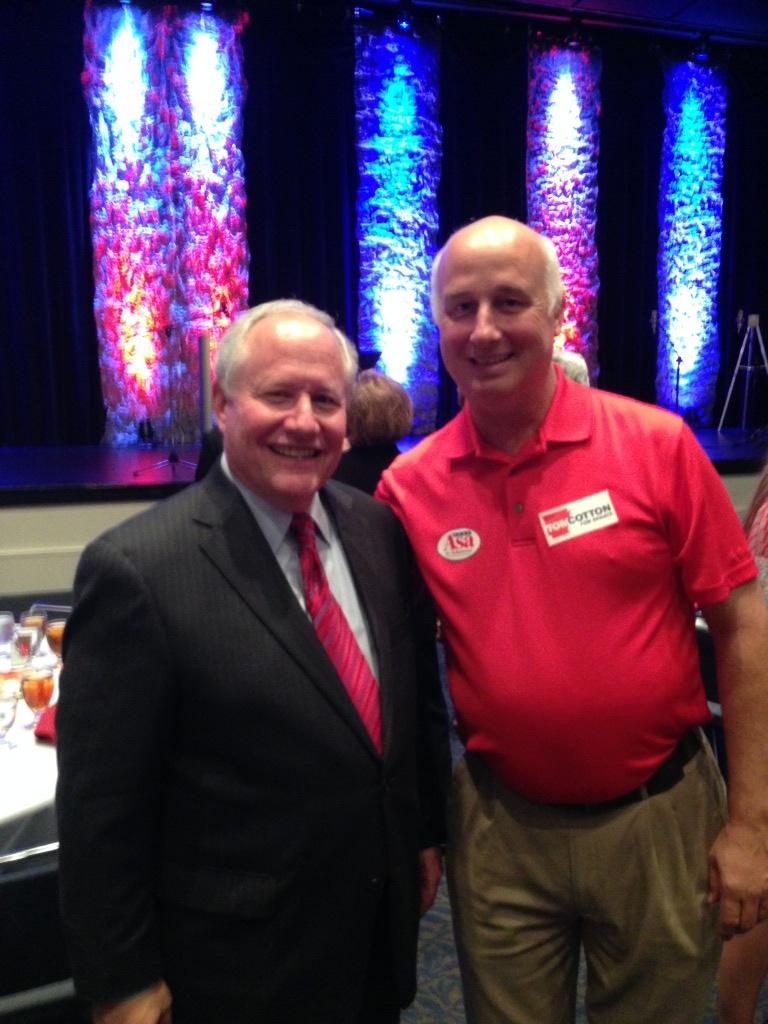 Bill Kristol with Everette Hatcher
——
I had the opportunity to correspond several times with the Nobel Prize winner the late Harry Kroto and below was my first letter to him:
—-
May 15, 2014 (66th anniversary of the old/new State of Israel in its modern form!)
Dear Dr. Kroto,
I wanted to challenge you on a couple of points you have made concerning the existence of God. First, you observed that 92% of the top scientists are free-thinkers and secondly you noted that you need evidence and that religion doesn't have any.
I saw that in 2001, you won the Royal Society's prestigious Michael Faraday Award. That reminds me of the Adrian Rogers' quote: "Many of the greatest scientists who've ever lived in the past were creationists. Let me name some of them. This is the "Hall of Fame" in science:Michael Faraday, Lord Kelvin, Joseph Lister, Louis Pasteur, Isaac Newton, Johannes Kepler, Sir William Ramsey, Lord Francis Bacon, Samuel Morris. And, we could name others. All of these men were great scientists, and all of them were creationists."
You want evidence indicating that God exists then take a look at this evidence I have enclosed some evidence that indicates that God has made some predictions thousands of years ago and they have taken place in history.

Today I am writing you for two reasons. First, I wanted to appeal to your Jewish Heritage and ask you to take a closer look at some Old Testament scriptures dealing with the land of Israel. Second, I wanted to point out some scientific evidence that caused Antony Flew to switch from an atheist (as you are now) to a theist. Twenty years I had the opportunity to correspond with two individuals that were regarded as two of the most famous atheists of the 20th Century, Antony Flew and Carl Sagan. (I have enclosed some of those letters between us.) I had read the books and seen the films of the Christian philosopher Francis Schaeffer and he had discussed the works of both of these men. I sent both of these gentlemen philosophical arguments from Schaeffer in these letters and in the first letter I sent a cassette tape of my pastor's sermon IS THE BIBLE TRUE? (CD is enclosed also.) You may have noticed in the news a few years that Antony Flew actually became a theist in 2004 and remained one until his death in 2010. Carl Sagan remained a skeptic until his dying day in 1996.
You will notice in the enclosed letter from June 1, 1994 that Dr. Flew commented, "Thank you for sending me the IS THE BIBLE TRUE? tape to which I have just listened with great interest and, I trust, profit." It would be a great honor for me if you would take time and drop me a note and let me know what your reaction is to this same message.
Robert Lewis noted that many orthodox Jews believed through the centuries that God would honor the ancient prophecies that predicted that the Jews would be restored to the land of Israel, but then I notice the latest film series on the Jews done by an orthodox Jew seemed to ignore many of these scriptures. Recently I watched the 5 part PBS series Simon Schama's THE STORY OF THE JEWS, and in the last episode Schama calls Israel "a miracle" but he is hoping that Israel can get along with the non-Jews in the area. Schama noted, "I've always thought that Israel is the consummation of some of the highest ethical values of Jewish traditional history, but creating a place of safety and defending it has sometimes challenged those same ethics and values". There is an ancient book that sheds light on Israel's plight today, and it is very clear about the struggles between the Jews and their cousins that surround them. It all comes down to what the Book of Genesis had to say concerning Abraham's son by Hagar.
Genesis 16:11-12 (NIV)
11 The angel of the Lord also said to her:
"You are now pregnant
and you will give birth to a son.
You shall name him Ishmael,
for the Lord has heard of your misery.
12 He will be a wild donkey of a man;
his hand will be against everyone
and everyone's hand against him,
and he will live in hostility
toward all his brothers."The first 90 seconds of episode 5 opened though by allowing us all to experience the sirens and silence of that day in Spring, each year, when Israel halts to mark the Holocaust and I actually wept while I thought of those who had died. Schama noted, ""Today around half the Jews in the world live here in Israel. 6 million people. 6 million defeats for the Nazi program of total extermination."After World War II Schama tells about the events leading up to the re-birth of Israel. Here again Schama although a practicing Jewish believer did not bring in scripture to shed light on the issue. David O. Dykes who is pastor of Green Acres Baptist Church in Tyler, Texas has done just that:The nation of Israel was destroyed in 70 A.D…Beginning in the early 20th century Jews started trickling back into Palestine at the risk of their lives. Then after World War II, the British government was given authority over Palestine and in 1948, Israel became a nation again through the action of the United Nations…This should not have come as a surprise to any Bible scholar, because this regathering of Israel is predicted many times in scripture. The prophet Amos wrote in Chapter 9:
14 And I will bring back the exiles of My people Israel, and they shall build the waste cities and inhabit them; and they shall plant vineyards and drink the wine from them; they shall also make gardens and eat the fruit of them.
15 And I will plant them upon their land, and they shall no more be torn up out of their land which I gave them, says the Lord your God.
Some people think the Amos prophecy was referring to the return of Israel after their Babylonian captitvity in 586 B.C. But the nation was uprooted in 70 A.D. And notice God said they would "NEVER AGAIN TO BE UPROOTED."
Even the preservation of their language is a miracle. For centuries, Hebrew was a dead language spoken nowhere in the world. But within the last century, this dead language has been resurrected and now millions of Israelis speak Hebrew...Have you noticed how often Israel is in the news? They are only a small nation about the size of New Jersey.
I have checked out some of the details that David O. Dykes has provided and they check out. Philip Lieberman is a cognitive scientist at Brown University, and in a letter dated in 1995 he told me that only a few other languages besides Hebrew have ever been revived including some American Indian ones along with Celtic.
Also Zechariah 12:3 also verifies the newsworthiness of Israel now: And in that day I will make Jerusalem a burdensome stone for all peoples; all who lift it or burden themselves with it shall be sorely wounded. And all the nations of the earth shall come and gather together against it.
I do think that Isaiah also predicted the Jews would come from all over the earth back to their homeland Israel. Isaiah 11:11-12 states, "And in that day the Lord shall again lift up His hand a second time to recover (acquire and deliver) the remnant of His people which is left, from Assyria, from Lower Egypt, from Pathros, from Ethiopia, from Elam [in Persia], from Shinar [Babylonia], from Hamath [in Upper Syria], and from the countries ordering on the [Mediterranean] Sea. And He will raise up a signal for the nations and will assemble the outcasts of Israel and will gather together the dispersed of Judah from the four corners of the earth. (Amplified Bible)
I was reading THE BOOK OF DANIEL COMMENTARY (Cambridge University Press, 1900) by the Bible critic Samuel Rolles Driver, and on page 100 Dr. Driver commented that the country of Israel is obviously a thing of the past and has no place in prophecy in the future and the prophet Daniel was definitely wrong about that. I wonder what Dr. Driver would say if he lived to see the newspapers today?
In fact, my former pastor Robert Lewis at Fellowship Bible Church in his sermon "Let the Prophets Speak" on 1-31-99 noted that even the great Princeton Theologian Charles Hodge erred in 1871 when he stated:
The argument from the ancient prophecies is proved to be invalid because it would prove too much. If those prophecies foretell a literal restoration, they foretell that the temple is to be rebuilt, the priesthood restored, sacrifices again offered, and that the whole Mosaic ritual is to be observed in all its details, (Systematic Theology. [New York: Charles Scribner & Sons, 1871; reprint Grand Rapids, Michigan: Eerdman's Publishing Co., 1949], 3:807).__
Robert Lewis went on to point out that the prophet Amos 2700 years ago predicted the destruction of Aram, Philistia, Tyre, Edom, Ammon, Moab and Israel, but at the end of the Book he said Israel would one day be returned to their land and never removed. We saw from Isaiah 11:11-12 that the Lord "will assemble the outcasts of Israel and will gather together the dispersed of Judah from the four corners of the earth." And that certainly did happen after World War II.  I corresponded with some secular Jewish Scholars on this back in the 1990's such as Irving Kristol and Daniel Bell but they dismissed these type of Old Testament prophecies. In his letter of September 23, 1995, Daniel Bell wrote, "As to the survival of the Jewish people, I think of the remark of Samuel Johnson that there is nothing stronger than the knowledge that one may be hanged the next day to concentrate the mind–or the will."
Noam Chomsky comments:
"I believe in a principle that was enunciated rather well by Bertrand Russell which is that you should try to keep away from having irrational beliefs. You should believe things for which you can find some evidence, apart from commitment to principles – like equality, freedom, and justice."
After looking at the accuracy of Old Testament, I want to turn my attention to the accuracy of the New Testament. Recently I was reading the book GOD'S NOT DEAD by Rick Broocks and in it he quotes Sir William Ramsay who was a scholar who originally went to Palestine to disprove the Book of Luke. Below is some background info on Ramsay followed by his story.
Sir William Mitchell Ramsay (15 March 1851, Glasgow –20 April 1939) was a Scottish archaeologist and New Testament scholar. By his death in 1939 he had become the foremost authority of his day on the history of Asia Minor and a leading scholar in the study of the New Testament. From the post of Professor of Classical Art and Architecture at Oxford, he was appointed Regius Professor of Humanity (the Latin Professorship) at Aberdeen. Knighted in 1906 to mark his distinguished service to the world of scholarship, Ramsay also gained three honorary fellowships from Oxford colleges, nine honorary doctorates from British, Continental and North American universities and became an honorary member of almost every association devoted to archaeology and historical research. He was one of the original members of the British Academy, was awarded the Gold Medal of Pope Leo XIII in 1893 and the Victorian Medal of the Royal Geographical Society in 1906.
William Mitchell Ramsay was born on March 15, 1851 in Glasgow, Scotland. His father was a lawyer, but died when William was just six. Through the hard work of other family members, William attended the University of Aberdeen, achieving honors. Through means of a scholarship, he was then able to go to Oxford University and attend the college there named for St. John. His family resource also allowed him to study abroad, notably in Germany. It was under one of his professors that his love of history began. After receiving a new scholarship from another college at Oxford, he traveled to Asia Minor.
William, however, is most noted for beliefs pertaining to the Bible, not his early life. Originally, he labeled it as a 'Book of Fables,' having only third-hand knowledge. He neither read nor studied it, skeptically believing it to be of fiction and not historical fact. His interest in history would lead him on a search that would radically redefine his thoughts on that Ancient Book…

Some argue that Ramsay was originally just a product of his time. For example, the general consensus on the Acts of the Apostles (and its alleged writer Luke) was almost humouress:
"… [A]bout 1880 to 1890 the book of the Acts was regarded as the weakest part of the New Testament. No one that had any regard for his reputation as a scholar cared to say a word in its defence. The most conservative of theological scholars, as a rule, thought the wisest plan of defence for the New Testament as a whole was to say as little as possible about the Acts."[1]
It was his dislike for Acts that launched him into a Mid-East adventure. With Bible-in-hand, he made a trip to the Holy Land. What William found, however, was not what he expected…
As it turns out, 'ole Willy' changed his mind. After his extensive study he concluded that Luke was one of the world's greatest historians:
The more I have studied the narrative of the Acts, and the more I have learned year after year about Graeco-Roman society and thoughts and fashions, and organization in those provinces, the more I admire and the better I understand. I set out to look for truth on the borderland where Greece and Asia meet, and found it here [in the Book of Acts—KB]. You may press the words of Luke in a degree beyond any other historian's, and they stand the keenest scrutiny and the hardest treatment, provided always that the critic knows the subject and does not go beyond the limits of science and of justice.[2]
Skeptics were strikingly shocked. In 'Evidence that Demands a Verdict' Josh Mcdowell writes,
"The book caused a furor of dismay among the skeptics of the world. Its attitude was utterly unexpected because it was contrary to the announced intention of the author years before…. for twenty years more, book after book from the same author came from the press, each filled with additional evidence of the exact, minute truthfulness of the whole New Testament as tested by the spade on the spot. The evidence was so overwhelming that many infidels announced their repudiation of their former unbelief and accepted Christianity. And these books have stood the test of time, not one having been refuted, nor have I found even any attempt to refute them."[3]
The Bible has always stood the test of time. Renowned archaeologist Nelson Glueck put it like this:
"It may be stated categorically that no archaeological discovery has ever controverted a Biblical reference. Scores of archaeological findings have been made which conform in clear outline or exact detail historical statements in the Bible."[4]
1) The Bearing of Recent Discovery on the Trustworthiness of the New Testament (1915)
2) Ibid
3) See page 366
4) See page 31 of: Rivers in the Desert: A History of the Negev (1959)
Thank you again for your time and I know how busy you are.
Everette Hatcher, everettehatcher@gmail.com, http://www.thedailyhatch.org, cell ph 501-920-5733, Box 23416, LittleRock, AR 72221
End of letter to Harry Kroto
—-
—
—-

The answer to find meaning in life is found in putting your faith and trust in Jesus Christ. The Bible is true from cover to cover and can be trusted.
Thank you again for your time and I know how busy you are.
Sincerely,
Everette Hatcher, everettehatcher@gmail.com, http://www.thedailyhatch.org, cell ph 501-920-5733, 13900 Cottontail Lane, Alexander, AR 72002
PS: What is the meaning of life? Find it in the end of the open letter I wrote to you on April 23, 2020.
—
Below is the workforce of THE TAMBURY GAZETTE
—
Seen below is the third episode of AFTERLIFE (season 1) when Matt takes Tony to a comedy club with front row seats to cheer him up but it turns into disaster!!!
——
—-
—
Part 1 "Why have integrity in Godless Darwinian Universe where Might makes Right?"
Part 2 "My April 14, 2016 Letter to Ricky mentioned Book of Ecclesiastes and the Meaninglessness of Life"
Part 3 Letter about Brandon Burlsworth concerning suffering and pain and evil in the world. "Why didn't Jesus save her [from cancer]?" (Tony's 10 year old nephew George in episode 2)
Part 4 Letter on Solomon on Death Tony in episode one, "It should be everyone's moral duty to kill themselves."
Part 5 Letter on subject of Learning in Ecclesiastes "I don't read books of fiction but mainly science and philosophy"
Part 6 Letter on Luxuries in Ecclesiastes Part 6, The Music of AFTERLIFE (Part A)
Part 7 Letter on Labor in Ecclesiastes My Letter to Ricky on Easter in 2017 concerning Book of Ecclesiastes and the legacy of a person's life work
Part 8 Letter on Liquor in Ecclesiastes Tony's late wife Lisa told him, "Don't get drunk all the time alright? It will only make you feel worse in the log run!"
Part 9 Letter on Laughter in Ecclesiastes , I said of laughter, "It is foolishness;" and of mirth, "What does it accomplish?" Ecclesiastes 2:2
Part 10 Final letter to Ricky on Ladies in Ecclesiastes "I gathered a chorus of singers to entertain me with song, and—most exquisite of all pleasures— voluptuous maidens for my bed…behold, all was vanity and a striving after wind, and there was nothing to be gained under the sun" Ecclesiastes 2:8-11.
Part 11 Letter about Daniel Stanhope and optimistic humanism "If man has been kicked up out of that which is only impersonal by chance , then those things that make him man-hope of purpose and significance, love, motions of morality and rationality, beauty and verbal communication-are ultimately unfulfillable and thus meaningless." (Francis Schaeffer)
Part 12 Letter on how pursuit of God is only way to get Satisfaction Dan Jarrell "[In Ecclesiastes] if one seeks satisfaction they will never find it. In fact, every pleasure will be fleeting and can not be sustained, BUT IF ONE SEEKS GOD THEN ONE FINDS SATISFACTION"
Part 13 Letter to Stephen Hawking on Solomon realizing he will die just as a dog will die "For men and animals both breathe the same air, and both die. So mankind has no real advantage over the beasts; what an absurdity!" Ecclesiastes
Part 14 Letter to Stephen Hawking on 3 conclusions of humanism and Bertrand Russell destruction of optimistic humanism. "That Man is the product of causes which had no prevision of the end they were achieving; that his origin, his growth, his hopes and fears, his loves and his beliefs, are but the outcome of accidental collocations of atoms—no philosophy which rejects them can hope to stand. Only within the scaffolding of these truths, only on the firm foundation of unyielding despair, can the soul's habitation henceforth be safely built."(Bertrand Russell, Free Man's Worship)
Part 15 Letter to Stephen Hawking on Leonardo da Vinci and Solomon and Meaningless of life "I hate life. As far as I can see, what happens on earth is a bad business. It's smoke—and spitting into the wind" Ecclesiastes Book of Ecclesiastes Part 15 "I hate life. As far as I can see, what happens on earth is a bad business. It's smoke—and spitting into the wind" Ecclesiastes 2:17
Part 16 Letter to Stephen Hawking on Solomon's longing for death but still fear of death and 5 conclusions of humanism on life UNDER THE SUN. Francis Schaeffer "Life is just a series of continual and unending cycles and man is stuck in the middle of the cycle. Youth, old age, Death. Does Solomon at this point embrace nihilism? Yes!!! He exclaims that the hates life (Ecclesiastes 2:17), he longs for death (4:2-3) Yet he stills has a fear of death (2:14-16)"
—
Mandeep Dhillon as Sandy on her first assignment in 'After Life'. (Twitter)
A still from 'After Life' that captures the vibe of the Tambury Gazette. (Twitter)
Michael Scott of THE OFFICE (USA) with Ricky Gervais
After Life on Netflix stars Ricky Gervais as a bereaved husband (Image: Netflix)
—-
Psychiatrist played by Paul Kaye seen below.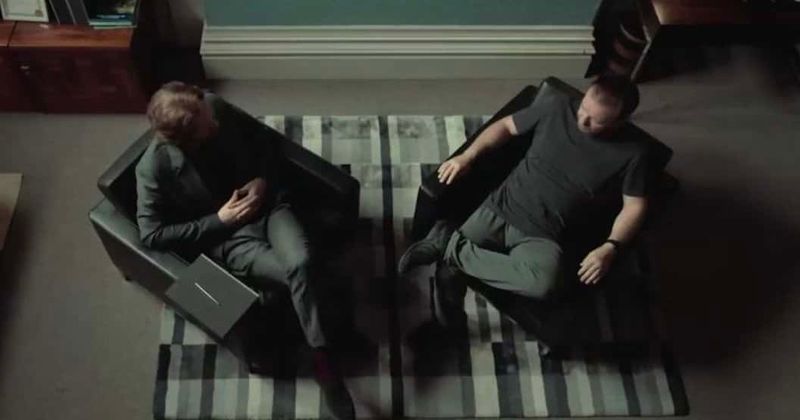 —
Tony Johnson with his dog Brandi seen below:
—-
Related posts:
I have gone back and forth and back and forth with many liberals on the Arkansas Times Blog on many issues such as abortion, human rights, welfare, poverty, gun control and issues dealing with popular culture. Here is another exchange I had with them a while back. My username at the Ark Times Blog is Saline […]By Everette Hatcher III | Posted in Biblical Archaeology, Francis Schaeffer, Prolife | Edit|Comments (0)
I have posted many of the sermons by John MacArthur. He is a great bible teacher and this sermon below is another great message. His series on the Book of Proverbs was outstanding too. I also have posted several of the visits MacArthur made to Larry King's Show. One of two most popular posts I […]By Everette Hatcher III | Posted in Adrian Rogers, Current Events | Edit|Comments (0)
I have posted many of the sermons by John MacArthur. He is a great bible teacher and this sermon below is another great message. His series on the Book of Proverbs was outstanding too. I also have posted several of the visits MacArthur made to Larry King's Show. One of two most popular posts I […]By Everette Hatcher III | Posted in Adrian Rogers, Current Events |Tagged Bible Prophecy, john macarthur | Edit|Comments (0)
Prophecy–The Biblical Prophesy About Tyre.mp4 Uploaded by TruthIsLife7 on Dec 5, 2010 A short summary of the prophecy about Tyre and it's precise fulfillment. Go to this link and watch the whole series for the amazing fulfillment from secular sources. http://www.youtube.com/watch?v=qvt4mDZUefo________________ John MacArthur on the amazing fulfilled prophecy on Tyre and how it was fulfilled […]By Everette Hatcher III | Posted in Biblical Archaeology | Edit|Comments (1)
John MacArthur on the Bible and Science (Part 2) I have posted many of the sermons by John MacArthur. He is a great bible teacher and this sermon below is another great message. His series on the Book of Proverbs was outstanding too. I also have posted several of the visits MacArthur made to Larry […]By Everette Hatcher III | Posted in Current Events | Edit|Comments (0)
John MacArthur on the Bible and Science (Part 1) I have posted many of the sermons by John MacArthur. He is a great bible teacher and this sermon below is another great message. His series on the Book of Proverbs was outstanding too. I also have posted several of the visits MacArthur made to Larry […]By Everette Hatcher III | Posted in Current Events | Edit|Comments (0)
Adrian Rogers – How you can be certain the Bible is the word of God Great article by Adrian Rogers. What evidence is there that the Bible is in fact God's Word? I want to give you five reasons to affirm the Bible is the Word of God. First, I believe the Bible is the […]By Everette Hatcher III | Posted in Adrian Rogers, Biblical Archaeology | Edit|Comments (0)
Is there any evidence the Bible is true? Articles By PleaseConvinceMe Apologetics Radio The Old Testament is Filled with Fulfilled Prophecy Jim Wallace A Simple Litmus Test There are many ways to verify the reliability of scripture from both internal evidences of transmission and agreement, to external confirmation through archeology and science. But perhaps the […]By Everette Hatcher III | Posted in Biblical Archaeology, Current Events | Edit|Comments (0)
I have gone back and forth and back and forth with many liberals on the Arkansas Times Blog on many issues such as abortion, human rights, welfare, poverty, gun control and issues dealing with popular culture. Here is another exchange I had with them a while back. My username at the Ark Times Blog is […]By Everette Hatcher III | Posted in Francis Schaeffer, Prolife | Edit|Comments (0)
Here is some very convincing evidence that points to the view that the Bible is historically accurate. Archaeological and External Evidence for the Bible Archeology consistently confirms the Bible! Archaeology and the Old Testament Ebla tablets—discovered in 1970s in Northern Syria. Documents written on clay tablets from around 2300 B.C. demonstrate that personal and place […]By Everette Hatcher III | Posted in Biblical Archaeology | E
——
The basis for human dignity by Francis Schaeffer and C. Everett Koop
Dust in the Wind by KANSAS
—-
Kerry Livgren and Dave Hope of KANSAS on 700 Club Part 1
——-
Kerry Livgren and Dave Hope of KANSAS on 700 Club Part 2
—-
—-
—-