—
(Above) Tony and Anne on the bench at the graveyard where their spouses are buried.
—
May 22, , 2020
Ricky Gervais

Dear Ricky,
This is the 35th day in a row that I have written another open letter to you to comment on some of your episodes of AFTER LIFE.
—
AFTER LIFE starts in episode 1 and we learn that Matt's sister Lisa died of cancer six months earlier and he has taken it upon himself to try and drag his brother-in-law Tony Johnson out of Tony's nihilism and help him to see that there is a reason to live. Some people may wonder where Matt should start.
As you know I am writing you a series of letters on Solomon's efforts to find a meaning and purpose to life. Solomon tried to find a meaning and purpose to life UNDER THE SUN in the Book of Ecclesiastes in all of the 6 "L" words and looked into learning(1:16-18),laughter, ladies, luxuries, and liquor (2:1-3, 8, 10, 11), and labor (2:4-6, 18-20).
I don't know if Matt took time to read Ecclesiastes but he did look in the same areas. He first suggests that Tony throw himself into his work, and Tony blows off that suggestion. Next Matt sets him up on a blind date and that turns out to not work at all. Matt next turns to inviting Tony to a comedy club and the comedian tells a joke about suicide and Tony ruins the whole evening for everybody.
In season two Matt invites Tony to a meditation class which includes some philosophy that he knows appeals to Tony and he tells Tony he may learn something. Unfortunately Tony has a horrible time. Finally Matt invites Tony to the pub for a drink and to visit some women with the goal of "banging some beaver" and that is a disaster too.
In the Book of Ecclesiastes basically Solomon looked into the same 5 areas of learning(1:16-18),laughter, ladies,and liquor (2:1-3, 8, 10, 11), and labor (2:4-6, 18-20). The area Solomon would add is luxuries which is really just a byproduct of a person's labor usually. Now you can see why Solomon and Tony are really on the same pursuit.
Ecclesiastes is about the meaningless of LIFE UNDER THE SUN.
The Christian Scholar Ravi Zacharias noted, "The key to understanding the Book of Ecclesiastes is the term UNDER THE SUN — What that literally means is you lock God out of a closed system and you are left with only this world of Time plus Chance plus matter."
—-
January 10, 2019 by Michael Weltin
The Meaning of Life, Purpose, Ecclesiastes
The Search for the Meaning of Life
by Pastor Mick Weltin
This week we're beginning a new sermon series on the book of Ecclesiastes. Ecclesiastes can simply be translated as "the preacher" or "the teacher." It's literal meaning in Hebrew is "one who convenes or addresses an assembly." The book of Job focuses on wisdom on suffering, Psalms on wisdom in your relationship with God, Proverbs on wisdom on your relationships with one another and Song of Songs/Solomon on wisdom in love and marriage. Ecclesiastes is a Biblical wisdom book focusing on wisdom regarding the meaning of life.
The book of Ecclesiastes begins looking at life "under the sun" (Ecclesiastes 1:9). Life "under the sun" is a life without God. A life without God is found to be ultimately meaningless. "Vanity of vanities says the Preacher, vanities of vanities, all is vanity!" (Ecclesiastes 1:2). King Solomon as the preacher explores throughout the book the main things you seek to find meaning in your life and ultimately finds they're meaningless, a chasing after the wind if there's no God.
Solomon pursues finding meaning "under the sun" in wisdom, wine, women, work, wealth, time, suffering, youth and more. Since death comes to all, all his pursuits are found to be vanity or meaninglessness. All things "under the sun" are but a transient breath and are forgotten, a vain chasing after the wind.
Throughout the book Solomon starts to bring in the knowledge of God and ends the book telling you to "Remember your Creator in the days of your youth" (Ecclesiastes 12:1). He says the end of the matter is this, "Fear God and keep his commandments, for this is the whole duty of man. For God will bring every deed into judgment with every secret thing, whether good or evil" (Ecclesiastes 12:13-14). Since there is a God, since God will judge all things, then all things really do matter! Death is not the end, God is eternal, you have an eternal soul and you have an eternal destiny. One day you'll stand before God himself, your youth, your work, your suffering, your pleasures, your wealth and your faith will all matter.
Ravi Zacharias in his book, Can Man Live Without God summarizes four things for true meaning in life, Truth, Wonder, Love and Security. Truth without love is brutality, Wonder without truth is illusion, Love without Security is fleeting, Security without Love is empty. None of these alone can bring lasting meaning. It is Jesus Christ, God in the flesh that brings all of these together. Jesus is the truth, His word is a light that sets you free. Jesus is wonder, He is the eternal God in the flesh. Jesus is love, He gave his life for you to forgive your sin. Jesus is security, He is risen and gives eternal life to all who believe in Him. John says, "This is eternal life, that they know you the only true God and Jesus Christ whom you sent" (John 17:3).
Without God everything is meaningless. Thanks be to God who sent Jesus who turns everything around. With God everything is truly meaningful!

—
If you are an atheist then you have a naturalistic materialistic worldview, and this short book of Ecclesiastes should interest you because the wisest man who ever lived in the position of King of Israel came to THREE CONCLUSIONS that will affect you.
FIRST, chance and time have determined the past, and they will determine the future. (Ecclesiastes 9:11-13)
These two verses below take the 3 elements mentioned in a naturalistic materialistic worldview (time, chance and matter) and so that is all the unbeliever can find "under the sun" without God in the picture. You will notice that these are the three elements that evolutionists point to also.
Ecclesiastes 9:11-12 is following: I have seen something else under the sun: The race is not to the swift or the battle to the strong, nor does food come to the wise or wealth to the brilliant or favor to the learned; but time and chance happen to them all. Moreover, no one knows when their hour will come: As fish are caught in a cruel net, or birds are taken in a snare, so people are trapped by evil times that fall unexpectedly upon them.
SECOND, Death is the great equalizer (Eccl 3:20, "All go to the same place; all come from dust, and to dust all return.")
THIRD, Power reigns in this life, and the scales are not balanced(Eccl 4:1, 8:15)
Ecclesiastes 4:1-2: "Next I turned my attention to all the outrageous violence that takes place on this planet—the tears of the victims, no one to comfort them; the iron grip of oppressors, no one to rescue the victims from them." Ecclesiastes 8:14; "Here's something that happens all the time and makes no sense at all: Good people get what's coming to the wicked, and bad people get what's coming to the good. I tell you, this makes no sense. It's smoke."
Solomon had all the resources in the world and he found himself searching for meaning in life and trying to come up with answers concerning the afterlife. However, it seems every door he tries to open is locked. Today men try to find satisfaction in learning, liquor, ladies, luxuries, laughter, and labor and that is exactly what Solomon tried to do too. None of those were able to "fill the God-sized vacuum in his heart" (quote from famous mathematician and philosopher Blaise Pascal). You have to wait to the last chapter in Ecclesiastes to find what Solomon's final conclusion is.
In 1978 I heard the song "Dust in the Wind" by Kansas when it rose to #6 on the charts. That song told me that Kerry Livgren the writer of that song and a member of Kansas had come to the same conclusion that Solomon had. I remember mentioning to my friends at church that we may soon see some members of Kansas become Christians because their search for the meaning of life had obviously come up empty even though they had risen from being an unknown band to the top of the music business and had all the wealth and fame that came with that. Furthermore, Solomon realized death comes to everyone and there must be something more.
Livgren wrote:
"All we do, crumbles to the ground though we refuse to see, Dust in the Wind, All we are is dust in the wind, Don't hang on, Nothing lasts forever but the Earth and Sky, It slips away, And all your money won't another minute buy."
Take a minute and compare Kerry Livgren's words to that of the late British humanist H.J. Blackham:
"On humanist assumptions, life leads to nothing, and every pretense that it does not is a deceit. If there is a bridge over a gorge which spans only half the distance and ends in mid-air, and if the bridge is crowded with human beings pressing on, one after the other they fall into the abyss. The bridge leads nowhere, and those who are pressing forward to cross it are going nowhere….It does not matter where they think they are going, what preparations for the journey they may have made, how much they may be enjoying it all. The objection merely points out objectively that such a situation is a model of futility"( H. J. Blackham, et al., Objections to Humanism (Riverside, Connecticut: Greenwood Press, 1967).
_____________________________________
Both Kerry Livgren and the bass player DAVE HOPE of Kansas became Christians eventually. Kerry Livgren first tried Eastern Religions and DAVE HOPE had to come out of a heavy drug addiction. I was shocked and elated to see their personal testimony on The 700 Club in 1981 and that same interview can be seen on youtube today. Livgren lives in Topeka, Kansas today where he teaches "Diggers," a Sunday school class at Topeka Bible Church. DAVE HOPE is the head of Worship, Evangelism and Outreach at Immanuel Anglican Church in Destin, Florida

—
—
In the popular You Tube video "Renowned Academics Speaking About God" you made the following statement:
"I have no measure possible, I know that even those who believe in God deeply know that there is no possible way of discerning his existence. Measure something that tells me that God exists, anything. ARE WE SAYING THAT DISCERNMENT IS THE SAME THING AS MEASUREMENT? Yes, indeed, in this case for me it is…"
As a scientist you emphasis the need to have things confirmed through observational data.Have you taken time to really look at the historical claims of the Bible and if they are really accurate or not?
Let me respond  with the words of Francis Schaeffer from his book HE IS THERE AND HE IS NOT SILENT (the chapter is entitled, "Is Propositional Revelation Nonsense?"Of course, if the infinite uncreated Personal communicated to the finite created personal, he would not exhaust himself in his communication; but two things are clear here:1. Even communication between once created person and another is not exhaustive, but that does not mean that for that reason it is not true. 2. If the uncreated Personal really cared for the created personal, it could not be thought unexpected for him to tell the created personal things of a propositional nature;otherwise as a finite being the created personal would have numerous things he could not know if he just began with himself as a limited, finite reference point. In such a case, there is no intrinsic reason why the uncreated Personal could communicate some vaguely true things, but could not communicate propositional truth concerning the world surrounding the created personal – for fun, let's call that science. Or why he could not communicate propositional truth to the created personal concerning the sequence that followed the uncreated Personal making everything he made – let's call that history. There is no reason we could think of why he could not tell these two types of propositional things truly. They would not be exhaustive; but could we think of any reason why they would not be true? The above is, of course, what the Bible claims for itself in regard to propositional revelation.DOES THE BIBLE ERR IN THE AREA OF SCIENCE AND HISTORY? The Bible is true from cover to cover and can be trusted. Charles Darwin himself longed for evidence to come forward from the area of  Biblical Archaeology  but so much has  advanced  since Darwin wrote these words in the 19th century! Here are some of the posts I have done in the past on the subject and if you like you could just google these subjects: 1. The Babylonian Chronicle, of Nebuchadnezzars Siege of Jerusalem, 2. Hezekiah's Siloam Tunnel Inscription.13. The Pilate Inscription, 14. Caiaphas Ossuary, 14 B Pontius Pilate Part 2, 14c. Three greatest American Archaeologists moved to accept Bible's accuracy through archaeology.
Below is a piece of that evidence given by Francis Schaeffer concerning the accuracy of the Bible. TRUTH AND HISTORY (chapter 5 of WHATEVER HAPPENED TO THE HUMAN RACE?, under footnote #94)
We now take a jump back in time to the middle of the ninth century before Christ, that is, about 850 B.C. Most people have heard of Jezebel. She was the wife of Ahab, the king of the northern kingdom of Israel. Her wickedness has become so proverbial that we talk about someone as a "Jezebel." She urged her husband to have Naboth killed, simply because Ahab had expressed his liking for a piece of land owned by Naboth, who would not sell it. The Bible tells us also that she introduced into Israel the worship of her homeland, the Baal worship of Tyre. This led to the opposition of Elijah the Prophet and to the famous conflict on Mount Carmel between Elijah and the priests of Baal.
.
'The Woman at the Window' – an ivory artifact from Samaria. Photo source.
© The Israel Museum, Jerusalem
MIRROR IMAGE. Because most seals were pressed into wet pottery or into small blobs of clay used to secure scrolls— serving much like a signature— symbols and letters were often carved in reverse. When stamped into the clay, the seal images and inscription would appear correctly. This photo of the Jezebel seal and its impression, or bulla, show the seal in reverse and in proper stance.
______
Here again one finds archaeological confirmations of what the Bible says. Take for example: "As for the other events of Ahab's reign, including all he did, the palace he built and inlaid with ivory, and the cities he fortified, are they not written in the book of the annals of the kings of Israel?" (I Kings 22:39).
This is a very brief reference in the Bible to events which must have taken a long time: building projects which probably spanned decades. Archaeological excavations at the site of Samaria, the capital, reveal something of the former splendor of the royal citadel. Remnants of the "ivory house" were found and attracted special attention (Palestinian Archaeological Museum, Jerusalem). This appears to have been a treasure pavilion in which the walls and furnishings had been adorned with colored ivory work set with inlays giving a brilliant too, with the denunciations revealed by the prophet Amos:
"I will tear down the winter house along with the summer house; the houses adorned with ivory will be destroyed and the mansions will be demolished," declares the Lord. (Amos 3:15)
Other archaeological confirmation exists for the time of Ahab. Excavations at Hazor and Megiddo have given evidence of the extent of fortifications carried out by Ahab. At Megiddo, in particular, Ahab's works were very extensive including a large series of stables formerly assigned to Solomon's time.
On the political front, Ahab had to contend with danger from the Aramacaus king of Syria who besieged Samaria, Ahab's capital. Ben-hadad's existence is attested by a stela (a column with writing on it) which has been discovered with his name written on it (Melquart Stela, Aleppo Museum, Syria). Again, a detail of history given in the Bible is shown to be correct.
The seal bears four letters (YZBL) interspersed around the images. Although scholars have long recognized the similarity of the inscription to the name Jezebel, they have usually refrained from making a connection to the infamous Queen Jezebel, Phoenician wife of the Israelite king Ahab. With the reconstruction of two additional letters (L') in the damaged area at the top, however, author Marjo Korpel argues that the inscription originally read L'YZBL, or "(belonging) to Jezebel" and was in fact the personal seal of the Biblical queen.
Seal of Jezebel Identified Non-Technical – Sep 19, 2008 – by Bryant G. Wood PhD This article was first published in the Spring 2008 issue of Bible and Spade.
Jezebel was no doubt the wickedest woman in the Bible. In the book of Revelation her name was invoked in condemning a false prophetess in Thyatira who promoted sexual immorality and the eating of food sacrificed to idols (Rv 2:20). Even today the name is emblematic of a sinful, shameless woman. Jezebel means "where is his highness (=Baal)?" (Korpel 2008: 37). Baal was the great Canaanite storm and fertility god. Jezebel's father Ethbaal, whose name means "with Baal" or "man of Baal," was king of the Phoenicians (1 Kgs 16:31). The Jewish historian Josephus tells us that Ethbaal was formerly a priest of Ashtoreth, consort of Baal, who usurped the throne and reigned over Tyre and Sidon for 32 years (Contra Apionem i.18.123).

Opal seal with the name of Jezebel. The inscription and symbols on the seal make it highly likely that it was the official seal of the wicked woman of the Old Testament. She was a woman of power as indicated by her title "Queen Mother" (2 Kgs 10:13). Although Jezebel had her own seal to authenticate official correspondence, when she forged the letters to the elders and nobles of Jezreel in order do away with Naboth and seize his vineyard, she used Ahab's seal rather than her own for maximum authority (1 Kgs 21:8).
In order to form a political alliance with the Phoenicians, Ahab, king of Israel (874–853 BC), married Baal-worshipping Jezebel (1 Kgs 16:31). "Urged on by Jezebel his wife" (1 Kgs 21:25), Ahab became a follower of Baal, and even erected a temple and altar to the pagan deity in Samaria (1 Kgs 16:32). He had the distinction of being the king who "did more to provoke the LORD, the God of Israel, to anger than did all the kings of Israel before him" (1 Kgs 16:33). Jezebel bore Ahab a son, Joram, who ruled Israel for 12 years from 852 to 841 BC, and she herself became a strong political figure bearing the title "Queen Mother" (2 Kgs 10:13).
Baal the Canaanite storm god, also worshipped by the later Phoenicians. In his left hand he holds a spear which flashes lightning and in his right hand a mace. The relief, which dates to 1650–1500 BC, was found in a sanctuary in the Canaanite city of Ugarit, Syria, in 1932. It is now on display in the Louvre Museum in Paris.
Jezebel was zealous in her efforts to stamp out Yahwism and promote the worship of Baal. She mounted a campaign to kill the Lord's prophets (1 Kgs 18:4, 13), while at the same time feeding 450 prophets of Baal and 400 prophets of Asherah, the Canaanite mother goddess and consort of El, at the royal table (1 Kgs 18:19). This led to a confrontation between Elijah and the prophets of Baal on Mt. Carmel, resulting in the extermination of the prophets of Baal (1 Kgs 18:16–40).
Jezebel also figures prominently in the account of the appropriation of Naboth's vineyard. Naboth refused to sell his vineyard to greedy Ahab. Conniving Jezebel arranged to have false charges brought against Naboth, which resulted in his death (1 Kgs 21). When Ahab went to take possession of the vineyard, Elijah was there with a message from God:
"I am going to bring disaster on you. I will consume your descendants and cut off from Ahab every last male in Israel— slave or free…because you have provoked me to anger and have caused Israel to sin." And also concerning Jezebel the LORD says: "Dogs will devour Jezebel by the wall of Jezreel" (1 Kgs 21:21–23).
Shortly thereafter Ahab was killed in a battle against the Arameans (1 Kgs 22:29–40). Twelve years later a prophet of the Lord anointed Jehu, a general in the Israelite army, king with the following charge:
You are to destroy the house of Ahab your master, and I will avenge the blood of my servants the prophets and the blood of all the LORD's servants the prophets and the blood of all the LORD's servants shed by Jezebel (2 Kgs 9:7).
Statue of Elijah on Mt. Carmel memorializing Elijah's encounter with Jezebel's prophets. Elijah challenged the 450 prophets of Baal who ate at Jezebel's table to a sacrifice cook-off: "you call on the name of your god and I will call on the name of the LORD. The god who answers by fire—he is God" (1 Kgs 18:24). Who do you think won? You can read the account in 1 Kings 18:16–40.
Jehu went on to wipe out Ahab's descendants, including Jezebel's son Joram. As the Lord had predicted through Elijah, Jezebel met a grisly end. Jehu went to the royal residence at Jezreel and found the Queen Mother, with her eyes painted and hair arranged, looking out a palace window. Jehu ordered her eunuchs to throw her out the window:
So they threw her down, and some of her blood spattered the wall and the horses as they trampled her underfoot. Jehu went in and ate and drank. "Take care of that cursed woman," he said, "and bury her, for she was a king's daughter." But when they went out to bury her, they found nothing except her skull, her feet and her hands. They went back and told Jehu, who said, "This is the word of the LORD that he spoke through his servant Elijah the Tishbite: On the plot of ground at Jezreel dogs will devour Jezebel's flesh" (2 Kgs 9:33–36).
In the early 1960s a seal was purchased on the antiquities market and donated to the Israel Museum in Jerusalem. The late Nahman Avigad, a leading Israeli paleographer (one who studies ancient writing), published an article about the seal in 1964. He suggested the name on the seal was possibly Jezebel, but there was a problem—the first letter of the name was missing. And so, little attention was paid to the seal and it languished in the Israel Museum for decades. Then, Dutch researcher Marjo Korpel (Associate Professor of Old Testament, Utrecht University, Utrecht, The Netherlands) became interested in it. Korpel was first drawn to the seal because of its imagery, but then became intrigued with the inscription. She noticed that a piece had broken off at the top and this could very well have been where the missing letter was originally located. She conjectured that there were initially two letters in the area of the break: a Hebrew lamed, or L, which stood for "(belonging) to" or "for," and the missing first letter of Jezebel's name.
Seal of Jezebel with missing letters restored. The top of the seal has been damaged and it is in this area that Old Testament scholar Marjo Korpel suggests that there were originally two letters: alamed, meaning "(belonging) to" and an aleph, the first letter of Jezebel's name. The restored inscription would then read "(belonging) to Jezebel." The seal is scheduled to go on display at the Israel Museum in Jerusalem in 2010 when renovation work at the museum is completed.
Apart from the inscription, there are other compelling reasons for identifying the seal as that of Jezebel. First, as Avigad observed, it is very fancy, suggestive of royalty. It is made of the gemstone opal and is larger than average, being 1.24 in (31 mm) from top to bottom (Avigad 1964: 274). Secondly, the form of the letters is Phoenician, or imitates Phoenician writing (Korpel 2008: 37). Thirdly, the seal is fi lled with common Egyptian symbols that were often used in Phoenicia in the ninth century BC and are suggestive of a queen. At the top is a crouching winged sphinx with a woman's face, the body of a lioness and a female Isis/Hathor crown. To the left is an Egyptian ankh, the sign of life. In the lower register, below a winged disk, is an Egyptian style falcon, symbol of royalty in Egypt. On either side of the falcon is a uraeus, the cobra representation of Egyptian royalty worn on crowns. At the bottom left is a lotus, a symbol often associated with royal women. All of these icons taken together denote female royalty (Korpel 2008: 36–37).
Although 100% certainty cannot be attained, Korpel's assessment of the evidence leads her to conclude, "I believe it is very likely that we have here the seal of the famous Queen Jezebel" (2008: 37). Bibliography Avigad, Nahman 1964 The Seal of Jezebel. Israel Exploration Journal 14: 274–76.
Korpel, Marjo C.A. 2008 Fit for a Queen: Jezebel's Royal Seal. Biblical Archaeology Review 34.2: 32–37, 80.
Now the rest of the acts of Ahab, and all that he did, and the ivory house which he made, and all the cities that he built, are they not written in the book of the chronicles of the kings of Israel?
(The Bible, 1 Kings 22: 39)
According to the Old Testament, King Ahab was the seventh king of the northern kingdom of Israel since Jeroboam I, and reigned during the 9th century B.C. In the Old Testament, Ahab, along with his wife, Jezebel, gets a rather negative portrayal for the various things that they did, such as the worship of Baal.
According to the Old Testament, Ahab's father, Omri, purchased the hill of Samaria and founded a city there: "In the thirty and first year of Asa king of Judah began Omri to reign over Israel, twelve years: six years reigned he in Tirzah. And he bought the hill Samaria of Shemer for two talents of silver, and built on the hill, and called the name of the city which he built, after the name of Shemer, owner of the hill, Samaria." (The Bible, 1 Kings 16: 23-24)
It was on this hill that Ahab built his 'ivory palace'. It is often pointed out that the existence of such a structure has been confirmed by archaeological evidence. However, it will be shown that this is not as straightforward as it seems, and that the phrase "Ivory Palace of King Ahab" is a rather problematic one. In 1932, the Joint Expedition to Samaria, located in present-day West Bank, discovered a large quantity of ivory objects and decorations (a total of 250 fragments were recorded) near the northern area of Samaria's summit. This has led people, including the archaeologists, to believe that they have found King Ahab's Ivory Palace.
There are two problems with this interpretation. The first problem involves the question of what is meant by an 'ivory palace'. One may envision an ivory palace to be a building somehow constructed literally from ivory (that's what I'd imagine anyway). After all, if King Ahab were to be depicted as a really wealthy king, this would be a pretty good way to do so. However, these fragments were probably once attached to wooden furniture. The ivories from Fort Shalmaneser in Nimrud, Iraq, may be seen as parallels to those found in Samaria. Of course, one might argue that an 'ivory palace' was a building that had lots of ivory-decorated furniture, or ivory carvings, rather than a structure built of ivory.
The bigger problem, however, is the fact that this structure was not even built by King Ahab. Based on the Kathleen Kenyon's stratigraphic notes and summaries of the site, it seems that most of these ivory fragments date to the Hellenistic and Roman periods, several hundreds of years after the reign of King Ahab.
Although a structure containing ivory fragments was discovered by archaeologists, it was not King Ahab's Ivory Palace. So, why was it identified as such then? Perhaps it was only natural that the Biblical reference produced an impulse to date these ivory fragments to the reign of King Ahab. The area where the ivories were found was also initially thought to be part of the royal palace (the large "palace" discovered to its west by the Harvard team in 1908-1910 was relegated to the status of a 'supplementary building'). This view, however, was withdrawn in 1938, when the archaeologists realized that the walls of this building actually comprised only a section of a section of a second, inner enclosure wall, and that they could not "make a room or pavilion out of them." By then, the damage was already done, and the 'Ivory Palace of King Ahab' is still regarded by some as having basis in archaeology.
If you think the score board is 'Archaeology – 1, Bible – 0', it isn't quite as simple. Reliance on the Bible for the interpretation of archaeological evidence is very much like the reliance of any textual evidence. Although historical archaeology is said to be the "handmaiden to history", it isn't quite so. If you think archaeology's here to support the textual evidence (of which history relies on), you'd better think again. I suppose, at the end of the day, one has to be critical of one's sources, and not take the textual evidence at face value. Also, archaeologists ought to be careful with what they say, since there may be unforeseen repercussions, sometimes much worse than the misidentification of an ancient structure.
Featured image: An ivory plaque from Samaria depicting a lion attacking a bull. The lion symbolizes the sun, the bull the earth, the two creatures eternally warring for supremacy, with the lion better equipped to win. The plaque would have been attached to a screen or piece of furniture. Photo source. By Ḏḥwty
_____
21 APRIL, 2014 – 14:22DHWTY
.
An artist's impression of King Ahab, from the "Promptuarii Iconum Insigniorum". Photo source: Wikimedia
Archaeologists haven't found only Assyrian evidence for the existence of King Ahab. While excavating Samaria they have found indications of another biblical description connected to Ahab's reign—his house of ivory. The Bible says of Ahab, "Now the rest of the acts of Ahab, and all that he did, the ivory housewhich he built and all the cities that he built, are they not written in the book of the chronicles of the kings of Israel?" (2 Kings 22:39).
Herschel Shanks, editor of Biblical Archaeology Review, writes: "An important ivory find from the Iron Age comes from Ahab's capital in Samaria where over 500 ivory fragments were found … The Bible speaks of Ahab's 'house of ivory' (1 Kings 22:39). Does this refer to the paneling of the walls or to the furnishings? To put the matter differently, did the ivory fragments found at Samaria decorate the walls of the building or the furniture? There is some evidence from Nimrud that a room in an Assyrian palace was, in fact, paneled with ivory veneer. Was this the case at Samaria? On the basis of the evidence at hand, it is difficult to tell.
"Whether paneling for the wall or decoration for furniture, the houses of ivory—based on a highly sophisticated Phoenician ivory industry—were for the Hebrew prophets symbols of social oppression and injustice; the 'ivory houses' [mentioned in Amos 3.15] were also evidence of participation in the barbarous pagan practices and heathen worship of Phoenicia. Based on the archaeological evidence, the prophets knew what they were talking about" ( Biblical Archaeology Review,September-October 1985, p. 46).
The answer to find meaning in life is found in putting your faith and trust in Jesus Christ. The Bible is true from cover to cover and can be trusted.
Thank you again for your time and I know how busy you are.
Sincerely,
Everette Hatcher, everettehatcher@gmail.com, http://www.thedailyhatch.org, cell ph 501-920-5733, 13900 Cottontail Lane, Alexander, AR 72002
PS: What is the meaning of life? Find it in the end of the open letter I wrote to you on April 23, 2020.
—
Below is the workforce of THE TAMBURY GAZETTE
—
Seen below is the third episode of AFTERLIFE (season 1) when Matt takes Tony to a comedy club with front row seats to cheer him up but it turns into disaster!!!
——
—-
—
Part 1 "Why have integrity in Godless Darwinian Universe where Might makes Right?"
Part 2 "My April 14, 2016 Letter to Ricky mentioned Book of Ecclesiastes and the Meaninglessness of Life"
Part 3 Letter about Brandon Burlsworth concerning suffering and pain and evil in the world. "Why didn't Jesus save her [from cancer]?" (Tony's 10 year old nephew George in episode 2)
Part 4 Letter on Solomon on Death Tony in episode one, "It should be everyone's moral duty to kill themselves."
Part 5 Letter on subject of Learning in Ecclesiastes "I don't read books of fiction but mainly science and philosophy"
Part 6 Letter on Luxuries in Ecclesiastes Part 6, The Music of AFTERLIFE (Part A)
Part 7 Letter on Labor in Ecclesiastes My Letter to Ricky on Easter in 2017 concerning Book of Ecclesiastes and the legacy of a person's life work
Part 8 Letter on Liquor in Ecclesiastes Tony's late wife Lisa told him, "Don't get drunk all the time alright? It will only make you feel worse in the log run!"
Part 9 Letter on Laughter in Ecclesiastes , I said of laughter, "It is foolishness;" and of mirth, "What does it accomplish?" Ecclesiastes 2:2
Part 10 Final letter to Ricky on Ladies in Ecclesiastes "I gathered a chorus of singers to entertain me with song, and—most exquisite of all pleasures— voluptuous maidens for my bed…behold, all was vanity and a striving after wind, and there was nothing to be gained under the sun" Ecclesiastes 2:8-11.
Part 11 Letter about Daniel Stanhope and optimistic humanism "If man has been kicked up out of that which is only impersonal by chance , then those things that make him man-hope of purpose and significance, love, motions of morality and rationality, beauty and verbal communication-are ultimately unfulfillable and thus meaningless." (Francis Schaeffer)
Part 12 Letter on how pursuit of God is only way to get Satisfaction Dan Jarrell "[In Ecclesiastes] if one seeks satisfaction they will never find it. In fact, every pleasure will be fleeting and can not be sustained, BUT IF ONE SEEKS GOD THEN ONE FINDS SATISFACTION"
Part 13 Letter to Stephen Hawking on Solomon realizing he will die just as a dog will die "For men and animals both breathe the same air, and both die. So mankind has no real advantage over the beasts; what an absurdity!" Ecclesiastes
Part 14 Letter to Stephen Hawking on 3 conclusions of humanism and Bertrand Russell destruction of optimistic humanism. "That Man is the product of causes which had no prevision of the end they were achieving; that his origin, his growth, his hopes and fears, his loves and his beliefs, are but the outcome of accidental collocations of atoms—no philosophy which rejects them can hope to stand. Only within the scaffolding of these truths, only on the firm foundation of unyielding despair, can the soul's habitation henceforth be safely built."(Bertrand Russell, Free Man's Worship)
Part 15 Letter to Stephen Hawking on Leonardo da Vinci and Solomon and Meaningless of life "I hate life. As far as I can see, what happens on earth is a bad business. It's smoke—and spitting into the wind" Ecclesiastes Book of Ecclesiastes Part 15 "I hate life. As far as I can see, what happens on earth is a bad business. It's smoke—and spitting into the wind" Ecclesiastes 2:17
Part 16 Letter to Stephen Hawking on Solomon's longing for death but still fear of death and 5 conclusions of humanism on life UNDER THE SUN. Francis Schaeffer "Life is just a series of continual and unending cycles and man is stuck in the middle of the cycle. Youth, old age, Death. Does Solomon at this point embrace nihilism? Yes!!! He exclaims that the hates life (Ecclesiastes 2:17), he longs for death (4:2-3) Yet he stills has a fear of death (2:14-16)"
—
Mandeep Dhillon as Sandy on her first assignment in 'After Life'. (Twitter)
A still from 'After Life' that captures the vibe of the Tambury Gazette. (Twitter)
Michael Scott of THE OFFICE (USA) with Ricky Gervais
After Life on Netflix stars Ricky Gervais as a bereaved husband (Image: Netflix)
—-
Psychiatrist played by Paul Kaye seen below.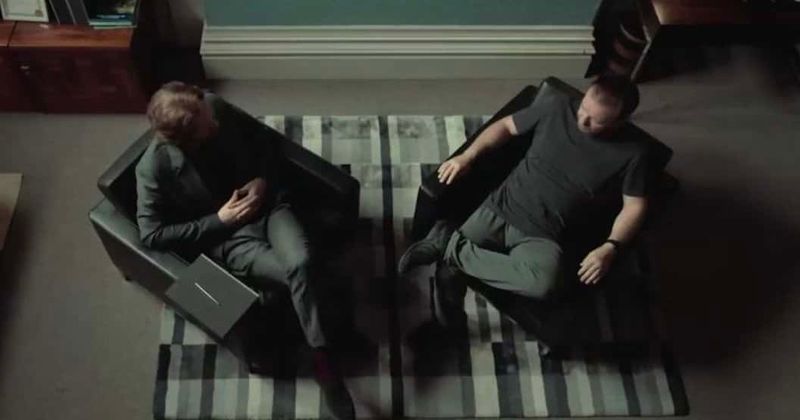 —
Tony Johnson with his dog Brandi seen below:
—-
Related posts:
I have gone back and forth and back and forth with many liberals on the Arkansas Times Blog on many issues such as abortion, human rights, welfare, poverty, gun control and issues dealing with popular culture. Here is another exchange I had with them a while back. My username at the Ark Times Blog is Saline […]By Everette Hatcher III | Posted in Biblical Archaeology, Francis Schaeffer, Prolife | Edit|Comments (0)
I have posted many of the sermons by John MacArthur. He is a great bible teacher and this sermon below is another great message. His series on the Book of Proverbs was outstanding too. I also have posted several of the visits MacArthur made to Larry King's Show. One of two most popular posts I […]By Everette Hatcher III | Posted in Adrian Rogers, Current Events | Edit|Comments (0)
I have posted many of the sermons by John MacArthur. He is a great bible teacher and this sermon below is another great message. His series on the Book of Proverbs was outstanding too. I also have posted several of the visits MacArthur made to Larry King's Show. One of two most popular posts I […]By Everette Hatcher III | Posted in Adrian Rogers, Current Events |Tagged Bible Prophecy, john macarthur | Edit|Comments (0)
Prophecy–The Biblical Prophesy About Tyre.mp4 Uploaded by TruthIsLife7 on Dec 5, 2010 A short summary of the prophecy about Tyre and it's precise fulfillment. Go to this link and watch the whole series for the amazing fulfillment from secular sources. http://www.youtube.com/watch?v=qvt4mDZUefo________________ John MacArthur on the amazing fulfilled prophecy on Tyre and how it was fulfilled […]By Everette Hatcher III | Posted in Biblical Archaeology | Edit|Comments (1)
John MacArthur on the Bible and Science (Part 2) I have posted many of the sermons by John MacArthur. He is a great bible teacher and this sermon below is another great message. His series on the Book of Proverbs was outstanding too. I also have posted several of the visits MacArthur made to Larry […]By Everette Hatcher III | Posted in Current Events | Edit|Comments (0)
John MacArthur on the Bible and Science (Part 1) I have posted many of the sermons by John MacArthur. He is a great bible teacher and this sermon below is another great message. His series on the Book of Proverbs was outstanding too. I also have posted several of the visits MacArthur made to Larry […]By Everette Hatcher III | Posted in Current Events | Edit|Comments (0)
Adrian Rogers – How you can be certain the Bible is the word of God Great article by Adrian Rogers. What evidence is there that the Bible is in fact God's Word? I want to give you five reasons to affirm the Bible is the Word of God. First, I believe the Bible is the […]By Everette Hatcher III | Posted in Adrian Rogers, Biblical Archaeology | Edit|Comments (0)
Is there any evidence the Bible is true? Articles By PleaseConvinceMe Apologetics Radio The Old Testament is Filled with Fulfilled Prophecy Jim Wallace A Simple Litmus Test There are many ways to verify the reliability of scripture from both internal evidences of transmission and agreement, to external confirmation through archeology and science. But perhaps the […]By Everette Hatcher III | Posted in Biblical Archaeology, Current Events | Edit|Comments (0)
I have gone back and forth and back and forth with many liberals on the Arkansas Times Blog on many issues such as abortion, human rights, welfare, poverty, gun control and issues dealing with popular culture. Here is another exchange I had with them a while back. My username at the Ark Times Blog is […]By Everette Hatcher III | Posted in Francis Schaeffer, Prolife | Edit|Comments (0)
Here is some very convincing evidence that points to the view that the Bible is historically accurate. Archaeological and External Evidence for the Bible Archeology consistently confirms the Bible! Archaeology and the Old Testament Ebla tablets—discovered in 1970s in Northern Syria. Documents written on clay tablets from around 2300 B.C. demonstrate that personal and place […]By Everette Hatcher III | Posted in Biblical Archaeology | E
—-
After Life #1 Trailer
—-
I listened to this question and answer session at Harvard in 1992 on cassette tapes and was captivated with Ravi Zacharias. His responses were so much better than Kath's responses to Tony in AFTER LIFE.

After Life 2 Trailer
—-
On Saturday April 18, 2020 at 6pm in London and noon in Arkansas, I had a chance to ask Ricky Gervais a question on his Twitter Live broadcast which was "Is Tony a Nihilist?" At the 20:51 mark Ricky answers my question. Below is the video:
–
—-
—-
If Death is the end then what is the point Kath asks below:
——
Francis Schaeffer passed away on May 15, 1984 and on the 10th anniversary of that date I wrote many skeptics such as Carl Sagan and corresponded with them on the big questions covered by the Book of Ecclesiastes.

Kath: You are an atheist?
—-
Adrian Rogers on Evolution
—-
Ravi Zacharias (March 26, 1946 – May 19, 2020)
Francis Schaeffer (January 30, 1912 – May 15, 1984[1])

I grew up at Bellevue Baptist Church under the leadership of our pastor Adrian Rogers and I read many books by the Evangelical Philosopher Francis Schaeffer and in 1992 I heard cassette tapes of Ravi Zacharias in all his brilliance in his sessions at Harvard and have had the opportunity to contact many of the evolutionists or humanistic academics that they have mentioned in their works. Many of these scholars have taken the time to respond back to me in the last 20 years and some of the names included are Ernest Mayr (1904-2005), George Wald (1906-1997), Carl Sagan (1934-1996), Robert Shapiro (1935-2011), Nicolaas Bloembergen (1920-), Brian Charlesworth (1945-), Francisco J. Ayala (1934-) Elliott Sober (1948-), Kevin Padian (1951-), Matt Cartmill (1943-) , Milton Fingerman (1928-), John J. Shea (1969-), , Michael A. Crawford (1938-), Paul Kurtz (1925-2012), Sol Gordon (1923-2008), Albert Ellis (1913-2007), Barbara Marie Tabler (1915-1996), Renate Vambery (1916-2005), Archie J. Bahm (1907-1996), Aron S "Gil" Martin ( 1910-1997), Matthew I. Spetter (1921-2012), H. J. Eysenck (1916-1997), Robert L. Erdmann (1929-2006), Mary Morain (1911-1999), Lloyd Morain (1917-2010), Warren Allen Smith (1921-), Bette Chambers (1930-), Gordon Stein (1941-1996) , Milton Friedman (1912-2006), John Hospers (1918-2011), Michael Martin (1932-).Harry Kroto (1939-), Marty E. Martin (1928-), Richard Rubenstein (1924-), James Terry McCollum (1936-), Edward O. WIlson (1929-), Lewis Wolpert (1929), Gerald Holton(1922-), Martin Rees (1942-), Alan Macfarlane (1941-), Roald Hoffmann (1937-), Herbert Kroemer (1928-), Thomas H. Jukes(1906-1999) and Ray T. Cragun (1976-).
Adrian Rogers (September 12, 1931 – November 15, 2005)
Charles Darwin Autobiography
—
Francis Schaeffer "The Age of NONREASON"
—
——-
—
—-
—

—-
—-
—
—-
—
—