–
Nobel laureate and quantum optics pioneer dies at 93
January 9, 2019 | Leah Poffenberger
Roy J. Glauber, Nobel Laureate, longtime Harvard professor, and quantum optics pioneer, passed away on December 26, 2018. He was 93.
In 2005, Glauber was awarded one half of the Nobel Prize for Physics, with John L. Hall and Theodore W. Hänsch sharing the other half, for his "contributions to the quantum theory of optical coherence." He was also the recipient of the 1996 APS/AIP Dannie Heineman Prize for Mathematical Physics from APS, among others.
"Professor Glauber always brought new and interesting viewpoints to complex issues, whether the topic was the wave and particle nature of light as manifested in his seminal description of quantum optics and coherence of photons, the correlations of particles involved in high energy collisions, or the thrill of engaging in Nobel Prize ceremonies while also being a Nobel Prize winner," said APS Past President Roger Falcone.
Glauber received both a bachelor's degree, in 1946, and a Ph.D., in 1949, from Harvard University. While pursuing his doctoral degree, Glauber was recruited to work on the Manhattan Project becoming one of their youngest staff members. His postdoctoral work took him to the Institute for Advanced Study in Princeton and the Swiss Federal Polytechnic Institute in Zurich. Glauber returned to Harvard in 1952, later becoming the Mallinckrodt Professor of Physics there, as well as an Adjunct Professor of Optical Sciences at the University of Arizona.
Roy J. Glauber
Glauber's contributions to physics include pioneering work in quantum optics, studying the interactions of laser light and matter, and contributions to theories of high-energy collisions, including analysis of hadron collisions. In addition to the Nobel Prize and the Heineman Prize, Glauber also received the Albert A. Michelson Medal from the Franklin Institute in Philadelphia (1985), the Max Born Award from the Optical Society (1985), and the Alexander von Humboldt Foundation Research Award (1989).
—-
On November 21, 2014 I received a letter from Nobel Laureate Harry Kroto and it said:
…Please click on this URL http://vimeo.com/26991975
and you will hear what far smarter people than I have to say on this matter. I agree with them.
Harry Kroto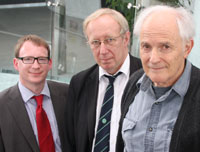 Nick Gathergood, David-Birkett, Harry-Kroto
I have attempted to respond to all of Dr. Kroto's friends arguments and I have posted my responses one per week for over a year now. Here are some of my earlier posts:
Arif Ahmed, Sir David Attenborough, Mark Balaguer, Horace Barlow, Michael Bate, Patricia Churchland, Aaron Ciechanover, Noam Chomsky,Alan Dershowitz, Hubert Dreyfus, Bart Ehrman, Stephan Feuchtwang, David Friend,  Riccardo Giacconi, Ivar Giaever , Roy Glauber, Rebecca Goldstein, David J. Gross,  Brian Greene, Susan Greenfield, Stephen F Gudeman,  Alan Guth, Jonathan Haidt, Theodor W. Hänsch, Brian Harrison,  Hermann Hauser, Roald Hoffmann,  Bruce Hood, Herbert Huppert,  Gareth Stedman Jones, Steve Jones, Shelly Kagan, Michio Kaku,  Stuart Kauffman,  Lawrence Krauss, Harry Kroto, George Lakoff, Elizabeth Loftus,  Alan Macfarlane, Peter Millican, Marvin Minsky, Leonard Mlodinow,  Yujin Nagasawa, Alva Noe, Douglas Osheroff,  Jonathan Parry,  Saul Perlmutter, Herman Philipse,  Carolyn Porco, Robert M. Price, Lisa Randall, Lord Martin Rees,  Oliver Sacks, John Searle, Marcus du Sautoy, Simon Schaffer, J. L. Schellenberg,   Lee Silver,  Peter Singer,  Walter Sinnott-Armstrong, Ronald de Sousa, Victor Stenger, Barry Supple,   Leonard Susskind, Raymond Tallis, Neil deGrasse Tyson,  .Alexander Vilenkin, Sir John Walker, Frank Wilczek, Steven Weinberg, and  Lewis Wolpert,
—
Related posts:
____________
____
__