—
Tony and Kath care for each other but they love to argue too!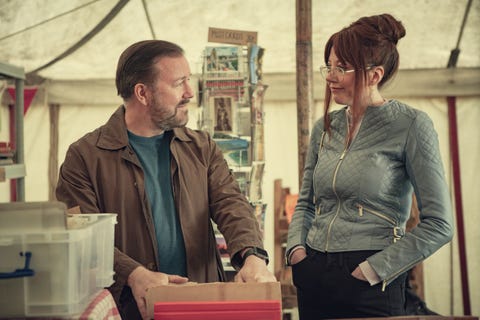 NETFLIX
Most Powerful Moment In After Life and great Review
—
—
—-
—
World Exclusive: After Life Season 3: The First few Minutes
After Life | Season 3 Official Trailer | Netflix
—
episodes will be released on January 14th.
Just Three Things. Written for #Afterlife by Ricky Gervais and Andy Burrows




January 23, 2022
Ricky Gervais
London, W1F 0LE
UK
Dear Ricky,
Love all the episodes I have seen so far in AFTER LIFE 3! Existing issues from the first two brilliant seasons are being dealt with again which ties all three seasons together!

Kath: Talking of vocabulary, I've got a date with a teacher, so…
Tony: Good. What does he teach?
Kath: Dunno. Why?
Tony: Well, if it's science, I probably wouldn't go on about ghosts and horoscopes.
Kath: Why? That's science too.
Tony: No, it's not. It's the opposite. Trust me. 
—
Ricky you are an educated man who reads and puts a high value on learning. Kath and Tony's debates are not really even matches are they? Of course, humor is the result!
Your perspective is described as the rational secular humanist approach to life. This can been seen through out AFTER LIFE. Francis Schaefer indicated Ecclesiastes is truly the book of modern man because modern humanist man's philosophy has brought him to the nihilistic conclusion that all is vanity and meaninglessness. This appears to be the place that the atheist Tony Johnson has landed and many of the characters around Tony have come to pessimistic conclusions about life too, though they have searched for satisfaction and meaning in life by pursuing ladies, luxuries, LEARNING, labor, liquor, and laughter.
Blaise Pascal was one of the most brilliant scientists of all time and a believer
—
—-
I mentioned earlier that Ricky is an avid reader of modern books on science and you can tell it by some of the discussions in AFTER LIFE. In episode 2 of the second season of AFTER LIFE is the following discussion:
Tony: We are chimps with brains the size of planets. No wonder we get drunk and try to kill each other. It is mental.
Matt: Always good to talk.
Tony: I was just explaining my new plan is to drink myself to death till I eventually implode in on my own evolution.
Kath: Do you believe in all that?
Tony: What? The proven fact that there is evolution? Yeah
In the series AFTERLIFE you can obviously see how well read Ricky Gervais is and like many atheists it is obvious that Richard Dawkins is one of his heroes.
I am not an atheist but I have read about a dozen of Dawkins books also. Dawkins' favorite book in the Bible is Ecclesiastes because of the poetry found in the King James Version and not the spiritual lessons.
Solomon was searching for meaning in life in what I call the 6 big L words in the Book of Ecclesiastes. He looked into LEARNING (1:12-18, 2:12-17), laughter, ladies, luxuries, and liquor (2:1-2, 8, 10, 11), and labor (2:4-6, 18-20).
Here is his final conclusion concerning LEARNING:
ECCLESIASTES 1:12-18, 2:12-17 LEARNING
12 I the Preacher have been king over Israel in Jerusalem.13And I applied my heart to seek and to search out by wisdom all that is done under heaven. It is an unhappy business that God has given to the children of man to be busy with. 14 I have seen everything that is done UNDER THE SUN, and behold, all is vanity and a striving after wind.
15 What is crooked cannot be made straight,
and what is lacking cannot be counted.
16 I said in my heart, "I have acquired great wisdom, surpassing all who were over Jerusalem before me, and my heart has had great experience of wisdom and knowledge."17 And I applied my heart to know wisdom and to know madness and folly. I perceived that this also is but a striving after wind.
18For in much wisdom is much vexation,
and he who INCREASES KNOWLEDGE INCREASES SORROW.
12So I turned to consider wisdom and madness and folly. For what can the man do who comes after the king? Only what has already been done. 13 Then I saw that there is more gain in wisdom than in folly, as there is more gain in light than in darkness. 14 The wise person has his eyes in his head, but the fool walks in darkness. And yet I perceived that the same event happens to all of them.15 Then I said in my heart, "What happens to the fool will happen to me also. Why then have I been so very wise?" And I said in my heart that this also is vanity. 16 For of the wise as of the fool there is no enduring remembrance, seeing that in the days to come all will have been long forgotten. How the wise dies just like the fool!17 So I hated life, because what is done UNDER THE SUN was grievous to me, for all is vanity and a striving after wind.
Ecclesiastes was written to those who wanted to examine life UNDER THE SUN without God in the picture and Solomon's conclusion in the final chapter was found in Ecclesiastes 12 when he looked at life ABOVE THE SUN:
13 The end of the matter; all has been heard. Fear God and keep his commandments, for this is the whole duty of man. 14 For God will bring every deed into judgment, with every secret thing, whether good or evil.
The Bible has fulfilled prophecy in it, and 53 historical notable people in the Bible have been confirmed through archaeological evidence! Also there is compelling evidence that the Bible contains sound medical principles that clearly predate their more recent discovery by thousands of years. The accuracy of the Bible has been confirmed by archaeology over and over in the past and one of the amazing finds was in 1948 when the Dead Sea Scrolls had copies from every Old Testament Book except Esther! One of the most powerful recent discoveries involved the bones of the high priest Caiaphas who questioned Christ in 30 AD. In 1838 American biblical scholar Edward Robinson shook up the archaeological world by discovering Hezekiah's Tunnel mentioned in the Bible.
The answer to find meaning in life is found in putting your faith and trust in Jesus Christ. The Bible is true from cover to cover and can be trusted.
Thanks for your time.
Sincerely,
Everette Hatcher, everettehatcher@gmail.com, http://www.thedailyhatch.org, cell ph 501-920-5733, 13900 Cottontail Lane, Alexander, AR 72002
Related posts:
I have gone back and forth and back and forth with many liberals on the Arkansas Times Blog on many issues such as abortion, human rights, welfare, poverty, gun control and issues dealing with popular culture. Here is another exchange I had with them a while back. My username at the Ark Times Blog is Saline […]By Everette Hatcher III | Posted in Biblical Archaeology, Francis Schaeffer, Prolife | Edit|Comments (0)
I have posted many of the sermons by John MacArthur. He is a great bible teacher and this sermon below is another great message. His series on the Book of Proverbs was outstanding too. I also have posted several of the visits MacArthur made to Larry King's Show. One of two most popular posts I […]By Everette Hatcher III | Posted in Adrian Rogers, Current Events | Edit|Comments (0)
I have posted many of the sermons by John MacArthur. He is a great bible teacher and this sermon below is another great message. His series on the Book of Proverbs was outstanding too. I also have posted several of the visits MacArthur made to Larry King's Show. One of two most popular posts I […]By Everette Hatcher III | Posted in Adrian Rogers, Current Events |Tagged Bible Prophecy, john macarthur | Edit|Comments (0)
Prophecy–The Biblical Prophesy About Tyre.mp4 Uploaded by TruthIsLife7 on Dec 5, 2010 A short summary of the prophecy about Tyre and it's precise fulfillment. Go to this link and watch the whole series for the amazing fulfillment from secular sources. http://www.youtube.com/watch?v=qvt4mDZUefo________________ John MacArthur on the amazing fulfilled prophecy on Tyre and how it was fulfilled […]By Everette Hatcher III | Posted in Biblical Archaeology | Edit|Comments (1)
John MacArthur on the Bible and Science (Part 2) I have posted many of the sermons by John MacArthur. He is a great bible teacher and this sermon below is another great message. His series on the Book of Proverbs was outstanding too. I also have posted several of the visits MacArthur made to Larry […]By Everette Hatcher III | Posted in Current Events | Edit|Comments (0)
John MacArthur on the Bible and Science (Part 1) I have posted many of the sermons by John MacArthur. He is a great bible teacher and this sermon below is another great message. His series on the Book of Proverbs was outstanding too. I also have posted several of the visits MacArthur made to Larry […]By Everette Hatcher III | Posted in Current Events | Edit|Comments (0)
Adrian Rogers – How you can be certain the Bible is the word of God Great article by Adrian Rogers. What evidence is there that the Bible is in fact God's Word? I want to give you five reasons to affirm the Bible is the Word of God. First, I believe the Bible is the […]By Everette Hatcher III | Posted in Adrian Rogers, Biblical Archaeology | Edit|Comments (0)
Is there any evidence the Bible is true? Articles By PleaseConvinceMe Apologetics Radio The Old Testament is Filled with Fulfilled Prophecy Jim Wallace A Simple Litmus Test There are many ways to verify the reliability of scripture from both internal evidences of transmission and agreement, to external confirmation through archeology and science. But perhaps the […]By Everette Hatcher III | Posted in Biblical Archaeology, Current Events | Edit|Comments (0)
I have gone back and forth and back and forth with many liberals on the Arkansas Times Blog on many issues such as abortion, human rights, welfare, poverty, gun control and issues dealing with popular culture. Here is another exchange I had with them a while back. My username at the Ark Times Blog is […]By Everette Hatcher III | Posted in Francis Schaeffer, Prolife | Edit|Comments (0)
Here is some very convincing evidence that points to the view that the Bible is historically accurate. Archaeological and External Evidence for the Bible Archeology consistently confirms the Bible! Archaeology and the Old Testament Ebla tablets—discovered in 1970s in Northern Syria. Documents written on clay tablets from around 2300 B.C. demonstrate that personal and place […]By Everette Hatcher III | Posted in Biblical Archaeology | E
On Saturday April 18, 2020 at 6pm in London and noon in Arkansas, I had a chance to ask Ricky Gervais a question on his Twitter Live broadcast which was "Is Tony a Nihilist?" At the 20:51 mark Ricky answers my question. Below is the video:

—
—
Ricky Gervais 25/07/2021 Facebook Live at 28:29 mark Ricky answers my question about Sam Harris